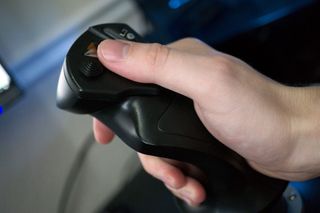 (Image credit: Rich Edmonds / Windows Central)
Mouse and keyboard is the preference of many when it comes to flight and space simulators, but nothing beats a joystick for realism and immersion. We've rounded up the best joysticks to use with games on PC, and our number one spot goes to the CH Products Flightstick because it's the best mid-range stick around.
Best Overall: CH Products Fighterstick
Why you can trust Windows Central Our expert reviewers spend hours testing and comparing products and services so you can choose the best for you. Find out more about how we test.
CH Products Fighterstick
Classic quality
Reasons to buy
+
Excellent value
+
Premium internals
+
Good companion software
+
Bunch of buttons
Reasons to avoid
-
No throttle
-
Looks cheap
-
No twist support
You're probably wondering why I haven't selected the Warthog or another premium stick as the best overall choice. While those expensive HOTAS (hands-on throttle-and-stick) are really good, they're not without flaws, and mid-range units like the Flightstick (200-571) by CH Products are fantastic. I'd argue this stick is among the best on the market.
Sometimes classic products are the best, and if it ain't broke, you really shouldn't fix it. That essentially sums up the Fighterstick. This is a classic joystick that is clearly showing its age when compared to other, more modern alternatives. But there's a good reason CH has yet to update the Fighterstick — it's an incredible product. Should you have some cash to spare on a joystick, you absolutely must consider this option.
Interestingly, CH HOTAS products can be purchased as separate units or combined to create the ultimate cockpit experience. (The HOTAS is a full setup, including a joystick and throttle.) For the money — it's easy to spend hundreds on a full setup —, it may seem odd that these units aren't made of aluminum or some other sort of premium material. But the plastic used is fiber-reinforced nylon polymer. That means it'll last a long time.
What makes this joystick particularly good is the internal components. It may look rather cheap on the outside, but this joystick has it all where it counts most. The software is excellent, too, allowing you to configure everything to your liking, and it'll respond without issue in-game.
There are a few odd features, include the lack of twist support and the fact that potentiometers (commonly referred to as "pots") need to be recalibrated after some time. That said, the product packs premium internal components, and the difference compared to cheaper joysticks is immediately noticeable.
Best Premium: Thrustmaster HOTAS Warthog Flight Stick
Thrustmaster HOTAS Warthog Flight Stick
High external quality let down by cheaper internals
Reasons to buy
+
Solid build
+
Excellent design
+
Metal chassis
+
16-bit resolution
+
19 buttons
Reasons to avoid
-
Cheaper internals
-
No twist support
Thrustmaster is the brand behind many quality sticks, and the HOTAS Warthog is its premium offering. From the outside, this is one fine-looking stick, packing metal parts, and a weighted build — this joystick weighs in at more than 6 pounds. It's a replica of the same hardware the U.S. Air Force A-10C attack aircraft utilizes.
If you want to play a flight simulator game on PC, there's no better way to recreate a cockpit without much effort than this. It looks as though Thrustmaster plucked the hardware straight out a jet. For features, you're looking at Thrustmaster's HEART system with a 16-bit resolution for impressive precision.
The stick has 19 action buttons and a hat, allowing you to map plenty of functions that don't require a keyboard or some other form of input. This makes it vastly more convenient to manage flight controls and other essential tasks with little effort. Everything requires the same amount of pressure as it would inside the plane it's modeled after.
Some owners have complained about quality issues with the internal components, and there's no twist (or z-axis rotation) support.
Best Mid-range HOTAS: Logitech Pro Flight X-56
Logitech Pro Flight X-56
Good value full HOTAS setup
Reasons to buy
+
Full HOTAS
+
Great stick
+
Solid design
+
Works for VR
+
Cool-looking switches
The Pro Flight X-56 used to be by Saitek until Logitech bought out the vendor, and it's now part of Logitech's gaming family. It's a decent mid-range HOTAS solution that offers not only a joystick with a four-spring system but twin throttles, too. Depending on what games you'll be using the system with, you can use both components or rely on the stick alone.
Some have had quality control issues with faulty units, but there are fans of the HOTAS who swear by it. There are a bunch of advanced features, too, including backlighting and programmable controls. That's right, you can not only program a whole host of functions to physical buttons on the HOTAS, but it's also backlit.
The Pro Flight X-56 is a highly accurate HOTAS with numerous customizable buttons. We even recommend it for a VR setup, but for flight sim games, it's equally as good.
Best Value HOTAS: Thrustmaster VG T16000M
Thrustmaster VG T16000M
No compromise
Reasons to buy
+
Great price
+
Reliable stick
+
Twist support
+
High-quality internals
Reasons to avoid
-
No handle button
-
So-so design
Are you looking to save big on a high-quality stick? Look no further than the Thrustmaster VG T16000M. Don't let the low price fool you into thinking this is a cheap stick because it's not. Thrustmaster packed in high-quality internals with the same HEART tech found in the more expensive Warthog stick.
If you can ignore the rather poor aesthetic, you're getting a Windows 10 stick loaded with buttons, hats, and sliders, plus twist rudder control and adjustable resistance. It's ideal for playing Elite: Dangerous, Star Citizen, and other space simulators. There's also no button on the handle, which may prove to be a hindrance to quick action mapping.
Best Budget HOTAS: Thrustmaster T-Flight HOTAS X
Thrustmaster T-Flight HOTAS X
Affordable HOTAS
Reasons to buy
+
Affordable
+
A good number of buttons
+
Comfortable to use
+
Sturdy build
Reasons to avoid
-
Feels and looks cheap
-
Lack of premium materials
-
Stick dead zone
This Thrustmaster HOTAS is a must-buy for anyone looking to get started with space or flight simulators who isn't entirely sure if a throttle and joystick system is right for them. The inexpensive price tag ensures money isn't wasted, and the reliable performance doesn't leave one feeling regretful for not spending a hundred or more.
Although it feels a little cheap to use and the stick has some dead zone, it's sturdy and plays well with supported games. HOTAS setups can run into hundreds of dollars. But the T-Flight X offers an affordable entry point for gamers looking to replace the mouse and keyboard or gamepad with something a little more immersive.
Bottom line
Looking for a PC gaming stick, you'll want to consider the excellent CH Products Flightstick. It's made of hard, durable plastic, and while isn't the best-looking of the sticks out there, it'll last for ages. It's also not ridiculously expensive. This makes it possible to improve your game and immersion in titles like Elite: Dangerous and Star Citizen without paying out an arm and leg.
When you want to take your immersive flight experience to the next level, the Thrustmaster HOTAS Warthog Flight Stick is an excellent choice. Not only does it look the part, rocking the same design of the hardware found in the U.S. Air Force A-10C attack aircraft, so you know this HOTAS setup means business. That's as long as you can overlook the rather high price tag.
Get the Windows Central Newsletter
All the latest news, reviews, and guides for Windows and Xbox diehards.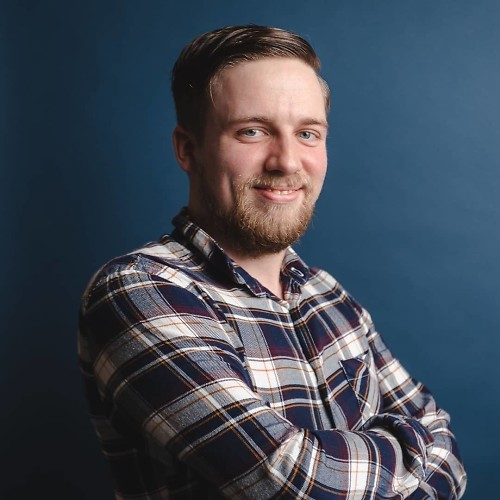 Rich Edmonds was formerly a Senior Editor of PC hardware at Windows Central, covering everything related to PC components and NAS. He's been involved in technology for more than a decade and knows a thing or two about the magic inside a PC chassis. You can follow him on Twitter at @RichEdmonds.