Don't miss your chance to get the Windows-friendly Ring Video Doorbell Pro for a ridiculously low price
Our amigos at Thrifter worked hard to secure one of the best tech deals available this Black Friday: the Ring Video Doorbell Pro for less than $100 — that's significantly more than half off the normal suggested retail price.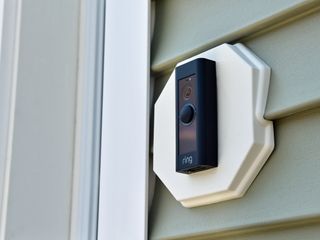 If you're not familiar with Thrifter, it's a Windows Central sibling site that focuses on finding and delivering the best deals on just about anything, faster than any other competitors' sites. Thrifter's mission is to save you money. And they do a great job of it.
Ring Video Doorbell Pro Exclusive Doorbuster
We're big fans of Thrifter, and all of its deals are noteworthy. But this Ring Video Doorbell Pro deal is seriously legit. You simply will not find this thing for a cheaper price, so if you've had your eye on one, or think somebody in your life would love it, now is the time to act.
For some context, our Executive Editor Daniel Rubino, who quite honestly can be tough to impress, gave this digi doorbell a rave review last summer, along with a rating of 4.5 out of 5 stars. From Rubino:
This is the smartphone doorbell for Windows users.
Read Rubino's full review for more details:
Ring Video Doorbell Pro review: A smart doorbell for Windows 10
You can throw your name in the hat below or jump over to our post dedicated to this Thrifter "doorbuster" for all the details on the deal and how to get in on the action. Because this deal is so sweet, there are only a limited number of doorbells available, so you need to enter a sort of raffle for your chance to win. But that will all be worth it if you secure yourself a Ring Video Doorbell Pro for $99.95 and save $140 off the regular retail price.
Don't sleep on this deal.
Thrifter Black Friday Doorbuster: Ring Doorbell Pro for $100
Al Sacco is content director of Future PLC's Mobile Technology Vertical, which includes AndroidCentral.com, iMore.com and WindowsCentral.com. He is a veteran reporter, writer, reviewer and editor who has professionally covered and evaluated IT and mobile technology, and countless associated gadgets and accessories, for more than a decade. You can keep up with Al on Twitter and Instagram.
No thanks, since you have to waste money on a $10/month subscription to actually record your footage; what a ripoff; for such an expensive thing you would think they would allow you to record video with monthly payments;

But doesn't that include server side storage of videos?... I agree that $10 is a bit high, but these are videos, not pics.

Your comment is disingenuous. You don't have to pay for anything monthly unless you want them to cloud store your videos. This is hardly a necessary feature.

Just to set the record straight: Basic - i.e. Per Camera: 3$/ Month or 30$/ Year Plus - Unlimited Cameras: 10$/ Month or 100$/ Year Free - (afte trial period) Notifications: door rings + motion alerts, no recording. I use their products and they are fantastic and absolutely worth every penny. I have a Ring Doorbell Pro and a Ring Floodlight. I am also planning on getting the Ring Spotlights and a few Stickup Cams (waiting to see if they are going to do a refresh, first). They integrate with Alexa and SmartThings. How many times have my neighbors on NextDoor.com complained about "something went missing," or "the kids must have done this or that," or "mail man isn't coming," etc. Why complain and make wild guesses? Capture and record. Share with your neighbors if suspicious stuff goes on. You get what you pay for - don't buy cameras, you don't see anything. Simple as that.

My point is why invent a subscription and not allow an option to record to SD card or your own server cloud storage that is linked to your home network? Why make video recording ONLY available with a subscription? I don't need their server when I have my own, so why should I pay monthly to record and use their storage? Also presents privacy concerns as your footage is on someone elses server and can be obtained with a warrent without notifying you.

The thing that scares me is that all these smart gadgets with cameras can probably be hacked into to see when you leave and when you come back. I don't trust shiz like this.

Also, there are NO CONTRACTS. Cancel at any time.

Did anybody get this email today? Or, was this just a phishing scam to pilfer our email addresses for Thrifter?

I guess the rediculously low price was because you could no longer use it after January 2018. That's right, Ring removed the mobile app from the Windows Store and deactivated the installed apps with no notification to its customers. I hope nobody came home from vacation to find their home ransacked because they weren't notified or had a chance to talk to a burgler casing the house. I got off lucky. My only loss is my rich aunt has taken me out of her will because she was repeatedly ringing the doorbell and we didn't know it but she could hear us inside talking and laughing.
Windows Central Newsletter
Get the best of Windows Central in in your inbox, every day!
Thank you for signing up to Windows Central. You will receive a verification email shortly.
There was a problem. Please refresh the page and try again.