Euronews, Facebook, Weave and others are your app highlights of the week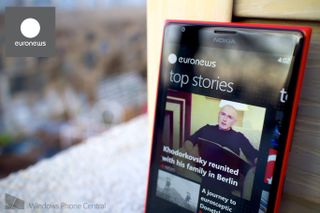 This week was pretty slow in terms of new apps hitting coming to Windows Phone or even old apps getting updates. You can blame Christmas for slowing down productivity around the globe as everyone took a little time off to be with family friends. Nonetheless, new apps did come and apps were updated, let's go over the highlights of the Windows Phone Store for the past week.
New
Euronews –Headquartered in France, Euronews is a multilingual news television channel that covers world news from a Pan-European perspective. They've also just released an official app for Windows Phone that gives you access to international, economic, cultural and scientific news videos. You also have video-on-demand access to documentaries and magazines. Right now there are 13 editions of the app available (English, French, German, etc.) with more languages to come. The app will be updated in the next few months to include live streaming of Euronews TV and much more. Grab it in the Windows Phone Store. (Free)
BackItUp (from Nero) – Windows Phone already includes the built-in option to backup photos and videos (and much more) to your connected to SkyDrive account. However, if that's not enough you can now use BackItUp from Nero. BackItUp is brand new in the Windows Phone Store this week and gives you 5GB of free online storage for backing up your content. You can then buy into a subscription service that offers more storage. Try out BackItUp from Nero in the Windows Phone Store. (Free)
DocuSign Ink – The onslaught of official apps for Windows Phone was insane in 2013. This week we didn't see too many big name apps come, but we did get DocuSign Ink for all you mobile road warriors needing to drop your John Hancock while travelling. This app will allow you to electronically sign, send, and store document. It's safe, secure and legal (at least according to DocuSign). Pick it up in the Windows Phone Store. (Free)
Squirrel – Pocket is by far one of our (read: my) favorite services. Squirrel is a new Pocket client for Windows Phone that offers solid performance and design all for free. It shows as a paid app in the Store, but that's more of a "donate" button and the trial is fully functional. Read all your articles offline, favorite them, and much more with Squirrel for Windows Phone. Grab it in the Windows Phone Store. (Free)
Updated
Facebook – Nope, this isn't the beta of Facebook, but the regular version. This past week it received a huge update that included a lot of new features, performance boosts, and bug fixes that beta users have had. This update includes faster and more reliable notifications, toasts for Facebook chat, redesigned primarily Live tile and redesigned secondary Live tiles for chat, events, groups, pages, and photo albums. You'll also notice improvements for messaging and improvements. New languages have also been added. Pretty big update for Facebook users. Grab it in the Windows Phone Store. (Free)
6tag – The best Instagram client for Windows Phone picked up a big feature this week. 6tag hit version 3.0 and brings support for Instagram Direct to Windows Phone. A feature that isn't even in the official Windows Phone version of Instagram yet. The app also picked up some design improvements. Grab it in the Windows Phone Store. (Free/In-app purchases)
Weave – Big update for news reader Weave for Windows Phone came out this week. This latest version of Weave brings support for the new Weave Cloud Services. This allows Weave on Windows Phone to sync your feeds, articles, and more with the Windows 8 version of Weave. There's a lot more to this update (like visual changes and bug fixes) so go grab it from the Windows Phone Store. (Free version/Paid version)
Citrix Receiver – It was just a few months ago that Citrix Receiver came to Windows Phone. The app has been updated to now have full localized support for French, German, Spanish, Italian, and Portuguese speakers. There has also been expanded support for the Mobile SDK for Windows Apps. All in all, a good update for Citrix Receiver users. Grab it in the Windows Phone Store. (Free)
LiveGaming – The best Twitch client for Windows Phone just got better. LiveGaming received a great update this week that brings an improved chat experience, the ability to follow channels and much more. The app should definitely be on your phone if you're a fan of Twitch. Grab it in the Windows Phone Store. (Free)
Fhotoroom – This app has been out on Windows Phone forever and it's continually getting better. The latest update for Fhotoroom brings a new logo, streamlined UX/UI, new camera tile, and much more. It's an app that any photography enthusiast on Windows Phone should be checking out. Grab it in the Windows Phone Store. (Free)
Games
Big Bang –Confession, we've been addicted to this game since it came out. Big Bang features your favorite little Rabbids from Ubisoft in this Windows Phone game title. This is a physics based game that has you floating and flying through space as you complete objectives. It's super fun and highly recommended. Grab it in the Windows Phone Store. ($0.99)
Total Conquest – Here's a new game from Gameloft for Windows Phone. Total Conquest is a strategy game that takes place in ancient Rome. Build your town and army in this free game that looks to be a lot of fun. Download it from the Windows Phone Store. (Free)
Final Fantasy III – And just like that, Final Fantasy III came to Windows Phone 7.x and 8 users and became the most expensive game. It comes in at a high price of $15.99, but promises you hours and hours of gameplay. Sure, the original came out in 1990, but you can now play it on your Windows Phone device and grab some Xbox Live Achievements. Grab it in the Windows Phone Store. ($15.99)
Microsoft Solitaire Collection – There's not much to say about this. Microsoft has released Solitaire for Windows Phone users with Xbox Live support. The game is free and definitely worth picking up if you're a fan of all the variants of Solitaire (Klondike, FreeCell, Spider, TriPeaks and Pyramind). Grab it in the Windows Phone Store. (Free)
Microsoft Minesweeper – Again, not much to say about this. Microsoft has put out Minesweeper for Windows Phone users and it also includes Xbox Live Achievements. Grab the game in the Windows Phone Store.
Microsoft Mahjong – Surprise! Another free card based game from Microsoft with Xbox Live support. Mahjong brings the popular tile game to Windows Phone. Grab it in the Windows Phone Store. (Free)
This week wasn't too crazy with new apps, but we did see a handful of new games that worth checking out. Have any favorite apps or games from this past week? List them below!
Get the Windows Central Newsletter
All the latest news, reviews, and guides for Windows and Xbox diehards.