7 awesome indie games coming to Xbox Game Pass
Xbox Game Pass continues to bring indie hits.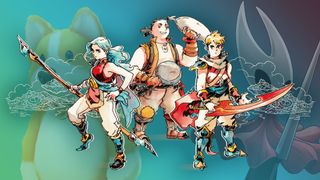 (Image credit: Windows Central )
Microsoft has positioned Xbox Game Pass as its premiere gaming subscription service. It provides members with day-and-date launches for its biggest first-party titles. While there's no denying the excitement of astronomical impending releases like Starfield, Xbox isn't exclusively investing in AAA game curation. The ID@Xbox program has presented audiences with outstanding indie experiences, including Cuphead, Ori and the Will of the Wisps, and Planet of Lana, many launching day one in Xbox Game Pass.
This week Microsoft partnered with IGN to host its annual ID@Xbox Showcase. The 90-minute event featured over 20 indie games and introduced even more titles making their way to Xbox Game Pass. Considering the frequency at which rad games are added to Microsoft's gaming subscription service, we figured we'd save players a little time and highlight seven awesome games coming to Xbox Game Pass very soon.
Hollow Knight: Silksong
Release date: TBA 2023
For fans of Metroidvanias, it doesn't get much better than Hollow Knight. The critically acclaimed action platformer from Team Cherry was adored by audiences, and the announcement of its sequel, Hollow Knight: Silksong, generated immense enthusiasm. The highly anticipated sequel was initially targeting the first half of 2023 but was recently delayed to an undetermined date. Thankfully, the belated release was soothed thanks to the announcement of Hollow Knight: Silksong's day one launch in Xbox Game Pass.
The Wandering Village
Release date: July 20, 2023
The Wandering Village is a fascinating city-building simulation title set on the back of a colossal creature. This mobile beast roams a gorgeous post-apocalyptic world, and players are tasked with bolstering settlements and establishing a mutually beneficial relationship with their gigantic host. The vivid hand-drawn animations and unique setting make The Wandering Village an extremely compelling Xbox Game Pass release.
The Texas Chain Saw Massacre
Release date: August 18, 2023
After passionately partnering with Illfonic to adapt Friday the 13th into an innovative asymmetrical multiplayer horror title, Gun Interactive intends to throw fans into the grim world of The Texas Chain Saw Massacre. This PvP multiplayer project pits four survivors against three murderous family members in a morbid twist on the established formula. Unsuspecting victims desperately collaborate to escape iconic locations from the franchise while infamous villains like Leatherface attempt to chop them into little pieces. Clearly a game for the whole family.
Everspace 2
Release date: August 15, 2023
Everspace 2 was released on PC back in April after spending roughly two years in early access. The ambitious sequel features a 30-hour campaign, deep ship customization, intense aerial combat, and more. During the ID@Xbox Showcase, it was announced that Everspace 2 is coming to Xbox consoles and launching day one in Xbox Game Pass. If you're looking for a space adventure to tide you over until Starfield consumes you, Everspace 2 is headed to the subscription service on August 15, 2023.
Sea of Stars
Release date: August 29, 2023
Chrono Trigger is widely considered one of the greatest RPGs of all time, and the upcoming pixel-art epic from Sabotage Studio, Sea of Stars, aims to recapture that magic for modern audiences. The stunning retro-inspired presentation is beautifully accompanied by music from famed composer Yasunori Mitsuda, who previously worked on Chrono Trigger and Chrono Cross. Sea of Stars elevates classic turn-based combat with contemporary flourishes and updated gameplay systems. For fans of 90s RPGs, this is an enormous get for Xbox Game Pass.
Party Animals
Release date: September 20, 2023
Physics-based party games are huge right now. From Human Fall Flat to Fall Guys, numerous teams have crafted hilarious takes on the genre. Party Animals from Recreate Games channels into that wacky energy with a multiplayer title that combines animalistic brawling and outrageous minigames. After a few notable delays, Xbox Game Pass subscribers have eagerly awaited Party Animals' release.
COCOON
Release date: September 29, 2023
The lead gameplay designer of the masterpieces LIMBO and INSIDE is back with another atmospheric platformer called COCOON. The intriguing loop sees a winged protagonist traveling across and within dynamic worlds. Use world-leaping mechanics to solve elaborate puzzles and uncover the mysteries of COCOON. Much like its spiritual predecessors, little is known about the overarching narrative, but players will have a chance to experience it for themselves in Xbox Game Pass on September 29, 2023.
More to discover in Xbox Game Pass
Prime Day Deals
• Best deals: Our best (so far)
• Windows laptops
• Gaming laptops
• 4K and ultrawide monitor deals
• Gaming monitors
• GPU deals: AMD & NVIDIA
• Motherboard deals: Intel & AMD
• NAS deals: Network-attached storage
• Routers
Xbox Game Pass is confidently one of the best deals in gaming. It's fundamentally transformed how players can engage with video games. We've spoken to numerous independent developers about the financial and emotional benefits of partnering with Xbox Game Pass for releases. While some AAA publishers have questions about the viability of the gaming subscription service, for audiences and developers who simply want to share in the joy of video games, there's a lot to be excited about with Xbox Game Pass.
Thankfully, many of the titles featured in our curated collection are heading to Xbox Series X|S, Xbox One, and Windows PC in the next few weeks, which is rad since I can't wait to chainsaw my friends in half in The Texas Chain Saw Massacre. However, if you're looking for other outstanding indie games to play in the meantime, be sure to check out our list of the best games on Xbox Game Pass.
Get the Windows Central Newsletter
All the latest news, reviews, and guides for Windows and Xbox diehards.
Miles Dompier is a Freelance Video Producer for Windows Central, focusing on video content for Windows Central Gaming. In addition to writing or producing news, reviews, and gaming guides, Miles delivers fun, community-focused videos for the Windows Central Gaming YouTube channel. Miles also hosts Xbox Chaturdays every Saturday, which serves as the Windows Central Gaming weekly podcast.