The Starfield Constellation Edition is back in stock AND $50 off at Walmart
Go quick, this deal is out of this world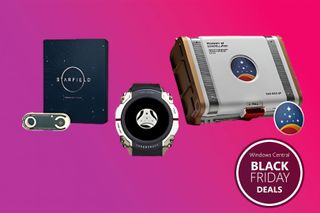 (Image credit: Future)
The Starfield Constellation Edition is one of the best limited-edition bundles I've ever seen for a game launch, with a bunch of Starfield goodies cased in a classy metallic case that looks like it was meant to last in space. But it was pricey, and when preorders went live I wasn't sold on committing to a collectors edition of a new IP I may not even enjoy when it launched.

Others weren't so apprehensive. The initial stock vanished like distant stars in the night sky, propelled by the allure of a watch so cool it's become a coveted treasure on eBay, fetching upwards of $300. FOMO set in, and I found myself among those who missed out on the cosmic watch craze.

But fear not, fellow space enthusiasts! Walmart has just granted us a second chance to orbit the cosmos in style. The Starfield Constellation Edition is back in stock, and the best part? It's now available for a stellar $250. Rejoice, patient collectors - our intergalactic patience has been duly rewarded with a $50 discount.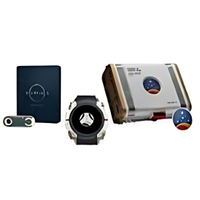 Starfield: Constellation Edition | was $299.99 now $250 at Walmart

A truly impeccable Collectors Edition which gets you Starfield on your chosen platform in Steelbook case, Limited Edition Chronomark Watch, Constellation Patch, Credit Stick etched with digital game code, Shattered Space Story Expansion, Constellation Skin Pack, Digital Artbook, Official Soundtrack and Old Mars Skin Pack. Back in stock and on SALE for the first time.

PC Edition | Xbox Edition

👍Price Check: $299.99 at Best Buy (when in stock)
Our very own Michael Hoglund purchased the Starfield Constellation Edition and has a full unboxing post here if you want to see it in all its space-age glory. Inside the metallic confines of the Starfield Constellation Edition, you'll discover a treasure trove of cosmic delights, including:
Starfield base game on Xbox Series X|S or Windows PC
Limited Edition Chronomark Watch & Case
Steelbook Case
Constellation Patch
Credit Stick

Laser-etched with game code

Access to the Shattered Space Story Expansion when it launches
Constellation Skin Pack for the following in-game items:

Equinox Laser Rifle
Spacesuit
Helmet
Boost Pack

Starfield Digital Artbook
Starfield Official Soundtrack
Old Mars Skin Pack preorder bonus for the following in-game items:

Laser Cutter
Deep Mining Helmet
Deep Mining Pack
If you've come to love the universe of Starfield and regret not grabbing the Constellation Edition at launch, now is your chance to get one of the best quality sets of gaming merchandise we've ever laid eyes and hands-on.
Image 1 of 3
But the sales adventures don't end with the Starfield Constellation Edition. Don't miss out on other astronomical deals available this early Black Friday on Windows Central as we hunt down the best of the best discounts on Black Friday Xbox accessories, upgrade your gaming rig with unbeatable deals on pre-built gaming PCs, and discounts on cutting-edge gaming laptops.

The online universe is brimming with early sales, and our Black Friday deals are your launchpad to gaming excellence. Check out our full Early Black Friday handpicked deals round-up and discover a galaxy of savings that will fuel your gaming journey to new frontiers. Happy exploring (and saving).
Get the Windows Central Newsletter
All the latest news, reviews, and guides for Windows and Xbox diehards.
Jen is a News Writer for Windows Central, focused on all things gaming and Microsoft. Anything slaying monsters with magical weapons will get a thumbs up such as Dark Souls, Dragon Age, Diablo, and Monster Hunter. When not playing games, she'll be watching a horror or trash reality TV show, she hasn't decided which of those categories the Kardashians fit into. You can follow Jen on Twitter @Jenbox360 for more Diablo fangirling and general moaning about British weather.