The best Xbox deals 2023: headsets, SSDs, HDDs, controllers, consoles, and more
Save BIG on major Xbox deals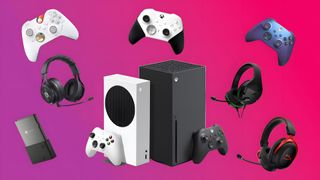 (Image credit: Future)
[Updated on July 13 at 06:38 AM ET with latest deals and price checks]
DO YOU love gaming on Xbox? I love gaming on Xbox. The world of Xbox is full of amazing games, accessories, and experiences. Whether you're looking for the best Xbox controllers, such as the stunning Starfield edition, a top-notch Xbox headset for immersive sound, wired or wireless, or the best Xbox storage deals to store all your favorite games and more, you've come to the right place.

We've created this hub to help you find the best Xbox deals available right now, from products we've personally reviewed, used, and recommend.

We'll be updating this hub regularly with the latest offers and discounts, so bookmark this page and check back often for our expert suggestions on all things Xbox.
The best deals right now
Best Xbox controller deals
Best Xbox headset deals
Best Xbox storage deals
Best Xbox charging deals
Gaming can be a costly hobby with so many tempting accessories to enhance your experience. You can see the passion of gamers on Twitter, where they show off their impressive collections of Xbox controllers and other gadgets. But fear not, we're always scouting for the best deals on Xbox stuff.
And if you want to stretch your budget even further, you should sign up for an Xbox Game Pass subscription. With access to hundreds of games for a low monthly fee, you can also enjoy big first-party titles like Starfield on day one and save your money for some dazzling accessories.
Get the Windows Central Newsletter
All the latest news, reviews, and guides for Windows and Xbox diehards.
Jen is a News Writer for Windows Central, focused on all things gaming and Microsoft. Anything slaying monsters with magical weapons will get a thumbs up such as Dark Souls, Dragon Age, Diablo, and Monster Hunter. When not playing games, she'll be watching a horror or trash reality TV show, she hasn't decided which of those categories the Kardashians fit into. You can follow Jen on Twitter @Jenbox360 for more Diablo fangirling and general moaning about British weather.