Deal: Razer Universal Quick Charging Stand for Xbox Series X|S on sale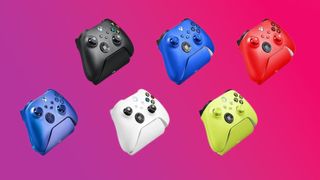 (Image credit: Future)
If you were lucky enough to snap up one of the many controller deals we advertised over the holiday period, you might be in the market for some extra charging accessories. The Razer Universal Quick Charging Stand perfectly compliments any Xbox Series X|S controller, comes in many colors to match official designs and is currently an unmissable $10 off at Amazon.

The Razer Quick Charging Stand for Xbox comes in Carbon Black and Robot White to match the standard included Xbox Series X|S controllers, but in addition to this Amazon currently has Shock Blue and Pulse Red at $30.

While the above four options are $10 off, if you're looking for a stand to match your Forza Horizon 5, Lunar Shift or Mineral Camo special edition controller, these are normally priced at $49.99 and are reduced to $34.99 in the deal.
The Razer Quick Charging Stand is compatible with not only the Xbox Series X|S controllers, but will also reliably charge Xbox One and Elite Series 1 controllers. Its magnetic contact system clicks your controller satisfyingly into place and will give a full charge in under 3 hours. The stand connects to your Xbox or PC with a high quality USB-C cable and features an indicator light so you know when you can jump back in the game.

Our review of the Razer Quick Charging Stand scored it a high 4 out of 5 for its smart and premium-looking quality, speedy charging time, and wide range of colorways. While there are certainly cheaper options on the market for charging your controller, with Razer you are paying for a premium look, feel and performance. With this stand now being reduced to a juicy $30 it's most certainly the best charging solution at this price.

Some colors have already gone out of stock such as Deep Pink and Electric Volt, so if you want one of these snazzy charging units at this bargain price we'd advise you move quick!
Get the Windows Central Newsletter
All the latest news, reviews, and guides for Windows and Xbox diehards.
Jen is a News Writer for Windows Central, focused on all things gaming and Microsoft. Anything slaying monsters with magical weapons will get a thumbs up such as Dark Souls, Dragon Age, Diablo, and Monster Hunter. When not playing games, she'll be watching a horror or trash reality TV show, she hasn't decided which of those categories the Kardashians fit into. You can follow Jen on Twitter @Jenbox360 for more Diablo fangirling and general moaning about British weather.