Don't get KO'd by Xbox's new accessory crackdown; grab the officially licensed 8BitDo arcade stick at its lowest ever price
Unofficially licensed sticks are out, but 8BitDo survives the cut.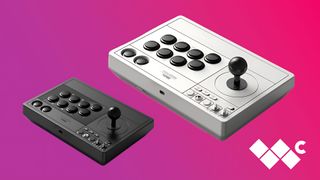 (Image credit: 8BitDo)
In light of Xbox's recent crackdown on unofficially licensed third-party accessories, the 8Bitdo Arcade Stick for Xbox may emerge as a champion. This officially licensed arcade stick is now available at its lowest-ever price of just $101.99, down from the regular $119.99. That's a decent saving of $18, a rare discount for this controller, in fact it's the lowest price it's ever been.

Launched earlier this year, this wireless 8Bitdo arcade fighting stick has quickly become a coveted accessory for Xbox gamers. It boasts compatibility with Xbox Series X|S, Xbox One, and Windows OS and with Xbox blocking unlicensed accessories soon, this officially licensed controller is a safe bet for fighting game and retro enthusiasts.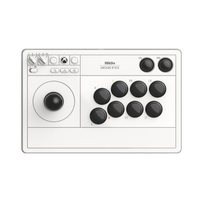 8Bitdo Wireless Arcade Stick for Xbox and Windows PC Arcade Fight Stick | was $119.99 now $101.99 at Amazon

This arcade stick features a 3.5mm audio jack, customizable button mapping, fast-mapping and profile setting buttons. It also has a long battery life of up to 30 hours, and can be used in wireless 2.4G or wired USB mode. Whether you are a casual gamer or a hardcore fighter, the 8Bitdo Arcade Stick will give you the edge you need to beat your opponents. For a limited time only, you can get the 8Bitdo Arcade Stick in white edition for only $101.99, the lowest price ever. This is a great deal for a premium arcade stick that is officially licensed by Xbox.

👍Price check: $119.99 at Walmart
The 8Bitdo Arcade Stick is the perfect wireless controller for fighting game aficionados. It offers a remarkable 30 hours of battery life, ensuring you're always ready for extended gaming sessions. But what truly sets it apart are the customization options — you can remap buttons and the joystick to suit your unique playstyle but opening it up and switching around the wires. Don't worry; it's encouraged, giving you complete control over your gaming experience.
While the selection of officially licensed fighting sticks for Xbox is somewhat limited, featuring brands like Hori and 8BitDo, it's reassuring to have quality options. And, with Microsoft gradually expanding its program for approved third-party wireless Xbox controllers, we can look forward to more choices in the future. Until then, the 8Bitdo Arcade Stick stands out as the best value option, combining nostalgia and high-quality performance to fight for a place in the top Xbox controllers.

In competitive genres where precision and control are paramount, the 8Bitdo Arcade Stick for Xbox is your weapon of choice, and will add a new level of entertainment to games on Xbox Game Pass like Killer Instinct and Mortal Kombat 11. Grab this deal now and level up your fighting game experience (officially).
Get the Windows Central Newsletter
All the latest news, reviews, and guides for Windows and Xbox diehards.
Jen is a News Writer for Windows Central, focused on all things gaming and Microsoft. Anything slaying monsters with magical weapons will get a thumbs up such as Dark Souls, Dragon Age, Diablo, and Monster Hunter. When not playing games, she'll be watching a horror or trash reality TV show, she hasn't decided which of those categories the Kardashians fit into. You can follow Jen on Twitter @Jenbox360 for more Diablo fangirling and general moaning about British weather.