The best graphics card deals STILL LIVE after Cyber Monday: Last chance for these NVIDIA, AMD and Intel discounts
Top deals on PC GPUs are here, and even though Cyber Monday's over, many still remain!
Quick menu
• Quick links
• The best deals
• When does Black Friday end?
• Buying advice
The annual Black Friday and Cyber Monday sales events have come and went, but even though Cyber Monday is now technically over, a good portion of its best deals are still available now — and that includes discounts on graphics cards. These highly desirable components are at the heart of every gaming PC build, and it's not too late to get one at a sweet price.
Finding markdowns on graphics cards can be quite challenging due to their high demand and occasional scarcity. Nevertheless, the market has seen significant improvements in the past few years. Presently, there are still a variety of awesome deals available on graphics cards from brands like NVIDIA, AMD, and Intel, and taking advantage of them is a great way to pick up a GPU for less. The clock is ticking, though, as any of them could go away at any minute.
To assist you in making the best choice, we've compiled a selection of our top picks, complete with information about each to help you match your performance needs. Be aware that we'll be regularly updating this list as stock changes, so we recommend revisiting this page frequently.
Best GPU deals for Cyber Monday: Quick links
Best graphics card deals for Cyber Monday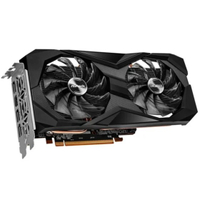 ASRock Radeon RX 6600 | was $209.99 now $184.99 at Walmart
A favorite of ours for budget-friendly gaming is the RX 6600, which goes toe-to-toe with the RTX 3060 despite being considerably less expensive. You lose out on DLSS, but even so, it's a great low-cost CPU that's even less expensive at the moment even though Cyber Monday is over.
👍Price check: $184.99 at Newegg | $189.99 at Amazon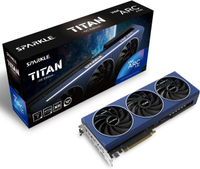 Sparkle Intel Arc A750 Titan OC Edition | was $259.99 now $209.99 at Amazon
Intel's Arc A750 is a great option for high-end 1080p gaming, delivering performance that's slightly better than the RTX 3060 in many cases. Sparkle's dual-fan ORC Edition of the card we had listed before isn't on sale anymore, but this triple-fan variant still is.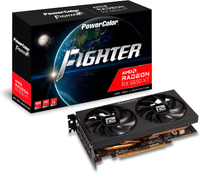 PowerColor Fighter Radeon RX 6650 XT | was $244.99 now $219.99 at Amazon
There's also the 6650 XT, which ups the performance a bit for just $10 more. If you're willing to go over the $200 mark but don't want to spend more than $250, this is the best 1080p GPU deal you'll find right now.
👍Price check: $219.99 at Newegg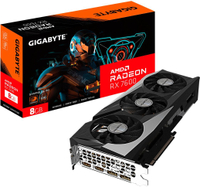 Gigabyte Radeon RX 7600 Gaming OC | was $279.99 now $259.99 at Amazon
AMD's Radeon RX 7600 is the newest of the 1080p-focused cards on sale, and offers the best raw performance. It's also a bit more expensive, though, and you won't be able to use DLSS with it.
👍Price check: $259.99 at Best Buy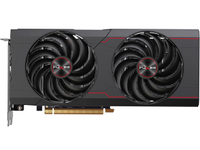 Sapphire Pulse Radeon RX 6700 XT | was $329.99 now $309.99 at Newegg
1440p users should strongly consider the 6700 XT, which offers competitive performance at that resolution while also costing significantly less than something like NVIDIA's RTX 3070. Right now, you can get this model for just over $300.
👍Price check: $309.99 at Walmart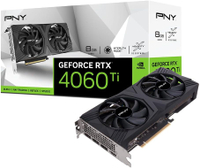 PNY GeForce RTX 4060 Ti | was $399.99 now $379.99 at Amazon
This variant of this year's 4060 Ti with 8GB VRAM is another option. Its raw performance isn't that much better than the 6700 XT, to be honest, but you do get access to DLSS 3, the latest version of NVIDIA's well-matured upscaling tech that includes frame generation.
👍Price check: $379.99 at B&H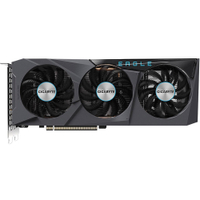 Gigabyte Eagle GeForce RTX 3070 | was $499.99 now $399.99 at Newegg
The RTX 3070 may be a few years old now, but it's still an incredible mid-range card for gaming at 1440p. You can look forward to great high-end performance at this resolution, and the card even has enough headroom for 3440x1440 ultrawide as well. Use promo code BFCY2Z882 at checkout for the full discount.
👍Price check: $424.99 at Walmart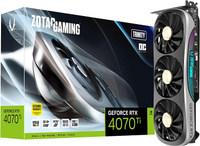 ZOTAC Gaming GeForce RTX 4070 Ti Trinity OC | was $784.99 now $729.99 at Newegg
The 4070 Ti offers an elite 1440p experience, and it's pretty awesome for ultrawide and 4K gaming, too. It's quite pricey, but this $110 discount makes picking one up hurt your wallet considerably less. Use promo code BFDCY2Z49 at checkout for the full discount.
👍Price check: $749.99 at Amazon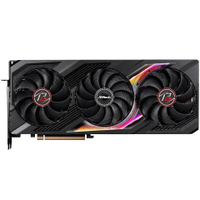 ASRock Phantom Gaming Radeon RX 7900 XT | was $799.99 now $739.99 at Newegg
An alternative to the 4070 Ti worth considering is AMD's RX 7900 XT. It has slightly better raw performance, though as is typical of Team Red GPUs, it falls behind when ray tracing comes into play. If you don't care about ray tracing, though, it might be the better choice for you.
👍Price check: $769.99 at Best Buy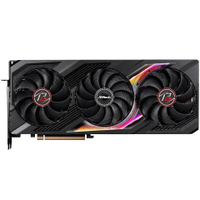 ASRock Phantom Gaming Radeon RX 7900 XTX | was $979.99 now $909.99 at Newegg
AMD's best GPU trades blows with the RTX 4080 in terms of raw performance despite being several hundred dollars cheaper, though the tradeoff is that it's worse for ray tracing. Still, this is a top option for high-end 4K gaming, and even though the sub-$900 deal we recommended before is off the table, this one is nearly just as awesome. Use promo code BFDCY2Z53 at checkout for the full discount.
👍Price check: $949.99 at Newegg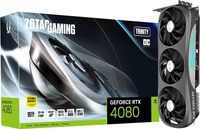 ZOTAC Gaming GeForce RTX 4080 Trinity OC | was $1,299.99 now $1,129.99 at Amazon
Falling just a bit short of NVIDIA's flagship RTX 4090, the RTX 4080 is the second-most powerful Team Green GPU that money can buy. It's intended for use as an elite 4K gaming card with ray tracing, and thanks to this deal, you can save $200 on one.
👍Price check: $1,199.99 at B&H
More great Cyber Monday deals STILL AVAILABLE!
🚨Our HOTTEST and MOST CLICKED deals:
When does Cyber Monday 2023 end?
Cyber Monday 2023
• Convertible 2-in-1 laptops
• Unbeatable Xbox bundles
• Discounted Dell laptops
• Razer gaming accessories
• Pre-built gaming desktops
• 4K and ultrawide monitors
• The best gaming laptops
Black Friday always falls on the final weekend of November, just a day after the holiday of Thanksgiving. This year, the sales event itself didn't kick off until Nov. 24, 2023, though plenty of deals were available beforehand. Many discounts remained active since, though some were discontinued as Cyber Monday kicked off.
Cyber Monday, as the name suggests, is the digital-only follow-up to Black Friday that extends many of its deals to the start of the following week, and even sweetens them or features brand new ones, too. Officially, it ended at the end of the day on Nov. 27, 2023, though many of the event's deals are still available. What's uncertain, though, is how long they'll remain.
In any event, now that Black Friday and Cyber Monday have ended, now is absolutely the time to buy good deals you find. At this point, new deals or bigger discounts are very unlikely to come, and any that are still on the table could disappear at any moment. Be quick.
Cyber Monday graphics card buying advice
Where should I look for graphics card deals on Cyber Monday?
There was no way to know for sure which retailers would be offering the best deals until Cyber Monday actually came around, but now that it has, we've got a clear picture of where you should be hunting for top markdowns.
For genuinely good discounts on graphics cards that are actually worth buying, the best US retailers to hunt at are Amazon, Newegg, Best Buy, Walmart, and B&H Photo. Generally, Amazon and Newegg is where you'll find the majority of the best deals, especially since many Newegg discounts can be improved with the use of promo codes. Across the pond, UK buyers will likely find the most success with Amazon UK, Overclockers, Currys, Scan, eBuyers, and CCL Computers. If we see other vendors offer some surprise noteworthy deals, we'll be sure to update this list.
What to expect from Cyber Monday graphics card deals in 2023
This Cyber Monday, lots of last generation cards from NVIDIA and AMD were (and are) on sale for fantastic discounts. That includes graphics cards from Team Green's GeForce RTX 30 series, as well as those from the Radeon RX 6000 lineup. Many of these GPUs are some of the best ones on the market in terms of overall value, so definitely keep an eye out for deals on these.
We're also not surprised to see a fair number of price cuts on cards that are even older than that, such as the GeForce 1660 Super or the RX 5700 XT. While the GPUs have been outclassed by newer options, they often sell for some of the lowest prices you'll find during Cyber Monday — and they still deliver respectable performance, especially if you're trying to put together more of a budget or mid-range build.
There are even some notable deals on the latest and greatest that NVIDIA and AMD have put out in the GeForce RTX 40 series and Radeon RX 7000 series, as well as the Intel Arc lineup. Since these cards are newer, they're more expensive than others, and also go on sale less often. That said, you can still find solid discounts on them in the aftermath of Cyber Monday, so if you've been hoping to pick one up, now's the time.
Is Cyber Monday a good time to buy a graphics card?
With good deals on graphics cards generally few and far between outside of major sales events like Cyber Monday, it's one of the best times of the year to pick one up if you're looking. Not only can you potentially save hundreds on some of the priciest cards on the market, but you can also get inexpensive ones for even less than you'd have to pay normally. That's money saved you can put towards other components or PC gaming accessories.
Are graphics card prices finally going down?
Though the cost of graphics cards was sky-high throughout 2020 and 2021 due to ongoing silicon shortages, the market began to recover in 2022, and it's easier to get your hands on one this year than it's been in a long time. As a result of the increased supply, the average prices of most cards have gone down significantly compared to where they were in recent years. With that said, many of the latest cards are still very pricey, as their MSRPs are higher than GPUs from previous generations, so don't expect everything to be more affordable.
Get the Windows Central Newsletter
All the latest news, reviews, and guides for Windows and Xbox diehards.
Brendan Lowry is a Windows Central writer and Oakland University graduate with a burning passion for video games, of which he's been an avid fan since childhood. You'll find him doing reviews, editorials, and general coverage on everything Xbox and PC. Follow him on Twitter.