How to delay the Windows 10 Creators Update (and why you might want to)
The Windows 10 Creators Update is here, but if you want to avoid early adopter problems, these are the steps to delay the update.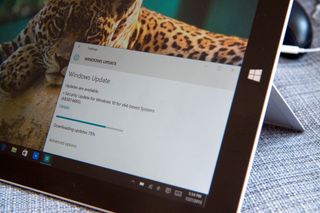 Microsoft is finally rolling out the Windows 10 Creators Update, and during the next few months millions of devices will get the latest version automatically through Windows Update.
Similar to previous releases, the company is pushing out the update slowly, starting with newer devices that have been tested and are known to work with the Creators Update. Then it'll reach other devices based on feedback from telemetry during the initial phase. However, whether you have a relatively new PC or older hardware, it's expected that you may come across some installation issues and unknown bugs during the initial rollout. If you've read our Windows 10 Creators Update guide, you already know some of these problems (and the fixes).
Although updates are now mandatory and they download and install automatically, if you want to prevent early adopter issues, it's possible to block the new version of Windows 10 in a number of ways.
In this Windows 10 guide, we'll walk you through the steps to delay the Creators Update installation until you're ready to install it, or until Microsoft releases more updates to fix any problems with the new version.
How to schedule the Windows 10 Creators Update installation
If you haven't changed your Windows Update settings, the Creators Update can download at any time after April 11. When this happens, Windows 10 will also set a schedule to apply the new version outside of your "active hours" schedule.
If you're planning to go through with the update, but you want to set a different time, you can reschedule the update using the following steps:
Open Settings.
Click on Update & security.
Click on Windows Update.
Under "Update settings," click the Restart options link.
Turn on the Schedule a time toggle switch.
Pick a time and date (up to six days in advance).
Alternatively, if you want to install the update the same day but at a different time, you can "change active hours" to prevent your computer from restarting when you're actively using the device.
How to defer the Windows 10 Creators Update
Windows 10 also offers an option to delay the installation of major updates using the Settings app. The option is called "Defer feature updates," and once enabled it will delay the download of the Creators Update for 60 days, or until you clear the option.
Note: The option to defer updates is only available on Windows 10 Pro, Enterprise, and Education, but if you use other versions, keep reading for additional options.
To postpone feature updates on Windows 10, do the following:
Open Settings.
Click on Update & security.
Under "Update settings," click the Advanced options link.
Check the Defer feature updates.
After completing the steps, your PC will continue to receive cumulative and Windows Defender-antivirus updates, but the Windows 10 Creators Update will be blocked.
How to block the Creators Update on Windows 10 Home
If you're running Windows 10 Home, it's still possible to block your computer from getting the Creators Update using a metered connection.
A metered connection is a feature built in Windows 10 meant to help you control data usage if you have a limited data plan for internet access. However, when you set a network connection as metered, it also prevents the OS from downloading and installing updates.
Although updates are important to keep your device secure and running with the latest enhancements, you can temporarily use a metered connection to prevent the Windows 10 Creators Update from installing without compromising the security of your device.
To set a network connection as metered on Windows 10, do the following:
Open Settings.
Click on Network & internet.
Click on Wi-Fi.
Click the network connection you use to connect to the internet.
Turn on the Metered connection toggle switch.
After Windows 10 receives several updates, and you feel it's ready, you can revert the changes by using the same steps, but make sure you turn off the Metered connection toggle switch on step No. 5.
Unfortunately, this only works on Wi-Fi connections, and there is no specific option on the Settings app to set an Ethernet connection as metered. However, you can use this guide to get around this issue.
It should be noted that starting with the Creators Update, you can now set Ethernet connections as metered using the Settings app.
Wrapping things up
Although we listed a number of ways to block the Windows 10 Creators Update, we're not suggesting that you shouldn't install it. The new major update of Windows 10 brings a lot of great improvements, including a better update delivery system, new security tools, tons of new options and tweaks in the Settings app, support for 3D and mixed reality, and much more.
However, during the initial phase of a new rollout, there is a chance that your PC, laptop, or tablet may come across unwanted issues, and delaying a new feature update until you're ready for it may prove to be a wise move.
More Windows 10 resources
For more help articles, coverage, and answers to common questions about Windows 10, visit the following resources:
Windows 10 help, tips, and tricks
Windows Central Newsletter
Get the best of Windows Central in your inbox, every day!
Mauro Huculak is technical writer for WindowsCentral.com. His primary focus is to write comprehensive how-tos to help users get the most out of Windows 10 and its many related technologies. He has an IT background with professional certifications from Microsoft, Cisco, and CompTIA, and he's a recognized member of the Microsoft MVP community.
No thanks. I'm on RS3 already

when creators is forced I'm leaving windows 10

But why? Are you a *********? Early builds are horrendous.

Defer upgrades is not available for home users

Home users will probably get the update in about minimum 2 months anyway.

One reason to upgrade to the Creators Update then!!!

Has anyone notice that the creator update booths faster?

yes, of course... with SSD LUL

don't think it does but it's too buggy at the moment for use as it breaks the 'run as admin' command for me when using ctrl+shift+enter on shortcuts

Why delay when it's already delayed?

Honestly, early adopter now means Fast Ring. By the time the new builds go RTM most of the big issues are ironed out.

Was thinking the same thing. Waiting until production release is far from an "early adopter".

Some want to delay when some don't get the update from Windows Update yet. Yes I know there's a way to update with Upgrade Assitant, but I want to see how much time will it take to get the CU on my ASUS laptop. The anniversary update didn't hit my laptop even after 1 month, then I used the assistant to update.

Size of creators update and take how much time to update

25 minutes on an SSD time to install after I clicked Restart.

Because the download times via Windows Update are so uncertain I just grabbed the ISOs - mount the ISO in 10, and run setup.exe. Time to install/upgrade depends on how much software has to be migrated & the CPU horsepower & drive speed -- I've had it take 1/2 an hour or so, or over an hour.

I am on it with my Dell XPS13 and it all seems to work as usual. No need to panic.

You can just disable the Windows Update service and you won't get any updates and when you are ready to get the update re-enable it.

10 on a USB drive will get Windows Updates but Will Not upgrade versions or builds, i.e. the Creators Update. Windows relies on a single registry key to tell if it's a portable version or not [on a USB drive], so adding that key should have the effect of stopping any build updates forever - removing the key should allow them to proceed. ___________ Windows Registry Editor Version 5.00 [HKEY_LOCAL_MACHINE\SYSTEM\CurrentControlSet\Control] "PortableOperatingSystem"=dword:00000001 ______________

You can use the Windows 10 Enterprise ISO together with the wizard on 10's Control panel to create a Windows To Go install on a USB drive -- I used an Insider ISO [15063] & a SSD in an external housing. Works fine. When you boot to it for the 1st time on new hardware, drivers are automatically added for that device, providing they're available from Microsoft. Before updating them to 1703, I used it to test the Creators Update on all of our devices to check compatibility, check for potential driver issues, & check for any problems. MUCH faster & easier than going through the entire install to find out if it will work, & potentially saves you from a roll back.

Been running Creators Update for about two weeks on my main system and except for the icons on the start menu being grayed out. The start menu comes up and the right click menu works, but unable to use the icons or menus within. I use Start Menu 8 from IOBit.com because I hate the start menu, so it is a trivial problem. Windows 10 is solid and more responsive with the Creators Update.

CU is actually a solid little update. It just makes W10 look a bit nicer. The night light feature is nice too

I despise CU. I reported the master browser issue with MS upon initial release and MS hasn't fixed it yet. If you have a non-windows devices such as WDTV or Oppo you can no longer find your PC. If you put another windows computer on your network and make it the master you can access your CU x64 computer. Brilliant - MS sells you 2 copies of Windows - so that you can get one to work.

I'm blocking CU. I found an issue with CU master browser within a day of using it. I reported it to MS and it still isn't fixed. If I discovered a network issue with CUx64 within 1 day I'm guessing there are many other things broken with 1703.

I installed CU and found it had a major audio glitch when starting playback, probably in the mixer. I have reinstalled Windows and wish I could prevent CU from being installed, but on Windows Home, there is no way. It is aggravating that I will have to install it and then uninstall it, and take a performance hit due to unnecessary registry bloat.