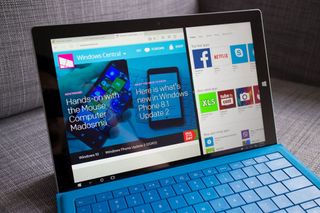 A lot can happen in a week. Seven days might not seem like much, but it can be an eternity in the tech news cycle. Between Windows news, hardware and software developments and Microsoft's fast-paced movements throughout the technology landscape, it's never easy to keep your hand on the pulse of technology. Not to mention everything that's going on right here at Windows Central!
Every week we're going to compile the biggest stories into one post, so you never fall behind – In Case You Missed It (ICYMI).
Windows
There wasn't terribly much going on in the Windows news this past week. Save some confusion about just how Windows 10 will be offered to Windows Insiders. Some changes made to a blog post by Microsoft seemed to contradict earlier statements that Insiders who performed a clean install of Windows 10 from ISO would get the RTM version for free.
[Microsoft later clarified](/microsoft-tries-clarify-how-wi ndows-10-will-be-offered-windows-insiders), explaining that there are two options for current Insiders:
Continue as a Windows Insider and keep getting preview builds
Or
Upgrade your genuine copy of Windows 7 or Windows 8 and stop receiving preview builds
Two new apps, 'Core' and 'Pro' were discovered in the Windows 10 Store in build 10147 and above that point toward Microsoft simplifying their licensing and activation process.
Another change that may be coming with Windows 10 is the delivery of installation files on USB flash drives in addition to the traditional DVD media.
Other notable items:
Windows 10 will natively support VR headsets and unified tracking
Microsoft set to increase rate of Windows 10 SDK releases for developers
Release notes for Windows 10 Insider Preview build 10154 leaks out online
5 intriguing apps for Windows 8.1: June 26, 2015
Microsoft
With its release just over a month away, Microsoft fired up the Windows 10 hype machine, teaming up with NASCAR this week. Microsoft has become the official technology partner of the auto racing league, with the Windows 10 logo set to adorn Dale Earnhardt Jr.'s car.
Another organization, the US Navy, has called in Microsoft for reinforcements. Still playing catch-up with their aging technology, the Navy has paid Microsoft $9.1 million for continued Windows XP support. The deal is meant to keep the Navy's infrastructure running securely on the 13 year-old operating system until they can be refreshed.
Microsoft's Major Nelson (aka, Larry Hryb) chatted with Bill Stillwell this week, speaking in more detail about the Xbox One's recently-announced backwards compatibility. The virtual Xbox 360 emulator, not only lets you play your old games, but also earn Xbox 360 achievements, use the old generation interface and more.
And thanks to a tweet from Microsoft's Xbox Support Twitter account, we now know that the backwards compatibility will also apply to Xbox 360 DLC.
The Microsoft Band received a firmware update on Tuesday. Firmware version 10.2.2823.0 doesn't appear to bring with it any new functionality, but rather a visit from our old friends 'general fixes and improvements.'
And finally, on the heels of Microsoft's high-profile leadership changes last week, CEO Satya Nadella sent out an internal email to rally his 118,000 troops. The email was complete with a new mission statement. In the email, Nadella stated:
Though the overall message was meant to boost morale, Nadella did admit that the company would have to "make some tough choices in areas where things are not working."
Other notable items:
The latest Surface 3 TV ad also promotes the Fresh Paint app for recreating art
Microsoft's Sway multimedia presentation app will soon have a Windows 10 version
Some UK police are using the Microsoft Band, and they could use the HoloLens next
Miscellaneous
Our Hidden Gems series wrapped up this week with some great stuff. On day 5, we fed your brain with Discovery News gave you a chance to win 1 of 10 HP Stream 7 tablets.
Then, on Day 6, we explored some great photo apps and put a Canon Rebel T5 camera up for grabs.
And the final day, you got a look at some pretty cool games, QuizUp and Threes! and a shot at a Razer Kraken Xbox One headset.
Lenovo continued to dazzle with their diminutive ideacentre Stick 300, a tiny device that turns your monitor into a PC. In a bid to gauge consumer interest, they also posted renders of a ThinkPad Time Machine, a retro-looking device with a 16:10 aspect ratio screen, the 7-row keyboard, dedicated volume controls, and that familiar, old school multi-colored Thinkpad logo.
SanDisk's little giant, the Ultra 200GB microSD card went on sale at Amazon.
And after a quick tease earlier in the week for their Un-Carrier Amped campaign, T-Mobile challenged carrier convention, announcing JUMP! On Demand, which lets customers upgrade whenever they want.
Other notable items:
Share your thoughts on this past week of news! And we'll be back again next week to do it all over again.
Get the Windows Central Newsletter
All the latest news, reviews, and guides for Windows and Xbox diehards.