Why Windows Insiders should opt out of the program after the Creators Update is released
By Mauro Huculak published
Running an Insider preview build of Windows 10? Here's what you need to know (and do) after the Creators Update is released.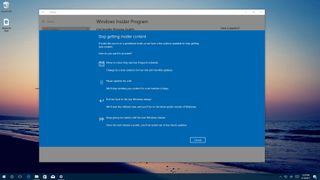 After months and countless hours of work, the Windows 10 Creators Update is now finalized and will soon officially roll out to devices, starting April 11. The update is available for PCs and Xbox One, and phones will get Windows 10 Mobile on April 25.
In this new version, which Microsoft refers as 1703 (identifying the year and month of the release), there are a slew of features and improvements designed to make Windows 10 more productive and secure.
After installing the update, you'll find changes on Cortana and the Start menu, Windows Update, and security. The Creators Update also introduces new gaming features, such as Game Mode to boost gaming performance and Beam integration for in-game broadcasts. You now get more granular control of how apps get installed on your PC. Microsoft Edge gains a new ebook experience, and a lot more. You can learn more about this update in Senior Editor Zac Bowden's Windows 10 Creators Update review.
If you're part of the Windows Insider Program, you're not a stranger to the Creators Update, because throughout the development cycle you have already been testing all the new enhancements and features. However, now that the update is officially rolling out, you may still wonder what will happen with your installation after April 11.
Windows Insiders already have the Creators Update
Whether your device is enrolled in the Fast, Slow, or Release Preview rings of the Windows Insider Program, you're likely already running the latest and final version of the Creators Update.
You can quickly check by opening the Settings app and on the About page, inside the Devices section, the version number should read 1703, and the OS Build number should be 15063.xx.
Now's the time to opt-out of the program
Although the Windows 10 Creators Update is out, that doesn't mean that the Windows Insider Program has concluded. If you keep your computer enrolled in the program, it'll continue to receive previews for the next versions of the OS as soon as they become available. We've already seen this with the rollout of the Windows 10 build 16170 in the Fast ring, part of the Redstone 3 update, which Microsoft plans to launch before the end of 2017.
The problem with early builds is that they can be extremely buggy, and they don't include new features. In this case, your best option is to opt-out of the program to prevent your device from getting future builds.
To stop getting previews of Windows 10, do the following:
Open Settings.
Click on Update & security.
Click the Stop Insider Preview Builds button.
Select the Keep giving me builds until the next Windows release option.
Click the Confirm button.
Click the Restart Now button.
After completing the steps, your device will stay on build 15063.xx, and then you're all set. You don't need to reinstall Windows 10, and moving forward your device will continue to get maintenance updates to fix any issues and improve the overall experience.
Going back to the previous version of Windows 10
If you kept your computer enrolled in the Windows Insider Program, it's possible to stop getting previews, even after getting a new build, but the steps are slightly different.
Perhaps the most important thing to remember is that you only have 10 days to go back to the previous version. The reason is because Windows 10 keeps a copy of your previous installation inside the Windows.old folder, inside the C: drive. After 10 days, that copy gets automatically deleted to reclaim disk space, thus removing the option to go back.
If your PC has been upgraded to a new build, part of the next version of Windows 10, you can do the following to roll back:
Open Settings.
Click on Update & security.
Click on Recovery.
Under "Go back to the previous version of Windows 10," click the Get started button.
Select the reason you're going back to the previous version.
Click the No, thanks button.
Click the Next button.
Click the Next button again.
Click the Go back to earlier build button.
Once your computer restarts, open Settings.
Click on Update & security.
Click the Stop Insider Preview Builds button.
Select the Keep giving me builds until the next Windows release option.
Click the Confirm button.
Click the Restart Now button.
Once you complete the steps, you'll be back on the Windows 10 Creators Update.
If you don't have the option to rollback, unfortunately, the only way to go back is by doing a clean install of Windows 10 with the Creators Update.
More Windows 10 resources
For more help articles, coverage, and answers to common questions about Windows 10, visit the following resources:
Windows 10 help, tips, and tricks
Mauro Huculak is technical writer for WindowsCentral.com. His primary focus is to write comprehensive how-tos to help users get the most out of Windows 10 and its many related technologies. He has an IT background with professional certifications from Microsoft, Cisco, and CompTIA, and he's a recognized member of the Microsoft MVP community.
Better, just switch to "Release Preview" ring

Yes that's a decent option.

I agree. You're ahead of the game (especially with apps) and the builds are almost always issue free.

Yes that's what I do. Release preview on my main install but running fast ring on Hyper-V install of Windows 10

My desktop and mobile are set to the Release Preview ring. My desktop is already running the CU (or at least a version of it - I need to confirm when I get home). Should I expect to receive the CU on my mobile before the 25th?

Hoping we get CU on RPR before this week ends.

Not sure when RPR for mobile will get Creators Update, but I just changed to Slow ring, updated to CU and then switched back to RPR. Works fine and not had any problems (L650, UK)

I just followed suit for my 640 XL (hopped on the slow ring to grab the CU and the ARM updates then back to Release Preview) and things seem good. I was wondering, did the Windows Central live tile stop working for you after the CU? I just have a static live tile with only the notification numbers - it used to scroll through the article headlines.

So lets sum up what's in the update loudly dubbed CREATORS UPDATE: new paint 3d, a couple new settings, game mode that does absolutely nothing and only gamers would eventually benefit from, 3 new buttons in Edge which is the same crap and some performance improvements. And that, friends, took one of the top 3 largest corporations on the planet with virtually unlimited resources 7-8 months.

You missed out the part where it is being given free to all current owners. They don't ask you to pay to upgrade to a new version, or tell you your current version has now expired.
That's two upgrades since Win10 was launched, for free and yet you whine and pout and shake your tiny hands.

@BonzeUK: I'm pretty sure he meant that in the previews they showed in the October Microsoft Event have features they were showing off, a lot off, but are nowhere to be found in the RTM. People are allowed to criticize crap, even if its free. "Your most unhappy customers are your greatest source of learning" - Bill Gates

wouuu wouuu Bonze calm down buddy. Windows 10 is still not a subscription based OS so its normal to get "free" updates. If they wanted money for updates like this one labeled as "Creators" then 50% of users would automaticaly switch to Mac OS because its not worth the money. Lets not praise Microsoft for something which should be normal... and btw: Windows 10 without Anniversary update or the Creators update would be a big mess of bugs. If they wanted money for it, I would laugh at them :))

wouuu wouuu Pappale calm down buddy. If they wanted money for updates like this one labeled as "Creators" then 50% of users would automaticaly switch to.... NOT the ultimately crappy Mac OS, but they would just not pay and instead stay at current OS - WINDOWS OS. Lets not praise Apple OS EVER - rather you should laugh at them :))

You forgot you can now hide the all apps list. Which is very nice indeed. On a more serious note, yes, it's a bit suprising that 18 billion anual revenue worth of resources does not achieve more in 7-8 months.

To me, the new app scaling tweaks for high DPI/4k screens running legacy apps is enough to make the entire release worth it. I can finally run Adobe CS6 programs without registry hacks... Same for AutoCAD.. Its literally game changing for me.

well... I've already purchased 2 books. And did it before official launch.

There are many under the hood improvements.

Jayayess1190 : Shhhh! - Let's not ruin these emotional outbursts with facts and logic.

I had an issue on the new build were my text was invisible which was great for security :) I had to roll back I will wait and see if it is resolved on later release. I will stay on insiders though.

I have problem with my display drivers. It is frequently stopping. Still I will wait for the next build

If you've got the Creator's Update and then select "Give me builds until the next release", doesn't that mean you'll continue to get the buggy early builds?

What if you're on 16170.1? I really want to switch back to pre-creator's update since it's been giving me poor UI performance on my SP3 and is just not as reliable.

i have the 15063.13 on my PC ... what`s with the .14 ? :D

.14 is the fast ring build just before rs3 16170.

I`m not in either of the fast rings, I did the update trough the MS tool :)

Then you should get .13 which is rtm for early updaters. However, MS may assign .14 as rtm for the update though windows update.

ok, i wasn`t going crazy about it, just asking what`s with the difference.

I think this article does a disservice to the windows insider program. It's there to help Microsoft learn about the bugs and issues that we have with the product. By telling everybody to disengage from the program until they get things less buggy that doesn't help them. it better suggestion might be to have folks just use the insider program on computers but there not necessarily needing to work perfectly.

they are collecting telemetry data and other things from everybody.. insider or not...

It's not the same bloody data now is it?

Which is what people agree to when entering the program.
I agree with you.

Not the worry...there will be plenty of new rookie insiders joining in to replace the old veterans opting out. Actually this article is helpful to Microsoft as it would help balancing the number of insiders. After all we don't want to overwhelm MS with too many insiders that they cannot handle!

Or the other line of thought, which I am starting to subscribe to....Insiders Program is just a way for MS to get free labor. With the evidence mounting that MS is caring less and less about their OS mess (you see what I did there?), and putting most of their developing resources in other areas (Cloud, iOS and Android apps, Office...) the Insiders program is a great way to lessen the number of programmers/testers needed when people will do it for free using equipment that MS didn't pay for, because you did. You provide the feedback, your equipment sends the programming data, while one guy at MS that collects all the data and implements whatever, can now do the work of 50, because he has 50, non paid assistants doing the grunt work of testing (multiply this by however many programmers they employ for Windows 10). I feel this way because of everything that has happened to Windows in the last few years. I refuse. I paid for my 2 phones, PC, and tablet, all Windows. You want a piece of my computing power, either pay me or send some TSA thugs to beat me up and drag my PC out of my house (I just had to include that somehow :) ). I love Windows...I just don't like feeling taken advantage of.

I can understand that point of view, but that sounds really to me like it's people who want something for nothing, we get early access to operating systems and people just want to use that is the daily driver without really taking any time to give Microsoft any comments or suggestions, which is what the program is 4. weather there were getting something for free or they're getting some for something frees really relevant there quite clear on the fact that the insider program is not be used for daily driver which I would suggest that most of us tried to use it for

In the Danish facebook group for insiders, we get perks. Like devices sent to us for testing and once in a blue moon, faulty hardware WE purchased gets replaced by Microsoft as a kind of "thank you for your continued participation". I would say that is payment enough. Feel free to disagree :)

Sadly, the new redstone 3 build will not install on my surface pro. It gets about half way through installing the update, and the machine crashes to the new green screen, then the upgrade reverts back.

Not an issue if your insider build is on another partition or machine I guess

Does this work on mobile version as well? Thnx!

Not yet. Once Microsoft releases Creator's Update to Windows 10 Mobile's Release Preview ring, then yes.

It doesn't matter on Mobile, insider or not.

Yes, it does. I did it yesterday. You can opt out but you still would receive the CU build and you still can send feedback just like pc.

So, you can defintely opt out from the insider build on mobile version 15063.2? I need to know for sure, because if this is the case I will upgrade my Nokia Lumia 930 too it and opt out immediately. I defenitely want to opt out, because I want to manage my privacy options and the L930 will not fetch the creators update maybe as mentioned in some news articles.

You have till April 25 to do so...

If you use Insider as a production machine, than perhaps you have miss-understood the whole Insider idea. If you opt out of Insider because it is buggy and unreliable after a new release is rolled out, you have miss-understood the whole Insider idea. This article assumes both these cases and therefore, should IMHO NOT be seen as sound advice concerning opting out of Insider builds. Those who understand Insider, understand that the development cycle will bring possible problems in the earliest builds when moving from, in this case, Redstone 2 to 3. The further the builds go, the more attention shifts from (trialing) new features to polishing and bug-squashing. Which makes complete sense. Microsoft will first offer a (number of) new features to Insider Fast, will get feedback. Based on feedback, Microsoft will get an idea which new features are "yay" and which "nay", will then cut those "nay" ones and work on improving "yay" until said feature is deemed good enough for Insider Slow. The same repeats as presumably, Slow is a larger pool of feedback. Repeat for Release Preview. In the end, what is voted positive in both usefulness as well as readiness for the masses makes it to the Production Release. Now, lets take the advice in this article and en-masse opt out of Insider Fast. The pool of feedback drops drastically, credibility of that feedback suffers from that and Microsoft might make a decision based on skewed results. Come Production Release, or Release Preview, and people start going berserk over nonsensical new features. Staying in Insider Fast or Slow is the best option if you really care about (development of) Windows.

Why people aren't giving this thumbs up just shows how this article has an audience. The amount of people who misuse the program must be big the the changes to for the Xbox preview program works

Luckily, this posts now have the mosts upvotes, so obviously someone is here for the right reasons :)

I only have the roll back option.
Don't have the last option even though I'm on CU

Somewhat illogical advice being offered here. Don't know about others, but I'm in the fast ring because I want to help test beta versions of Windows and provide early feedback that will shape the product going forward. NOT because I want a stable and issue free PC.

Nobody is forcing you to opt out! You can still stay as an insider...

I run mine in a Virtual Machine, so meh.

Yeah, I'll continue to stay on release preview.

Remember, that unlike Win 95, which was built from the ground up, RS3, will be built on the RS2 kernel. Should not be as buggy.

It's already quite stable so just adding features shouldn't break too much

I don't use previews on my production and primary computers anyway so what is the big deal about staying in Fast Ring? Isn't the whole point of the insider previews to find and report bugs and make suggestions? If you're just in Fast Ring for window shopping (pun intended) then maybe you should leave the program. But if you want in on improving Windows then just do it on a test box or two or with virtualization.

Definitely get out of Fast or Slow rings. I think it's fine to stay on Release Preview...

I'll definitely stay on the fast ring, thank you very much.

Living on the edge. Don't feel like dealing with broken stuff in the Fast ring myself... 😐

I am a Windows Insider and I test insider builds in Oracle VirtualBox. I don't want to use a beta/preview OS as my main system OS because I want to keep my system smoothly and those can be buggy and unstable
I don't recommend using beta/preview builds as your main production OS

Thanks for the heads up. I'm going to bail from insider but I need to do the roll back because I already got the first update to Redstone 3.

Rather than dropping out of the insiders program to avoid early RS3 instability, just drop down to the release preview ring. This ring will get cumulative quality & security updates like the current branch does albeit a few days early. You won't get any feature updates until near the end of the RS3 development. You can stay there, or when RS3 is more stable, bump yourself back up to either the slow ring or the fast ring. Doing this is a little less effort than dropping out of the insiders program completely.

I have one mobile and one laptop dedicated to the insider program for testing. I install every build on them, and if they break, I reset them. I also set aside a day in the week I focus on testing it thoroughly and write feedback. While I get the idea of virtual, I do not believe it gives useful hardware telemetry for Microsoft to debug with, so I use actual hardware to test :)
Windows Central Newsletter
Get the best of Windows Central in in your inbox, every day!
Thank you for signing up to Windows Central. You will receive a verification email shortly.
There was a problem. Please refresh the page and try again.