Why I'm switching from Ring to Eufy video doorbell this Black Friday
By Daniel Rubino last updated
Ring has been great, but Eufy is looking even better as my smart doorbell solution. Here's why.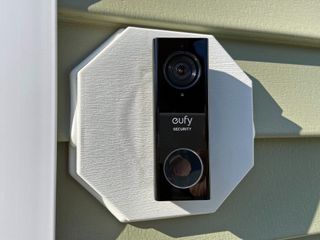 (Image credit: Daniel Rubino/Windows Central)
Tis the season for people to start buying video doorbells and Wi-Fi-connected cameras for their homes. I've written in the past about Ring, who has an app for Windows 10 (though it's far from feature parity with iOS and Android these days), but recent events have caused me to look for alternatives.
Here's why I'm giving Eufy a fair shake at being my new video doorbell (and possibly more).
(opens in new tab)
Price: $160Bottom line: The Eufy Video Doorbell is a fantastic low priced alternative to the bigger brands. This camera offers crisp, high-resolution video, fast response, customization, and best of all, does not require a subscription, making this one of the best on the market.
Slow and faulty
Ring is excellent, but not perfect
My main problem was a failure with the hardware design of the Ring Video Doorbell Pro, which I reviewed two years ago. In the last few months, condensation started building up on the inside lens with no way for me to clean or fix it. This defect ruins the image quality and begins to render the security function of the doorbell moot.
To their credit, Ring's support was very responsive after I tweeted about it. The company is offering a free replacement, and I couldn't be happier with how they handled the situation. If you're going all-in with Ring, I can say their support is excellent.
Best Video Doorbell Black Friday Deals
Ring Video Doorbell Wired with Echo Show 5
$64.99 $139.98 Save $75 (54%)
Eufy Security Wi-Fi 2K resolution video doorbell
$119.99 $160.00 Save $40 (25%)
But other issues with Ring are not uncommon. The app can be slow to connect to the camera is a common theme. Sometimes you get that notification, click it, and you must wait upwards of 30 seconds before something comes through. It's also not my network. I test the latest routers, and right now, I'm using the jaw-dropping TP-Link Archer AX11000.
There are also general privacy concerns like the ones reported in The Intercept about Amazon employees linking into feeds and their recent story on "watch lists". There's also the recent coziness with local police for warrant-less surveillance.
These issues have given me pause, and it's worth considering the pros and cons of going with a company like Ring or Google-owned Nest for your home security solutions.
Speed, features, and cheaper
Eufy video doorbell to the rescue
The Eufy video doorbell launched over the summer. I had never heard of them until two days ago (they're a sub-brand of the Chinese company Anker, who make mobile charging accessories). When browsing our sister site Thrifter, I came across their doorbell being on sale and went down the rabbit hole of reviews, including one on iMore.
But even with the replacement doorbell Ring is sending me, I'll likely stick with the Eufy, which I have now been using for the last two days. Here's why:
No subscription: Eufy doorbell has 4GB of built-in storage, which is about 30 days of recordings. All video is local and can be saved on your iOS or Android phones for sharing or archiving. Your footage never leaves your network.
Cheaper: Retail price of Eufy is $160, while Ring Video Doorbell Pro is $250. Black Friday sale prices are $108 and $180, respectively.
Faster: My feed is live within one second of clicking the button. It's astonishingly quick with no buffering or connection issues.
Voice responses: While there is a two-way microphone like Ring, Eufy also has canned voice responses like "We'll be right there" or "Please leave it at the door." You can even record your own for regular use.
Better camera: The Eufy camera has a 2K HDR camera versus the full HD one of the Ring Pro. It also has a "camera distortion" fix that removes the curved edges and a wider angle of view that lets me see my steps (for packages).
Included wedge: Eufy includes an angled wedge so that you can have the camera point at an angle instead of straight out.
Modes: You can have different modes of operation for home, away, disarmed, schedule, or custom.
Better notifications: Notifications arrive with a snapshot of the event. If a person is detected, facial recognition technology clips just the face making notifications much more useful and informative. These images even show up on my Apple Watch, which is incredible.
AI: Eufy has an AI chip built-in that can recognize faces, thereby alerting when you strangers approach versus a family member. This tech also prevents a car or movement from a blowing bag from setting off motion detection.
Included Chime: Eufy doesn't take over your existing doorbell chime, but they do include a plug-in one (more can be added) that works very well. Volume levels are controlled on the device, and the pairing worked flawlessly.
It's for all these reasons that I'm finding Eufy a better choice so far. The quality of the image, how quick it is to connect, the ease of adding family members to the account, and the easy setup make it easy to recommend. (I would like to see 2FA though added for account security).
I'll spend the next few months — especially as winter and snow hits — to see how Eufy holds up, but everything about it I find better than Ring. Currently, I still have Ring for my home security system, including some outdoor cameras, but I may switch to Eufy's outdoor cameras as well if all goes well.
Eufy is currently on sale for $108 when using a coupon and is my best Black Friday purchase so far.
An affordable alternative
(opens in new tab)
Ready to make the switch?

The Eufy Video Doorbell is a fantastic low priced alternative to the bigger brands. This camera offers crisp, high-resolution video, fast response, customization, and best of all, does not require a subscription, making this one of the best on the market.
Daniel Rubino is the Executive Editor of Windows Central, head reviewer, podcast co-host, and analyst. He has been covering Microsoft here since 2007, back when this site was called WMExperts (and later Windows Phone Central). His interests include Windows, Microsoft Surface, laptops, next-gen computing, and arguing with people on the internet.
Thanks for this as I've not heard of this company. I've had issues with Ring's app taking as much as 60 seconds to connect with the video stream after a notification of movement. This does depend on the quality of the Wi-Fi, and the system where I spend the most time other than home- work- is the absolute worst. My other issue with Ring has been the lack of granularity of their zones for sensing movement. There is no good solution for me. It is either every large truck going down the street or I get notified when the person is already standing at my door. I am hot and cold on the value of the Ring Neighbors feature as well. While there is a voyeuristic nature to many of my neighbor's posts I confess to enjoying, I am also not happy that many of the posts I see of "suspicious person" are nothing more than a person of color minding their own business walking down the sidewalk. I like the idea of keeping my video local. I was confused by your comment that the Eufy does not take over the doorbell. My Ring is hard wired to the doorbell. How does the Eufy draw power? And if someone pushes the button, does my original doorbell AND the Eufy both go off?

"I was confused by your comment that the Eufy does not take over the doorbell. My Ring is hard wired to the doorbell. How does the Eufy draw power? And if someone pushes the button, does my original doorbell AND the Eufy both go off?"

Right, that was confusing. Let me clarify: You do use an included jumper that connects the "front" and "trans" terminals in your doorbell's chime box. You then use the 2 wires outside to power the Eufy. However, unlike Ring, Eufy does not ring the original doorbell box (there's no transceiver box that triggers it). Instead, there's an included "Indoor Chime" (you can see a diagram of it in my iOS screenshots) that you just plug into any AC wall outlet. That syncs to the Eufy and gives you the audible ring, which also has volume controls. You can buy extras of these like Rings extenders for other rooms in your house. It's very loud and the ring quality is excellent. I do like granularity of the face recognition system in Eufy. They have 5 levels: one is all motion be it cars, animals, etc. will trigger it. It goes up to just people/faces

but only when walking towards the house

- it's very specific. A common setting is people walking to

or

away from your house, but not walking parallel e.g. on the sidewalk. It's really clever. You can also customize activity zones like Ring. re: speed, it's really night and day between Eufy and Ring with the former being nearly instant, whereas Ring, well, you know the issues there.

I'd love a comparison review with the Nest doorbell since a lot of these features are present with it. The increased resolution and no subscription needed sound great, but not sure that's enough to change. Especially to an unknown Chinese company like this.

Eufy is an Anker company, better known for their battery packs, chargers etc. Definitely not an unknown Chinese brand. Added bonus: No Google on your front door.

For me, one of the big advances is AI for face recognition. It means my doorbell only triggers when it detects people walking towards or away from my house. But there are settings to modify that e.g. you can have it detect people walking in front of (parallel) to your house, or even cars and animals if you really want everything. The audio is also better and I think the pre-recorded quick responses are great if you don't want to actually talk to the person - you just send a canned response (the ability to record your own is also quite fun). There's also just speed. This thing is lighting fast to connect vs Ring, like it's really noticeable. I also dig how notifications come in with the persons's face as a thumbnail - that's super awesome for instant warnings. As far as Anker/being a Chinese company, AFAIK, they have never been accused of any privacy issues, but you can't rule it out. OTOH, we already know there are concerns with American companies like Ring and Nest (Google), so it's a pick your poison kind of thing.

So everything is local to your house, there's never data sent outside your personal network? How does the app connect when you are away from your home?

"How does the app connect when you are away from your home?"

AFAIK you're just connecting to the doorbell via your home network, but it works over cellular when you are away (256-bit encryption). The data though that is on your doorbell is not uploaded to servers, or rather, there is no cloud storage (hence the 4GB local storage built into the doorbell itself) - so it's like accessing a NAS when you're away from home.

Hi, I am getting an invalid code response while trying to purchase through the link with this site, any ideas?

Same here code says it is invalid when I try to use it. Article indicates it is a black Friday deal and it is black Friday today but code is invalid for some reason

Fyi, it is currently at $100 on amazon deal of the day, 7 hours to go on the deal.

Hi Will you do an update in the new year to let us know how its performed and and any plus/minus points in real life. I'm thinking of buying it and would welcome an honest real world critique. Thanks
Windows Central Newsletter
Get the best of Windows Central in in your inbox, every day!
Thank you for signing up to Windows Central. You will receive a verification email shortly.
There was a problem. Please refresh the page and try again.