Windows 10 build 14946 for PC: Everything you need know
By Mauro Huculak last updated
Windows 10 build 14946 rolls out to Insiders, and we dive deep into this update to show you the new features and changes, including those improvements Microsoft didn't mention.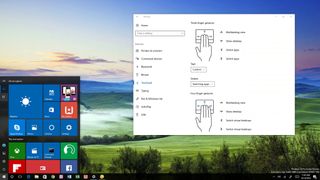 Microsoft delivers yet another test version of its operating system part of the Redstone 2 update. This time around the company is rolling out Windows 10 build 14946 through the Fast ring for PC and Mobile devices bringing a number of new features, improvements, and several fixes.
On Windows 10 build 14946, Microsoft continues its Redstone 2 development by adding new features to the Settings app, including new customization options for Precision touchpad, and the ability to turn off a Wi-Fi connection temporarily. And as usual, this flight also includes a number of fixes and improvements.
Here's everything you need to know about the latest Insider Preview build of Windows 10 for PC.
Windows 10 build 14946
Settings
On build 14946, the Settings app is getting a few new interesting improvements for touchpad, networking, and a few other tweaks.
System
On Settings > System > Storage everything remains virtually the same, but now you'll notice that under Save locations, Windows 10 is adding the ability to change the location to store your offline maps, which was something previously only available in the Offline maps settings page.
Devices
On Windows 10 build 14942, Microsoft announced new improvements to the touchpad experience, including new adjustments for gestures and click detection using a Precision touchpad. In addition, the company created a separate settings page for touchpad configuration options.
On build 14946, on Settings > Devices > Touchpad, Windows 10 adds a new Other gestures section that allows you customize additional options for your three and four finger gestures and you have a diagram showing exactly how everything currently is configured.
Three finger gestures, includes swipe up for multitasking view, swipe down to show desktop, and swipe left or right to switch apps. If you don't like this configuration, you can always use the "Swipes" drop-down to select between nothing, switching apps, virtual desktops, or custom.
Then you can also configure the tap action when using three fingers. By default, it's set to search with Cortana, but you can select among other actions, including nothing, action center, play/pause, middle mouse button, or custom.
You can't configure four finger gestures, but you can do the following actions: swipe up for multitasking view, swipe down to show desktop, and swipe left or right to switch virtual desktops.
At the bottom, you also get a button to reset your settings, and Microsoft has even added an extra gesture configuration page for advanced users.
Inside the Advanced gesture configuration page, you can configure your three finger gestures with a bunch actions for taps, up, down, left, and right, including nothing, task view, focus application, create virtual desktop, and much more. (Options available vary per gesture.)
Network & Internet
On this flight, we continue to see Microsoft working on making settings similar across PC and Mobile devices.
On Settings > Network & Internet > Wi-Fi, the settings page has been updated to include a set of options that allows you to turn off Wi-Fi and choose the amount of time the connection should be disabled.
Now when you turn off Wi-Fi on your device in the latest Insider preview build, you'll get a "Turn Wi-Fi back on" drop-down menu to select whether you want your wireless connection to stay disabled until you turn it back on (manually), 1 or 4 hours, or 1 day.
This new option is not only available through the Settings app, but you'll also see the feature when you turn off Wi-Fi using the taskbar button.
On Settings > Network & Internet > Proxy, Microsoft has updated the settings page to let you select and configure the proper proxy settings on your computer. Now on build 14946, you can select options individually to prevent mistakes, but as always you can choose not to use any proxy configurations, detect settings automatically, use setup script, or manual setup.
Additional changes
In addition to all these new improvements, there is a few other changes part of the latest preview, but they already appeared in previous releases.
When you go to Settings > Update & security > Update history, you will now notice that Microsoft is grouping updates by major releases. As you can see in the screenshot, Windows 10 build 14946 appears under "Feature Updates."
On Settings > System > Apps & features, Microsoft is now allowing to uninstall some additional built-in apps that many users may consider non-essential, such as:
Mail and Calendar
Calculator
Groove Music
OneNote
Voice Recorder
Maps
Movies & TV
Weather
Xbox
The best part is that as we have previously heard, built-in apps you uninstall won't reinstall during the installation of a new major feature update when Windows 10 Redstone 2 releases.
Finally, we all know that Control Panel will eventually be completely replaced by the Settings app. While it might take a long time for that to happen, the latest preview of Windows 10 shows the Control Panel slowly fading away.
In previous releases it was easy to quickly access Control Panel, you only needed to use the Windows key + X keyboard shortcut to open the Power User menu and click the Control Panel button. Now the entry has been replaced by a new option to access the Settings app instead. It's obviously not a big change, but it's an important shift that shows how the company is moving in favor of the modern Settings app.
Wrapping things up
While these are subtle changes, they give us a glimpse of what Microsoft has been working for the Windows 10 Redstone 2 update.
The company hasn't announced when exactly the update will arrive, but reference found on Windows 10 build 14946 indicates users will get Redstone 2 in March 2017.
Along with the new features, Microsoft is adding a number of fixes and improvements to build 14946.
The company also is making available build 14946 for Windows 10 Mobile, which includes new Continuum improvements, the ability to stop autocorrection on certain words, and you can even remove words that you accidentally added to the dictionary, among other changes.
What do you think about the improvements included in Windows 10 build 14946? Tell us in the comments below.
More Windows 10 resources
For more help articles, coverage, and answers on Windows 10, you can visit the following resources:
Windows 10 help, tips, and tricks
Mauro Huculak is technical writer for WindowsCentral.com. His primary focus is to write comprehensive how-tos to help users get the most out of Windows 10 and its many related technologies. He has an IT background with professional certifications from Microsoft, Cisco, and CompTIA, and he's a recognized member of the Microsoft MVP community.
The "store your offline maps" did not work on my Surface. Only shows the "C:" drive not the "D:" as the other save locations show....

Out of all mentioned changes, only the WiFi related changes are new in this build. The others where all in 14942. And yes, that includes the changes to the touchpad settings, I've got a Surface Pro 4 running 14942: all these settings are already present.


Was the "Advanced gesture configuration" link there on 14942? I don't remember it being there, at least on my XPS13 with a PTP.

It is on the Surface Pro 4.

I hope we get these on normal laptops as well... looks really handy.

Features keep coming, stability does not. How about delving into the fact that this build broke Symantec Endpoint, and MalwareBytes. The notes said it wouldn't install with them installed. Said nothing about it not being able to run after reinstallation.

Except this is on the known issues list. Pretty sure they're working on it. Of course, it may involve the third party vendors too. Also, bear in mind that this is still very early in the RS2 development cycle.

Actually, the only thing it says is that the update may not complete with 3rd party AV programs. Said nothing about them fubaring the system once the update was complete and the apps reinstalled. No notice whatsoever to avoid using them. I tend to look at the potential issues before I install an update.

If I can't install A while B is installed, I generally assume there's a decent chance B won't install after A is installed either. Considering how Insider works, I look at this as a very minor issue. Stability comes at the end, not the beginning. Stability is a refinement. You don't refine this early on. I'm thinking you don't understand what you're using. This build isn't even consider a Beta version.

Bugs and things not working are part of the development process, you install this kind of previews knowing in advance that there are going to problems. Now if you had the same issue on the public release, that's another story. Thanks,

Leave the insider program.

The more they try to distance themselves from Windows 8.1 the more they come back to it but in some screwy way to make it look like it's not Windows 8.1 but it actually is and somehow it works and looks worse on Windows 10 than on 8.1 Three finger gesture to switch apps? Single finger edge swipe is hell a lot better solution so why not make it left edge > and < right edge Four finger gesture? Don't want to even comment on that one, three fingers in unatural enough and four is like an afterthought Full screen app list is also ruined on Windows 10. Windows 8.1 has perfect app list across the full screen where each folder/group was a separate tab. Now in W10 we got half a full screen of a full screen app list with the return of ugly yellow folders that you have to drop down to see what's inside of them. And desktop icons are all the same accent color which makes it impossible to distinguish on the first glance. And they didn't even had this from the get go. Which means they had to come back to revisit W8.1 Side-by-side apps still can't be resized proportionaly and so on.

Dude, your talk is like suggesting push ups with just one finger. As amusing as it sounds, it's not a bright idea imo! I'm sure msft knows what it's doing with the OS. I love these gestures, and I'm doing it all the time with minimum effort.

Side-by-side snapped window resizing has been working for months. Try it... snap a window left and one right... hold your mouse between the two windows and drag it... *both* windows will be resized... one will get bigger and the other smaller.

Swipes from edge of a screen are not the same as swipes from the edge of a touchpad. If be pissed if they did that. Swipes on a screen, fine, cause I'm looking at it. On a touchpad? He'll no. I'm not looking at it, I'm looking at the screen. That's stupid. I don't want to refine my middle memory by that level of accuracy.

How much more in-depth and productive can Windows 10 ever become? Windows OS truly is a masterpiece that time can sculpt.

sadly for me touchpad page shows only reset.

It's because you don't have a precision touchpad. The same thing happened to me, and I didn't see the settings until I updated a PC that included a precision touchpad. Thanks,

okay ! sorry to bother what is difference between precision touch pad and normal? my touchpad does gesture which showed on above image like three finger swipe up for multi tasking etc..thank you :)

If I remember correctly, precision touchpad is the kind of touchpad that supports special gestures, are more sensitive and accurate to the touch. Normal touchpad may or may not support gestures and they may not be very accurate. Thanks,

Gestures work even without a 'precision' touch pad btw.

Hi guys do im the only one here edge crash before opening? Build 14846. Lumia 950

Is personalize handwriting working now?
.
What about the surface 4 pen pinter bug?
.
Does WiFi in task bar show accurate bars now?
.
Screen flickering on surface pro4 gone?
.
One note bug on external monitor?
.
Visual studio bug on external monitor?
.

Test it out and post your results here :)

Anyone have some direct links for the update? I am still stuck on the mid Sept Culumitive 1607 build loop.

1. nice to see consistency in storage setttings between windows 10 devices. 2. nice to see improvements of the touchpad. With touchscreens though the trackpad has become obsolete for me. combination of touch and keyboard is great! 3. netweork&wifi. Great the network settings are more consistent across devices. I do wish wifi&network could be managed more via the action center rather than the taskbar. This would make the expereince across windows devices more consistent as mobile doesnt support a taskbar and changing settings via the action center is ever more becoming the norm. 4. grouping update history is fine. A pity though that in its current form its hardly useful. In insiders I'm noticing that the update list before a major update are all deleted. So what then is the point of grouping them together. There's hardly a list!?! 5. This is interesting. Many people are waiting for this. Not sure what impract this is going to have. 6. I have my doubts if we're ever going to see the control panel disappear. If it were easy to do we would have seen the control panel gone by now. I think some features in the control panel will be too challenging to port to the new settings app.

The taskbar isn't just the desktop equivalent of the navigation bar, it is also the notification bar, out of which you also manage these things on Mobile.

Though I'm also looking forward to unified Settings, I agree that its hard to completely ditch Control Panel. They have to completely remove the legacy rundll legacy settings which persist because of legacy compatibility reasons. Settings app needs to be extendable that supports 3rd-party settings which is the advantage of old Control Panel. So 3rd-party settings can hook-up to Settings app to have one place of all settings for both OS and 3rd-party. I'm not fan of removing the Control Panel link from Win+X menu as it is supposed to be power user hidden menu to still keep bit easy access for those stuff that isn't available on new ones. Removing the Control Panel link while Control Panel isn't completely replaced would just result to some users confusion and frustration as to where the other settings are. Settings app btw seriously need a face lift, especially it lacks visible sections within the settings pages as its just a one long list of text and buttons with no separators between them. The layout wasn't properly designed at all, no typographic design, no groupings that it all looks like text slapped on the white spaces. It's just doesn't look great and looks unfinished.

Control panel now replaced by settings on my Laptop from this build

New windows weekly update, all you need to know. We fixed 2 things that our developers. Oppps I mean insiders reported to us. And in the process broke 7 more things.

Sigh, why do you bother?
Or did you really think you were being clever or amusing?

Sigh, is it NOT the truth? Every build so far, they fix one or two things from the previous build......then break 7 or 8 other things....

It's called software development. There are going to be issues for a while until closer to release.

Sigh, no it is NOT the truth. It might be YOUR truth, but of course that's no where near REALITY.

Because there are those who just want the shiny new stuff, like magpies. Insiders have NO right to complain. No one forces these early releases to be installed. It's also not as if MS don't WARN people about issues. MS must have to sit and sort the wheat from the chaff, as I suspect a large portion of 'insiders' aren't contributing.

You really think an insider is even remotely doing anything close to development?

Yes....considering that MS has fired all but probably 2 of their own...so they use "insiders" to test and take the feedback and data to TRY to sort through this steaming pile of crap that is called windows 10.

I like the fact that apps can be removed, I have no use for Maps or voice recorder on my desktop PC Posted via the Windows Central App for Android

An option to remove ALL phone related features on desktop would be so useful, there are even some services that run that are for phone only Posted via the Windows Central App for Android

Is it just me, or is the Control Panel far more powerful than settings? I am on release builds so I don't know how far they have come yet with it, but it still seems that way.

Well Control Panel is a legacy area where all the settings used to be. It still have the links to many things especially to advance stuff such as Administrative Tools. They're heading to right direction to have single unified Settings app, but removing Control Panel link while its not being completely replaced would cause annoyance and angry users when this update gest released to the public.

It's still possible to create a shortcut to Control Panel. They probably figure that per users can still have their link that way and other users now right be bothered.

That may be true, which is why control panel hasn't been done away with completely.

On phones there is a new feature on keyboard.

No more Control Panel? Almost brings a tear to my eye. Going to miss the Legacy stuff when it fades out.

Ffs why get rid of control panel? Im sure microsoft wont include all its settings in the setting app so this isnt really helping anyone with anything

They didn't get rid of it though.

There are connection problems, eg some programs can't connect to the internet even the internet is working.

Why don't you leave the Insider program? This **** is also happening to my NON unrolled system. I cannot update from Build 187 to 321. You have any smart ass remarks for that?

My Xbox App still won't sign in.

Stability?
I'm interested

I don't find these to be simple changes. I find them essential. The kind of changes that need to happen. Things like "why can't I uninstall 1st party apps!?" have been heard so many times. I'm delighted at the thought of not having to silently agree to those comments once RS2 is released to live ring :) Removing the Control Panel from Win+X was a bit early I think. Those that it matters for, is unlikely to know of Win+X anyway. I hope you can still search for it at least :) Of my favourite "quality of life" improvement is the grouped updates.

I wish 10 didn't feel so nasty n cheap! compared to 7, 7 just flows the pages!! this 10 just feels like some cheap software on it . The settings layout its just dreaful really!!! why change it so much?????

Because times and tech moves on. If you want 7 to be the release still, where do you expect MS to be now? Don't find it cheap and nasty, in fact its quite good for a complete re-write of an OS including a new coreOS

I had some problems. When I used TeamViewer program then I finish my PC can not change the Background and Microsoft Office 2010 it stuck

Windows 10 comes with Quick Assist. I would use that over Team Viewer. Last I heard there was security issues. Have you tried uninstalling Team Viewer and restarting your PC?
Windows Central Newsletter
Get the best of Windows Central in in your inbox, every day!
Thank you for signing up to Windows Central. You will receive a verification email shortly.
There was a problem. Please refresh the page and try again.