Windows 10 Creators Update: Common user experience complaints and problems
The Creators Update for Windows 10 is a great release, but it's causing a few headaches for some users.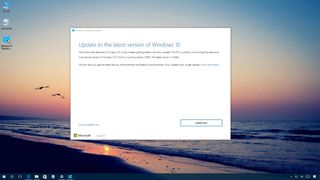 Although it was available early, Microsoft officially pushed the red button to unleash the Windows 10 Creators Update on April 11, 2017. This is the third major update since Windows 10 first became available back in 2015, and it delivers a wide range of new features and changes.
With this update you'll get support for virtual reality and 3D, as well as new gaming features, improvements to Microsoft Edge, the new Windows Defender Security Center dashboard, and a slew of tweaks on the Settings app and throughout the OS.
This time around, Microsoft is being even more cautious to ensure a smooth upgrade. The release of the Creators Update is happening slower than previous major updates, first hitting PCs tested to work and then eventually rolling out to other devices. The rollout isn't going without glitchs, as many frustrated users are reporting a number of problems and bugs with Windows 10 version 1703.
In this Windows 10 guide, we'll look at some of the complaints users are having with the Creators Update.
User complaints about the Windows 10 Creators Update
Here are some of the issues and bugs users are stumbling upon during and after the installation of the Windows 10 Creators Update for PC.
Installation problems
Some of the biggest complaints with the Windows 10 Creators Update are regarding installation. A small number of users have been reporting problems with the Creators Update getting stuck during download or taking hours to install.
In other instances, the update process fails rolling back to the previous version of Windows 10.
On Windows Central, Ironman273 comments:
User JetFixxxer at the Windows Central forums reports getting the error: "Windows can't be installed because this PC has an unsupported disk layout for UEFI firmware."
Furthermore, some users are also noting that the update resets and makes Microsoft Edge their default web browser. After the upgrade, Office may lose its activation, and trying to activate will result in a multiple activation error message..
Another frustrating problem is available storage. Some users are reporting storage errors, even though there is more than enough space available on the primary hard drive, or on secondary storage devices, which Windows 10 should detect and use as temporary storage to complete the installation.
Sometimes even a clean installation, which should pretty much guarantee a successful upgrade doesn't work, as Windows Central reader Shaundub reports:
Driver problems
After installing the Creators Update, many users are also having graphics driver related problems, including screen flickering and black screen with only the mouse cursor showing in the display.
User Genesis Designs6 on YouTube says that after installing the new version the taskbar icons "keep flickering."
A number of users report less than optimal framerate and stuttering problems when playing games in full-screen mode, even after installing the latest graphics driver.
On Reddit, user forthinmoment reacts saying:
It's been suggested that turning off Game Mode may fix the problem, but this didn't work for forthinmoment, who had to roll back to the previous version to fix the issue.
Another problem that many users are noticing is a black screen with only the mouse cursor on the screen during login, after installing the new version of Windows 10.
SASandy.Oliver at the Microsoft forums says:
And this wasn't the only case, user brightmiles on Reddit reports the same problem, and while restarting didn't fix the problem, it seems that doing a full shutdown mitigated the problem (at least temporarily).
Feature problems
In the early days of the new version of Windows 10, some users are also complaining about features, such as Night light, Game Mode, and audio not working with the Creators update.
Night light
One of the brand-new features on Windows 10 is Night light, which adjusts the blue light on your screen at night showing warmer colors to help you improve your sleep quality. However, several users are noticing that the feature is grayed out or not working as expected.
For example, a user on Reddit reports:
Microsoft hasn't acknowledged these problems as bugs with the Creators Update, but in many cases, it could happen because the graphics driver aren't working correctly after the upgrade, or the driver you have installed isn't compatible with the new version of Windows 10.
Audio
There are other cases where the Creators update causes problems with audio. On Windows Central, fellow reader LexaSap reveals that the audio after upgrading doesn't sound correct, "everything sounds like there is a scratch on a record," and audio and video don't sync, "especially when streaming YouTube and Netflix".
Ossi V, another reader on Windows Central, reports:
Games
The Creators Update is also supposed to be a big update for gaming, but many users are currently complaining about games not performing or working as the used to be with the Anniversary Update.
A Reddit user Ziift says that even though the new Game Mode shows significant framerate increase when using a microphone games freeze or drop frames noticeable.
Other users are also frustrated reporting that games crash immediately after launching, or playing a game will reset the system color profile.
Apps missing or broken
Other complaints have been filed regarding missing apps, at Windows Central, user Hunier reveals that some Windows Store apps, including the Xbox app and Picture viewer are missing after installing the Creators Update.
Performance problems
Although many people would expect a new version to perform better than previous releases, some users are experiencing performance problems after installing the Creators Update.
User Admiral_Ackbar_1325 on Reddit says that since the Creators Update, he's experiencing "little hitches and slow downs" opening and moving windows around.
Another person notes that Windows 10 "hangs up whenever trying to do simple stuff. Opening Task Manager via right clicking the Taskbar takes 10 seconds, when before it was less than 1." In addition, using UserBenchmark result on lower performance score that in the previous version of Windows 10.
There are also problems putting Windows 10 on sleep mode, as some users are complaining about their computer not waking up from sleep after the Creators Update.
In other cases, when trying to resume from sleep, users will get a gray screen with no mouse cursor or desktop visible in the display. Then the only workaround that seems to work is doing a hard reboot of the system, which could cause you to lose unsaved work. This could happen even after installing the latest video driver.
Also, some Windows Central readers are saying that putting Windows 10 to sleep after installing the Creators Update will automatically close apps upon resume.
After the upgrade, some computers are experiencing network connectivity problems, while reinstalling the latest network adapter is recommended as one step to troubleshoot this issue, it may not work.
The1Weapon at the Windows Central forums complaints about his Wi-Fi connection being "incredibly slow since updating to the Creator's Update. Downloads are primarily affected as my upload speed is working fine".
On Reddit a user reports getting 1Mbps of download speed when this person is paying 150Mbps download speeds.
Big features missing
Alongside the complaints after installing the Windows 10 Creators Update, some users are still disappointed that Microsoft didn't deliver in some of the features.
MyPeople is a feature to make it super easy to share and connect with people closer to you, but this feature didn't make the cut in the final version of Windows 10. In fact, Microsoft never shipped an early version of the feature in any of the Insider preview builds.
Microsoft never officially mentioned it, but Groove Music Maker was supposed to be another significant addition to mix and create new tracks without the need of extra software, but again the feature didn't make it to the final release.
On YouTube, user TimTube1 says:
These weren't the only features that were cut off from the Creators Update, if you didn't notice Microsoft canceled a number of other significant features and changes.
You should also check 5 things we hate about the Windows 10 Creators Update that goes into more details on some of the design problems in this release.
Be prepared before upgrading
You should never make significant changes to your device without first making sure you have a recovery plan. Before trying to upgrade, make sure to create a full backup of your system.
Windows 10 includes a simple to use tool to make a copy of your entire system. It doesn't take much of your time, and at the end, it can save you a lot of headaches.
It's known that devices connected to your PC can many times be the reason the upgrade doesn't complete successfully, especially USB storage devices and old peripherals.
You should always consider disconnecting all non-essential devices from your computer, including external USB hard drives and flash drives, printers, scanners, Bluetooth devices, and others. A keyboard, mouse, monitor, and internet connection is all you need to install a new version of Windows 10.
Some apps may also interfere causing the installation to fail. Typically, it's a good idea to uninstall any app that may cause problems, especially traditional desktop applications.
Other times security software, such as a third-party antivirus or firewall, can cause errors and other problems during the installation of a new version of Windows 10. You should always keep your device protected, but whenever possible disable your antivirus, firewall, and any other security software before proceeding.
On Settings > Devices > Default apps, make note of your devices settings. If after the upgrade, some of these settings change, you can quickly reconfigure them back.
Additionally, you should also go to Settings > Privacy, and check your settings. After installing the Creators Update, double-check your privacy settings and make sure nothing has changed.
Trying to upgrade to a new version of Windows 10 while using encryption can also cause issues, as such remember to disable any encryption software. If you're using BitLocker, you can check our guide for more help.
You can learn more tips and instructions to resolve many issues on our Windows 10 Creators Update installation problems and fixes guide.
Wrapping things up
Although you may come across a number of problems during the early days of the new Creators Update, these are not significant issues affecting everyone. Furthermore, Microsoft is rolling out the update even slower than previous versions to ensure devices go through a smooth transition.
If your device hasn't received the update yet, chances are there is a problem that needs to get fixed before the Creators Update becomes available to you. If you can wait, it's recommended that you not force the update and let Windows Update install the new version when it's appropriate.
Alternatively, you can always manually delay the Windows 10 Creators Update until you feel it's ready.
During the time I've spent researching the Windows Central forums, Microsoft community, Reddit, and throughout the internet, I've stumbled upon many problems, and as always with Windows, it all came down to problems with drivers, applications, storage, and settings.
Have you come across any issues with the Windows 10 Creators Update? Share your experience in the comments below.
More Windows 10 resources
For more help articles, coverage, and answers to common questions about Windows 10, visit the following resources:
Windows 10 help, tips, and tricks
Get the Windows Central Newsletter
All the latest news, reviews, and guides for Windows and Xbox diehards.
Mauro Huculak is technical writer for WindowsCentral.com. His primary focus is to write comprehensive how-tos to help users get the most out of Windows 10 and its many related technologies. He has an IT background with professional certifications from Microsoft, Cisco, and CompTIA, and he's a recognized member of the Microsoft MVP community.