Windows 10 Creators Update: Common user experience complaints and problems
By Mauro Huculak last updated
The Creators Update for Windows 10 is a great release, but it's causing a few headaches for some users.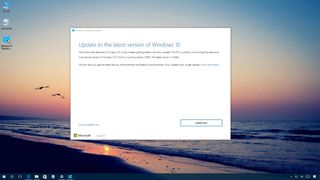 Although it was available early, Microsoft officially pushed the red button to unleash the Windows 10 Creators Update on April 11, 2017. This is the third major update since Windows 10 first became available back in 2015, and it delivers a wide range of new features and changes.
With this update you'll get support for virtual reality and 3D, as well as new gaming features, improvements to Microsoft Edge, the new Windows Defender Security Center dashboard, and a slew of tweaks on the Settings app and throughout the OS.
This time around, Microsoft is being even more cautious to ensure a smooth upgrade. The release of the Creators Update is happening slower than previous major updates, first hitting PCs tested to work and then eventually rolling out to other devices. The rollout isn't going without glitchs, as many frustrated users are reporting a number of problems and bugs with Windows 10 version 1703.
In this Windows 10 guide, we'll look at some of the complaints users are having with the Creators Update.
User complaints about the Windows 10 Creators Update
Here are some of the issues and bugs users are stumbling upon during and after the installation of the Windows 10 Creators Update for PC.
Installation problems
Some of the biggest complaints with the Windows 10 Creators Update are regarding installation. A small number of users have been reporting problems with the Creators Update getting stuck during download or taking hours to install.
In other instances, the update process fails rolling back to the previous version of Windows 10.
On Windows Central, Ironman273 comments:
User JetFixxxer at the Windows Central forums reports getting the error: "Windows can't be installed because this PC has an unsupported disk layout for UEFI firmware."
Furthermore, some users are also noting that the update resets and makes Microsoft Edge their default web browser. After the upgrade, Office may lose its activation, and trying to activate will result in a multiple activation error message..
Another frustrating problem is available storage. Some users are reporting storage errors, even though there is more than enough space available (opens in new tab) on the primary hard drive, or on secondary storage devices (opens in new tab), which Windows 10 should detect and use as temporary storage to complete the installation.
Sometimes even a clean installation, which should pretty much guarantee a successful upgrade doesn't work, as Windows Central reader Shaundub reports:
Driver problems
After installing the Creators Update, many users are also having graphics driver related problems, including screen flickering and black screen with only the mouse cursor showing in the display.
User Genesis Designs6 on YouTube says that after installing the new version the taskbar icons "keep flickering."
A number of users report less than optimal framerate and stuttering problems when playing games in full-screen mode, even after installing the latest graphics driver.
On Reddit, user forthinmoment reacts saying:
It's been suggested that turning off Game Mode may fix the problem, but this didn't work for forthinmoment, who had to roll back to the previous version to fix the issue.
Another problem that many users are noticing is a black screen with only the mouse cursor on the screen during login, after installing the new version of Windows 10.
SASandy.Oliver at the Microsoft forums (opens in new tab) says:
And this wasn't the only case, user brightmiles on Reddit reports the same problem, and while restarting didn't fix the problem, it seems that doing a full shutdown mitigated the problem (at least temporarily).
Feature problems
In the early days of the new version of Windows 10, some users are also complaining about features, such as Night light, Game Mode, and audio not working with the Creators update.
Night light
One of the brand-new features on Windows 10 is Night light, which adjusts the blue light on your screen at night showing warmer colors to help you improve your sleep quality. However, several users are noticing that the feature is grayed out or not working as expected.
For example, a user on Reddit reports:
Microsoft hasn't acknowledged these problems as bugs with the Creators Update, but in many cases, it could happen because the graphics driver aren't working correctly after the upgrade, or the driver you have installed isn't compatible with the new version of Windows 10.
Audio
There are other cases where the Creators update causes problems with audio. On Windows Central, fellow reader LexaSap reveals that the audio after upgrading doesn't sound correct, "everything sounds like there is a scratch on a record," and audio and video don't sync, "especially when streaming YouTube and Netflix".
Ossi V, another reader on Windows Central, reports:
Games
The Creators Update is also supposed to be a big update for gaming, but many users are currently complaining about games not performing or working as the used to be with the Anniversary Update.
A Reddit user Ziift says that even though the new Game Mode shows significant framerate increase when using a microphone games freeze or drop frames noticeable.
Other users are also frustrated reporting that games crash immediately after launching, or playing a game will reset the system color profile.
Apps missing or broken
Other complaints have been filed regarding missing apps, at Windows Central, user Hunier reveals that some Windows Store apps, including the Xbox app and Picture viewer are missing after installing the Creators Update.
Performance problems
Although many people would expect a new version to perform better than previous releases, some users are experiencing performance problems after installing the Creators Update.
User Admiral_Ackbar_1325 on Reddit says that since the Creators Update, he's experiencing "little hitches and slow downs" opening and moving windows around.
Another person notes that Windows 10 "hangs up whenever trying to do simple stuff. Opening Task Manager via right clicking the Taskbar takes 10 seconds, when before it was less than 1." In addition, using UserBenchmark result on lower performance score that in the previous version of Windows 10.
There are also problems putting Windows 10 on sleep mode, as some users are complaining about their computer not waking up from sleep after the Creators Update.
In other cases, when trying to resume from sleep, users will get a gray screen with no mouse cursor or desktop visible in the display. Then the only workaround that seems to work is doing a hard reboot of the system, which could cause you to lose unsaved work. This could happen even after installing the latest video driver.
Also, some Windows Central readers are saying that putting Windows 10 to sleep after installing the Creators Update will automatically close apps upon resume.
After the upgrade, some computers are experiencing network connectivity problems, while reinstalling the latest network adapter is recommended as one step to troubleshoot this issue, it may not work.
The1Weapon at the Windows Central forums complaints about his Wi-Fi connection being "incredibly slow since updating to the Creator's Update. Downloads are primarily affected as my upload speed is working fine".
On Reddit a user reports getting 1Mbps of download speed when this person is paying 150Mbps download speeds.
Big features missing
Alongside the complaints after installing the Windows 10 Creators Update, some users are still disappointed that Microsoft didn't deliver in some of the features.
MyPeople is a feature to make it super easy to share and connect with people closer to you, but this feature didn't make the cut in the final version of Windows 10. In fact, Microsoft never shipped an early version of the feature in any of the Insider preview builds.
Microsoft never officially mentioned it, but Groove Music Maker was supposed to be another significant addition to mix and create new tracks without the need of extra software, but again the feature didn't make it to the final release.
On YouTube, user TimTube1 says:
These weren't the only features that were cut off from the Creators Update, if you didn't notice Microsoft canceled a number of other significant features and changes.
You should also check 5 things we hate about the Windows 10 Creators Update that goes into more details on some of the design problems in this release.
Be prepared before upgrading
You should never make significant changes to your device without first making sure you have a recovery plan. Before trying to upgrade, make sure to create a full backup of your system.
Windows 10 includes a simple to use tool to make a copy of your entire system. It doesn't take much of your time, and at the end, it can save you a lot of headaches.
It's known that devices connected to your PC can many times be the reason the upgrade doesn't complete successfully, especially USB storage devices and old peripherals.
You should always consider disconnecting all non-essential devices from your computer, including external USB hard drives and flash drives, printers, scanners, Bluetooth devices, and others. A keyboard, mouse, monitor, and internet connection is all you need to install a new version of Windows 10.
Some apps may also interfere causing the installation to fail. Typically, it's a good idea to uninstall any app that may cause problems, especially traditional desktop applications.
Other times security software, such as a third-party antivirus or firewall, can cause errors and other problems during the installation of a new version of Windows 10. You should always keep your device protected, but whenever possible disable your antivirus, firewall, and any other security software before proceeding.
On Settings > Devices > Default apps, make note of your devices settings. If after the upgrade, some of these settings change, you can quickly reconfigure them back.
Additionally, you should also go to Settings > Privacy, and check your settings. After installing the Creators Update, double-check your privacy settings and make sure nothing has changed.
Trying to upgrade to a new version of Windows 10 while using encryption can also cause issues, as such remember to disable any encryption software. If you're using BitLocker, you can check our guide for more help.
You can learn more tips and instructions to resolve many issues on our Windows 10 Creators Update installation problems and fixes guide.
Wrapping things up
Although you may come across a number of problems during the early days of the new Creators Update, these are not significant issues affecting everyone. Furthermore, Microsoft is rolling out the update even slower than previous versions to ensure devices go through a smooth transition.
If your device hasn't received the update yet, chances are there is a problem that needs to get fixed before the Creators Update becomes available to you. If you can wait, it's recommended that you not force the update and let Windows Update install the new version when it's appropriate.
Alternatively, you can always manually delay the Windows 10 Creators Update until you feel it's ready.
During the time I've spent researching the Windows Central forums, Microsoft community, Reddit, and throughout the internet, I've stumbled upon many problems, and as always with Windows, it all came down to problems with drivers, applications, storage, and settings.
Have you come across any issues with the Windows 10 Creators Update? Share your experience in the comments below.
More Windows 10 resources
For more help articles, coverage, and answers to common questions about Windows 10, visit the following resources:
Windows 10 help, tips, and tricks
Mauro Huculak is technical writer for WindowsCentral.com. His primary focus is to write comprehensive how-tos to help users get the most out of Windows 10 and its many related technologies. He has an IT background with professional certifications from Microsoft, Cisco, and CompTIA, and he's a recognized member of the Microsoft MVP community.
Happy to say I've seen so such problems, upgraded from 14393 to 15063 without a hitch, using the ISO image

You're lucky. I upgraded using the many options available but it breaks my PC as I can't run any software as admin (through right-click or ctrl + shift + enter) or use the DISM command. For now, I've reverted back and I'll be holding off on getting creator's update. There's nothing major in the update so I can live without it.

One infuriating issue I'm getting, is Edge will occasionally forget which tabs I have open. Not able to pin-point when it's most likely to occur. Tis a bug since the earliest days of W10 FFS!
I don't know what I'm going to do, there's no freaking way I'm going to do a clean install, I only did one about 9mths ago (Surface Pro 3). I've alway been on Production for this env (have a sep. partition that's on W10 Slow), & always wait till well after official launch to update.
This CU is the exception, I updated a few days before the 11th…
Maybe I'll try a full reset of Edge itself, I doubt it'll fix things though, and may cause more issues itself, ugh. I swear Mac OS just "works". It's got way less "moving pieces" though, so I guess there's that.

Don't *fix* Edge alone. I tried that a long time ago and had to do a full PC reset.

Yeah same. WTF's going on, how to fix without doing a clean install? Or will a future update finally fix what's going on?

Edge crashes frequently randomly when I try opening new tabs, then when I re-open says start fresh. It's infuriating. It doesn't really do much good this time around. It's super unstable and I hope that they have detached it from the OS so they can push more frequent updates.

Yeah it's still quite the joke, all things considered... De-coupling from the OS + a faster dev/release cadence, can't come soon enough! Plus bring to other platforms. That should eventually make it rock-solid.

I have a SP3, SP4 and a few Alienwares, never noticed any problem with my Edge... Maybe because my system is overly simple? e.g. No antivirus, just Windows defender cause I don't open weird link and go to weird websites.

Mine is simple too, no crapware...

Oh... in that case... accept my sympathy. Hope you eventually find a way to sort it out.

Forced update via Windows Update Assistant. First time failed, but second time was a charm. Discovering the new things and liking the little touches.

I upgraded about 4 devices and so far all working better than before

The only issue I have is task manager now takes 4-5 seconds to fully load up and my desktop icons keep jumping around (sometimes all of them by one column) when I try moving any one icon by two TILE spaces.

Unfortunately for me, I found some pretty bad bugs, switching on transparency in colour settings kills performance.
Sound is muffled when multiple tabs are open on Microsoft Edge and the volume reverts to normal only when I close all tabs but one.
Night light is unreliable.
Live tiles suddenly decide to go blank.

That's why i always wait a few weeks before jumping in.

It's usually what I do too, at least on my main computer. Other devices are already running the Creators Update. Thanks,

The same should always be applied to a new girlfriend to make sure no cold sores pop up on her lip.

How long is a few weeks? IT came out in April and I did it today - 20170721 and it just shut my laptop down

I've never had trouble with their enhancement releases. It just comes down to backing up data, clearing the hard drive, and installing fresh. I usually do this every update. :)

I've gone from Windows 7 to Windows 10 RTM to version 1511 to 1607 to 1703 without any problrms, never once had to clean install

its nice for you because you have time to do it... but what about people who dont have time to reinstall the system after very single big update?

Such people should learn, trust me there is nothing wrong with learning

He said about not having time to do it every time.

I laugh when I read stuff like that. Bet they find time for totally unimportant stuff though.

I've upgraded 8 workstions that are on a domain from 14393 to 15063 without problems.

Web update, and everything runs smoothly.

On a domain, you can't power off a computer. That's a big problem. We don't deploy this update because of that.

take a look there : https://answers.microsoft.com/en-us/windows/forum/windows_10-power/after... you don't have power option. I found a solution, but we don't like the solution we found. I hope Microsoft fix this.

Strange, we don't have that problem on the few domain computers that we upgraded.

I've not encountered that issue & I have full functionality of the power button from START. I'll begin rolling out updates to more workstations in another few weeks. Note* The clients are running Build 15063.138 ( I recommend installing the cumulative updates after the initial upgrade).

We have windows server 2008. Maybe that's the problem.

That's what I'm running also but waiting on Server 2016 to be signed off on by my boss, so as to have more GP ctrl etc. As mentioned in previous post, did you install the cumulative updates ( .138 ) ?

Correction I'm running Server 2008 R2.

Well, We disable a policy in the domain and now it seems to work. The one I talk about in the link I posted above.

I was going to recommend that you check your GPs but didn't know how receptive you'd have been. :) Happy to hear you resolved it.

Have updated a crappy tablet, my Surface Pro 1 and a few laptops and everything works fine. Hope its a tiny minority with issues and hopefully they get their issues easily resolved. Ofc the initial frustration they've already gone through can't get erased but still.

When I try to update via the update assistant, it re-downloads the same file after completing the download.. I observed that the (.esd) file that is being downloaded gets deleted from the upgrade advisor folder in Windows C every time the download is finished ( Happened 2 times with me), anyone, if you know the solution.......

My computer runs smoothly... No problems here. I'm even on RS3

One thing missing from this list is Beam Integration flickering when launching it. Then throughout the stream it flickers twice every so many minutes apart.

Wifi wont stay connected got me that's all I have a problem with

Having Graphics and Performance issues way to often... Wi-Fi some what sluggish as well...

I had problems opening MS core apps such as mail and calendar after CU. Uninstalling the avg IS solved the issue

Install went fine for me. But since installing I've had multiple BSOD usually while web browsing in Chrome.

You do realise bsod is not real cu update should be gsod!

I have Bluetooth issue: https://answers.microsoft.com/en-us/windows/forum/windows_10-hardware/wi...

I'm glad they fixed the WiFi icon in the task bar showing the correct bars rather than showing full bars all the time . Whoop

I had absolutely no problems during the upgrade of the Creators update. However, since the update I've had several instances of Internet Explorer freezing on me to the point that I had to kill it via task manager. I had never experienced this prior to the upgrade. That's really the only problem that I've noticed.

I am stuck on 14393, also tried a clean install but still comes back to this using the media creation tool, upgrade tool, nothing works for me.
Hoped when it was officially released I would get i via normal updates but nothing.

For those having problems with UEFI/MBR/GPT stuff, check out the new MBR2GPT.EXE tool included with the creators update. Love it

Action Center is really laggy on Surface Pro 4 even with the latest Intel drivers downloaded (which still don't support RS2 officially). Other than that, it's ok. Upgraded 1 PC and 2 laptops and no problems whatsoever.

Disable transparency. Temp fix.

Had one issue on my laptop where I tried to update to the new build but got a blue screen file bcd error. I eventually sorted it out by copying the data off the drive and did a clean install with no issues. Otherwise all my other pcs updated with out a hitch even my tablet, which I was worried about updating.

One quite big problem especially for corp users and domain joined computers is that on Windows 10 Creators Update (either fresh install or upgrade) you cannot finnish adding Microsoft account after the computer has been joined to a domain. You can add the account but you have no option of verifying it, so it doesn't "connect" with the system correctly (sync settings unavailable, all MS apps are not logged in to the MS account by default, no Edge and IE favorites sync, etc. etc.) I see this complaint a lot when searching in google. Are you also experiencing this? In my eyes it is a global problem as I tested both fresh and upgrade installations and it doesn't work either way. You can only add the MS account on a domain joined PC before upgrading to Creators Update then it works as expected.

Matheo0986, Just confirmed with MS support that due to feedback from Enterprise customers, they have remove Domain-connected MSAs in RS2. So instead of controlling this function via group policy, they just removed the entire thing. Syncing edge favorites will no longer work on domain joined PCs. The obvious workaround is to use Chrome/Firefox as certain edge features are no longer supported on domain joined PCs.

Akira X, thank you for your answer! I am startled, cause that decision from MS doesn't make any sense, really... as you can still add the MS account before upgrading and it will work after the upgrade, but not if you setup a new account afterwards?! Also, you can still add MSA to the system and all the apps (although you have to add it manually in each part of the system (OneDrive, Settings, Store, etc.) and each MS app (News, FInance, etc.) but you cannot get the most useful stuff like syncing favorites and other settings? That really doesn't make sense to me.
Not to mention that you cannot install any apps from the Store without MSA account connected to the Store (previously it was possible)... really messed up

Clean, fresh .iso based CU install to my Lenovo T520. ALWAYS whole system freezes after about 10 mins.. 5 re install.. The same.. had to go to AU! Fu#£&&£##

I had a similar issue on one of my clients tablet. The system would just hang after logging in. What I did is download the chipset drivers and I installed them in safe mode, but it was 14393 build though. After the drivers were installed i restarted and the tablet functioned normally.

My old Toshiba Equium laptop was taking ages to update to new builds on Insider Preview. The laptop is 7 years old. It turns out my laptop hard drive was failing and the read/write was becoming painfully slow. I changed my hard drive to an SSD. It went from an 4 hour upgrade down to an hour. My laptop is limited to 2gb ram, and Pentium dual core processor. Changing the hard drive made a good difference. Perhaps some people are experiencing problems because they have old or failing hardware? The upgrade is just exposing it?

It gets stuck at 73% and that's it, restarting rolls back to what I had before...every time..i cannot be bothered trying anymore, it just won't update..

Not had any issues with the update, done around 30 PCs at work. But it does break our SonicWALL VPN client so I'm not rolling it out to laptop users. It also broke the version of RSAT we were running so we had to install the latest version of RSAT

Only complaints I have had with my circle is Edge and some sites that require Flash. Some won't display the enable flash dialog box so they have to go to IE,

Yeah, got the exact same problem where the site owner is doing a special flash-sniffing that Edge doesn't recognise. When the button doesn't appear, it's impossible to activate flash as well. I hope there is a backdoor, like regedit or something.

Seriously, i never encountered any of these problem after upgrading. Even i tried upgrading my old 7 yr gaming PC. Not a sngle problem.

Is anybody here using Fitbit? For me CU destroyed weight graph in app. Can you take a look in yours? I tried everything: https://community.fitbit.com/t5/Windows-10-App/Weight-graph-glitch-after-Creators-Update/td-p/1923583

Probably not a problem for 99% of users but the Windows Mobile Device Center didn't work correctly after the update. You have to go to services and make some adjustments to the Windows Mobile-2003-based device connectivity service.

After the update I encountered some issues (screen going dark and/or freezing completely) on my Razer Blade Pro in some games and apps when using them fullscreen (Forza Horizon 3 and MyTube for example). Fortunately turning off G-sync is working as a temporary fix.

Had problems on both my desktop and ultrabook. It would hang at a black screen with mouse cursor. Can ove the mouse but nothing else seems to be happening. Ssd lights were not blinking. Several forced shutdowns fixed the issue. Working fine on both so far. Even in insider fast ring upgrades

Only issue if note for me is that something odd has happened with Bluetooth and Skype for business. My Bose Soundlink headphones were fine before but not now; relatively rapidly Skype For Business crashes on a white noise effect and whilst task manager can close it only a reboot will get it working again. It's annoying about the Bluetooth but more annoying a reboot is the only route to recovery. Back to wired for me.

The Edge browser now takes 10 to 15 seconds to display the first page.

Still an issue with the DNS on the 15063.138. Solved it with disabling the IPv6 but that is not the solution!
Now trying to install 16179.1000 but that keeps failing....

I encountered 2 driver issues. One is monitors not turned off during sleep (just display whole black). There is a thread on nvidia forum https://forums.geforce.com/default/topic/1003032/geforce-drivers/monitor.... Another issue is realsense depth camera no longer works, it's an issue confirmed by intel. https://communities.intel.com/community/tech/realsense/blog/2017/04/07/w...

No significant problems for me, generally things are better and seem to use fewer resources than the AU. I updated just using Windows Update (not Insiders for my computers, only an Insider for Mobile) when it was first avaliable around April 5. I had noticed a new glitch with the tabs in Edge when moving between two monitors of different resolutions and scale factors -- with enough tabs open, they would not resive properly and run on out the right edge fo the window blocking the min, max, and close icons at the top right. However, it looks like the update that already came out seems to have fixed that. Also noticed that Favorites Bar in Edge has even less support for nested folders than before (used to be if you clicked on a folder in a folder, it would pop you to the Favorites Hub and open the folder you clicked, now it just opens the Favorites Hub, but doesn't do anything to help you find the folder you clicked). Minor issues, and overall improvements exceed these minor regression bugs.

You mean Update Assistant.

@Cryio, you're right (well, it's actually 'Upgrade' Assistant) that's what downloaded, but it was from the link that appeared in Windows Update. I didn't have to go out to the web or anyplace other than the system page for Windows Update to run it.

Now, Edge takes 30 seconds before loading the Youtube videos!

It's loading normally for me on all my devices.

I've been hearing a lot complaints about Microsoft Edge having problems with YouTube videos, you're not the only one. Thanks,

YouTube works for a while in Edge; but after a few videos, they won't load; often lose sound on whole system and one or two reboots to get it back to working. If I use a YouTube app or Opera, no problems, but once it is lost in Edge, those apps won't work either without a reboot or two. Not good.

Had more issues installing the Anniversary Update. The Creatures Update installed with no problems. Used the ISO on both installs.

My laptop if I let the battery get below 10% it will show up the popup saying to turn on the charger, wich is normal (obviously), but everytime I turn on the charger a few minutes later it show up again a new popup saying to turn on the charger because the battery is at 7%, when in fact it is already charging

Not much for me, but my laptop lags as hell after the update. MS better release an update to iron out the lags

Older versions of Core Temp cause the installation to hang. Known issue ever since Windows 10 was released.

The 87% I had happen to me. Turns out there was a previous update that was left over. Cleanmgr fixed that up and it installed just fine.

I only experienced performance problems.

Lucky me after AU, this CU I also install without much problem and used it even without clean install.

Sometimes when I open a link, Edge will open but I can't interact with it. The window just sits there frozen. I can't even move the window.

Drivers issue: SD card not regconised App feature cut: 'Movies & TV' now refuses to play 10-bit HEVC clips with the error 0xc00d6d6e

Asides Edge taking out all my Favourites and Reading List, and a couple of driver roll backs, went smooth as butter..

I don't like to use third party software to fix my pc...but was to sluggish...ran system mechanic as well as reinstalling video card drivers to get back to at least around 90% of total performance... For some reason I think the new update also fragmented my HD in a odd way as it took a while to sort it out...

Only two problems I have are photos seem slower to load in albums and Groove music won't play my music now comes up with error

I've update three PCs and all went smooth except one took quite some time (though that specific update was on a MacBook). The problem about "black screen with only the mouse cursor on the screen during login" I've had this problem on one PC for two months and with the Creators Update this problem was solved on that PC.

I installed it on my old AMD laptop and there are graphic card problems, night light doesn't work etc. Only played around for 5 minutes though so haven't tried to see if I can update the graphics card ir anything yet

I forced update via media creation tool (Cause I want the newest and greatest and absolutely cant wait for MS to roll it out) and I just HAD to downgrade it back to Anniversary update. 1. Webpages takes at least 3-4 seconds to load (DNS problems maybe?). 2. Sleep features not working. Computer will just not wake up from sleep. Tried turning hiberation both on and off, resetting power management. Bios update. Nothing worked. Im really hoping MS do some patch work before forcing me to update....I honestly dont know what to do if these issue persist and am forced to update. Really dreading this policy model of forced updates....kinda scary that us Windows 10 users need to go through this 2-3 times a year.

Im not on wifi and on ethernet (after seeing people having problems with wifi).

Android users must have been​ laughing their socks off at the problems we encountered when installing this 'major' update.

I've got issue after the update, Cortana icon and microphone icon missing from the search bar. Try multiple solutions from web but nothing is working. Other than that everything is ok.

When I installed, my touchpad driver was messed up for a couple days at first, then corrected itself. Asus X202e

Wow I never thought there are so much people having problem. The only problem that I had after the update was only the night light settings disabled. BTW I'm using Acer Aspire R7.

Installing update results in many apps no longer working, including Office 16 apps. Have not received update via Live Update yet, but tried updating from an ISO file (same file worked fine on another PC), and using the update tool, but with the same results. The start menu tiles have gibberish on them instead of the app name, and are white with black text, and the same with the start menu entries. Will wait for Live Update but am not optimistic. May have to do a clean install, but am not looking forward to reinstalling all of my apps. Fortunately, I always take an image backup before upgrading.

My Surface Pro 4 has also suffered the 1Mbps download WiFi curse. I'm awaiting a fix form MS as I don't wanna reset the device, as doing so will delete the now "forbidden" app Universal Emulator. I would very much like to keep it for as long as possible.

Dism is broken in this version of Win10 and MS knows it but are taking their sweet time to fix it. Not to mention that ever since this update my machine is running hotter, so there must be something else wrong with the Creator's Update............. And I did a clean install twice with an Iso image downloaded with their creation tool, so I'm completely sure the issues I'm having are on them not me. The game mode is crashing many of my games and causing screen tear on others too, but at least the gimmick can be turned off easy.

Hey @Ironman273 and everyone else with the same problem just press esc and change the boot priority to windows first, and not the Windows To Go USB device. It will start just fine, trust me.

I had zero issues with the installation.

Edge Crashes every time now, and Cortana does not recognsie my Profile anymore. So much for Insider testing and Previews ironing out bugs.

I had the flickering issue before I updated, that's actually what pushed me into using the update assistant rather than just waiting. Everything time I hit the start menu everything started flickering for me. No issues now.

Windows 10 CU apparently does not support any AMD Carrizo APUs. It's been an issue since build 15058, but they decided to release it anyways.

For the first time since upgrading to Windows 10, my PC at last goes to sleep like it should running the Creators update. Thats a big improvement for me.

I had downloaded and install windows 10 creator update, But did not like it. Someone told me that, After installation Microsoft shows downgrade option early after upgrading to Windows 10 and remove it after one month. I recently upgrade my windows 8.1 Professional operating system to windows 10 Professional being getting a license from ODosta Store But I did not like its overall structure. I think Its not Windows 10, Its version should be windows 6 as it has many faults.
I tried to downgrade back to my existing win 8.1 os and I saw as Microsoft was giving me option to downgrade. I thought that I'll downgrade after two month But after two month when I tried again, Microsoft removed that option. Now what to do. I searched and found your post, Which is very helpful for me. Thanks for sharing these details here.


I was frustrated with the update. It was so slow and when I restart the pc, the update continues but when i check it back it restarted to 0% and continue with the uberslow progression. This repeated 2x because i needed to restart my pc. But eventually it updated finally. I did not know others had worse problems than this. I was lucky then.

Been great for me so far. Everything is much smoother, especially Edge. Putting tabs aside is so much better for performance than pinning tabs. The only problems so far is Lara Croft GO and Deus Ex GO is broken. But strangely, Hitman GO, the older game than the two, isn't broken. Weird.

I'm currently on Anniversary Update and my apps crash immediately right after launch. I have tried all posible solutions I foind on the web and nothing worked. Did this update fix the issue?

I installed it on all of my 6 PCs at home and on my Lumia 950 phone and it works great on all of them.

Same for me - works on all of my devices.

I installed the update a day after the early release using the update tool, had no problems, then i bought a bigger hard drive and did a clean install (first time ever doing that) didn't have any problems that time either. I must of been lucky. Love the night light feature, was looking forward to the Music Maker, hope that will come out in the next big update.

I have a HP Pavilio 14-av005la, with an AMD A10-8700P processor, and Windows CU can't be installed, because is incompatible with this update. It's frustrating because I bought this laptop less then a year ago.

I guess I am one of the lucky ones. The Creators update simply wont install on my PC. It goes through all the motions: It checks that I am eligable, checks my stats, tells me I have an old version, Downloads, Verifies, and Installs... Then when it's done, it asks me to update again, and again and again, and it does all the same steps each time. But still no update. I will take this overw hat happened for the Anniversary updat though. I worked on a laptop on Thursday, the update (the Creators update prerequisite update) installed over night and it just completely killed it. When trying to sign in it gets these RPC errors and won't let you sign in. Restart and it might let you, but then it gets other errors. Let it happen a couple more times and you finally get a stable running system that does not reset itself. But, if you ever reset the laptop yourself, you get the same error loop again at next login... And as a bonus, you cannot uninstall the update, as it doesn't show up in the list, and you can't use that Windows tool to uninstall or prevent the update from Downloading even, because it does not show there either!

I will be honest, I was getting half of the listed performance issues on the Anniversary Update anyway, especially lag/delay opening Windows and Edge issues,as well as delays on updates.
I have upgraded 6 machines. 3 were older Core2Duo (one using an old 945 chipset) a couple of Lenovo M93P and Fujitsu Lifebook SH530 and all upgraded successfuly with nonissues on the installation. Even my now 9 year old Acer TravelMate 7730 upgraded without a hitch The Lag issues in Edge seem rectified for me on all machines, even the oldest one.
I still get lag opening Windows applications, but overall my experience has been positive with the Creators Update, other than the culling of features that had been hinted at before release.
That said, Microsoft didn't cull them after an official release, so we can not complain about features that were never officially released. It is possible these features may have made Windows more unstable. I will go for stability over features. Windows is an Operating System. There are applications and legacy programs to add features.

started having serious performance issues today, all listed there + my trackpad misbehaves! all was clicked down even when I did not, so when I move it, it drags whatever it's on with it. it acts like touch input. I had to use an external mouse. anybody saying there have no problems now will soon see these performance problems, all of them listed there. the slowing down is what is most annoying.

I updated my surface pro 4 with the media creation tool.All went well but after rebooting I couldnt sign into onedrive.It keeps saying that I am signed in with another account.I am signed in with my microsoft account.I uninstalled the default onedrive app & installed the onedrive app from the app store.Now all is well.

This is reason #47 why (1) Win 10 is not my daily OS (it is in a separate partition on a single machine here, still in the testing phase) and (2) I always wait a few months before I install this junk. I am not interested in beta testing this turkey. I will install "updates" when I want them, not when they get forced on me. Meanwhile, 8.1 runs fine every day. On multiple desktops/laptops/tablets. I actively blocked the "free upgrades" on all of them.

I found that I had to turn off my Norton Internet Security inorder to update one of my PC's, This after several failed attempts and sevreal hours of waitinf ofr it to complete. Worked fine after that.

Not much to report, but I've noticed that the Mail app is now downloading duplicate emails where it didn't be fore the update which I thought was a bit strange. Also the Defender doesn't seem to like my power & brightness settings, so now shows a warning triangle since the recent health scan.

I did have an issue with my HP Envy TS17 where the audio didn't work as you described. I went to the HP support site and downloaded and installed their latest driver for my device and after a restart all was fine. It appears that the 'Beats' audio software had been removed during the update.

anybody had wifi issues since the update? keeps dropping out and hard to connect on 2 laptops also laptop seems to be working harder since update, thinking a clean install may be required

Yes I did, I kept getting no internet connection although the connection seemed ok, I kept getting DNS errors when trying to load pages and nothing happening on downloads etc. Sometimes it would come back on it's own and sometimes not so I reversed it back to the previous build. Reversal was fine and then I ran CCleaner to clean up about a billion MS issues etc that had been left behind in the registry (backed it up first of course). Refuse to install this again until they iron out all of the issues that people seem to be having. Once again Windows Updates cause more issues than they solve.

After getting the CU the old issue of black screen when switching user has returned but this time nothing seems to fix it other than a forced shutdown/restart by holding down the power button which is a total pain. Sometimes seems like I have spent the past thirty years 'fixing' botched, buggy and bad Microsoft Windows OS's! I would have hoped that by now this multi-billion dollar corporation might have addressed some of the most basic of it's operating system defects but it seems more concerned with introducing pointless and trivial new 'features' no one has asked for.

After 3 Days and Getting error, i'm still on try to upgrade using Windows 10 Upgrade Assistant. but like first free upgrading system , it still bullshit and have many bugs . and Microsoft still working on nothing .

You should NEVER start a major system upgrade BEFORE you made a full backup of your system installation. It is very simple: As a rule, keep your system at a separate partition (the C partition) and your data at a D partition. Then make an image backup (using , for instance, Acronis True Image ) of the whole C partition and save that image backup on the D partition or an external USB drive. Then do your system upgrade. If the upgrade fails and you get stuck, use the Acronis rescue boot media (from USB stick or CD) and recover the original system installation back to the C partition. Simple as apple pie.

I didn't start the upgrade Windows simply did it. Force closed my unsave spreadsheets and went full into "INSTALL" mode. Once Creators Update was installed, guess what? MY work VPN no longer worked. I never do ANY OS/machine upgrades durring a project outside of patching security issues/failed components. Projects last 6-18 months. I fully update at the end or beginning but NEVER in the middle.

Well I am amazed yet again that MS have released a crap update which they force you to take! The FINAL straw was when my laptop just shutdown
Windows Central Newsletter
Get the best of Windows Central in in your inbox, every day!
Thank you for signing up to Windows Central. You will receive a verification email shortly.
There was a problem. Please refresh the page and try again.