Windows Mobile Weekly Digest: WhatsApp goes free, the HERE suite returns, and the Lumia 650 gets delayed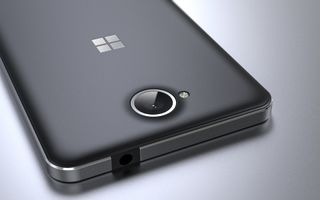 There's a lot going on in the world of Windows Phone. So much, in fact, that it is sometimes tough to catch every important story.
Device rumors come and go. New apps join the Windows Phone Store, and your favorite app can get a big update with a new look or new features.
Therefore, every week we will compile a list of the Windows Phone news that you just shouldn't miss. Welcome to the "Windows Phone Weekly Digest."
Windows Mobile
Two new lesser-known smartphones running Windows 10 Mobile went on sale this week. The unlocked 5.5-inch Coship Moly X1 hit Amazon for $300. In addition, the budget-friendly Bush Eluma landed on Argos for U.K. for £79.95.
Microsoft added Continuum support for Windows 10 Mobile phones running Snapdragon 617. Any phone hoping to run Continuum must have a display with at least a 720p resolution, 2GB of RAM and 16GB of internal storage.
It looks like people with older phones hoping to get the update to Windows 10 Mobile may have to wait until the end of February. A tweet sent to Bouygues Telecom asking for the status of the update was answered with a simple "It would not be before late February!"
It also appears that the official Lumia 650 announcement has been delayed. Initially set for February 1, the low-key blog launch has been pushed back to sometime in mid-February, due to some last minute software/firmware bugs that were found.
Other notable items:
Acer Liquid Jade Primo pre-orders pop up in Italy and Germany
Lumia 950 and 950 XL will go on sale in Thailand on Jan. 22
Windows 10 Mobile testing complete at Vodafone Australia, rollout is still to come
All NYPD officers will soon use a translator app on their Windows Phone
Apps
Third-party Twitter client Fenice picked up a significant updateadding in-app YouTube playback, UI improvements, and a whole bunch of new features.
After failing to fully monetize in emerging markets, Facebook-owned messaging service WhatsApp retired their annual subscription fee for everyone. Initially, there were fears that the decision would lead to the implementation of third-party advertisements, but WhatsApp assured users in a statement that that would not be the case.
Another popular messaging app, Telegram is planning to develop a universal Windows 10 app. When asked about the possibility on Twitter, CEO Pavel Durov told a fan that they "definitely" have plans for one. Unfortunately, that's all we know, as no timetable was given.
Dropbox and Microsoft announced a new universal Windows 10 app, complete with drag-and-drop controls, interactive notifications, and even Windows Hello integration.
Fitness company Lose It! said that their Windows Phone app has been delayed, with no ETA in sight. LoseIt! Reports that the suspension of Microsoft's "Project Astoria," the Android-to-Windows 10 converter, is to blame:
And after being pulled from the Windows Store back in October, the HERE suite of apps made their triumphant return. The disappearance was blamed on an undisclosed technical issue, which has yet to be elaborated on.
Other notable items:
Domino's Pizza orders up an app fix for hungry Windows 10 Mobile users
6tag picks up an update with adapted UI for the Lumia 640XL, 950XL, 1320, 1520
Shazam and Windows Maps receive minor updates
Microsoft updates Excel, Word, PowerPoint and Sway on Windows 10
Windows Calculator snags minor update on Windows 10 PC and mobile
OneNote, Uber and Netflix for Windows Phone, Windows 10 Mobile get minor updates
Messaging + Skype gets another small update
OneDrive for Windows 10 Mobile gets a bug fixing update
Store app for Windows 10 PC and Mobile updated with new music collections feature
Games
In gaming news, Age of Empires: Castle Siege added player leagues in its latest update. The leagues break alliances into smaller groups to compete in tournaments against for in-game prizes. The game also picked up some other tweaks and bug fixes.
We took a look at Panzer Geeks, Game Troopers' crazy combat game for Windows Phone. The game has you racing a toy tank downhill to ram through hordes of enemies.
And there's still a possibility that Age of Empires: World Domination will be released for Windows Phone. Windows Central received an email from the game's developer, Klab, who said that "support for Windows Phone/Windows OS is being considered."
Other notable items:
Be sure to weigh in on this week's news in the comments section. See you next week!
Windows Central Newsletter
Get the best of Windows Central in your inbox, every day!
None story.... All the HERE apps claim to be not compatible with the device.... Lumia 950XL...? Nothing changed :-(

Same on Lumia 1320.. But i have got the apps installed before . But i don't wanna try uninstalling it and reinstalling it to get updated version of Here apps

All here apps are working for me, the only problem is that the are 3 here drive apps on windows 10 store and only 1 working. Reboot phone and try again!

I just downloaded HERE Maps and Drive+ on my XL. No issues, except I'll probably get lost now.

Same here, working fine on Xl

I was able to get it on my 950 XL from My Library.

I have downloaded and installed Here! apps fory 950XL and they run perectly well.If you read the artcles there is process to follow. Glad to have it back..

Go to the page of the app, then tap the developer's name to look for the other HERE's apps, and you will find the ones that can be installed.

There are 2 of here transit and drive one of each works other 2 don't and maps there are 3, one is by a 3rd party stay clear one works and the other works perfectly. Glad to see HERE back in the store. Goodbye Windows Maps.

Hope that Lumia 650 gets cancelled all the way... And the Same design phone shall come with specs of Moto G 3rd Gen & its 650 XL variant shall come with specs of Moto X Play. 750 with specs of Moto G Turbo.
Then people won't ask for Lumia 850

For a casual users like me(Facebook, music, YouTube), specs aren't something to worry about, what I want is a nice, more premium design!

That's obviously a very subjective category. I consider the 920, 1020 and 1520 to be premium. I consider the 950 (and all the other shell-removable clones) to be cheap. I also consider "metal" devices to be cheap and even uglier than the 950.

Like the 925? Lol Posted via the Windows Central App for Nexus 5x

I have a 920 :D Nokia Designs were premium. Since Microsoft took over, it's become sh*t. The App Bar (with the back button, Windows Key, & the search button) are not part of the body on Microsoft Lumias; instead on the screen. Wtf. I personally prefer mine on the body of my phone.

Whaf you basically ask is a bigger Mobile portfolio which is exáctly what MS does not want right now. I do agree on different specs, but it should just be one device. Not even an XL version, just one device of 5 inch and actual modern specs instead of the horrible **** that will supposedly be in this thing.

The 650 has it's place in the lineup. It looks like a solid attractive phone for everyday use. The disappointment comes for those of us who are waiting for something along the lines of the HTC M8. More Ram, larger storage, and for me, a slightly larger screen(around 5.5).
Now everybody is screaming about the specs. Snapdragon 210? 1G Ram / 8G Storage? What? Are we in a rut?
Now I'm going to assume that the new Devices Team has had a hand in designing this thing even though it's a child of Nokia to begin with. I think we need to see some reviews about performance before we make any judgments. How well does the 210 perform? Is it equal to the speed of the 400 in the 640?
These are the kind of questions the fans, the potential buyers need to have answered. Don't throw this thing out on the market with a "This is what you get, so buy it". Tell us why you spec'd it out this way. Tell us, not only what market it's aimed at, but how it will perform in that market. Yeah, it's only got 8G storage, but with an SDcard will we know the difference?
Microsoft keeps saying"Consumer Driven", well there's an old advertising saying which still holds true "An educated consumer is our best customer".

Here apps still not compatible with Lumia 950Xl. Latest update has also added a bug to the sd card, phone been rebooting several times a day something it was not doing before.

Sounds like a regular 950xl day :p

My 950XL has no such occurrences. To me, that doesn't sound like a 950XL at all. Mine has been stable.

Stable, nice, no issues, fast, reliable. That's my XL too

Add to that ***** battery life... Sub 6hrs with average use (fyi.. 200GB SD card installed, wonder if this is the issue?)

Easily 20-30 hrs on my 950XL. Pretty heavy use throughout the day, skype calls, browsing, YT, gaming, streaming music, Netflix, social media etc etc. 64gb card in mine though. No os issues at all to be honest. Feels really stable. Latest insider build as well.

Interesting, I've been hoping that build went on public last week though! But guess will have to wait for an even newer one to really judge if it's .29 problem or not. I'm really burning through like 6hrs... Edge seems to be the most

If you just search for the Here apps, they correct versions don't always pull up. If you get a version that says "This app is not compatible with this device", scroll down towards the bottom, where it says Published by HERE Europe B.V. and click on it. 6 apps will pull up; the 3 HERE apps on top that should work for you (Maps, Drive+, Transit), and 3 copies below which won't work (and for some reason, these seem to be the ones which pull up on the search). You can also reinstall from your library, if you had installed them previously.

Just need a Sky Go app for 950XL here in UK and good to go.

Add Land Rover "Incontrol Apps" and Traffic Master "Trackstar" vehicle tracker app and I'm done... and I can retire my work issue iphone as well...

Well if they have Volvo, can Rover be far behind.

It would be nice if they'd actually verify everything they write about or include obvious disclaimers. While HERE apps have reappeared in the Store, the simply are NOT available for download.

I just downloaded it my XL. You're just bad at comments.

You do have to know the secret. Ti took a while to figure out, but they're there.

Lol GG Posted via the Windows Central App for Nexus 5x

Didn't Microsoft announce a press event for Windows10/Xbox on February 25?
Windows 10 Mobile...Late Feb.
Lumia 650...Mid Feb.
MWC....Feb 22
Anybody else seeing a pattern here.
Oh, about HERE. The store has six HERE apps listed if you search "HERE Europe B.V." Three work on my 640, three say "Not available on this device". For the 950's? Don't have a clue.

Rock star! Well done... Now all downloaded... Cheers @Tale85

You're welcome, the credit goes to someone on WMPoweruser. We had a big discussion about this this morning. It really should have been in this article.
The only HERE missing is City Lens.

Does anyone take WMPoweruser seriously anymore? I remember reading an article they posted that said Here was not going to be available for WP anymore. Thanks to sleeve22 at the forums here at WC I have had all 4 Here apps sideloaded the day I got my L950.

I don't take any of them seriously. But it's fun to watch how things are interpreted on the various sites. As for HERE, it was one of the continuing saga's of Windows Mobile. A reader posted the duplicate app situation it their comments and it worked. So I give him credit.
Unfortunately I'm one of those PC-less people, at least for now. And have the computer skills that would make trying to side load an app an open invitation to the Blue Screen of Death. So I cruise the "experts", take what they say and divide by what works...for me.

Nice play on words. I draw the line at bell bottom pants, though.

Where is the official app that Rudy developed but cannot talk about?

He's not talking about it.

Good to have Here apps back, windows maps was not complete work respect to navigation and favourites my favourites were are all in the here database.

There's so less going in the world of windows mobile, sorry but this is the fact,isn't it?

Windows 10 official release for mobiles get delayed once again. #missed?

Here apps With Lumia 820 also same thing...it showing not compatible this device

I still have some hope for a Lumia 1050 late february. On a side note, does anyone know if Continuum is compatible with X86 (or X64) based chipsets?

Still no go on Lumia 950, 930 or 640XL. Is there a trick?

You need to search "HERE Europe B.V." Doubles of everything, if you've had them before, they're listed as "Owned". If not, try the ones that don't come up "Not compatible with this device". Then download quickly before they disappear again.

Yet,no news on the Windows 10 RTM build release.

So it sounds like the launch of the 650 will signify when W10M comes out of beta. Let's be honest here.

The Coship Moly seemed attractive until I saw the battery size. Too small.

No update for whatsApp for over a month. Why cant we get the Android version and get it over with windows sucks