Xbox Video, 500px, Subway Surfers and more are your app highlights of the week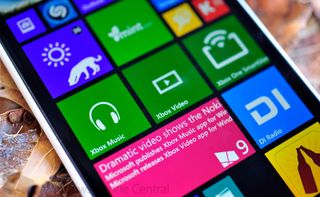 Another week has passed. Here were are on another Saturday ready to relax and reflect on the past news for fresh apps, app updates, and more. It was a pretty big week for new apps in the Windows Phone Store. Did your favorite new game make the weekly app highlight list? Read on to find out.
New
Xbox Video – It finally came. A year after Windows Phone 8 launched, you can now watch content from Xbox Video on your phone. The Xbox Video app allows you to get the latest TV shows a day after they air, view ratings and reviews, rent/buy the latest movies, resume where you left, stream or download videos, and much more. Grab it from the Windows Phone Store today. (Free)
Xbox Music – Hot on the heels of Xbox Video came another app from Microsoft. Xbox Music is a new app that brings a few music features to your Windows Phone that aren't there in the default music hub. Namely support for editing playlists and listening to Xbox Music Radio. Get it in the Windows Phone Store. (Free)
500px – Everyone's (read: my) favorite online photography community is now on Windows Phone. 500px finally has an official app for Windows Phone users so they can browse as many photographs as they want. Nearly every web feature is also present in this app making it a strong showing for version 1.0. Pick it up in the Windows Phone Store. (Free)
GoToMeeting- Windows Phone users can finally join in on those meetings remotely. GoToMeeting has an official app in the Store for folks to use. Scheduling or stating a meeting is supported, as is joining in on them by entering a Meeting ID. You can also view presentations, mockups and reports all from your phone. Grab it today in the Windows Phone Store. (Free)
Cal – Looking for an alternative to the stock calendar app on Windows Phone? Then you might want to check out Cal. It's new to the Windows Phone Store and has a few nifty tricks. We're also big fans of the clean and minimalist design found in the app. All features you'd expect are there, including Google calendar sync and more. Pick it up in the Windows Phone Store. (Trial/$1.99)
IG Stats – Statistics may have been everyone's least favorite class in university, but that doesn't stop folks from loving it when there's a personal twist. Case in point. IG Stats for Windows Phone. This app gives you insight into your Instagram account and followers. See things like who you're following that isn't following back and much more. The stats in IG Stats are also more accurate than what you get with the official Instagram apps. How's that work? Beats me, but read the about section in the app. Get it in the Windows Phone Store. (Free/In-app purchases)
Unfollow Spy – Here's the app that is Daniel's guilty pleasure of the week. Unfollow Spy for Windows Phone gives you insight to your follower stats on Twitter. See who you're following that isn't following you back, who follows you that you don't follow back, and much more with this app. It's a great way to clean house when it comes to who you follow on Twitter. Get it in the Windows Phone Store. (Free/In-app purchase)
Amtrak – Pretty crazy that a train operator might just have the nicest transportation app out there. Amtrak for Windows Phone is brand new to the Windows Phone Store this week and puts other apps from airlines to shame. You can book tickets, check the train status, show your eTicket to board, and more all from the app. Grab it in the Windows Phone Store. (Free)
Updated
Pandora – We haven't seen Pandora for Windows Phone updated since early summer. So it's good to see an update this past week. What's new? Lock screen integration, recommended stations, and richer sharing options. Pick up the new Pandora today in the Windows Phone Store. (Free)
WeatherBug – Following in Pandora's footsteps, WeatherBug is another app we haven't seen updated in quite some time on Windows Phone. What's new with the weather app? How about a complete makeover of the app? The app has been completely overhauled and now has more in common with the iOS and Android versions. Try it out in the Windows Phone Store. (Free)
Flight Factory – We've been beta testing the recent features in Flight Factory, so we're pretty stoked to see the update go live in the Windows Phone Store for everyone else. What's new in the latest update to the essential Windows Phone app for travelers? The biggest change is TripIt integration. Your flights will now automatically be added to Flight Factory. There are a bunch of little changes that also make this is a great update. Grab Flight Factory in the Windows Phone Store. ($4.99)
BLINK - From Microsoft Research comes a nifty little rapid-fire photo app. BLINK was updated twice this week, once for new features (face detection, improved stabilization, etc.) and the second time to fix a bug in the Lumia 1520. It's a great app perfect for the holidays, when you need to photograph the kids running around. Pick up BLINK here in the Windows Phone Store (Free)
6snap – Rudy Huyn's Snapchat client, 6snap, received two updates yesterday. Both brought some pretty stellar features to the mix. Upload speeds were increased and the image quality was improved (especially for the Lumia 1020 and 1520). New languages were also added (like Arabic, traditional Chinese, and Swedish) to 6snap. Want to try it out? Head to the Windows Phone Store. (Free/In-app purchases)
WhatsApp – There's no denying WhatsApp was on a roll this week with updates. The biggest of the updates brought new features like the ability to send pre-recorded videos and multiple images. Numerous bug fixes and speed improvements also showed up this week. Grab it from the Windows Phone Store. (Free)
Beta
Nokia Camera Beta – Right now Nokia Camera is available only for high-end Lumia phones with PureView (Lumia 920, 1020, Lumia 1520, etc). However, if you download the Nokia Camera Beta app that came out this week you can join in on the phone no matter which Lumia you have. Grab it from the Windows Phone Store right now. (Free)
Games
Temple Run 2 – Can we now move on to wanting some other game to join Windows Phone? Temple Run 2 is now available for Windows Phone and it brings some Xbox Live branding. That's right, you can earn Achievements in this popular endless runner game. Currently only available for devices with 1GB of RAM, but 512MB support is coming soon. Grab it in the Windows Phone Store. (Free)
Disney's Nemo's Reef – Here's a fun game that you should load up on your Windows Phone for the kids. Nemo's Reef brings everyone's favorite clown fish to their phone. Download it in the Windows Phone Store. (Free)
Subway Surfers – This was a surprise during the week, but Subway Surfers is officially now on Windows Phone. The other popular endless runner brings a bit of holiday cheer in this release. The game is available in the Windows Phone Store. (Free)
That's it for this week. If you have any other apps or games worth mentioning shout them out below. This is the one time where you can go a little bit off topic. Don't forget to scroll back through the app and game archives to make sure you don't miss anything.
Windows Central Newsletter
Get the best of Windows Central in in your inbox, every day!
Been an epic week and even month or two for windows phone. Perfect way to end the year.

Hey, Sam, do you think you guys could do a "yearly recap" to see how we've faired this year as opposed to previous years?

That's going to be an endless list.

Well, I'm not saying they have to go through every app/feature/marketshare number. Just the big ones.

Every time I see these 'app highlights of the week' article headlines, I think like 'WOW, those apps got updated!!' and then it's just this shit....

....where is GTA: San Andreas. =(

That hasn't been released yet and, as such is unlikely to make it into an apps round up article x

New games are now getting released more often in WP8 platform which is indeed a very good thing but why apps related to education is lagging far behind? In India WP8 market share is higher compared to ios but education sites which are very popular such as testfunda.com, tcyonline.com has created ios app but not wp8. Is anyone seeing this issues?

you are right,just last week meritnation released ios app.

It is just a habit to devs to start from ios then Android and later wp and blackberry

And not only that. GMAT and GRE preparation apps are also poor in WP8. This issue needs to be highlighted through wpcentral. No one wants to just use cell phone for games and socializing. College students and higher education aspirants need these apps for sure. Steps should be taken to make necessary education apps.

How many times same app would be listed...? Its time to highlight new apps & games... There are many more interesting apps / games there other than listed above... Did you tried these... http://bit.ly/1bUhrKn OR http://bit.ly/1hHi1gP

We need forum where new apps / games from emerging developers can be highlighted... Windows Phone Store offer much more than common already popular apps.. Most of the app listed above are already highlighted elsewhere as well...need to explore other apps to appreciate quality/ quantity of WP store to offer....

Wow, listing YOUR apps and games? How original... And have you not seen our forums? Why not actually take a tour of the place, read our site before commenting (and spamming your apps). We highlight plenty of indie apps and games. In fact, it's our specialty.

Could you please help with such links (of forums).. Apology, if you considered my post as spam...

I sent in a tip about nokia cam beta a few days ago. Y U no give credits" ❔ jk....

Idk if its a mistake in the article or what but if stats isn't new I've been using it for like 6 months

Factual error in article. Nokia camera beta app does not currently run on all Lumia models. I have a Lumia 810 running Windows 8 with Amber. The new Nokia camera beta app can't be installed at all on this model of Windows Phone. And it won't be able to be installed until T-Mobile decides to roll out GDR3 with Black. Kind of wondering at this point if T-Mobile has abandoned its customers ... waiting and waiting for them to roll out the updated OS. T-Mobile where are you?

Tried weather bug for a week and uninstalled. Didn't care for the UI/the way it is set up. Downloaded XBOX Music and Video but have yet to try them.

7 Legends of Symbian : http://www.youtube.com/watch?v=cMZCD4lIgnE
Windows Central Newsletter
Thank you for signing up to Windows Central. You will receive a verification email shortly.
There was a problem. Please refresh the page and try again.