Windows Phone Summary of the Week: January 30 - February 5 2012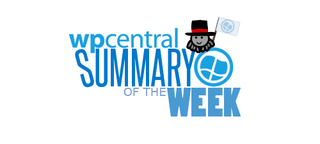 It's been a chilly week for the majority with temperatures dropping well below freezing, so sit back and enjoy your hot beverage while we run through what happened in the week for Windows Phone. We've been joined by keyboardP, developing power behind Air Pick Voice, for an insightful interview. Our community has been hard at work discussing sales representatives when purchasing Windows Phones.
If you're still attempting to shake the amount of food that was consumed over the festive period, you'll be pleased to learn that February is Mobile Nations Fitness Month! Head on past the break for the weekly recap.
ESRB game ratings have started to appear in the Windows Phone Marketplace, which will be a helpful tool for parents to keep in the loop with what titles are suitable for their children. It has been confirmed that Windows Phone 8 will run all OS 7 apps, while a study by Pew Research Center's Internet & American Life Project shows that apps aren't actually as important to the consumer as the majority believe.
Should you be wishing to easily select phone numbers in IE9 for quick access, you'll be required to change your regional settings to English (US) to be able to take advantage of this states-only feature. Samsung has updated the Extra Settings available on their Windows Phones handsets, though it's not known what's altered in the new version. Microsoft decided to get into the spirit with the Chinese New Year by distributing Metro style red envelopes to press.
Marko Ahtisaari, VP of Design at Nokia, has been interviewed by The Guardian to discuss Nokia's part in not only Windows Phone, but in Microsoft services that fall under the partnership terms. Should you have #droidrage with your Android handset, Ben Rudolph offered free Windows Phones to those who posted the best (or worst) stories on Twitter. If you're experiencing 'Instagramrage' it's only going to get worse as the company has stated that they will not be providing posting rights for unofficial Windows Phone apps.
Should you love your Lumia 710/800, but be confused with Nokia's ClearBlack screen technology, then fear not as the Finnish manufacturer has (technically) explained the technology in a detailed article. Luma Arcade, the creators of The Harvest, have been rumoured to be closing down, but thankfully the studio is simply restructuring and only the South Africa office will be closing. If you're sick and tired by the lack of advertising (and promotion) of the platform, you can now voice your concern (and provide suggestions) to Microsoft on their UserVoice page.
The boys at YouTube have been hard at work making improvements to the backend of their player. The streaming handled via HTML5 now appears to be more robust, but the official app could still be updated to become a fully featured app (c'mon Microsoft, work on Google here). Lastly, some upsetting news that Brandon Watson, Director of developer experience for Windows Phone, leaves Microsoft for a position at Amazon to work on the Kindle cross-platform effort.
Jet Car Stunts is this week's Xbox Live Deal of the Week, which will ensure you get your crazy racing stunts fix. Need for Speed: Hot Pursuit has sped onto the Marketplace and will set you back $4.99. Portal 2D has been made freely available until tomorrow, should you enjoy the likes of Portal from the PC and consoles, then you'll need to load this title onto your Windows Phone.
Sonic's Jewels (SJ7), a Sega Master System emulator, has been released to the Marketplace and can be picked up for just $1.29 (free trial available). Bug Village has been updated to fix the broken achievements, while Hit the Bunnies has bounced onto the Marketplace.
Should you be eagerly awaiting Skype to come to Windows Phone, you might want to witness a dead horse be continuously beaten while we report on other sources stating that the app is in testing and should be released soon? Vimeo has released an official app, which can be picked up from the Marketplace for nothing at all. Users are able to check out their favourite videos and upload their own using the app. InstaCam is yet another Instagram client that unfortunately doesn't sport posting access for consumers who'd like to use the image sharing service.
KeyboardP has been busy working on Air Pick Voice and it showed in his presentation at the recent WPUG. It's a superb concept that will not only allow users to control music streaming/playback over WiFi, but will make creating custom ringtones much simpler. Cocktail Flow, a popular (and well designed) mixed drink app, added a new package to the mix in time for the Super Bowl - Big Game. WizTiles Pro zips into availability, allowing users to customise their phone with themes and tiles.
Nordea, a Scandinavian bank, has released a Windows Phone app that allows customers to check balances, transfer funds, pay bills, and more. The popular online translator service Babylon has released an app for the platform after taking advantage of Microsoft's Mobile Acceleration Week 2011. We covered Ask Ziggy last month which was set to give Apple's Siri a run for its money, and now the developer has shown us exclusive images of an upcoming UI overhaul and feature injection - it's looking superb. Microsoft has updated its "Bing Get Me There" London location service app.
Moving us into the hardware category of this week's recap is the news of the Lumia 900 heading to Rogers, Canada. Though should you reside in the states, you can reserve a 900 for yourself when the handset launches for $25. The Lumia 800 is heading to Australia, not only in the usual themes, but also white as well. In Finland they seem to be experiencing shortages through great levels of interest from consumers, which can only be good news.
The Lumia 710 has officially launched in the UK and is available from a number of retailers, while in the U.S. consumers can pick one up for nothing at all from Microsoft Stores. Both the 710 and 800 are heading to a number of countries these coming months (keep an eye on the Nokia Lumia Momentum Map), including New Zealand, Indonesia and Malaysia.
We've seen a few more Lumia launches being carried out by Nokia across Europe, with Prague in the Czech Republic playing host to a party. Belgium witnessed a more toned down promotion; the handing out of Nokia cupcakes. Nokia Austria has kick-started "The Amazing Everyday" campaign in the country, while in the UK we see the introduction of the magenta 800.
The Windows Phone Developer Garage event is heading to Birmingham and will be held on February 18th, which will aid those who wish to learn more about the platform. Should you take pride in earning all achievements from Xbox LIVE games and wouldn't mind seeing a system implemented for Visual Studio, now a feature that does just that has come out of beta and an app has been made available on the Marketplace to keep track of progress. Lastly, AdDuplex has published their slides from the recent WPUG (Windows Phone User Group) meet up that will be of interest to all developers who are attempting to make it on the platform.
Highlights
Gaming
Software
Hardware
Fun
Developers
Windows Central Newsletter
Get the best of Windows Central in your inbox, every day!
Rich Edmonds was formerly a Senior Editor of PC hardware at Windows Central, covering everything related to PC components and NAS. He's been involved in technology for more than a decade and knows a thing or two about the magic inside a PC chassis. You can follow him on Twitter at @RichEdmonds.
Hello there site admin of m.webosnation.com. I can comment here with my webos phone, why can't i do this on 'our site'? sorry i just wanted to test it:
http://forums.webosnation.com/site-feedback/309781-mobile-blog-log-shows...