Windows Phone Weekly Digest: August 2, 2015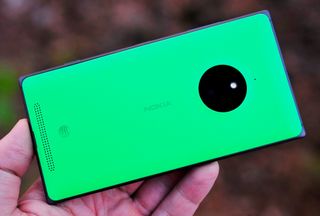 There's a lot going on in the world of Windows Phone. So much, in fact, that it is sometimes tough to catch every important story. Device rumors come and go. New apps join the Windows Phone Store, and your favorite app can get a big update with a new look or new features.
Therefore, every week we will compile a list of the Windows Phone news that you just shouldn't miss.
Welcome to the "Windows Phone Weekly Digest."
Windows Phone
This week, we found out that Microsoft cancelled the cancellation of their upcoming Lumia phone, codenamed "Saana". The Lumia 830 successor was originally terminated, but has since risen from the grave.
An image surfaced of a supposed new Lumia smartphone, but it turned out to be a photo of a Lumia 830 prototype.
Another post that actually appeared to be legit also made the rounds. That was a short video of the cancelled "McLaren" Windows Phone with 3D Touch. While the video does not include the "exploding tiles" feature that surely would have been McLaren's calling card, it does demonstrate the 3D Touch's ability to scroll by hovering a finger over the screen.
Looking ahead, Microsoft's Joe Belfiore said in an interview with The Verge that Windows 10 Mobile 'is significantly feature complete', but that features would be added right up until the release.
In another interview, Windows and Devices head Terry Myerson appeared to hint at the possibility of a Surface-branded smartphone. As exciting as that would be, we'll just have to wait and see what Microsoft has in store.
Other notable items:
Microsoft's latest Lumia 640 XL promotion is in black and white (UK only)
Cortana can now play movie trivia games with Windows Phone users
Acer rumored to be taking some new Windows Phones to IFA
Microsoft wants to keep Android app binaries unchanged when ported to Windows 10 Mobile
Apps
Big news for Redditors on Windows 10. The developer of the popular Reddit client Baconit revealed a new universal version of the app. The Windows 10-inspired app was completely redesigned from the ground up and will theoretically run on Windows PCs, tablets and smartphones, as well as Xbox and HoloLens.
What's more is that Baconit will also be open source, so in the true spirit of Reddit, the community can help shape it and play a part in making it better. The redesign is still in the works, but for the time being, we have some screenshots provided by the developer.
The best Instagram app on Windows Phone got a significant update too. Rudy Huyn's 6tag got a new Windows 10 inspired design in version 5.5. 6tag also picked up some new features, like an improved search function and the ability to directly select a file by holding down the camera button in the application bar.
Hike messenger added Sticker Shop in its latest version. It includes over 4000 stickers in 150 different packs that can be used to add some panache your messages.
We took a look at B612, a camera app designed specifically for taking selfies. Created by the makers of LINE, B612 has been on iOS and Android for a while and has made its way to Windows Phone.
And it looks like Microsoft's Groove music may be getting a new logo. The new icon still incorporates a record, but jazzes it up a bit. The design has appeared in Groove's store listing, but hasn't yet made its way to the app itself. Perhaps in a future update.
Other notable items:
Tweetium update for Windows 10 and Windows Phone 8.1 brings several bug fixes
Games
It seems like a week doesn't go by without us mentioning Game Troopers. Their new deep sea exploration game Abyss was released for Windows Phone. In Abyss, you pilot the Nep2no submarine in search of the precious new resource Gaia.
The Xbox Live supported game brings with it 20 challenging levels and plenty of achievements. You can also compete with friends and vie for the top of the Leaderboard.
We also checked out Top Speed: Drag & Fast Racing, a new addition to the increasingly crowded field of drag racing games for Windows Phone.
Lastly, Microsoft found themselves going on the defense about the latest iteration of Solitaire. After catching some flak for incorporating ad support into The Microsoft Solitaire Collection, the company responded to critics:
Other notable items:
Be sure to weigh in on this week's news in the comments section. See you next week!
This week new mobile build please

I just orded a Lumia 830. It would be mighty fine if we got the new faster build this week :D

Hopefully. Fingers crossed.

Does anybody know how to disable the camera sounds in win10 ? Also why i can't download the Lumia branded apps?

I beleive there's a new build coming by the end of the week.

How is the build? Is it fine? Too many bugs from the last preview builds before.

Free BBM birthday stickers for today only.

Lumia 830 likely to never get Denim update = never to get proper Windows 10 Mobile update? Microsoft needs to address this issue and soon!!

One has nothing to do with the other at this point. Its not getting Denim because of ATT. Denim is rolling out for the 830 in other countries so it exists. Im sure ATT's logic is why test it when in 2 months they will start rolling out W10. Not saying its right but its logical. The probably didnt sell enough 830's to make it worth while. If W10 needs it, it will be there when the time comes.

It's like the Icon. It never got an update (I think Cyan), but it went straight to Denim.

insider program you get denim first

My 830 running Update 2 just fine.

The new Groove Music icon is definitely not an improvement.
Just a Pacman chowing down on a pizza slice.
Windows Central - why not do one of your photoshop jobs and stick a pair of headphones on the old G logo. It'll look much better than the new logo...

Still another week with no new build or leak. China, you're letting us down.

Shouldn't be a surprise since the final PC version got released this week...

Good things happening. This is an exciting article. Brighter days ahead :)

For Lumia 830 users, when we release Windows 10 Mobile then you can download and use the Windows Insider app to hot update your 830 completely bypassing AT&T (or any other carrier for that fact since the carriers will control when you get to update to Windows 10 Mobile on your phone but after that, we will control further updates)

Sorry I have to ask cause I wasn't really following the news this week: Has Windows 10 for mobiles been released yet? Is it available or Microsoft is still releasing updates for insiders?

No. It's been known for some time it's running months behind the PC

Final release is still far away, Insider program has been inactive as well. I'm sure once the necessary bugs in "Windows 10 PC" are fixed, the focus will shift to Mobile.

That 3D touch is wierd, my lumia 830 sometimes scrolls when my finger isn't even touching the screen.

latest build on the lumia 520 is almost a success that is build 10166 though its power consumption is too much the photos app lacks some albums and the groove music interface is so awkward it does not load album art waitng for the next build
Windows Central Newsletter
Get the best of Windows Central in in your inbox, every day!
Thank you for signing up to Windows Central. You will receive a verification email shortly.
There was a problem. Please refresh the page and try again.