A look at the evolution of Xbox One, four years after launch
We take a look at the past four years, with a deeper dive into the growth of Xbox One, and how Microsoft evolved around its console.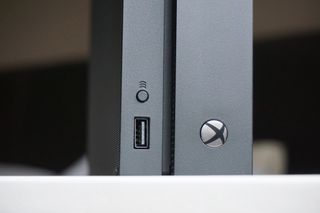 On November 22, 2013, Microsoft released the Xbox One. After a rocky unveiling, the company reshaped the device in response to public outrage, ditching its internet requirement and online policies. With a launch lineup lacking some of Microsoft's biggest franchises, and a questionable reliance on the Kinect sensor, the Xbox One had an uncertain future, struggling to gain the traction of the PlayStation 4 (PS4).
Four years later, a lot has changed. The console's operating system (OS) is in a significantly stronger position, several revisions of Xbox hardware are available, and a growing library of games has been established. And while the Xbox One still might be behind its closest competitor in sales, Microsoft did a great job turning around a once ill-fated console.
To mark its launch anniversary, we decided to take a closer look at how the Xbox One has changed.
Read more: This is what the future of Xbox looks like
Closing the OS gap
Since the Xbox One's debut, the OS arguably shows the biggest departure from the original vision. What started off as a Metro-style tile-based layout from the Windows 8 era evolved over the years, drawing strong influence from similar changes being made to the company's PC platform. With Windows 10's arrival less than two years after the console's launch, updates drove Xbox even closer tow PCs, embracing traits of its functionality and visual design. Most recently, the company introduced the Fluent Design System, a design language pitched with depth and texture in mind, which has made an appearance across Xbox.
With the continued unification of Windows 10 devices, the Xbox One console is now more closely integrated with Microsoft's ecosystem than ever before. Following the introduction of the universal Microsoft Store, Universal Windows Platform (UWP) applications and games are now served cross-platform. Over the past four years, the Xbox One has shifted away from serving more isolated experiences, to what is essentially a curated, locked-down Windows 10 gaming machine.
These changes have also led to a change in the development process for the Xbox One OS. In the early years, Xbox One system updates were delivered on a near-monthly basis, but system updates are now tied to a similar release cycle to Windows 10 for PCs. With this, updates are now dropped a few times per year.
Looking back at what's been added over the years, how the console has changed is mind-blowing. What was initially a sluggish, somewhat lacking console, is now a feature-rich platform spanning a family of devices. Many core features simply didn't exist when the Xbox One was first released and when compared to the new OS, the old user experience is almost unrecognizable.
Over the past four years, a huge list of features and changes has been rolled out to the Xbox One. Well-received hallmarks of the Xbox 360 made a comeback, with the return of the Guide menu, background audio playback, and external storage support. New experiences also surfaced, such as backward compatibility across two generations, Cortana, and the integration of UWP apps.
Despite these advancements, the Xbox One has also been stripped of some of its previously-core features. After the 180-degree shift in online policy, the console found a firmer and clearer approach going forward. "Snap" multitasking has been removed entirely. And although the console still supports a range of content as a multimedia device, gaming now has a much stronger focus than before.
From troubled hardware beginnings
The original Xbox One console was a simple, big black box housing your digital entertainment. With its focus on TV and an unappealing design, many facetiously likened the console to a glorified VCR, rather than a games console. What first released under the Xbox One name fell short in several areas, failing to capture the attention seen in its rival, the PS4.
The Xbox One also launched with somewhat lacking internal hardware, in comparison to Sony's console at the time. Although similar at first glance, small differences meant the PS4 was consistently given an edge in graphical capability, leaving many games superior on Sony's console. Especially when priced lower than the Xbox One at launch, it's understandable how Microsoft lost the lead in the console space.
During the months that followed, the Xbox One soon dropped in price, to better compete with rival devices. The removal of the once-obligatory Kinect sensor played a significant role in this – a move that left that device's days numbered and would eventually lead to the end of production. New implementations of Kinect on the Xbox platform are now close to nonexistent.
Xbox One S marked a noteworthy shift for the company, utilizing a fresh new design which would define the shape of Xbox hardware going forward. With a minimalist style, the console was generally received as one of the most visually appealing, condensing the existing Xbox One hardware into a much smaller package. 4K video playback and HDR might not have been the most innovative additions, but they established the console as the entry-level device going forward.
Finally, four years after the console's first debut, Microsoft rolled out a culmination of its technical achievements, the Xbox One X. With the aim of delivering a premium gaming experience, the Xbox One X has debuted as the most powerful console on the market, while maintaining compatibility with existing Xbox One software. Despite the major leap in graphical capabilities, Microsoft continues to shift away from traditional console generations, investing in revisions of the Xbox One hardware instead.
Striving to hit 4K, and with many titles succeeding, the Xbox One X has now established an interesting future for the Xbox brand. As the most powerful, but equally most expensive console available today, the tables have turned between the two gaming giants. Whether raw power is enough to sell a console is yet to be proved, however, reception appears to be positive as of launch (well, mostly).
Reworking first-party games
While Microsoft's reputation for delivering strong hardware and software remains today, one of the company's biggest criticisms surrounds titles published in-house by Microsoft Studios. Microsoft has delivered a mostly regular flow of both first-party and second-party games. However, few of its new titles on Xbox One have gained traction.
Halo, Gears of War and Forza remain the centerpieces of the console's exclusive offerings. Of these, Forza has secured itself as a star of the generation, with annual releases used to highlight new technologies and visual capabilities of the console. While it took a couple years for installments of both Halo and Gears of War to finally be released, both remain as strong franchises.
Microsoft has also delivered a range of second-party games through the generation, such as Sunset Overdrive, Quantum Break, ReCore, and Ryse: Son of Rome. Most of these titles debuted to a mixed reception, but they injected diversity into each yearly lineup. More recently, an investment can be seen in lesser-known properties internally too, with Sea of Thieves, State of Decay 2 and Crackdown 3 all on the horizon.
Alongside these releases, Microsoft gained attention for its shortcomings when it comes to in-house game development. Rocky release schedules have seen several titles delayed beyond their initial planned releases – with the most notable, Crackdown 3, seeing multiple setbacks into 2018. Several titles have also been canceled after their unveilings, or even after public betas were made available, including Scalebound, Fable Legends, and Project Knoxville. Some of these game cancellations were paired with the closure of Microsoft's first-party studios, including Press Play and Lionhead Studios.
Xbox head Phil Spencer has previously discussed an ongoing effort to rework the first-party lineup and said many of its faults are a result of the transition period. Following a string of delays on upcoming titles, the company stated announcements and release dates will be held back going forward, assumedly leading to a shorter period between announcement and release. Ultimately, we'll have to wait and see how this pans out in the coming year.
What's next for Xbox One?
With four years of development behind the Xbox One brand, the console has climbed far from its troubled beginnings, to potentially its best state yet. Xbox still remains a key division of Microsoft, serving as the main bridge between its gaming and other entertainment platforms. Windows might dominate the office, but Xbox is a brand that is welcomed into homes with a passionate following.
While the long-term roadmap for Xbox is yet to be outlined, we already have an idea of what's to come. With the Xbox One X underway, development on the next console is assumedly also in the works, with games and services are being built up behind the scenes. VR could be one of these upcoming advancements, though Microsoft continues to keep silent about how its Mixed Reality platform will integrate with the Xbox brand.
Get the Windows Central Newsletter
All the latest news, reviews, and guides for Windows and Xbox diehards.
Matt Brown was formerly a Windows Central's Senior Editor, Xbox & PC, at Future. Following over seven years of professional consumer technology and gaming coverage, he's focused on the world of Microsoft's gaming efforts. You can follow him on Twitter @mattjbrown.