See the 23 games that will launch with Xbox One on day one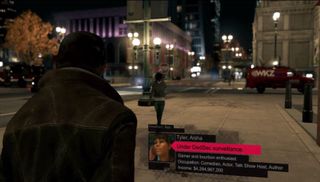 The lineup of Xbox One launch game announcements began with a trickle during the May reveal event and didn't start to really flow until Microsoft's E3 press conference. Electronic Arts and other publishers chimed in, and soon gamers began to have a decent idea of what software to expect when Microsoft's new console rolls around.
Still, for all those title announcements, you never really know exactly what games will launch alongside the system until the console's release date draws near. The Xbox One's nebulous November release date (Microsoft still hasn't named the date yet) is still a few months away, but Microsoft has just revealed the lineup of games that will be available at retail and via download on launch day. With 23 titles to choose from, early adopters are in for a treat this holiday season.
Xbox One launch day games
Assassin's Creed IV Black Flag (Ubisoft, Ubisoft)
Battlefield 4 (DICE, Electronic Arts)
Call of Duty: Ghosts (Infinity Ward, Activision)
Crimson Dragon (Grounding/Land Ho!, Microsoft Studios) – Downloadable, exclusive
Dead Rising 3 (Capcom Vancouver, Microsoft) - Exclusive
FIFA 14 (EA Sports, Electronic Arts)
Fighter Within (AMA Ltd., Ubisoft) - Exclusive
Forza Motorsport 5 (Turn 10 Studios, Microsoft Studios) - Exclusive
Just Dance 2014 (Ubisoft Paris, Ubisoft)
Killer Instinct (Double Helix, Microsoft Studios) – Downloadable, exclusive
LEGO Marvel Super Heroes (TT Games, Warner Bros. Interactive)
Lococycle (Twisted Pixel, Microsoft Studios) – Downloadable, exclusive
Madden NFL 25 (EA Sports, Electronic Arts)
NBA 2K14 (Visual Concepts, 2K Sports)
NBA LIVE 14 (EA Sports, Electronic Arts)
Need for Speed: Rivals (Ghost Games, Electronic Arts)
Peggle 2 (Popcap, Electronic Arts) – Downloadable, exclusive
Powerstar Golf (Zoe Mode, Microsoft Studios) – Downloadable, exclusive
Ryse: Son of Rome (Crytek, Microsoft Studios) - Exclusive
Skylanders: Swap Force (Vicarious Visions, Activision)
Watch Dogs (Ubisoft Montreal, Ubisoft) - Pictured at top
Zoo Tycoon (Frontier Developments Ltd., Microsoft Studios) - Exclusive
Zumba Fitness: World Party (Zoë Mode, Majesco)
Next generation versus last generation
Project Gotham Racing 3
For comparison, here's the American Xbox 360 launch lineup:
Amped 3 - Exclusive
Call of Duty 2
Condemned: Criminal Origins - Exclusive
FIFA 06: Road to FIFA World Cup
GUN
Kameo: Elements of Power - Exclusive
Madden NFL 06
NBA 2K6
NBA Live 06
Need for Speed: Most Wanted
NHL 2K6
Perfect Dark Zero - Exclusive
Peter Jackson's King Kong: The Official Game of the Movie
Project Gotham Racing 3 - Exclusive
Quake 4
Ridge Racer 6 - Exclusive
Tiger Woods PGA Tour 06
Tony Hawk's American Wasteland
Bankshot Billiards 2 (XBLA)
Bejeweled 2 (XBLA)
Gauntlet (XBLA)
Geometry Wars: Retro Evolved (XBLA)
Hardwood Backgammon (XBLA)
Hardwood Hearts (XBLA)
Hexic HD (pre-installed on the hard drive)
Joust (XBLA)
Mutant Storm Reloaded (XBLA)
Outpost Kaloki X (XBLA)
By my count, that puts the Xbox One at five retail and five downloadable exclusives on day one, whereas the Xbox 360 launched with six retail and 8 downloadable exclusives (we're not counting Joust and Gauntlet as exclusives). While the new system's numbers are slightly smaller, I would argue that the Xbox One's retail exclusives, third-party retail lineup, and downloadable lineup all look much stronger than the games the Xbox 360 launched with in 2005.
Select launch game breakdown
Some of the games on the launch list we've covered before, others we haven't. Everybody knows what to expect from the first-person shooters, Assassin's Creed, and sports games. Let's take a brief peak at the remaining titles:
Crimson Dragon
At long last, the big brother of Windows Phone exclusive Crimson Dragon: Side Story will appear on Xbox One. Crimson Dragon was originally announced for XBLA, but Microsoft mysteriously pulled it only weeks before release in order to retool it for Xbox One.
This spiritual successor to Panzer Dragoon has benefitted from the extra year of development time with improved graphics, a greater scope, and the addition of physical controller support in addition to Kinect controls!
Dead Rising 3
The Dead Rising series is known for its mixture of zombie horror, oddball comedy, and massive hordes of enemies on-screen at once. Part three suffers from an unfortunate brown color scheme, but otherwise everything players love from previous games has been improved upon.
The world is completely open now and filled with drivable vehicles, which should make for gory road kills galore. Two-player online co-op and extremely robust SmartGlass support further round out this impressive exclusive. Check out our E3 preview for more details.
Fighter Within
One of the two exclusive Kinect retail titles, Fighters Within allows two players to battle each other via highly accurate Kinect controls. Throw a punch or kick and your character does so instantly, without the lag that Xbox 360 Kinect games experienced.
This is the kind of game that could either be surprisingly solid or completely underwhelming. We'll have to see how it shapes up in the months to come.
Forza 5
The Forza series is known for its hyper realistic simulation aspects. Hundreds of cars are recreated down to the tiniest detail, and each one drives like the real thing. Forza 5 will of course be the most beautiful racing game to date, with more track detail and livelier spectators than ever before.
Online players will benefit from the cloud processing-fueled drivatar support (AI racers based on your actual driving style), while offline players can still play the game after downloading the day one patch. Madcatz also gas a wireless racing wheel in store that should create an even more immersive simulation.
Killer Instinct
A cult 2D fighting series from the Super Nintendo and Nintendo 64 days, Killer Instinct is back at last. Not only does it look and play quite faithfully to its predecessors, the new Killer Instinct also boasts an unusual payment model for a fighting game.
One character is completely free and can be used in offline and online play. The other seven characters cost $5 each, or players can grab the whole roster for $20. Hardcore Killer Instinct fans may opt for the $40 deluxe edition. It includes all the characters and a slew of bonus content, including the original KI arcade game!
LEGO Marvel Super Heroes
Last year's LEGO Batman 2 provided a vast playground and assortment of characters to entertain kids and comic fans alike. LEGO Marvel Superheroes should easily recapture that magic, thanks in large part to a playable roster of 100 Marvel Comics heroes and villains.
Warner Bros. quietly announced this game would come to Xbox One in addition to current generation systems back at E3, but that detail was largely lost in the sea of news from the show. We don't know what enhancements (if any) the Xbox One version will feature, but enhanced graphics and special effects are a given. Give our E3 preview a look to learn more about the game itself.
Lococyle
This quirky combat racer comes from Twisted Pixel, the folks behind Ms. Splosion Man and the original Gunstringer.
It was announced as an XBLA game at E3 2012, but like Crimson Dragon got held back in favor of an Xbox One upgrade.
Peggle 2
Poor Windows Phone never got a port of the original Peggle, but the XBLA version was tops. Peggle 2 will launch as an Xbox One exclusive, which almost makes up for Plants vs. Zombies 2 being iOS-exclusive.
Expect a more pleasing art style complete with animated characters, increased background detail, and tons of peg-busting fun from this one.
Powerstar Golf
Did you like Let's Golf 2 on Windows Phone? This cartoonish golfing game should evoke much of the same fun. Each character has a unique ability that he or she can use a limited number of times during a game.
Golf games are hard to screw up, but I hear this one currently suffers from severe UI issues. Hopefully those clear up before launch.
Ryse
This epic action game takes place during the times of the Roman Empire.
It will include an online Gladiator mode on top of the single player game. You'll use the money earned in multiplayer to purchase booster packs of cards that unlock random rewards. Sam and Michael are pumped for this one – how about you guys?
Skylanders: Swap Force
Activision recently announced that the newest Skylanders game will arrive on Xbox One in addition to current gen systems! Swap Force will work with all the Skylanders toys you already own; it's awesome to see characters we bought for the Xbox 360 game transfer over to next gen as well. The Xbox One version will look much nicer than the 360 games, which should help keep parents' attention a little better as they play co-op with their children.
Zoo Tycoon
Not long ago I said that Animal Park Tycoon would have to hold Windows Phone owners over since Microsoft wasn't taking advantage of their Zoo Tycoon license. It turns out that Xbox One is getting the first-ever Zoo Tycoon game for consoles!
This one comes from Frontier Software, the developers behind Kinectimals and Kinect Disneyland Adventures. Expect lots of animal-themed Kinect minigames, highly realistic animals, four-player co-op, and of course: zoo management. We'll also be able to visit each other's' zoos via the cloud.
That's it, guys! Barring last minute delays, these are the games you'll have to choose from on Xbox One launch day. Which ones are you excited for?
Get the Windows Central Newsletter
All the latest news, reviews, and guides for Windows and Xbox diehards.
Paul Acevedo is the Games Editor at Windows Central. A lifelong gamer, he has written about videogames for over 15 years and reviewed over 350 games for our site. Follow him on Twitter @PaulRAcevedo. Don't hate. Appreciate!