Save up to $800 on Samsung curved gaming monitors and explore ultrawide Starfield — with community mods
Space is ultrawide, thanks to Samsung (and Starfield's community)
What's better than a curved gaming monitor? Two curved gaming monitors — and these huge 49-inch Odyssey monitors from Samsung are the equivalent of two 32-inch UHD monitors in one glorious, curved display.
Todd Howard recently joked in an interview that those struggling with Starfield on their PC might need to upgrade their rig, and while that may or may not be true, you may want to upgrade your monitor to experience all the space exploration game has to offer. Starfield doesn't currently support the ultrawide 32:9 resolution natively on PC. However, keen modders have already solved this problem (via Reddit,) allowing you to edit config files to force the game to open up its horizons.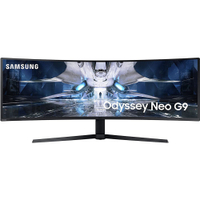 Odyssey Neo G9 49-inch | was $2,199 now $1,399 at Samsung
With this monitor, you get a huge 49-inch screen that is enhanced by Samsung's Mini LED Quantum Matrix technology for stunning visuals. It also offers fast response time, smooth gameplay, and easy installation.
Price check: $1,379.99 at Amazon
Luckily for us, Samsung has some great offers right now, including QLED or OLED displays with different refresh rates. If you're currently in the market for one of the best gaming monitors, the 49-inch Samsung Odyssey Neo G9 sits at the top of the market. And for a limited period, you can get one for $800 off.
The Samsung Odyssey Neo G9 49-inch gaming monitor was at its cheapest price ever, $1,151, last year. The current offer is not as low as the one we saw last December, but it's still a fantastic deal.
The Samsung Odyssey Neo G9 49-inch gaming monitor is a great deal for gamers who want to experience the best of both worlds, thanks to stunning visual quality and smooth performance. The monitor boasts a pixel resolution of 5120 x 1440, which is higher than most monitors. It also has a refresh rate of 240Hz and a response time of 1 ms. These specs would be ideal for playing Starfield, which features a vast and detailed universe with diverse planets that you'll be able to view in glorious color and detail.

The Neo G9 also comes with a new display technology called Mini LED. Samsung says that this technology uses "incredibly thin microlayers filled with many more LEDs" that are 1/40 the size of a normal LED. This technology greatly improves the screen dimming zones from 10 to 2,048. This means that the monitor can produce up to 4x the brightness of average monitors and show darker blacks and brighter whites. You can read more about the differences between OLED QLED and Mini LED here.
Some may say the monitor is a dated choice compared to Samsung's newest models revealed during CES 2023. While the Samsung Odyssey OLED G9 and the soon-to-be-launched ViewFinity S9 5K monitor are newer and impressive, the Odyssey Neo G9 still stands up.
If you did want to splash out for the newer model though, that's also in this limited sale at $200 off.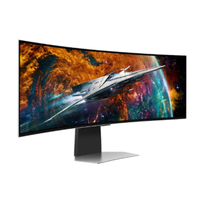 Samsung Odyssey OLED G95SC Neo Pro 49-inch monitor | was $1799.99 now $1599.99 at Samsung

This monitor uses OLED technology to deliver stunning visuals and performance. With a resolution of 5120 x 1440, a 240Hz refresh rate, and low 0.03ms response rate, it's a great choice for any gamer. You can enjoy a crisp and fluid gaming experience while exploring the galaxy in Starfield or any other PC game.
Price check: $1,599 at Best Buy
The OLED G9 monitor ships with a Samsung Gaming Hub to stream Xbox Cloud Gaming and NVIDIA GeForce NOW. I use the hub to enjoy Baldur's Gate 3. Additionally, it has a Neo Quantum Processor that improves the image quality and sharpness.
Now not everyone wants to blow over $1000 on a gaming monitor, but you may want to experience the world of curved display in full 49" glory, if you're looking for something slightly more wallet friendly Samsung has an option that currently an amazing $899 in the sale, in the QLED CRG9 Dual QHD Curved Gaming monitor.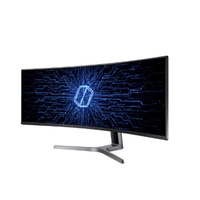 Samsung Odyssey CRG9 HDR1000 QLED 49-inch monitor | was $1199.99 now $899.99 at Samsung

With a 120Hz refresh rate and QLED technology to deliver your space-age adventure, this monitor is versatile and more affordable than others on the market. It also has Eye Saver Mode and Flicker Free technology for reducing eye strain and fatigue during those long gaming sessions.
Price check: $899.99 at Best Buy
These monitors certainly don't blend into the background, and a full TV size monitor is a bold purchase. If space is an issue, most Samsung monitors are VESA compatible for mounting, giving you back some essential desk space.
Bumping up Starfield to ultra-wide display
It's unfortunate that such a huge game that encourages exploring the cosmos like Starfield isn't able to be viewed at 31:9 for gamers that use these monitors, but thankfully, the community is doing Bethesda's work for them and making it happen. There are two methods currently to see the stars in ultrawide, the first being to use a hex editor to modify the Starfield.exe file and change the values that control the aspect ratio.

Here's a great example on YouTube with instructions in the video description: if you are brave enough to try it yourself, as they say, go big or go home.
The second method is a mod available on Nexus Mods, by tonycubed2. It's early days but many on Reddit have reported success with this while they wait for rollout officially from Bethesda (if we ever get it).
What would I choose?
I've rocked a budget ACER 24" monitor for the past few years, with no view to upgrade, but having seen the amazing scenes people are capturing in Starfield's photo mode I've been having a rethink.

As I'm completely new to the market of huge gaming monitors, let alone curved beasts like the 3 sale picks we've mentioned, I'd be perfectly content with the sub-$1000 model as it would still be an above-and-beyond upgrade for me. However, if you're already using a big and beautiful screen, you may want to splash out more to feel that fresh upgrade vibe.
Get the Windows Central Newsletter
All the latest news, reviews, and guides for Windows and Xbox diehards.
Jen is a News Writer for Windows Central, focused on all things gaming and Microsoft. Anything slaying monsters with magical weapons will get a thumbs up such as Dark Souls, Dragon Age, Diablo, and Monster Hunter. When not playing games, she'll be watching a horror or trash reality TV show, she hasn't decided which of those categories the Kardashians fit into. You can follow Jen on Twitter @Jenbox360 for more Diablo fangirling and general moaning about British weather.