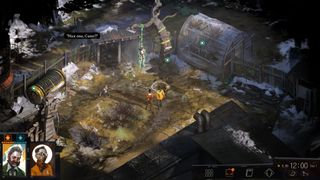 (Image credit: ZA/UM)
If you love tabletop role-playing games like Dungeons & Dragons but don't have anyone to run the game or a group you can play with regularly, CRPGs can offer many of the same thrills. Whether you're controlling a single character or a whole party, these complex games let you explore strange and fantastic worlds and give you a wide variety of ways to solve problems. Whether you're looking to check out some of the genre's classics or newer entries, this guide to the best CRPG games on PC should provide you with plenty of exciting adventures.
Join the party
CRPGs offer huge complexity in their gameplay, encouraging players to seriously consider their choices and tactics as they'll affect their party and the world. For an awesome recent example of the genre, check out Disco Elysium (opens in new tab). It's bizarre sense of humor and complicated world can be experienced without any combat at all.
You can also go back to the genre's origins by playing Baldur's Gate: Enhanced Edition (opens in new tab), which uses the rules of Dungeons & Dragons and one of its best known settings. If you like a high-stakes adventure, pick up Darkest Dungeon (opens in new tab), where your party members can be permanently killed while fighting eldritch horrors. All of these games stress the importance of choice and strategy, so they offer plenty of replayability as you make new decisions that affect the outcomes.
Windows Central Newsletter
Get the best of Windows Central in in your inbox, every day!
Thank you for signing up to Windows Central. You will receive a verification email shortly.
There was a problem. Please refresh the page and try again.