Best Shooter Games for Windows 10 PC and Mobile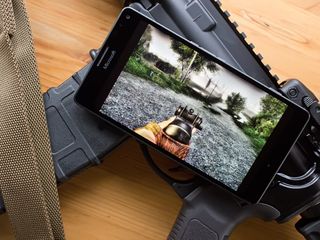 First person shooter games are fantastic pass-times on Xbox One, but they're also great on Windows 10 PCs, tablets, and phones.
First person shooter games place you behind the targeting sights of modern weaponry, classic firearms, and futuristic blasters. We are also considering third person shooters in this article, where you play from an over the shoulder point of view. While the angle of view is slightly different, third person shooters are just as entertaining and challenging as those where you are directly behind the weapon. We also understand there are some outstanding Xbox One console games, such as Call of Duty: Infinite Warfare (opens in new tab), that are also available for the Windows 10 Store. We'll leave those games for our "Best of" Xbox series and concentrate on games released with PCs, tablets, and mobile in mind.
Regardless of the approach, the games have you face a broad range of enemies that include World War II soldiers, Zombies and invading aliens. Gameplay tests your skills at strategy, reaction and straight shooting. After sifting through the Windows Store for the best titles in this gaming genre. Here are our best picks for shooter games on Windows 10.
Overkill 3
Why you can trust Windows Central Our expert reviewers spend hours testing and comparing products and services so you can choose the best for you. Find out more about how we test.
This futuristic shooter from Game Troopers has an oppressing group known as the Faction terrorizing the world. People are scared, demoralized and with this Xbox gaming title for Windows 10, it is your job to take the fight to the evil forces.
You take control of the battlefield from an over-the-shoulder point of view, blasting enemy troops and vehicles as they approach your position. Overkill 3 offers dozens of weapons ranging from assault rifles, sub-machine guns, handguns, shotguns and more. Gear includes bulletproof Nano-Suits, grenades, medical kits, air strikes and other items to increase your odds of survival. Weapons and gear can be upgraded to increase capacity, protective value, damage potential and other aspects.
Graphics and cinematics are well drawn up and full of detail. Game controls are intuitive with a variety of on-screen buttons that control aim, weapons fire, weapons choice and more. Gameplay has your character dealing with enemy forces from a position of cover. As you aim and fire, your character is exposed to enemy fire, so you need to be swift and accurate to minimize damage to your character. Once a stage is clear, the player advances to the next position. Each position has you facing more capable enemy troops and even a few enemy vehicles as well.
Overall, Overkill 3 is a fun game to pass the time with. The gameplay is segmented allowing for quick bursts of fun, and it's addictive enough to help you lose track of time. Overkill 3 is available for Windows 10 PC and Mobile. It is a free, ad-supported game with a few in-app purchase opportunities.
Download Overkill 3 from the Windows Store (opens in new tab)
Gun Club Armory
Gun Club Armory is a challenging first person shooter that tests your weapon's skills against paper targets. The Windows 10 game is the first of three Gun Club installments from Binary Mills (you also have Gun Club 2 (opens in new tab) and Gun Club 3: Virtual Weapon Sim (opens in new tab) and provides you with an arsenal full of detailed and interactive weapons ranging from shotguns, assault rifles, sniper rifles, and sub-machine guns.
Weapons can be fitted with an equally destructive range of accessories such as grenade launchers, extended magazines, laser sights and more.
While you are battling paper targets, range time includes three modes that include a practice mode (free shooting), a random mode where you are timed on how fast you can destroy targets, and a Zombie mode where you have to eliminate a horde of hungry undead targets before they reach your position. Objectives can be set to various distances to increase the challenge of the shot.
The graphics and animations are Gun Club Armory's strength. You can simulate bolt actions, magazine reloads, and more from the armory and each gun reacts differently when used on the range. The only thing missing is the recoil impact of the weapons.
Gun Club Armory is a free game available for Windows 10 Mobile. The game includes a starter pack with nine weapons, with additional weapons available through in-app purchases. The game may not have missions to tackle or battlefields to cross, but it is a fantastic first person shooter, delivering a realistic shooting range experience.
Download Gun Club Armory from the Windows Store (opens in new tab)
Brothers in Arms 3: Sons of War
Brothers in Arms 3: Sons of War is set during World War II during the aftermath of D-Day. You lead a band of soldiers into battle against Axis Forces and tackle various types of missions that include assault, sniper, siege and stealth goals. Brothers in Arms is also played from an over-the-shoulder point of view and you can utilize your squad mates as a tactical advantage. Each brother has a special skill set such as explosives, mortar fire, rocket launchers and more.
At your disposal is a vast armory filled with World War II era weapons. Each can be upgraded to improve their capacity, accuracy and destructive power. There is also a small collection of experimental weapons that can be a game changer on the field of combat.
Graphics are outstanding with plenty of detail, dramatic slow motion sequences, and explosive animations. Controls include a mixture of on-screen buttons and gestures with plenty of enemy targets to dispatch. Brothers in Arms 3's gameplay is challenging and often calls on you to navigate yourself through the battlefield, seeking cover and vantage points where you can destroy the enemy with minimal risk to your own safety.
Brothers in Arms 3: Sons of War is a free game and available for Windows 10 Mobile. It is a challenging time waster of a game, but be careful, there is an addictive pull to Brothers in Arms making it easy to lose track of time.
Download Brothers in Arms 3: Sons of War from the Windows Store (opens in new tab)
Sniper Fury
Sniper Fury places you in the midst of a global battle against terrorism. The game was included in our Best Straight Shooter Games and is a wonderful first person shooter as well. Available for Windows 10 PC and Mobile, Sniper Fury includes over 130 missions where you are tasked with taking out terrorists to disrupt their evil plots.
The armory provides you with a host of weapons ranging from assault rifles, sniper rifles, rail guns and a few top-secret prototypes. The 3D graphics are outstanding with plenty of detail and the effects offer realistic conditions that can impact your shooting conditions. Such as missions taking place in a blizzard where visibility is considerably reduced. It's a really nice touch and adds to the game's challenge.
Along with the mission-based gameplay, Sniper Fury also includes a PvP mode where you can steal resources from other players by depleting their resources. These resources can be used to upgrade your arsenal. If that was not enough, there are also daily events where you can win special weapons and prizes.
Sniper Fury is a free game, available for Windows 10 PC and Mobile. The game does have various in-app purchases that range from $0.99 to $99.99. The variety of missions, weapons, and graphics quality makes Sniper Fury a fantastic way to burn a little down time or for the times you are in the mood for a time-consuming game.
Download Sniper Fury from the Windows Store (opens in new tab)
Over to you!
If you have given any of these games a try, let us know what you think of things in the comments. Let us know if we are on the mark or crazy with our choices. There are other quality first person shooter games in the Windows Store such as Modern Combat 5 (opens in new tab), Call of Dead (opens in new tab) and Dead Target: Zombie (opens in new tab).
If you have a favorite that was not mentioned, sound off in the comments below with your recommendation!
Windows Central Newsletter
Get the best of Windows Central in your inbox, every day!
George is the Reviews Editor at Windows Central, concentrating on Windows 10 PC and Mobile apps. He's been a supporter of the platform since the days of Windows CE and uses his current Windows 10 Mobile phone daily to keep up with life and enjoy a game during down time.
Personally, I am not able to download the game "world of Tanks", I'm in the last build in slow mode, someone else with problems of download in the store?

Hi, Which of these are playable in offline?

Brother in arms 3,overkill 3...

Surprised MC5 wasn't focused in the article. It's hands down the best shooter in the store. The others nominated are great but the polish of MC5 is top notch. Sniper fury is excellent too.

From my experience, it's super-laggy on all of my devices :/ Otherwise it'd be great.

Ah man that's too bad. I've played it on my 920/1020 and now my 950XL and performance has always been good for me. Haven't played in a little while so maybe things are different now.

535, 650, HP 250 G1, Lenovo Miix 310... And none of them can handle it with a decent FPS :/

Spartan Assault seems to have crashing problems with W10M, unfortunately. Spartan Strike is better technically, but unfortunately I'm stuck half way through the campaign.

I'd like you to mention if, on mobile, these games support a controller and continuum.

I've fired the military variant (m-4). Great rifles. Used be able to field strip it in seconds.

Do any of these games have gamepad support?

George is a proud gun owner I see? I'm guessing he isn't in California. This new law is a bit overkill...

In Alabama. And yes, crazy new regs in California.

It is freakin overkill here in Commiefornia.

Shocked, you mentioned Modern combat 5 in 'Other' games? It is THE best first person shooter game available in store, all these highlighted in the article are nothing in front of it. Zero, i mean.
Who agree?