Best FreeSync Monitors
FreeSync is AMD's technology that aims to create a more stable visual experience to help reduce screen tearing and lag input by synchronizing the graphics card and connected monitor.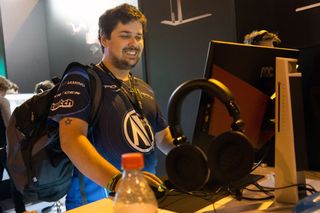 (Image credit: Windows Central)
NVIDIA has a similar solution, but today we'll be hanging out with #TeamRed. The reason these technologies exist is to help solve the problem where your graphics card can pump out content faster than your connected display can cope with. Traditional V-Sync has the card hold the next frame to wait on the display, which can cause visual issues noticed in-game.
Updated on May 18, 2017: We've altered the AOC listing, added the Acer XR341CK, and also updated the supported AMD GPU list to include the RX 3xx series.
This is where FreeSync (and NVIDIA's G-Sync) come into play. For AMD, FreeSync allows the graphics card and connected monitor to communicate with one another to maintain a stable refresh rate that can be altered depending on what the graphics card is currently outputting. Only certain AMD cards will support this specific dynamic refresh rate feature, but all others in the families listed below can take full advantage of video playback and power-saving improvements.
AMD holds some advantages over NVIDIA in how they're going about development. AMD doesn't charge fees for monitor manufacturers and thus the displays can remain affordable for gamers. There's also no requirement for an expensive chip and other circuitry to be added to the monitor since the supported AMD graphics card does most of the magic. Should you own one, purchase a FreeSync monitor and have an HDMI cable at hand to connect them together - you're essentially set to go.
Compatible AMD cards:
AMD Radeon HD 7000
AMD Radeon HD 8000
AMD Radeon R7
AMD Radeon R9
AMD Radeon RX
Cards that will support dynamic refresh rates:
Check out our collection of the best graphics card options for more great hardware options.
The best FreeSync Monitors
Why you can trust Windows Central Our expert reviewers spend hours testing and comparing products and services so you can choose the best for you. Find out more about how we test.
There are plenty of monitors that include support for AMD FreeSync, but we want to make sure that you get the best bang for your buck. If we were buying, here's where we'd put our hard-earned dollars.
AOC AG271QX
The Agon AG271QX by AOC is an affordable display that doesn't compromise on the experience of available functionality. The company also has a G-Sync unit (opens in new tab), should you be rocking a GPU from NVIDIA, but as is the case with most solutions the NVIDIA panels are slightly more expensive. The display has a 144Hz refresh rate and with the added FreeSync technology, you'll be able to enjoy 1440p gaming at maximum settings without dealing with screen tear.
It's also perfect for intense gaming with a response time of just 1ms. There are numerous ports on this unit too: VGA, DVI, HDMI, DisplayPort and four USB ports. Better still, it supports VESA for wall and bracket mounting, but should you prefer to use the bundled stand, it's possible to adjust height and more. It also looks awesome.
At just over $500, it's a superb price for a 1440p 144Hz monitor with FreeSync.
See at Amazon (opens in new tab)
ViewSonic VX2457
This is a serious deal. $109.99 for a 22-inch 1080p monitor with FreeSync technology. That's competitively priced and goes well against premium 21-inch monitors that do not sport the technology. A response time of just 2ms is offered, as well as the ability to tilt on the bundled stand. Oh and it's all VESA mount supported so you can bring your own brackets and wall attachments.
ViewSonic has added a DisplayPort, HDMI and DVI for connecting all your devices. The refresh rate of this is 75Hz, which isn't the absolute best, but for the price it's worth the investment for AMD's technology alone if you have a capable graphics card already installed. Both 24- and 27-inch variants are also available for $139.99 and $179.99, respectively.
LG 29UM68-P
LG's 29UM68-P is a massive 21:9 widescreen monitor, ideal for those who wish for a single monitor that can emulate multiple units side by side. Sporting a resolution of 2560 x 1080, the 29-inch display rocks AMD FreeSync as well as Game Mode and technologies that help increase the quality of displayed content.
Connectivity is supplemented by DVI, HDMI and DisplayPort. It's worth noting that FreeSync on this monitor only works through DisplayPort, which can cause issues for those without necessary cables. Be sure to check monitors before purchasing whether they support FreeSync over HDMI.
And while it remains to be only 1080p, which is quite low for 29 inches, the display can be yours for just $295.
See at Amazon (opens in new tab)
LG 27UD68-P
Perhaps you don't wish to have an LG widescreen monitor, or even settle for 1080p. If this is the case then LG has another option, which brings 4K to the table. Supporting FreeSync, this monitor is an absolute beast and will accompany the new AMD RX 480 in higher resolution gaming without stutter, input lag or screen tear.
There's again no curved display, but you will be able to take full advantage of available VESA mounting options. Two HDMI and a single DisplayPort are available to connect to various devices, and there's an anti-glare coating that shouldn't impede too severely when blasting enemies into space. And if you happen to be unable to power 4K content, simply move down to 1440p and everything will still look sharp.
The price is a little steep for many, but for $448 you are investing in a 4K monitor.
See at Amazon (opens in new tab)
ASUS PB258Q
This 1440p monitor from ASUS is an ideal purchase for those who are looking to leap up from 1080p to the next resolution level, as well as taking full advantage of FreeSync. There's full mounting support, and the stand (should you so be inclined as to use it) will allow for tilting, swivel and height adjustments.
DVI, DisplayPort and HDMI made the cut, allowing for numerous devices to be connected. The company also includes its own technologies like QuickFit Virtual Scale and Splendid Video Intelligence. There are 25- and 29-inch models, the latter also being available in widescreen format. Not bad from 279.99.
See at Amazon (opens in new tab)
ViewSonic XG2700
ViewSonic is on our list for the second time as another 4K choice for those who believe they can utilize the extra desktop space and have enough computing power to enjoy high quality titles at a reasonable level of stability. Utilizing both IPS and FreeSync technology, you know you're in for a good time with the XG2700. VESA mounting is on-board, as well as Mini DisplayPort, DisplayPort, two HDMI, and four USB ports (2x 2.0 and 2x 3.0).
You can also get the 27-inch monitor in 1080p, but we'd highly recommend going for 4K if you're considering the purchase. $529.99 for a 4K FreeSync display with some great features and a stunning design. That's what you call affordability. And there are red stripes, which is a must-have for anyone on #TeamRed. Enough said.
See at Amazon (opens in new tab)
Acer XR341CK
This display from Acer is a curved beauty, packing in IPS technology for an impressive viewing experience. Add in FreeSync for gaming, a refresh rate of 144Hz and response time of just 4ms and this is quite the panel for any serious gamer. Now, the price is on the high side considering this is just a 1440p monitor and not full 4K, but for the investment, one is able to enjoy the full 3440x1440 resolution that a wide-panel offers.
As an added bonus, a total of four ambient lighting effects is at hand to add cool effects to your game play. The choice is yours, whether you opt for a solid color or ripple effect. And since this display has LEDs, it's well known throughout the industry that lighting adds a solid 50FPS in-game. Back to the price, Acer has included EyeProtect's Flicker-less and Blue-light Filtering technology to help with eye strain during those long sessions.
At $839, it's a pricey option to consider, but if you're in the market for a curved, wide-panel for some gaming you really cannot go wrong with the XR341CK.
See at Amazon (opens in new tab)
Have a FreeSync monitor yourself that didn't make our list. Let us know in the comments what you're using!
Windows Central Newsletter
Get the best of Windows Central in in your inbox, every day!
Rich Edmonds was formerly a Senior Editor of PC hardware at Windows Central, covering everything related to PC components and NAS. He's been involved in technology for more than a decade and knows a thing or two about the magic inside a PC chassis. You can follow him on Twitter at @RichEdmonds.
Don't give AMD too much credit. Pretty sure of they came up with the idea first, they wouldn't be giving away their tech for free.

They're not giving anything away as the tech is already included in the Display Port tech and driven by the GPU itself. Nvidia is propietary as the monitors have to have a special chip in them for it to work. Even if they didn't come up with the idea first (I have no idea) it doesn't matter as their idea is just better and more practical since you don't have to pay a premium to have the technology in the monitors. If you're going to bash AMD you need to do better.

That 'special chip' in Nvidia gsync monitors is the scaler chip. Freesync monitors (and even traditional monitors) also need this chip. The only difference is that Nvidia insist on providing their own scaler chip in each monitor to ensure consistent quality. With Freesync monitors, the monitor manufacturer inserts their own. So, though you can get some really cheap Freesync monitors be careful. If they have a low quality scaler chip they will be limited in the refresh rate range they can operate Freesync over. Check the detailed spec/reviews and be sure you're getting what you think you're getting. Freesync monitors can be just as good as gsync monitors, but not always. If you're paying less compared to the gsync equivalent this is for one reason only, a cheaper scaler chip. I wouldn't get the cut down scaler, I'd look for a better Freesync monitor as monitors usually last many years. FYI.

Well AMD allowed 3rd parties to manufacture the scalar chips. I would consider that as open source.

Not really. Open source is typically a collective Dev community approach. These scalers are made by the monitor manufacturer. It is more comparable to an outsourcing model than an open source one.

Sorry, double post created by WC app for no apparent reason.

I understand what open source is. But here they allowed anyone to make a free sync monitor or a chip that can provide the function. So in a sense we can say that its open source or something like that when compared to gsync.

Though Gsync can be used by any monitor manufacturer as well. There is no restriction as far as I am aware as to who can build one, the Nvidia scaler chips are available for anyone to acquire and install in their monitor designs. The only difference is whether the chip is made by the vid card vendor or the monitor vendor. I really can't see the 'open source' aspect you are trying to point out. Just AMD have outsourced the scaler chip production to the monitor manufacturers and Nvidia have not. Outsourced compared to Nvidia? Yes. Open Source? I can't see it. I can see why Nvidia went this route as anyone who buys a Gsync system will get the same results. The Gsync spec applies to all Gsync monitors. With Freesync, some users will get a much worse experience than others, as reading the Freesync spec is no indication of the functionality a given monitor model will have. This is a risk as it is possible (though undeserved) that AMD will catch the fallout for that and that Freesync will be seen as 'not as good' as Gsync which is not true.

Nvidia makes everything at "home" and sells it to the manufacturer which means the monitor itself will cost MORE AMD outsourced everything so the manufacturer of the monitor can do everything at "home" so the product itself can cost less which is better for us consumers the technology itself is not "open source" because AMD created it and its locked down to AMD engineers but manufacturers can create those chips without paying extra money to AMD

The AOC G2460PQU does not support Freesync. The AOC G2460PF is the one that does.

This is true. And the G2460PG is the Gsync version. The article should be amended.

Tnx for tips! AOC looks cheap and superb 1080p.

It is, but the AOC G2460PG has a much better scaler (Gsync). Whilst the Gsync version is rather good, I'd look for a more expensive Freesync monitor as they made the G2460PF cheaper by using a less desirable scaler chip. There are better options available. Note that the AOC model listed in the article has neither Freesync nor Gsync due to the author's ****-up. That is the vanilla variant.

Yeah, I had a PQU and it only reached 60hz. Luckily I bought it on Amazon and they took it back no problem. The PG is good though. Had 3 for a while. Gone back to one now though since I got a HMD. Will probably go 3440x1440 for my next main monitor and keep the PG as a secondary. A friend of mine had the PF and it was alright between about 40-90Hz, but it was never quite as smooth as the G-Sync panel. I think a lot of it has to do with AMD cards having a much wider min/max framerate band over the green team though. NVidia has always been more consistent in my experience. Been a while since I had an AMD card though so I couldn't say if they've improved.

It is 100% down to the scaler in the monitor. Freesync isn't much different to Gsync in the main (there are differences to argue about, but nothing I'm touching off here thanks). The key thing is to understand that with Gsync you're buying an Nvidia scaler whatever monitor you get. That's why there are no very cheap Gsync monitors. The AOC PG is pretty much the cheapest and the only difference between that and the PF is the Nvidia scaler. The PF model is cheaper. With Freesync you need to do the research and remember cheap Freesync monitors are cheap for a reason. There are better Freesync monitors that don't cut corners, but they do cost more.

Acer XR341CK. 34" ultrawide. 3440x1440 curved IPS display. Oh and 75hz refresh rate. Costs a lot more than the rest, but worth every last penny.

Pretty sure most FreeSync monitors won't enable FreeSync over HDMI yet. Also, why did you leave out the RX 400 series?

Okay you call out the DisplayPort / HDMI gotcha. My bad! Probably would be good to say you might need a DisplayPort cable.

I have literally just bought an LG 27UD68P for myself, and handed my old Del U2711 (1440p) monitor to my partner. I have a single 980Ti graphics card so I'm not going to be pushing modern games at full settings at 4k, but pretty much anything from 2015 (with AA off, not needed at this pixel density) looks and runs fantastic. The settings do need tweaked a bit for gaming though; by default it's set to use power saving modes (and higher pixel latencies) which can cause ghosting. Obviously not using it for freesync, but I just wanted to chime in that it's a very nice looking panel. Note: It has audio passthrough (not built-in speakers), so be careful if you need them.

Dude in the pic seems so happy to be using that monitor lol.

I'm smiling because I'm getting destroyed at CS:GO (I really hate playing that game)

The "compatible AMD cards" list might be a bit confusing. Maybe you guys could reference AMD's official website for their hardware support list? http://www.amd.com/en-us/innovations/software-technologies/technologies-...

In the article, you recommended HDMI, but it's probably better to recommend DisplayPort. It supports more data throughput and higher framerates vs HDMI. And if I remember correctly, initially HDMI was not supported for FreeSync, so pretty much all FreeSync monitors should have DisplayPort.

Duplicate, please delete.

Duplicate, please delete.

Duplicate, please delete.
Windows Central Newsletter
Thank you for signing up to Windows Central. You will receive a verification email shortly.
There was a problem. Please refresh the page and try again.