Best G-Sync Monitors 2021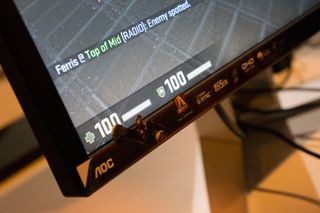 (Image credit: Rich Edmonds / Windows Central)
Purchasing a solid monitor for gaming can really enhance your visual experience. When looking for a new monitor, there are various features specifically tailored for gaming. Taking full advantage of G-Sync by NVIDIA — should you own a supported graphics card — is a worthwhile investment. We'll be taking a look at some of the best computer monitors with the technology implemented that you can buy today.
Best for 1440p: ASUS ROG Swift PG279Q
Why you can trust Windows Central Our expert reviewers spend hours testing and comparing products and services so you can choose the best for you. Find out more about how we test.
ASUS ROG Swift PG279Q
Best display for 1440p gaming
Reasons to buy
+
Massive 27-inch G-Sync panel
+
1440p gaming
+
IPS tech for gorgeous colors
+
165Hz refresh rate
+
4ms response time
Reasons to avoid
-
Pricey
-
No HDR
-
Blacks can be a little weak
The ASUS ROG Swift PG279Q is the company's 27-inch 1440p gaming display with a refresh rate of 165Hz for smoother gameplay. It's a premium monitor, sporting not only NVIDIA's G-Sync technology but also a response time of just 4ms, which is more than ideal for fast-paced gaming on an IPS panel.
Eye care technology deployed by ASUS ensures the TUV-certified monitor helps reduce eye fatigue by being flicker-free. This display even sports a VESA mount for brackets, but if you prefer to use the included stand, it can tilt, swivel, pivot and be vertically adjusted to achieve the most comfortable viewing position.
It's easy to configure the monitor too, thanks to the 5-way on-screen navigation joystick to quickly alter settings. Inputs include DisplayPort 1.2, HDMI 1.4, and USB 3.0 throughput.
Best Value 1440p: LG UltraGear 27GL850-B
LG UltraGear 27GL850-B
Great value 1440p gaming
Reasons to buy
+
Thin bezels
+
1440p gaming
+
Good price
+
144Hz refresh rate
+
1ms response time
The LG UltraGear 27GL850-B is one of our favorite gaming monitors and we even included it in our best PC gaming monitors collection. It's a 27-inch QHD monitor with all the bare essentials you need for a capable gaming monitor.
There's no fancy HDR, but the monitor has a stellar 144Hz refresh rate and a fantastically low 1ms response time. Paired with the thin bezels and superb color accuracy, these features mean your games will look more immersive. The benefits extend to gameplay as well, as a higher refresh rate and low response time mean that gameplay will look cleaner, crisper, and smoother.
The monitor comes with the ability to adjust the height, swivel, and tilt so that you can find a viewing angle that works for you. And yes, it even has G-Sync at this reasonable price.
Best for 4K: Acer Predator XB273K
Acer Predator XB273K
Best display for 4K gaming
Reasons to buy
+
27-inch G-Sync display
+
Stunning 4K IPS panel
+
144Hz refresh rate
+
HDR support
+
4ms response time
Reasons to avoid
-
HDR isn't the best
-
Pricey
If you want to take your gaming to the next level, 4K is where the big boys game, and the Acer Predator XB273K is a fine example. It's an IPS display with G-Sync support for butter-smooth PC gaming that'll look amazing on the 27-inch panel. As well as looking the part, this screen has plenty of features to go along with it.
The 4K resolution is joined by a 144Hz refresh rate, HDR support, and a 4ms response time. The 144Hz refresh rate at 4K is the highlight here since you were locked to 60Hz in the past when moving to 4K monitors. Being able to ramp up the frames with a capable NVIDIA GPU (you will require an RTX 30-series card) will result in a vastly improved experience.
If we were to complain about something, it would be HDR support. While it's there and certainly makes a difference in games and media, it's nowhere near close to what's offered by LG, Samsung, and other vendors in their expensive TVs. Still, for 4K PC gaming, this is about as good as you'll get.
Best Value 4K: Acer Nitro XV273K
Acer Nitro XV273K
Great value 4K gaming
Reasons to buy
+
FreeSync with G-Sync support
+
Affordable 4K display
+
144Hz refresh rate
+
HDR support
+
1ms response time
Reasons to avoid
-
HDR isn't great
-
Can't have G-Sync and HDR
NVIDIA's G-Sync is a technology that was always reserved for the more expensive monitors because it required dedicated hardware found in these displays that would work with its GPUs. That's no longer the case and now you can find plenty of more affordable AMD FreeSync monitors that are certified by NVIDIA to work with G-Sync-capable GeForce graphics cards.
The Acer Nitro ZV273K is one such monitor with a 4K resolution, 144Hz refresh rate, HDR support, and a 1ms response time. This makes for quite a compelling display for both AMD and NVIDIA GPU owners. What really makes this a great display, however, is the brightness. It can reach up to 500 nits, which is really bright and ideal for making on-screen content pop.
Weirdly, you cannot have G-Sync and HDR enabled simultaneously. This isn't a major issue since the HDR support isn't brilliant, but is worth bearing in mind if you planned on using both.
Best for 1080p: Alienware AW2521H
Alienware AW2521H
Best for 1080p gaming
Reasons to buy
+
G-Sync support
+
Excellent for competitive play
+
360Hz refresh rate
+
IPS panel
+
1ms response time
Dell managed to pack some serious tech into the AW2521H. I'm talking about a gorgeous 25-inch IPS panel with a 1ms response time, which is pretty astounding for this type of display. The refresh rate is even more mind-blowing at 360Hz. That means you can display up to 360 frames per second, should you have a good enough graphics card.
But why would you want a 1080p display with a terribly high refresh rate? Competitive gaming. Esports players and those who take their game a little more seriously than others favor smooth, uninterrupted frame rates over visual fidelity. The AW2521H from Dell fits the bill with its Full HD resolution and amazing refresh rate.
The G-Sync support is the icing on the cake, allowing the display and graphics card to synchronize to avoid any screen tearing and stuttering. Overall, this is one of the best displays for competitive gaming.
Choosing the best G-Sync gaming monitor
Getting the most out of your G-Sync-capable PC requires a display that can take advantage of NVIDIA's excellent graphics cards. Our collection includes only the best G-Sync monitors for different resolutions, and we've complemented it with some helpful materials below that'll run you through what G-Sync is, which GPUs support it, and how you can go about enabling the technology.
What is G-Sync?
NVIDIA developed G-Sync to help reduce screen-tearing and stuttering. It works differently from AMD's FreeSync but achieves similar results. G-Sync synchronizes both the monitor and graphics card, thanks to an onboard module inside the display. The card and monitor will only run as fast as the slowest of the two can handle, depending on where the bottleneck happens to be.
If your GPU is unable to keep up with the monitor refresh rate, the display will slow down to match the frame output of your PC. The inverse will see the GPU slow to match the refresh rate limit configured on the monitor. Essentially, G-Sync makes sure that each and every frame produced by the GPU is displayed on the monitor.
While AMD's FreeSync generally doesn't increase the cost of the monitor, NVIDIA requires a chip to be installed inside the display itself. This increases the cost of production for monitor manufacturers, which in turn drives up the price for consumers. You will also need to use DisplayPort in order to enjoy stutter-free gaming with G-Sync, as HDMI is not supported.
Which NVIDIA GPUs support G-Sync?
As well as grabbing and setting up a monitor that supports the technology, you'll also need to ensure you have a graphics card that can handle G-Sync. Following are the NVIDIA graphics cards that support G-Sync. Have hardware that doesn't make the list? Have a look at our collection of the best graphics card options for an upgrade.
GeForce RTX 3090
GeForce RTX 3080
GeForce RTX 3070
GeForce RTX 3060 Ti
GeForce RTX 3060
GeForce RTX 2080 Ti
GeForce RTX 2080
GeForce RTX 2070 SUPER
GeForce RTX 2070
GeForce RTX 2060 SUPER
GeForce RTX 2060
GeForce GTX 1660 SUPER
GeForce GTX 1660
GeForce GTX 1080 Ti
GeForce GTX 1080
GeForce GTX 1070
GeForce GTX 1060
GeForce GTX Titan X
GeForce GTX Titan Xp
GeForce GTX 980 Ti
GeForce GTX 980
GeForce GTX 970
GeForce GTX 965M
GeForce GTX 960 (OEM)
GeForce GTX 950
GeForce GTX TITAN Z
GeForce GTX TITAN Black
GeForce GTX TITAN
GeForce GTX 780 Ti
GeForce GTX 780
GeForce GTX 770
GeForce GTX 760
GeForce GTX 750 Ti
GeForce GTX 750
GeForce GTX 745
GeForce GTX 690
GeForce GTX 680
GeForce GTX 670
GeForce GTX 660 Ti
GeForce GTX 660
GeForce GTX 650 Ti BOOST
How to enable G-Sync on your monitor
How to enable NVIDIA G-Sync on your PC is a relatively straightforward process that involves nothing but the NVIDIA Control Panel on Windows 10. We've got a quick guide that will get you up and running in no time at all so you have more time to enjoy your favorite PC games.
Get the Windows Central Newsletter
All the latest news, reviews, and guides for Windows and Xbox diehards.
Rich Edmonds was formerly a Senior Editor of PC hardware at Windows Central, covering everything related to PC components and NAS. He's been involved in technology for more than a decade and knows a thing or two about the magic inside a PC chassis. You can follow him on Twitter at @RichEdmonds.