Best simulator games in the Windows 10 store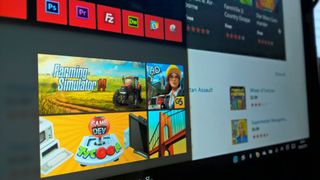 We're continuing our Windows 10 store game round-ups with a look at the simulator genre.
The Windows 10 store is full of games and apps carried over from the Windows 8.1 store, with the vast majority designed for touch. Since touch controls lend themselves quite well to strategy and simulation games, the Windows 10 store has a pretty decent offering in these categories.
Simulation games attempt to mimic real-world processes and practices, often including tangible goals and progression rewards.
As usual, if you feel as though there's a quality Windows 10 store title is missing from this list, do hit the comments, and we'll throw it in with a future update.
Without further ado, here's some of the best non-goat related simulator games in the Windows 10 store.
Farming Simulator 14
Why you can trust Windows Central Our expert reviewers spend hours testing and comparing products and services so you can choose the best for you. Find out more about how we test.
Farming Simulator is up there with the most popular simulation games, with versions on Xbox One, PC and various mobile platforms. Farming Simulator 14's touch-heavy version is available in the Windows 10 store. You can also play it with a keyboard and mouse, but it's touch leanings are quite apparent.
In Farming Simulator, as the name suggests, you're put in control of a large farm and tasked with managing it in a business context. You'll drive tractors, harvesters, sell goods to market and purchase upgrades to improve your business.
Farming Simulator is the quintessential farming game, containing genuine licensed equipment from vendors like Case IH, Deutz-Fahr, and Lamborghini. Every year GIANTS Software releases a new version, complete with updated equipment and vehicles. Sadly, Farming Simulator 15 and 16 are missing from the Windows Store as of writing, but 14 should more than satisfy your crop-harvesting urges.
Farming Simulator 14 is available in the Windows 10 store for a pretty hefty $6.99. All that licensed equipment comes at a price. If you're unsure, there is a free trial too thankfully.
Download Farming Simulator 14 from the Windows 10 Store ($6.99 / Free Trial) (opens in new tab)
Game Dev Tycoon
Game Dev Tycoon is an excellent sim based on building a personal video game company. The game may appear simplistic with its fixed isometric presentation but is deceptively addictive. Game Dev Tycoon takes you through a stereotypical game dev career experience. You'll start out working from a garage in the 80s all the way into a gigantic modern studio.
As you'd expect, Game Dev Tycoon starts you off developing low-budget text-based games. Throughout the years, you're treated to a history of the real-world games industry (albeit using substituted names like 'Nivendo' instead of 'Nintendo'). You can use your knowledge of the industry to your advantage. For example, knowing that gaming was seen specifically as a toy in decades past, you might find targeting games at younger audiences beneficial.
You'll research new game types, develop game engines and deal with a changing industry landscape. You'll flirt with bankruptcy, deal with the annoying video games press (sorry devs) and delight fans across the world. Simulated fans, anyway.
The game is mostly menu based, selecting what games to develop, what subjects to research and so on. Everything in-game happens over time, spanning over 30 years of video game industry history. As a premium title, Game Dev Tycoon doesn't gate gameplay with micro-transactions. The passage of events happens in seconds, rather than minutes or hours, leaving you with an addictive game full of things to do and unlock.
Game Dev Tycoon launched onto the store as a Windows 8.1 title but works fine on Windows 10 using the title bar hamburger menu to access settings and the like. It also comes with a free trial.
Download Game Dev Tycoon from the Windows Store ($7.99 / Free Trial) (opens in new tab)
Bridge Constructor
Bridge Constructor is a wildly popular iOS game that made its way over to Windows 8.1 last year, even grabbing a release on Steam. The Windows 10 store version launched based on Bridge Constructor's mobile version (depicted above), and it's very touch-leaning. It works flawlessly with a mouse on PC however.
In Bridge Constructor, you're tasked to build motor infrastructure bridges taking into account realistic physics and tension. Once you're happy with your construction, you hit the sim button to send vehicles to the bridge to see whether your architectural integrity can hold up against vehicle weight.
Each level comes with a set budget, forcing you to place your struts, pillars, and cables efficiently to ensure maximum load-bearing effectiveness. You're scored based on how strong your bridges are. You can send either trucks or cars across, gaining bonuses for the extra load. If your bridges fail, however, they'll satisfyingly fall to pieces using the game's exaggerated 3D physics.
Bridge Constructor takes place across 40 levels that get progressively more complex. The game also contains a purchasable expansion called "Slope Mania!". The expansion involves building bridges for irregular terrain across an additional 24 levels. Bridge Constructor carries a price tag but comes with a solid free trial for prospective bridge builders.
Download Bridge Constructor from the Windows Store ($2.99 / Free Trial) (opens in new tab)
Virtual City Playground HD
Virtual City Playground HD is a free to play city builder with an emphasis on trade, transport and infrastructure. You'll be developing production chains for various types of industry. Also, you'll be micro-managing trade routes, waste disposal, population growth and citizen happiness - all while creating your personal city design.
After completing the game's tutorials, you can roll in free play mode, building up a city as you see fit. Virtual City Playgrounds HD contains 500 quests in-game to help you grow your civilization. When it comes to unlockable content, the game sports almost 200 buildings, landmarks and decorations for customizing and beautifying your city. The game also comes with Facebook integration, if you're the sort of person who likes sending their friends game requests (please don't be that sort of person).
As a more casual title, Virtual City lacks the depth of Sim City or Cities: Skylines. However, if you're looking for something simplistic to pass the time with - then look no further. Virtual City Playground HD supports mouse and keyboard controls alongside its touch interfacing.
Freemium titles that revolve around building often have paywalls, but this title is particularly aggressive. Time does progress and money accumulates even when you're not using the app, which helps - but if you're playing for long periods, you might find yourself slapped with advertisements for micro-payments.
Download Virtual City Playground HD from the Windows Store (Free) (opens in new tab)
Windows Central Newsletter
Get the best of Windows Central in in your inbox, every day!
Jez Corden a Managing Editor at Windows Central, focusing primarily on all things Xbox and gaming. Jez is known for breaking exclusive news and analysis as relates to the Microsoft ecosystem while being powered by caffeine. Follow on Twitter @JezCorden and listen to his Xbox Two podcast, all about, you guessed it, Xbox!
Farming simulator 14? Ugh if that's a 'best' you're implying there is s**t for simulators out there. Goat Simulator please!

Yes, the Store needs more simulation games, but in the meantime, there are a ton of user-created simulation games inside Project Spark that are worth checking out!

Spark is quite a different beast though. Spark has a lot great stuff in a lot of genres.

I think Project Spark is the most underappreciated game this decade. It was completely ignored by the gaming press despite being one of the best game creation tools for amateurs and dilletantes ever. It deserves far more recognition, especially now that some of hte user-generated content is really hitting its stride, after an expectedly slow start.

Agree. This article basically says Windows store sucks. Farming Simulator 15 AND 16 are out on IOS and Android. SO.....a 2 year old abandoned game is the best we have???

Game Dev Tycoon is a phenomenal game, but I wish the series of events didn't represent the real world and instead be random. After a few runs, it becomes very predictable.

So much fun though. I have a ton of hours in that game. Haven't played in a little while though.

I love Farming Simulator. Easy to play, fun to play.

I applaud your ability to enjoy slowly driving over poorly rendered terrain.

That bridge constructor pic though =)

Farming sim is extremely tedious, neglected to mention that...
Windows Central Newsletter
Thank you for signing up to Windows Central. You will receive a verification email shortly.
There was a problem. Please refresh the page and try again.