Best external hard drives & SSDs for Xbox One 2023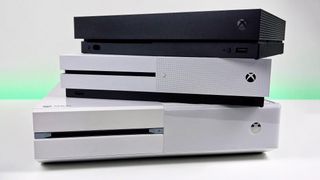 (Image credit: Daniel Rubino | Windows Central)
Even with the arrival and continued onslaught of the powerful Xbox Series X|S duo, the aging Xbox One family of consoles continue to provide a wonderful gaming experience to millions of players. However, games are perpetually growing in size over time, and having enough space to store them all is an eternal concern. Fortunately, it's easy to expand your console's storage with one of the best external hard drives and SSDs for Xbox One.
We've already captured everything you need to know about choosing and using an external drive with Xbox One, but it can be difficult to separate the great from the mediocre when choosing the perfect drive. Whether you're looking for a cost-effective and high-capacity HDD with space for dozens of games, or a super-fast and future-proofed SSD that will work just as great on Xbox Series X and Xbox Series S, these are the best external drives for Xbox One right now.
Samsung T7 1TB Portable SSD
More than fast enough
Reasons to buy
+
Great speeds, build quality, and design
+
Available in multiple sizes and colors
+
Attractive starting price point
+
Future-proofed for Xbox Series X|S
Reasons to avoid
-
Gets expensive at higher capacities
-
Overkill for use on Xbox One consoles
No matter what you need an external drive for, one of the best options around is the Samsung T7 Portable SSD. This compact and exceptionally built portable SSD drops the extra features from Samsung's more expensive offerings, like a fingerprint sensor, but keeps the reliable speeds and modern USB Type-C 3.2 Gen 2 connection that make it an excellent choice for expanding your console's storage. What makes the Samsung T7 particularly unique is how its usefulness extends to Microsoft's latest consoles, meaning you can still take advantage of it even after upgrading to Xbox Series X|S.
The Samsung T7 boasts of read and write speeds around the milestone 1,000Mbps mark, so you'll actually see improved load speeds and performance for games on the Xbox One family of consoles. However, there is a limit here. Older Xbox One consoles are limited by their relatively outdated USB 3.0 ports, meaning they can't take full advantage of all the speed that this SSD has to offer. While you'll likely still see an improvement over the standard internal HDD Xbox Ones come with, it won't completely alter your gaming experience.
That being said, it's extremely easy to take the Samsung T7 from your Xbox One and plug it into your Xbox Series X|S (after swapping out the cables that come in the box) to take full advantage of the USB Type-C 3.2 connection. Original Xbox, Xbox 360, and Xbox One titles will load significantly faster from the Samsung T7 on Microsoft's current-gen offerings versus Xbox One, closely resembling the speeds at which these backward-compatible games would load directly from the Xbox Series X|S internal SSD.
This SSD is not fast enough to play full-blown Xbox Series X|S Optimized titles, but it's arguably the greatest external SSD available for Xbox Series X|S to store all your games that don't fit in that aforementioned category. So, if you're looking for the best SSD for Xbox One consoles that can also comfortably grow to match the capabilities of an Xbox Series X or S, the Samsung T7 Portable SSD is the option to choose.
The Samsung T7 Portable SSD comes in three size flavors: 500GB, 1TB, and 2TB. The base model doesn't give you a ton of storage, but it actually has a surprisingly reasonable asking price, often coming in at well under $100. If you want to increase that storage, prices grow very fast, but at any size the Samsung T7 is a solid choice. If you want to personalize this SSD's compact metal body, it's also available in three different colors: gray, red, and blue.
ADATA SD600Q 480GB Portable SSD
The best SSD on a budget
Reasons to buy
+
Incredible value
+
Still faster than comparable HDDs
+
Available in multiple sizes and colors
Reasons to avoid
-
Poor build quality and construction
-
Slower than other SSDs
One of the biggest single differences between modern solid-state drives and aging hard drives is affordability. HDDs continue to fall in price over time, while SSDs maintain their sizeable price lead over their slower and less reliable siblings. However, the ADATA SD600Q Portable SSD shirks these expectations by offering a decently fast SSD for prices comparable to some hard drives. If you're set on an SSD for your Xbox One console but are stuck on a budget, the SD600Q is incredibly affordable without sacrificing reliability.
You're still going to see increased read and write speeds over most HDDs, approaching or surpassing around 400Mbps in this case, with decreased power consumption and presumably increased durability. However, while most SSDs are significantly more expensive than their HDD counterparts, the SD600Q can be found for less than $40 for the 240GB model, or well under $100 for the larger 480GB version.
While this SSD is an easy choice over a similarly priced HDD with marginally more storage, it does feature some compromises over more premium SSDs. ADATA's offering features relatively flimsy construction in an overall unappealing package, and features speeds much lower than some of the fastest portable SSDs available. The Samsung T7 is an obvious comparison, with the 500GB model of that SSD often coming in at around $20-30 more than ADATA's 480GB offering, but with significantly better speeds and build quality.
Still, players can expect improved load speeds and performance when playing from the ADATA SD600Q on Xbox One, which is easy to plug in and use (and is portable). While it comes in 240GB, 480GB, and 960GB flavors, we find that the 480GB is absolutely this SSD's sweet spot. The value proposition drops significantly with the higher-end 960GB version, while 240GB will be burned up rather quickly by modern game downloads and updates.
The ADATA SD600Q Portable SSD is one of the best external drives for Xbox One, even if its greatest claim to fame is its incredibly aggressive price point. Those looking for a decent boost to their console's storage without breaking the bank can't go wrong here, especially when ADATA's SSD offering is available in several different colors.
Samsung 870 QVO 2TB SATA SSD
Lots of SSD for less
Reasons to buy
+
Offers faster speeds than HDDs
+
Offers huge storage capacities for an SSD
+
More affordable than portable SSDs
Reasons to avoid
-
Not as durable as portable SSDs
-
Requires an additional cable to work
A portable SSD is a great way to expand your console's storage without too much hassle, especially if you plan to move around a lot. However, if you're looking for a more cost-effective way to add speedy SSD storage to your Xbox One console, and intend to plug it in and forget about it, an internal 2.5-inch SATA SSD and a compatible cable is a great way to shave costs without sacrificing those fantastic SSD speeds and benefits. When it comes to offering tons of storage at a solid price, you can't do better than the Samsung 870 QVO SATA SSD.
Samsung's 870 QVO SSD delivers around 500Mbps for both read and write speeds, guaranteeing it's a solid upgrade over what's on offer from base Xbox One internal storage. It's also comparable to other mid-range SSDs (even if it doesn't come close to approaching the internal SSD speeds of Xbox Series X or S). What sets this option apart from other SSDs, however, is how Samsung delivers a variety of storage capacities ranging through 1TB, 2TB, 4TB, and even ridiculous 8TB options.
8TB of SSD storage is understandably expensive, costing well more than any standard game console by itself, but those looking to download every game they own with plenty of storage left over afterward are short on options in the SSD category, especially ones that are as cost-effective as this solution. Still, the 870 QVO is not a portable SSD, meaning it doesn't come in a durable enclosure and isn't designed to be regularly moved around. Those who purchase this SSD should do so with the intention of basically leaving it plugged in semi-permanently.
On top of this, you'll need an external adapter cable to plug the Samsung 870 QVO SATA SSD to your Xbox One console, which adds a little additional cost and some further risk on top of your purchasing decision. Fortunately, we've listed an affordable and high-quality cable down below, which will effortlessly connect your new SSD to your console without throttling speeds.
For anyone looking for a high-capacity SSD drive to expand their console's storage, this product from Samsung has far more pros than cons. Starting at just over $100 for 1TB, it's hard to pick up more SSD storage in one drive for a better price. The 2TB model is the sweet spot, offering plenty of space for the same price as the 1TB version of the more premium Samsung T7, but with negligible differences in speeds on Xbox One. Of course, you can always elect to spend more on the 4TB or 8TB versions, as well.
Seagate 2TB Portable HDD
Great hard drive, great price
Reasons to buy
+
Reliable and affordable expansion
+
Compact and portable design
+
Comes in multiple capacities
Reasons to avoid
-
Much slower than SSDs
-
Not as future-proofed as an SSD
Seagate is one of the largest and most reputable storage manufacturers, and for good reason. The company makes a wide variety of high-quality storage drives for all kinds of devices, including Xbox-branded HDDs and SSDs (and the official Xbox Series X|S Expansion Card). However, it's possible to get the same great reliability and performance as Seagate's Xbox-branded external HDDs without the added cost of the branding with this excellent, value-driven option.
The Seagate Portable HDD is simple in both its design and its use, but it certainly gets the job done. With rated speeds of around 120Mbps, it's certainly slower than even modest SSDs, and it's certainly not going to be better than what already comes included inside your Xbox One console, but it's an effective way to expand your storage without splashing a ton of cash.
Seagate offers this model of HDD in 1TB, 2TB, 4TB, and even 5TB options, and each one is nearly identical in overall performance, features, and aesthetics. Each one is also supremely affordable, with even the maxed-out 5TB option often coming in at around the $100 mark. For many people, the 2TB model will very likely be the sweet spot, as that offers tons of space for additional games without a ton of bulk and for a reasonable price.
If you're looking for much more storage than 2TB or 4TB, you may consider the Seagate Expansion HDD listed below, which is a stationary "desktop" style HDD rather than a portable. This ideally means greater longevity and reliability for larger capacities. For straightforward storage expansions for your Xbox One console, however, you really can't go wrong with the Seagate Portable HDD.
Bear in mind, however, that these are not SSDs, and therefore come with additional cons compared to SSDs such as significantly reduced speeds and lower durability. Unless you're looking to maximize the amount of storage you're getting for your money, investing in one of the SSDs listed above will offer a better experience, and will be more suitable for Xbox Series X or S if you decide to upgrade in the future.
Toshiba Canvio Basics 1TB Portable HDD
The cheapest way to expand
Reasons to buy
+
Mind-boggling low price
+
Still a reliable expansion drive
+
Available in a few capacities
Reasons to avoid
-
Much slower than SSDs
-
Not as future-proofed as an SSD
HHDs are already significantly more affordable across the board than comparable SSDs, but one drive stands above the rest as offering the greatest value on the market. We consistently stand behind the Toshiba Canvio Basics Portable HDD as being the cheapest external drive that's still reliable and offers the bare minimum speeds necessary to play games on your Xbox One console.
Often coming in at less than $50 for the 1TB model, and never breaking $100 even for the extensive 4TB edition, the Toshiba Canvio Basics is the go-to for an initial storage expansion on Xbox One. Like other HDDs on this list, the Toshiba Canvio Basics isn't going to offer nearly the same speeds as an SSD, and won't be as future-proofed if you ever upgrade to an Xbox Series X or S.
There are always compromises involved when electing to pick up a hard drive over a more modern SSD, but this solution is the cheapest we've found so far that will still get the job done and double or triple the storage available on most Xbox One consoles out in the wild. Like other portable hard drives, it's also incredibly easy to plug it in and forget about it.
This is the baseline for a decent expansion drive for Xbox One, as any drives available below the Toshiba Canvio Basics' price point aren't likely to offer the same level of consistency and reliability as this drive. The only time we'd suggest picking up something else around this price is if another reputable solution, like the above product from Seagate, becomes available with a hefty discount to bring it closer to where the Canvio Basics sits.
The Toshiba Canvio Basics Portable HDD comes in 1TB, 2TB, and 4TB varieties, and all of them are value-driven offerings. The 1TB model will likely be the sweet spot for most people, as those looking for a hard drive at this price point are probably looking for a quick and cost-effective way to expand their Xbox One's storage. If you're looking for significantly more storage than the Canvio Basics offers, or are willing to splash a little more cash for a slightly higher-quality drive, consider the Seagate options listed here as well.
Seagate Expansion 8TB Desktop HDD
Unlimited space for games
Reasons to buy
+
Absolutely monstrous capacity
+
Great value for storage offered
+
Solid long-term mass storage
Reasons to avoid
-
Much slower than SSDs
-
Requires an external power source
Sometimes the only thing that will do is to download every game in your library and keep it all stored at once. When it comes to reliably storing terabytes upon terabytes of information for your Xbox One console, few do it better than the Seagate Expansion Desktop HDD. This frankly ridiculous hard drive features anywhere from 8TB to 18TB of storage, offering nearly limitless capacity to store and play games on Xbox One.
Even more impressive, however, is how much value you're getting in this HDD. 8TB of reliable (albeit slow) HDD storage comes at a comparable price to our top pick for a high-capacity SSD, which features only 2TB of storage at this price point. Even ramping all the way up to 18TB of storage comes in at less than $600, and often closer to $500 with discounts.
Of course, you should only really consider this humungous HDD if you intend to take advantage of all the storage this has to offer, as the Seagate Expansion Desktop HDD will still be significantly slower than practically any SSD. Future-proofing for Xbox Series X|S is less of a concern, though, since this drive is always a great way for mass storage of downloaded video games, even if you're not playing them directly off it.
Bear in mind, however, that the Seagate Expansion Desktop HDD does require a separate power source, in addition to being plugged into your Xbox One console. Make sure you have an outlet free in the vicinity of your console, and make sure you have the additional space to make a home for this HDD's imposing figure. This much storage requires additional juice to run, but once you're set up you shouldn't have to mess with the Seagate Expansion Desktop HDD too much.
The Seagate Expansion Desktop HDD comes in 8TB, 10TB, 12TB, 14TB, 16TB, and 18TB variants, making it perfect for Xbox enthusiasts who need reliable mass storage for their vast game collections. For many, 8TB will likely be the perfect entry point, since that's still a ton of storage for games, all for less than $200.
Bottom line
Why you can trust Windows Central Our expert reviewers spend hours testing and comparing products and services so you can choose the best for you. Find out more about how we test.
There's a wide world of available storage devices out there, many of which pair well with the Xbox One family of consoles. However, a few stand above the rest as providing a better experience or value than the others. Our top pick is 100% the Samsung T7 Portable SSD, which offers fantastic speeds in a well-built and well-designed body. The T7 will upgrade your gaming experience on Xbox One, and is unique in that it actually provides an even better experience when paired with an Xbox Series X or S, so it can move with you when you upgrade to a current-gen console. The Samsung T7 starts at an attractive price point, but gets expensive quickly at higher tiers.
If you want a more straightforward and affordable addition to your Xbox One's storage, the Seagate Portable HDD is an awesome choice. While much slower than an SSD, and not as able to keep up with an Xbox Series X or Series S if you upgrade in the future, the Seagate Portable HDD is reliable, amazingly affordable, and offers plenty of storage to install new games. Still, no matter what you choose from this guide based on your needs, you'll be able to download and play more games than ever before on your Xbox One console.
If you're already rocking an Xbox Series X or Series S console, or are on the verge of upgrading, then you're better off learning how to expand Xbox Series X|S storage with one of the best external SSDs or best external HDDs for the powerhouse duo. Xbox Series X and Series S are advanced gaming consoles centered around a lightning-fast internal SSD and insane loading speeds, so picking up the right external drive is extra important.
Windows Central Newsletter
Get the best of Windows Central in your inbox, every day!
Zachary Boddy (They / Them) is a Staff Writer for Windows Central, primarily focused on covering the latest news in tech and gaming, the best Xbox and PC games, and the most interesting Windows and Xbox hardware. They have been gaming and writing for most of their life starting with the original Xbox, and started out as a freelancer for Windows Central and its sister sites in 2019. Now a full-fledged Staff Writer, Zachary has expanded from only writing about all things Minecraft to covering practically everything on which Windows Central is an expert, especially when it comes to Microsoft. You can find Zachary on Twitter @BoddyZachary.