Everything Microsoft announced at the Xbox E3 2019 conference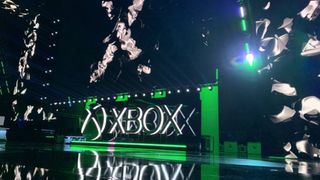 What you need to know
Microsoft hosted its Xbox E3 2019 Briefing on June 9.
A lot of new games like Blair Witch were announced at the event.
Project xCloud game streaming is getting public trials in October.
Xbox "Scarlett" is four times more powerful than Xbox One X.
Today, Microsoft hosted its E3 2019 Briefing. Fans from around the globe, as well as members of the press, were in attendance in Los Angeles for the event. A lot of new games were revealed, as well as details about the company's next-generation consoles and game-streaming service to rival Google Stadia. You can read about all of the major announcements below. The highlights of the show had to be the new franchises various Xbox Game Studios are working on like The Outer Worlds.
Project Scarlett is Microsoft's next-generation console and it "eats monsters" according to the team. It's supposed to be four times more powerful than the 6-teraflop Xbox One X. The device renders games at up to 120 frames per second (FPS) and 8K resolution. We should know more about it in the coming months, but expect a proper reveal at E3 2020 because it's launching in Holiday 2020.
No one was expecting the Halo Infinite trailer to be this moving. The game seems to take place many years after the events of Halo 5, where humanity is on the brink of extinction. Master Chief's armor looks phenomenal and it's up to him to save us once again. Halo Infinite will be a launch title for Project Scarlett in Holiday 2020.
A new Xbox Elite Wireless Controller, simply called "Series 2," is coming to Xbox One and PC in November. It looks phenomenal and costs $180. You can preorder it now and it'll probably sell out quite fast. Best of all, it includes a built-in battery and new grips this time around.
Project xCloud, Microsoft's game streaming service, seems to be taking two approaches. It'll allow you to use your Xbox One as a private server for free so you can stream games from the console whenever in the world you are. However, there will also be a paid service which won't require the purchase of a console. Public trials for the at-home setup should go live in October.
Double Fine Productions is the team behind amazing experiences like Psychonauts 2. Today, Xbox Game Studios' head Matt Booty announced that the developer was joining Microsoft. He also revealed that Psychonauts 2 should land on Xbox One soon. This is another strong acquisition and it seems like the company isn't done yet.
Gears 5 is the sequel to Gears of War 4, and follows Kait on a harrowing journey. She's somehow related to the Locust, and it's up to you to help her. According to The Coalition, the game is the biggest Gears of War experience to date. It's unclear if it's an open-world title, but we should find out soon enough because it's expected to launch in September. There are also new multiplayer modes being added to the game as well as Terminator: Dark Fate content.
The Outer Worlds launches on October 25. The game is coming to Xbox Game Pass at launch, but due to the fact that it's being published by Take-Two Interactive's Private Division label, it's also launch on PlayStation 4.
Elder Ring is an upcoming open-world game from Game of Thrones creator George R. R. Martin and FromSoftware, the talented Japanese studio behind games like Sekiro: Shadows Die Twice. While the trailer was quite cryptic, we hope to learn more about the experience in the coming months.
Ninja Theory confirmed that it was working on a new multiplayer game called Bleeding Edge. The title will get a Technical Alpha on June 27. The game places you in a team of four players, and you have to battle other teams with melee weapons like claws and swords.
Ori and the Will of the Wisps is the sequel to the phenomenal Ori and the Blind Forest. It's a challenging platformer that requires precise jumping and gravity-defying combat. Luckily, you won't have to wait too long to play it because it's coming to Xbox One on February 11, 2020. The trailer revealed a new story that seems just as touching as the original.
Minecraft Dungeons is a dungeon crawler that has garnered a lot of interest over the past couple of months. Beforehand, it was only confirmed for PC, but now it's coming to Xbox One as well. The game is going to launch in Spring 2020, but it should be available for preorder soon. There may even be early-access opportunities down the line.
Star Wars Jedi: Fallen Order got even more gameplay at the Microsoft event. The title witnesses the return of many favorite characters from the film series. The game is expected to launch on November 15 and looks great running on an Xbox One X at possibly 60 FPS.
Blair Witch is a popular film franchise that revolutionized the horror genre many years ago. The Blair Witch game is a horror experience set in 1996. It looks absolutely stunning and because it models titles like Outlast. It's not a "AAA" experience, but a small, experimental game which launches in August.
Cyberpunk 2077 got new gameplay footage at E3 2019 and it looks better than ever. There's an added level of refinement that wasn't there before. The best part is that Keanu Reeves took to the stage and said that the game was coming on April 16, 2020. He's also a part of the game!
Batman: Arkham Knight, Borderlands: The Handsome Collection, Metro Exodus, and more are joining Xbox Game Pass today. However, that's not all. The company announced that Xbox Game Pass was coming to PC and will be available with over a hundred titles. If you want to save some money, you can always subscribe to Xbox Game Pass Ultimate which includes Xbox Game Pass for Consoles, Xbox Game Pass for PC, and Xbox Live Gold.
Age of Empires II: Definitive Edition is coming to Windows 10 this fall. The game looks absolutely spectacular and we have the trailer to prove it. Fans have been asking for this title for a very long time, and it's almost within reach!
Forza Horizon 4 is getting a Lego expansion very soon. Many thought that Hot Wheels would return for this game, but the Lego worlds look even more unique. It's supposed to launch this week so you can categorize it as a stealth release.
We have no idea when Wasteland 3 is launching on Xbox One and other platforms, but we do know that it takes place in Colorado. Hopefully inXile Entertaiment will tell us more at Gamescom 2019.
Microsoft Flight Simulator is a cult classic and a new version is coming in 2020. It's powered by satellite data and Azure artificial intelligence solutions.
New Battletoads gameplay was finally showcased during the briefing and the title looks incredibly charming. The new team has managed to capture the humor and mechanics of the original, and interpret them in a new way. It's unclear when Battletoads is coming to Xbox One because no release window or release date was provided.
Borderlands 3 got a new trailer at the event, but Borderlands 2 got a new add-on which bridges the gap between the two games. You can download "Commander Lilith and the Fight for Sanctuary" right now on your platform of choice.
Phantasy Star Online 2 is coming to the West and it'll be available on Xbox One first it seems. It's one of the most popular games in the East and boasts millions of players.
State of Decay 2: Heartland is the latest expansion for the game and tells even more personal stories of survival. If you have Xbox Game Pass, you can play it for free. Unfortunately, others have to pay for it.
Dying Light 2 is got a new trailer, but we didn't get a taste of gameplay. The title should launch in 2020, so it's a while away.
Other experiences like 12 Minutes, Crossfire X, Dragon Ball Z: Kakarot, Gears Pop!, Lego Star Wars: The Skywalker Saga, Tales of Arise, Ways to the Woods, and other games were revealed or received additional information at the Xbox E3 2019 briefing.
Those were all of the game announcements from the Xbox E3 2019 conference. A lot of great experiences are coming to Xbox One in the coming months from numerous publishers, and hopefully, you're as excited as we are for games like Battletoads and Gears 5. Which titles stood out to you the most? Let us know.
Xbox
(opens in new tab)
Main
Xbox accessories you'll love
Every one of these quality accessories is guaranteed to enhance your Xbox experience.
PowerA Enhanced Wired Controller for Xbox One (opens in new tab) ($20 at Amazon)
PowerA's take on the Xbox One controller is an attractive pickup for budget-conscious gamers that nails all the basics.
Talon PDP Xbox media remote (opens in new tab) ($20 at Amazon)
The Talon PDP Xbox media remote is great for watching shows on your console.
Xbox One S vertical stand (opens in new tab) ($10 at Amazon)
Stand your console upright with this accessory.
Windows Central Newsletter
Get the best of Windows Central in in your inbox, every day!
Asher Madan handles gaming news for Windows Central. Before joining Windows Central in 2017, Asher worked for a number of different gaming outlets. He has a background in medical science and is passionate about all forms of entertainment, cooking, and antiquing.
I watched the presentation live, and during the Cyberpunk Keanu reveal I screamed like a fangirl.

So much to love here. Hopefully, doublefine can do for point and click, what obsidian did for isometric rpgs. Amped about wasteland 3, and I don't normally do first person, but wow, outer worlds looks like an experience. MFST killing it with the games this year, star wars and cyberpunk are both also in my scopes.

So there was three new games announced. That's less than I was hoping.

3? Bleeding Edge, Flight simulator and?

Blair Witch, and the FromSoftware game, I wasn't counting Bleeding Edge.

Nevermind, I'm a muppet, they aren't XGS.

Is Bleeding Edge an Xbox exclusive?

Yes. It's only coming to Xbox One and Windows 10. It'll be available through Xbox Game Pass.

Nah, it's coming to PC as well.

Wow once again very disappointing and underwhelming. Once again they promised so much and for me they failed again.
They promised 14 games by Xbox game studio, loads of people were talking about 5-6 new game announcements.
They talked about "something new" and their biggest show ever. At the end here are the 14 games:
1) The Outer Words
2) Bleeding Edge
3) Ori and the will of the Wisps
4) Minecraft Dungeons
5) Battletoad
6) AOE 2 D.E.
7) Wastelands 3
8) Psychonauts 2
9) Gears 5
10) Forza Horizon 4 lego speed champions
11) Gears Pop
12) State of Decay 2 DLC
13) Halo Infinite
14) Flight simulator I predicted a lot of these. I remember how that guy Asher Madan and people like Studio384 attacked me for including Ori and The Outer Worlds saying that I didn't know what 1st party was. So what are the new game announcements from MS?
Flight simulator, Bleeding Edge (which was leaked), and ... That's it!!! What a disappointment that is.
Gears 5 is coming with the usual "pay to play the game on time" and pre-order bonus... The game doesn't look like a massive upgrade from 4. Personally, I really wanted to see AOE 4 news. Nothing.
Ori was announced in 2017 it'll release in 2020, so much for Spencer's promise about not talking of games too early.
Another Spencer promise, he said they were done with console generations. And here they talk about a new generation... Other then that, we had a load of "World Premiere" and 3rd party stuff...
The elite controller 2 at 180 bucks.
And less than 2 years after Scorpio launch we have what looks like a Scorpio reveal 2.
No Fable, no Halo 5 gameplay, no Gears campaign? So what are their games in the next year? Gears 5 and Ori?
Game pass and Game pass PC are to different services. It's confirmed that you have to pay more money to get both. It's so weird.
What about XCloud?? What's that all about? I thought we would get a lot more information but NO. So much for replying to Stadia... And finally, we have seen with that Xbox event in Mexico how fake and annoying crowds can be. What we saw at Bethesda's and Ms's briefings shows us once again how annoying these fake people can be. Screaming and shouting for everything and anything. The positive for me was 12 minutes. That game looks cool.

@jams
Ah the usual Whataboutism... :)

Microsoft doesn't have to reveal, Fable, or any other gameplay because they have no competition this year.

@Asher Madan
OMG!! I didn't know that Sony and Nintendo decided to quit gaming. Also didn't know that Google finally won't be getting into gaming!!!
Asher Madan, you are suppose to be a writer of gaming articles. You should know what E3 is.
It's not a competition.
It's an expo where dev or publishers announce or advertise upcoming games to the public.
It's not a competition; There is no trophy for whoever announces the most games. For your information the PS4 still has some major AAA upcoming exclusives this generation.
The last of us 2, Ghost of Tsushima, Dreams or the yearly The Show and that's not even counting 2nd and 3rd party games that are exclusives like Death Stranding or Judgment. All shown with actual gameplay... What major AAA game are MS providing for their clients until next gen?
Just one. Gears 5. The sequel to a game that was released less than 3 years back. You want to compare the two? Tell me honestly do you really want to go there?

Xbox game studios includes all the studios they've acquired as a publisher. Sorry you didn't get more new games specifically from xbox game studios. There are other people making games for PC and xbox though, so there's that. And plenty of people that don't announce at e3. Heck it seems like basically no one does, seems mainly like that's where they show footage, not announce.

@Drael
Yes, but I'm referring to this topic where people were saying that they weren't XGS games:
https://www.windowscentral.com/microsoft-will-show-14-xbox-game-studios-... Yeah, but there was way too much hype around this. E3 is the perfect place to announce games. Why have a one and half hour presentation if all you show is 3rd party stuff, CGI trailers and announce just 2 new games.
The thing is could they have hyped this a bit less? I was one who had low expectation and still ended up being disappointed. I can only imagine those who were expecting a lot more...

Yeah, the XGS stuff really wasn't anything spectacular, all the third party reveals were much more interesting. I'm really annoyed that I was wrong about that, I really wanted to see something new from these new acquisitions. Instead we got told about another acquisition that just talked about a game we already knew was coming (seems to be that all the acquisitions did was talk about games that existed prior to them being picked up, doesn't really bode well). I am actually glad that xCloud will be offering a Remote Play style option, it's something I've wanted for a very long time. Although I do hope that doesn't mean they completely removed the wifi option as well, which is fantastic at home when I want to game on my tablet in my room.

Yes, the remote play option is cool, but now some people are going around telling that XCloud using MS's server is free.
About remote play, I'll tell you honestly I don't usually use it because I don't like to leave my console on rest mode. When I'm outside I usually have other things to do.
I hope you use it a lot more than me.

Yeah, I travel for work a bit as a passenger not a driver, so it keeps me sane on long trips. It's not flawless and there are a lot of games that I simply won't play on the service because the lag makes it unbearable, but for smaller arcade titles or less involved Blockbusters it's pretty great. I'm also getting really frustrated about all the misinformation being spread by both readers and writers in regards to all these services. It's really not that hard to follow what each service has, and will have.

Usually when I take long trips I usually either use my laptop or play on my vita or DS.
When I bought my Vita, I thought I would use it often for remote play but after few years I can say that I've not used it as much as I thought I would.

There is this thing about EA's, Bethesda's and MS's streams. All of them had long period of time but very new games announced. A lot of these show focused on additional content for released games.
That's my fear with Games as a Service. Less games but more games that release incomplete that keeps getting new content. Companies spend less on game development but make more benefit through additional content and microtransactions. I'm always against this Games as a service and I'll always be careful about companies who try to promote these type of product. I want to play games, I don't want to play services.

I'm ok with this, because quite simply I'd rather buy a game once and then have it evolve than buy the same game a year later with one extra feature and a few skins. Rainbow Six Siege, WoW, Diablo III are all proof of this being a great idea that can be done well.

The problem is that maybe it can be done well but often it's not. Often you buy an incomplete game on day one. I'm not really asking for yearly games. I don't support games these type of games. I'm mostly talking of a company makes a great game and then move to make another game.

Brilliant conference. Gears 5 September
Ori 2
Tales of Arise
Lego Horizon 4 has to be one of the greatest expansions ever made.
The Outer Worlds
Cyberpunk
Bleeding Edge getting massive praise on hands on at E3
Project Scarlett is going to be a beast.
Halo Infinite is the reboot Halo needed. It looked visually unbelievable. I still Can't believe that was on engine. Ray Tracing present and all. Unreal. The Animations and facial expression were so far ahead of stuff we have already seen. The best bit is, they actually refrained from showing any more next Gen games. Which is fantastic. It means the run up to next Gen is gonna be littered with all the first party studio games we haven't yet seen. This is a very good time to be an Xbox gamer on PC or Console. Bravo MS Bravo. Scarlett launch is shaping up very very nicely.

So they didn't announce anything about VR, e.g. Project Scarlet having VR, etc.?

No thankfully. I know there is a small couple of million gamers who are interested in it. But I'm sure the rest of us would rather they get normal gaming launch bang on. After all VR games sell so badly its just not worth it.

Ah great. So options is not great.
There have been what more than 8 million total VR headset sold?
So because you think that's not good enough MS shouldn't provide VR to their customers...
Great... It's actually funny how in the past you use to hype VR when MS said Scorpio would have VR...
Ah how funny to see opinions changing depending on what a company does...
Windows Central Newsletter
Thank you for signing up to Windows Central. You will receive a verification email shortly.
There was a problem. Please refresh the page and try again.