5 cool and creative ways to use NAS
Here are five killer features that make setting up Network Attached Storage (NAS) well worth the investment.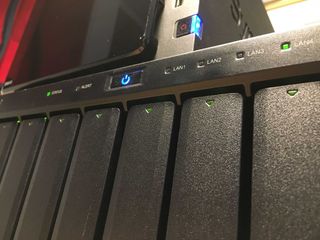 (Image credit: Windows Central)
We've taken a look at the top reasons why you'd want to buy and set up a NAS, and we've even gone all out with an in-depth build guide. Here, we're taking a quick look at some of our favorite features of network-connected storage.
Backup your backups
You can never have too many backups of important files. Whether it's schoolwork, actual work, personal media or banking and tax documentation, you should be backing up every time you're on a PC. The easiest way is to simply plug in a USB stick and make a copy of the files onto removable storage.
This creates an important physical copy, which can be stored in a different location, but there are other methods that can be adopted or used alongside one another. Here are a few options:
OneDrive or similar cloud storage solutions.
Automated software backups.
Professional backup service.
External hard drives.
Another option is NAS, which can be used to set in motion automated backups that can be copied across from various devices and secured in a central location. The added benefit of terabytes of capacity allows for more than mere documents to be duplicated, and many NAS units or software solutions come with security measures in place, including encryption.
6 easy and effective ways to backup
Stream your life
As the name implies, a NAS solution can be deployed to take care of storing media which can be later extracted. Plex, Kobi, and other media server services can be processed on the unit, sending out data to connected devices such as laptops and tablets.
It's also a sure way to turn your not-so-very-smart living room TV into an interactive viewing experience, and it is an extra step in securing access to content for little ones in the household.
Why you should use a NAS for streaming rather than PC stick
Store literally anything
Not everything needs to be streamed, however. Should you merely require a place to house files for a rainy day, or to clear up space on local devices, a NAS with multiple drives makes for a superb connected hard drive. Whether you're backing stuff up or freeing up space, NAS has you covered.
Another strong point for NAS compared to external sources like cloud solutions is speed. Your home network is going to be faster than the external connection to outside platforms and you'll only really be limited by internal bandwidth or hard drive read and write speeds.
Many ISPs also severely restrict upload speeds, which makes copying a lot of data across the net a real pain. This doesn't affect NAS.
3 hard drives that pair perfectly with any NAS
Collaborate with others
Since everything is saved to a single source, NAS opens up the potential for collaborative projects and even some gaming. Whether you're using spreadsheets or Minecraft, it's possible to do a little research, some further reading and hook up support for some connected entertainment.
Up your dev game
Should you happen to come across that PHP and HTML book for dummies and wish to give coding another go in 2017, a local network unit like a NAS can act as a server with the right tools and features installed. Depending on which solution you go for and what software powers it, you'll be able to get started immediately with notepadd++ or fire up a creative suite like Dreamweaver.
NAS delivers much more
There are many applications a NAS can run or be configured to handle with a few tweaks and some spare time. They really are simply a foundation that can be used as is or customized to provide a unique experience. Let us know how you use a NAS (or personal home server) in the comments.
Rich Edmonds is Senior Editor of PC hardware at Windows Central, covering everything related to PC components and NAS. He's been involved in technology for more than a decade and knows a thing or two about the magic inside a PC chassis. You can follow him over on Twitter at @RichEdmonds.
Recommending a NAS as a host for a development webserver is strange to say the least. I'm not a web developer, but even I know you can just install node.js and then use npm to install a sandboxed, local and zero-configuration webserver for development and testing purposes. Better yet, use npm to install foundation-cli and allow it to setup a complete web-dev environment for you, including a live webserver that automatically updates as the developer makes changes to html, css, and other files. For development purposes, that's far better than having to maintain a more complicated web server on a much slower NAS (most people's laptops are a lot faster than a NAS). Since it's 2017, we probably also shouldn't be recommending that anyone learn PHP.

Yea, good point. From the title I was expecting some imaginative suggestions, but this was the only less than standard use listed and it's not exactly practical. The other weird idea was that one's lan is going to be faster than one's internet connection. Not a great assumption these days, as many routers and/or devices only support n level networking and many will run with a 150mb/s WiFi connection. That's slower than many people's internet connection, for example my 220mb/s connection (standard UK cable speed these days). That means my NAS and my Onedrive are often operating at the same speed with the limiting factor being the WiFi speed of my lan, not the internet speed. I suggest this is increasingly common. Bit of a disappointing article really. It would have served a better purpose if it had at least warned users about the Intel chip bug that'***** a load of routers and NAS boxes, because right now retailers are trying to offload a load of old stock that will die early due to these faulty chips. Make sure you get a NAS (or router) without an Intel CPU during 2017. There's a lot of old stock to offload...

For those starting fresh with large storage devices or even those transferring 20 years of memories, after unpacking your new device the best practice is to start organizing and naming files. With photo's, some NAS untits have automatic facial recognition and tagging making life much easier. Also, take the time to learn how to encypt directories with sensitive data. The very small hit on performance is worth it. If you must share data over the internet, make sure the device is always updated, have an antivirus and you should be using a VPN.

Synology, hybrid raid over 4 drives, using for photos, movies via Roku/DS Video app, files, plus it also syncs my OneDrive files to itself for worst case offline access if our Internet goes down...along with remote access to all of this too. Fantastic hardware and software platform.

Synology, hybrid raid over 4 drives, using for photos, movies via Roku/DS Video app, files, plus it also syncs my OneDrive files to itself for worst case offline access if our Internet goes down...along with remote access to all of this too. Fantastic hardware and software platform.

This is one of the ways I use my QNAP as well. In addition to many other uses I store of photos and music on it and then it syncs to OneDrive and Box.com. Groove music on my phone connects to One Drive to give me full access to my collection.

A DAM server is all you need, one of the challenges for many, is that file naming convention is always an issue, forget file names....tag it with keep words and use the search engine to pull up all and and more with a DAM solution. DAM in the cloud ☁, private or public, the way to go for large data sets.
Windows Central Newsletter
Thank you for signing up to Windows Central. You will receive a verification email shortly.
There was a problem. Please refresh the page and try again.