HP Elite x3 review: the best Continuum phone yet… and then some
HP's first venture into Windows 10 Mobile is a strong one, but it remains to be seen if they can create a market for this three-in-one device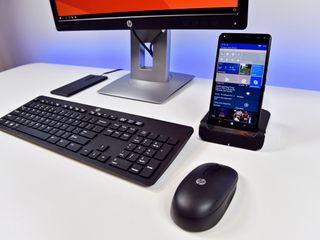 Before we get started, let's get something clear: you can call the Elite x3 many things, just don't call it a smartphone. So says HP who is proud to boast about the category-defining Elite x3, now hitting markets around the world. Granted, the Elite x3 could be just another smartphone, but there is a lot that is different about this device that makes it worth a reconsideration.
The Elite x3 runs Windows 10 Mobile Anniversary Update and with it all the baggage from years of people calling it dead-end OS. While Microsoft's consumer smartphone ambitions are in a holding pattern, which is being generous, the OS may have found refuge in at least one area: industry. It's a bit ironic since businesses and enterprise used Windows CE (Windows Mobile) a decade ago.
Now, in late 2016 Windows Mobile is returning to its roots.
So if the Elite x3 runs an OS found on smartphones, why is it not really a smartphone? HP argues that the Elite x3 is the only mobile device that can act like a desktop, laptop, and a smartphone because of Windows 10 Mobile and Continuum. This is, in fact, where HP derives the 'x3' name. And while the Lumia 950 and Lumia 950 XL could do similar feats it did not have the broad ecosystem of HP hardware and infrastructure to support that vision.
This designation is not just semantics either. HP wants you – and their potential customers in industry – to think of the Elite x3 as a Windows tablet that has telephony abilities and the power to run real desktop Windows apps (through HP Workspace, its virtualization service). Combined with streamlining of IT operations for first responders, miners, engineering, retail, transportation and other industries and the Elite x3 begins to make sense.
All of this, however, hinges on one thing. Is the HP Elite x3 any good?
Many companies have veered into mobile computing only to fail. Even HP does not have a good track record here (see their disastrous webOS failure from just a few years ago). But HP's undergone some enormous changes in the past few years, including splitting hardware and enterprise services into separate companies. Can this new HP break the curse?
Finally, what makes reviewing the Elite x3 different is that it's the first non-consumer focused mobile device we are covering. HP does not expect regular people to buy into this system, just various industries who need what it offers. That requires a different mindset and different metrics for evaluation.
What makes an x3?
In anticipation of our deep dive here are three main components of the HP Elite x3 ecosystem that you need to know.
Elite x3 Mobile Device – This is the 'smartphone' running Windows 10 Mobile, powered by a Qualcomm Snapdragon 820 CPU with 64GB of internal memory.
HP Desk Dock — A one-pound dock meant to link the Elite x3 to an external monitor with mouse and keyboard. It has multiple ports including a DisplayPort, two USB-A, a USB Type-C, and an RJ-45 Ethernet jack. It can both power and recharge the Elite x3.
HP Lap Dock — Meant for mobility the Lap Dock lets your push your Elite x3's OS to the Lap Dock. It has a 48 Whr battery, but no CPU, RAM, or HDD — that all comes from the phone. It's a quick way to turn your Elite x3's into a 12.5-inch FHD laptop experience with a full-sized enterprise class keyboard. It can also charge your Elite x3 at the same time.
Of course, you do not need all of the components to make the x3 enjoyable, but without the docks, you can rightly call the device 'just another Windows phone' (albeit, the best one to date).
HP Elite x3 specifications
Swipe to scroll horizontally
Category
Features
Display
5.96-inch 2560x1440 AMOLED
Processor
Quad-core 2.15Ghz Qualcomm Snapdragon 820 CPU
Qualcomm Adreno 530 GPU
Memory
4GB RAM
Internal Storage
64GB
Expansion
microSD (up to 2TB)
Wireless
Wi-Fi 802.11a/b/g/n/ac (2x2)
Bluetooth 4.0 LE, NFC
LTE-A with carrier aggregation 4,5,6,13
Camera
16MP f/2.0 FHD rear-facing camera
8MP front-facing camera and Iris camera
Ports
3.5mm headphone jack
USB-C 3.0
Dimensions
3.29 x 0.31 x 6.36 in
83.5 x7.8 x 161.8 mm
Weight
0.43lb (195g)
Battery
4150 mAh Li-ion polymer (non-removable)
Qi and PMA
Solid build and solid specs
HP Elite x3 hardware
All of the Elite x3's components – including the device itself – features impressive build quality. The Elite x3 even has seals against liquid and dust to an IP67 rating and it is constructed to pass military drop tests. Go ahead and drop the phone in a toilet or spill your water on it as the Elite x3 is built for durability.
From the stunning AMOLED display to smaller refinements like button placement and haptic feedback, the Elite x3 nails design. (Seriously, the Elite x3 has a great vibration motor so you never miss a notification; it's those details that matter.) It's impressive to see a new manufacturer get so much right on the first try.
The Elite x3 stands in contrast to the cheap feeling Lumia 950 and Lumia 950 XL. While those phones had great hardware, the build quality was unexceptional and uninspiring.
I don't have any criticism about the hardware design or components used in the Elite x3. While some people may dislike large screens, that is strictly personal preference. The Elite x3 is meant to be used in construction yards, line work, mines, out in the field, etc. where having a large display is preferred.
Display
The Elite x3 features 5.96" WQHD (2560x1440) AMOLED display with Gorilla Glass 4. It's a massive, bright, contrasty thing that will make reading text a breeze.
Brightness is around 380 nits, which is already a lot, but a forthcoming software update bumps it to around 550 nits for improved outdoor usage.
The Elite x3's screen is smooth and responsive with a smudge-fighting oleophobic coating.
Although the display is Gorilla Glass 4, it is far from indestructible. Windows Central's Zac Bowden dropped his caseless x3 on the ground, and it shattered the screen. HP says that the x3 should be able to withstand drops from 4 feet or lower. Luckily, HP replaced his device, and he now uses one of the three available cases (Leather Folio, Rugged, and Silicone) from HP to protect it. With an HP Rugged case, the Elite x3 should be protected from drops from 6 feet.
There is no Glance screen familiar to Lumias, but HP is in talks with Microsoft about trying to utilize the technology.
I still have no qualms calling the Elite x3's screen the best of any Windows phone to date and I prefer it over my iPhone 7 Plus.
Powerful speakers
Using speaker phone for conference calls can be hit or miss with mobile devices. HP knew this which is why they put in two front-firing speakers tuned by Bang & Olufsen.
The speakers are loud and only distort when nearly maxed. While they lack the bass of more consumer-friendly phones like the iPhone, the Elite x3 excels for Skype calls where voice is most important. The ability to hear a stereo-effect while watching video is also impressive as HP was considering employees are having to watch training or sales videos using this device.
The x3's front-firing position and audio tuned for highs deliver where needed. They may not be the best, but they are better than average.
Competent shooters
HP Elite x3 cameras
I'll stick by my original assessment of the Elite x3's camera from a few weeks ago: the hardware is impressive, but there should be some more software tweaks to enhance performance.
The 16MP f/2.0 rear camera takes some satisfying photos during the day. It can even pull off some low light images, albeit with some aggressive ISO noise. While it is no Lumia 950 or Lumia 950 XL the Elite x3 is the first, and only, non-Lumia Windows phone that approached the quality of Nokia.
Even the flash is better than expected for most casual photos.
Keep in mind that this camera is not for consumers looking for the best concert or vacation photos (although it should perform well for the latter). However, using it with Microsoft's Office Lens to copy some receipts or an invoice and the camera returns excellent results. Insurance agents shooting in the field or sales reps recording documents should have few complaints.
On the front, the Elite x3 sports an 8MP Full HD camera. HP wanted the front camera to be optimized for use in video conference calls like Skype, and they succeeded. In comparing it to the front camera on the iPhone 7 Plus the Elite x3 provided sharper and more detailed video calls over Wi-Fi and LTE, every time.
The Elite x3 is capable of 4K (3840x2160) video capped at 30 FPS. There is also an option for 24 and 15 FPS at that resolution as well as Full HD (1920x1080) and HD (1280x720). There is no option to record at 60 FPS at any resolution, but there is a slow motion 120 FPS option.
While the recent firmware update fixed the majority of camera issues, there are still some frustrating quirks to be solved. I can crash the entire phone when launching the camera from Lock Screen, taking a photo, reviewing the images and going back to the camera. Sure, odd scenario, but it's repeatable. Focusing can also be slow at times especially in low light conditions where it hunt and pecks.
Update: The Insider Fast Ring update to the Windows Camera app on October 17 fixed this crashing issue above; it should be just a few weeks before it is pushed to Production on the Elite x3
In speaking with HP about the camera they too are confident that the hardware is fine, but they need some fine tuning of the software which they will address in future updates. Since this is the first camera from HP on a Windows Mobile device, I think it performs better than expected.
Image 1 of 12