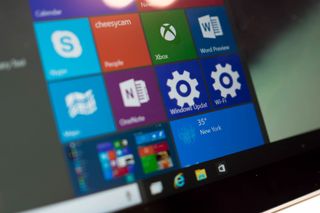 A lot can happen in a week. Seven days might not seem like much, but it can be an eternity in the tech news cycle.
Between Windows news, hardware and software developments and Microsoft's fast-paced movements throughout the technology landscape, it's never easy to keep your hand on the pulse of technology. Not to mention everything that's going on right here at Windows Central!
Every week we're going to compile the biggest stories into one post, so you never fall behind – In Case You Missed It (ICYMI).
Windows
This week we got a visit from Windows 10 from the future. First, a change log from the unreleased build 10108 of Windows 10 showed us a handful of changes to come, including a tweaked tablet mode, resizable Start menu, and the addition Wi-Fi Sense.
Some leaked shots of build 10114 unveiled a new look for the Start menu, as well as some new Start menu behavior options.
Screenshots of build 10123 also cropped up, depicting a dark theme for Cortana, the return of the "Backup and Restore" functionality from previous versions of Windows, and various settings changes in Microsoft Edge.
Speaking of Edge, Microsoft explained this week how Edge will be safer than Internet Explorer.
Here was also some news about upgrading to Windows 10 in the future. Windows Insiders will apparently be able to upgrade to Windows 10 RTM free of charge.
Microsoft even offered an olive branch to those users who have, shall we say, less then legitimate copies of Windows. They too will have the opportunity to upgrade to Windows 10 for free.
It seems like the most important thing is just getting people up and running on Windows 10 in its first year, regardless of how they get there.
Other notable items:
May 2015's 'Patch Tuesday' brings 13 security bulletins from Microsoft
You can now install the Windows 10 preview on the Surface 3
Microsoft
The Windows Insider program has been a giant success, adding 200,000 new people in 12 short days. That brings it up to 3.9 million members.
Microsoft has been busy on all fronts. In preparation for enterprise rollouts of the Surface 3, they deployed a new Surface 3 driver. According to the company, this software "improves the mass deployment process, broadens the range of enterprise-level features, and helps bring the Surface 3 deployment experience in line with its more business-oriented sibling, Surface Pro 3."
The Skype Translator preview app for Windows 8.1 has gone widespread. Rather than requiring users to sign up, it's now free to download.
Microsoft also beefed up Bing to help out users with mobile devices. The search engine now highlights mobile-friendly websites in search results.
And in Hololens news, rumors are circling that Samsung is seeking a Hololens partnership with Microsoft. There's no telling what the two sometimes rival giants could do together with such innovative technology.
Other notable items:
The Surface Pro 3 is getting a new firmware and HD graphics update
Miscellaneous
Verizon had a huge week. Most notably, they agreed to acquire AOL for $4.4 billion. The sweetest part of the deal for zverizon is AOL's ucrative online advertising assets.
In less positive news for them, Verizon and fellow mobile carrier Sprint will pay $158 million to settle charges from the FCC that they unfairly billed consumers for "unauthorized third-party premium text messaging services", which has become known under the term "cramming."
AT&T decided to help out many of their GoPhone customers by extending their Rollover Data program to them](/att-bringing-rollover-data-select-gophone-customers-beginning-may-15).
Computer manufacturer Lenovo is backtracking on their original claim that their LaVie Z 360 convertible notebook computer is flawed. Now they say just made a mistake describing its features.
Lastly, Duet Display, makers of an app that lets you turn your iOS device work as a second display for your Mac, announced a new Windows app. Now you can extend a Windows desktop to your iPad. Pretty cool stuff.
Other notable items:
Chrome extensions will soon only be available through the Chrome Web Store
Share your thoughts on this past week of news! And we'll be back again next week to do it all over again.
Windows Central Newsletter
Get the best of Windows Central in your inbox, every day!
The most interesting news were these two... 1.interactive tiles 2.MS Samsung partnership for hololense :)

Samsung only wants partner with them so they can steal the technology like they do with everyone else....

C'mon man! It's not their fault that they can't come up with ideas on their own... Wait! It is....

The article didn't say anything about windows phones (or rather mobile).

We have a separate roundup for Windows Phone. It'll be posted on Sundays from now on.

Alright, thanks for clearing it up :)

When is 640 and 640 xl going to be released for att. This is getting ridiculous