ICYMI: September 27, 2014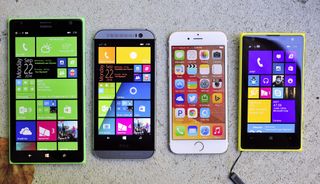 A lot can happen in a week. New apps join the Windows Phone Store or Windows Store. Your favorite apps can get a big update with a new look or new features. Device rumors come and go. Seven days might not seem like much, but it can be an eternity in the tech news cycle. Every week we're going to compile the biggest stories into one post, so you never fall behind – In Case You Missed It (ICYMI).
Windows Phone
Microsoft + Windows
Apps
Games
Xbox
Misc.
ICYMI Mailing list
Subscribe to my newsletter to get the above content and more delivered to your inbox. I'll share the above content with you, plus share a few extra links to cool stories and products from around the web. You can even submit links to your blog post or apps that you'd like to be shared with the community. Just send me a tweet (@samsabri) with the URL to your story or app and include the hashtag #ICYMI.
Share your thoughts on this past week of Windows Phone, Windows, Xbox and Microsoft news!
Windows Central Newsletter
Get the best of Windows Central in your inbox, every day!
Really curious what Treshold will bring us...

How is iPhone 6 ranking on Basemark OS II benchmark by overall score?

Threshold should better be good

You didn't mention all the great things Verizon us doing for its loyal windows customers! Like.... And ... And don't forget ....

Like not releasing 8.1 for icon users... =hate Verizon

Windows Threshold (9) the last opportunity for Microsoft...I have faith on it!

Last opportunity for what? Windows 8.1 is working perfectly for me booting straight to desktop at boot up on my laptop with all my frequently used applications docked on the taskbar. Also works perfectly on my Nokia 2520 RT and my surface. Guess what, I set it up to boot to the in three mouse clicks

Im not saying that Windows 8.1 isn't good. But to be honest it wasn't popular because much people didn't understand the system. I really like it in all senses. But Microsoft failed in marketing to succeed. My point is Microsoft needs to reach that users again. But I never said W8 don't work. Otherwise!

ppl have adopted windows for their work. its like today without windows business cannot be possible. that's y ppl need simplicity instead of good smooth flow and metro design. thos is what here always from my colleagues and nearby. so metro is better for metro lovers and simplicity always for business.

He probably means, 'last opportunity in mobile', which is probably accurate.

I like Windows RT alot better. I dont need the x86 vulnerabilities, running those legacy apps. Modern Interface FTW!!

What is ICYMI agin i forgot

I knew you'll forget since you didn't care to read

Did you try reading the article... Or is that to much too ask.

The authors got scared to compare which one of the iPhone 6 vs Windows Phone works faster. I'm disappointed. Posted via the Windows Phone Central App for Android

On an unrelated issue can someone tell me what the name of the calendar/news(?) tile that is pictured on the 2 phones on the left side of the header photo ? Cheers

Simple Calendar for the calendar, as for the news tile I can't really make out but if I had to guess from the wording it seems to say News.

Did we ever get a review on that dev preview update we got a couple days ago? Nothing really newsworthy? Just general bug squashing?

There was many articles on this site saying what the issues were being addressed by the update.

The new home screen folders come on my mind only. What else? Where is comparison? Did the new update increase benchmark results? Posted via the Windows Phone Central App for Android

That was a bug fix release. Please read the announcement article again.

Windows phone is the best

Disagree :) Windows phone is like a beta OS for me

I agree: parts of the OS are brilliant and well implemented, while other areas (notifications, media/music/video playback) come off as very beta, if not alpha level software.

All of the OS'es are so similar today... Although I really do appreciate the live tiles, provably the most unique thing of WP. :)

I want to leave Windows Phone..

And go to those lagging androids and to costly iOS! Carry on!

Lagging Androids? I'm guessing you never used a Moto X or an HTC M8.

do a bend test for lumia!!! :v

Regarding the title picture. Which of these four things is not the same? OO! OO! I Know. One of them has a an extremely useful wriststrap, which can help keep from dropping your $500-$1000 phone.