Molome, JAZZRADIO, Cinemagraph and more are your app highlights of the week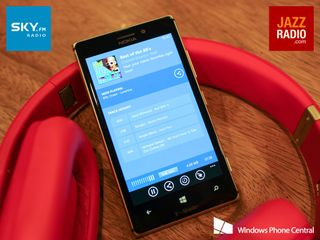 In case you haven't noticed, the Windows Phone Store has been seeing explosive growth the past year. Not only in the number of new apps joining, but apps receiving the updates you want and demand. So here we are on another Saturday, about to take a timeout and reflect on what's new and different in the Windows Phone app scene.
New
Molome – It had been teased for Windows Phone for over a year, but Molome is finally available for download. The app came out during the past week, had a few bugs and was quickly fixed with an update. The photography social network is huge in Asia and has some pretty cool filters. Grab it from the Windows Phone Store. (Free)
JAZZRADIO and SKY.FM – Digitally Imported is one of our favorite music services. Not only do you get access to the world's best selection of EDM music, but you can become a premium member and get high quality streams. Now we have JAZZRADIO and SKY.FM for Windows Phone. Those are sister music services from the minds behind DI.FM. Instead you're get a huge selection of jazz music on JAZZRADIO, while SKY.FM gives you a little bit of everything. Grab JAZZRADIO from the Windows Phone Store and don't forget to get SKY.FM also from the Windows Phone Store. (Free)
Three – Living in the UK and happen to be a customer of Three? Well good news for you, Three has just released a Windows Phone app. The app will let you manage your account. View things like how much you've used up on your monthly allowance, recent bills, and more. Grab Three from the Windows Phone Store. (Free)
Basemark OS II – Need a way to compare your Windows Phone to the iPhone or Android handset your friends are using? While we can't measure things like how happy your smartphone makes you, but we can stack CPU performance and more up against each other. For that, use Basemark OS II. That's a benchmark app that just came to Windows Phone. You can grab the app from the Windows Phone Store. (Free)
The Huffington Post – Good news for those that are tired of needing to read the HuffPo in IE or through an RSS Reader. An official app for the Huffington Post is now available in the Windows Phone Store. The initial version leaves a bit still desired, but it's at least available. Grab it in the Windows Phone Store. (Free)
Runtastic Fitness Apps – Holy mackerel. Runtastic just released four new fitness apps for Windows Phone. They more or less do the same thing, but for a respective exercise. These four apps will automatically tally and save workouts for push-ups, sit-ups, pull-ups, and squats. They're currently 50% for a limited time, so pick them up if you're into fitness. All apps are $0.99 and can be grabbed either via URLs or QR codes below.
2014 Sochi Results – Hankering for some Winter Olympic action? We're under two weeks away from the 2014 edition starting, but you can ready by downloading the official results app for Windows Phone. The 2014 Sochi Results app for Windows Phone will give you the results live. Grab it from the Windows Phone Store.
Updated
Cinemagraph – head to the Windows Phone Store and you'll see Nokia's Cinemagraph is now at version 4.0. What's new? How about the ability to create GIFs with the app, better integration with Nokia Storyteller and other general improvements. Grab it from the Windows Phone Store. (Free/Lumia only)
UnfollowSpy – One of our favorite apps for Windows Phone just received a big update. UnfollowSpy is an app that lets you manage your Twitter account by giving you some interesting metrics into your followers. The update is notable for now including Instagram support. Grab it from the Windows Phone Store. (Free/In-app purchases)
Path – When Path finally came it was riddled with bugs and relatively poor performance compared to its counterparts on iOS and Android. Hopefully things change fast and if this past update is any indication it just might. Path received a quick update to correct a bug when trying to check in. Grab the update from the Windows Phone Store. (Free)
Bing Sports – It took long enough, but Bing Sports can finally share articles. We're hoping to see the other Bing apps on Windows Phone receive similar updates. The update for Bing Sports focused just on sharing as far as we could tell. There doesn't appear to be any other changes. Grab it from the Windows Phone Store. (Free)
Phonly – There's no point in beating around the bush. Phonly is one of our favorite Feedly clients for Windows Phone. Phonly is a feature packed and an overall gorgeous app. The latest update now lets you download full articles without needing to open IE or mobilizer. You also have the ability to tap and hold an article as read. Plus a new layout for the settings page, an updated login page, and more. Grab Phonly from the Windows Phone Store.
Games
Subway Surfers – We know you all like Temple Run, but Subway Surfers is one of our favorite endless runners for Windows Phone. This week it picked up an update with new levels the same day as Android and iOS. Pick up the Miami update for Subway Surfers in the Windows Phone Store. (Free)
Permia Duels – Need a good collectible card game on Windows Phone? They're not very popular and definitely a niche genre, but we've really been digging Permia Duels on Windows Phone. You just might too. Grab it from the Windows Phone Store. (Free)
Have any favorite new apps from the past week? List them below!
Get the Windows Central Newsletter
All the latest news, reviews, and guides for Windows and Xbox diehards.