WhatsApp returns to Windows Phone, brings new features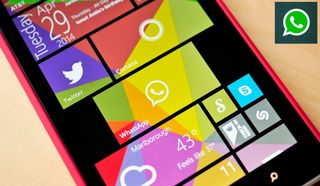 What's up?! Not much, just WhatsApp returning to the Windows Phone Store. After going MIA, the popular messaging app has returned. Not only has it returned, but it's been updated. Earlier today, Microsoft's Joe Belfiore said the app would be coming 'quite soon'. This does qualify as fairly soon! Details after the break.
Head into the Windows Phone Store and you'll find version 2.11.490.0 of WhatsApp sitting there. Here's what's new in this update:
Chat backgrounds
Broadcast lists
Privacy settings (settings > account > privacy)
Media auto-download settings (settings > chat settings > media auto-download)
Custom notification tones (Windows Phone 8 Update 3 required)
Various enhancements and bug fixes
Not only does the app return, but it comes with a few new features. Chat backgrounds have been added, there are privacy settings, control the auto-download of media, custom notifications are there and more!
Heads up, those on Windows Phone 8.1 will get a warning message saying some features won't work properly.
Grab the update for WhatsApp and let us know what you think!
Download WhatsApp for Windows Phone
Thanks for the tip Stuart!
Windows Central Newsletter
Get the best of Windows Central in your inbox, every day!
Doesn't work with 8.1 for me?
EDIT: nvm, it works fine now. It was just a warning message. COMES WITH BACKGROUNDS :D

App is not supported for WP 8.1
But It will WORK FINE and you will just get the warning message while opening the app first time and also trying to contact the support.

the best thing is that the is a status bar for showing the progress of downloads

Works fine for me... I not see notification...

I am unable to install WhatsApp please help. Ii am able to download but when it starts installing after some times it shows "attention rquired! Tap here" when I tap there it again starts downloading and again At the time of installation same error happens.. Its going again and again. Please help me.

Change the install location to phone storage and not sdcard.

You can only put it on phone.

I normally delete any application that makes SD installation impossible. But WhatsApp is the exception.

26th September 2011 when what's app first came on Wp if I remember correctly... 29th September 2011 bought my first WP phone Sammy focus... The new WA update gives that kind of feeling...

Uninstall it and then install it.

You can try this first uninstall WhatsApp and then install it again. Worked for me .

Thank you guys. Its working fine now
:)

Delete Whatsapp from your phone and then try it again. I had the same problem with Nokia Glam Me on my Nokia Lumia 920. For some reason the app wasn't able to update itself so after I uninstalled Glam Me I was able to download the updated app

uninstall first thn install it

I got the warning message related to background task setting in data sense after taking up the update. I checked the data sense setting and looked good. Restarted the phone and the app works fine. Lumia 720 win 8 update 3.

Same here. I just upped the limit of data sense. It seems like it is always throttling downloads after reaching the limit. I set it to 9999 and restarted the phone. Works now.

I am continuously getting that warning message about turn off "Restrict background data" in Data sense while opening whatsapp each time. The same is Off in datasense in my nokia lumia 820. I have restarted the phone but still getting the same message. Is anyone else facing the same problem? Please suugest any solution because whatapp in not opening, only notifications are seen but not the whole message.

I dont get any error either..When i try to open the app, it doesnt open and i keep getting the notifications but unable to access the application. I tried turning off the restrict background data in data sense, reboot my mobile and the problem still persists. I have updated whatsapp to the latest version today morning and unable to open the app since then.

Change data sense to not specified, and open it will open, after that you can set your data usage again

I did it. I set the limit to unspecified (removed the limit totally like u said). It dint work. I Set the limit to a higher value (just to make sure there is a lot more content before it gets renewed). It dint work too. Any other workaround ?

Thank you! It worked here.

Thnx man...same problem happened on lumia 625 too..and really solved dt problem changing data sense to not specified...

it dint worked :(, any other suggestions??

This is so annoying. First it wants me to remove my safety belt ( Data Sense ) just because I am near my limit. Than it complains about my OS version. My very first thought was "losers". Sorry programmers. I know you did the best you could too get a nice app up and running again. But don't complain about my OS, and fix the bug blocking the app when Data Sense says I still have 20 MB to go. I have Data Sense for a reason you know.

Please switch off data sense or switch it to unlimited, then it works. Changing the setting back to previous makes it dysfunctional. Programmers, not the best tasks that you have. Please release a bug fix soon for this.

Same with me. Using L820.. Although my quota still available for 100MB.. Now, I cannot open whatsapp.. I wish I never update it..

Raising the limit works. I've kept mine at 100MB for 3 days. Try raising the limit and the days until it starts working

Same problem here.
I've change the setting, even set the battery saver off. But I found the solution. The solution is : Set the "Limit Type" to "none specified"

Same prblem. Either data sense or whatsapp works. Both can't work. Need another whatsapp update!

Just go to Data Sense and Set the limit to unlimited. Restart the Phone and it should work.

Thanks. It worked. I hope they bring another solution soon.

I'm getting the same error after I updated WhatsApp yesterday (6/1/14)

Same issue with my Lumia 620 , do not know when it shall be resolved

Same issue here... doesn't make sense to block the whole app just to get notifications...

Same issue here! I experienced this on May 31st night at 21.45 hours. I tried everything - Changed the data sense options, in and off data though it was off. By next morning, the problem was fixed. But, I'm experiencing this problem again now. It is irritating and disgusting. I hope that WhatsApp fixes this "background data restriction" issue at the earliest. By the way, I re-installed it, I restarted my mobile and tried every possible option. I have also sent an e-mail to Whatsapp. :'(

Thanks a lot! It worked. :-)

Video and photo are separated now!

Wow,I can keep scrolling to older messages over a long period of time and no crashing!! :O

That's amazing, it's like living in the future! :O

This problem was removed already in Wp8.1 seems you have wp8 still.But glad for those without 8.1!

I've had 8.1 since the day it came out :/

Yes it always crashed for me too even on WP8.1 but doesn't anymore :) and it really is a pt faster!

Praise the lord ! Faster than ever

See... Told you it would be back this week.

YEP....... FINALLY Backgrounds....

no crashing!! much faster.. wow !!

Yes much faster. I mean seems faster

Oh my god its back !! I still feel like its a dream but it happenes to be the reality !! Excellent set of new features ! Yippieee !! :D


Yeah it has drastically improved on performance... Now they should update it with new stickers, ui with android... Audio sending.... Appreciate Microsoft closely working with what's app... Made it tune up for performance..:)

UI with android? What? This version is so much prettier than iOS and android versions now!

I loved the app... But its missing the wp touch

Are you kidding me??? All my Android user friends just love the UI. Some even bought a wp device after looking at mine.... Some just use a launcher to make it look like one.. :P

It still lacks new emoticons... Animated emotions.... Which appears to us like a square or static symbol... Which I hate... Also we miss screen video capture... As well :D

I guess its a very big day for WP users..first the file manager and now WhatsApp.. :O

Nice, but i expected a new UI, i hope they add a new beautiful metro UI to the app

Yes new Ui with a more modern touch
Icons/ color for settings menu
Stickers
Action center notifications issue
Slowly but surely it will be improved. At least performance wise this is hands down best update.

Where is custom sounds???? i cant assign my custom notification sound for whatsapp from Action center setting... Is it only me or all have this problem???? please reply. NOTE: WP 8.1 UPDATED

That option is giving the preloaded list of tones, not the tones I have in ringtone folder in my phone,
Previously I was able to assign customs tone from action center setting.... But now I can't....

One or two notification and u shyd find it

Oh ya I get it... Thanx.... But still not able to change it....

You can, but first you need to take a selfie , :) im joking
You need to let the app send a notification, so the system will add it yo notification +sound setting , and then you can customize its sound

Yah I get it.... Thanx...

I feel like going to MS headquarters and kiss everyone for this work...lol

Works fine but warning message pops up.

Daniel that was fast :| Happy WhatsApp is back

Actually I still can't believe that this is WhatsApp, the app has improved a lot in terms of performance...

that's why they pulled it cause it was causing some people phone to freeze or cause battery to drain faster than before

I can stop complaining now. So damn happy :D

Yes the Cry has ended! Still not getting WhatsApp tho.

Chat background support. Cool :)

I was expecting to be able to set the background per contact or group. Oh well no biggie.

Me too buddy, maybe in 2015.

Actually you can.. Wait! Sorry I'm on WhatsApp Beta! :P

This doesn't work in the beta too... O.o

What doesn't work? You can set individual backgrounds in WhatsApp beta!

how to enroll in whatsapp beta :( i emailed them to add me also they replied they dont need more testers :/

If after getting that reply you're still asking about how to enroll then this may not be for you :)

No well after that reply I also heard they allowed more testers to join program. Unlucky me :(

It's SO MUCH FASTER! And the backgrounds are beautiful! Amazing.

Now, I never know if people really mean it when they say it's much faster. Is it really?

This time it really is. Performance improved greatly, the best change is the new, beautiful UI though.

Nope, it's seems same fast as it was ;)

It definitely seems it :P

Old messages also seems faster here :)) really!

It's extremely faster now. But backgrounds aren't so essential, also i dont like them much. Black background is clean.
Anyway its all good :D

Nice that it's back, but why the hell they don't allow SD-card?...

Heeeeeyyyyy don't jinx it lol ;)

Yep! My question too! :-/ But who cares? They will probably fix it later on :-P WhatsApp is back!!

Hopefully they'll do it when 8.1 is available for everyone. ^^

This app is not supported for WP 8.1 officially so hereafter only they will start working for full WP 8.1 support but app will work fine in WP 8.1

It clearly says it doesnt support wp8.1 yet. That explains the lack of sd card support :)

The app is not fully WP8.1 supported. So wait till update is rolled out.

Wooooowwwwwww thanks Stuart!!¡¡

Now, go cry for others apps!

LOL ...thats exactly what they should do...instead of whining about sdcard not supported

Lets take a moment to cry about Facebook messenger.

Lets take many moments to cry about facebook messenger

I haven't seen fb messenger on other platforms, but our works really well...
What features is it missing exactly?

Not too much stuff i would mostly like the voice notes to be added and improve speed plus the ability to share video was added not to long ago

facebook messenger is there in the store...but it lacks features that are in other stupid platforms...also it drains battery a lot quicker....

Is it safe to do update atm? Just received information about update availability... Anyone try it?

Yeah. It's a huge improvement in both performance and UI over the old version. Very impressed.

it feels so muvh faster after the update,main problem(for me) was, when during chats if i come out and open other app and then go back to chat it used to take resume time before,but now it opens up so fast.it is fast and improved compared to previous version.so u must update.

Safe and Sound. Done it and cant stop looking at the backgrounds LOL

They should make a movie - WhatsApp The Return. :)

What about this title... A Day Without WhatsApp?

The Lord of the Apps - The Return of WhatsApp

The return of WhatsApp!!!

Woohooo \o/
W'APP really made my day, week, month..etc.. Now its back with a bang!!!!!

Finally! Now the whiners can at last stop! I bet Daniel is celebrating with a few rows of cocktails the end of the ordeal.

Ha. I can see him with a martini right now.

"WhatsApp doesn't support your device's version of Windows Phone. Some features won't work properly." *Windows Phone 8.1 Preview for Developers on Nokia Lumia 920* - WHY?

Upon updating and opening on wp8.1, it gives the warning: 'Whatsapp doesn't support your device's version of windows phone. Some features won't work properly.' Yet to see which ones, I'm just happy it's back!

It will work fine but its not officially supported for WP 8.1

Don't worry, everything works just fine :)

Just proceed it works fine.

Its just a warning, WhatsApp working fine on wp8.1,

They are making sure you don't gonna complain here if WhatsApp doesn't work properly on the developer preview we are using!

Whatsapp and Microsoft knows how whiny their WindowsPhone users can be and they're just playing it safe.

There really is a whiny bunch among us.

Got that message, but no issues for me at the current time, updated it a few minutes ago though. Seems like the only issue is with SD card, you cannot install there

New complain: Can I send mp3 files? Kidding :) !!!

Rename the file with an mp4 extension using your prefered file manager., then move it to Camera Roll or similar folder and send :).

Yes. I tried and it works

I can finally retire my 920 and exclusively use my new 1520 :)

Pues la verdad no se que le ven a Whatsapp... Me podrías iluminar con tu sabiduría?

Pues es una aplicación multi plataforma. Quizás haya muchas, pero esta desde el equipo mas básico funciona.
Ademas ciertas personas la utilizamos como herramienta de trabajo,

Y es la sensación del momento dude! Whasapéame cuando puedas! Hahahaha

Ja ja ja... Whasapéame. Chistosito.

Es la que tiene todo el mundo...con eso es suficiente. De que te sirve tener la mejor si no la usa nadie?

Yo digo "meh!" a Whatsapp, lo uso porque mis amigos, por alguna razón, solo escuchan las notificaciones de él, aun cuando tienen Facebook messenger. Preferiría Telegram, por ser basado en la nube y tener los mensajes en más de un dispositivo, pero no depende de mi, sino de donde mis amigos estén. Igual, medio de comuniación secundario, los veo en persona en la universidad, no solo uso la boca para comer xD


Comparada con lo que era antes! Funciona perfectamente, muy veloz! Saludos desde Paraguay

Pues bastante bien en gral. Cualquier duda no duden en contactarme. Saludos!

I don't like it the new chat font though :/

They need to fix it. I've set the font size to the smallest in the system yet it is still showing 2 sizes larger in WA.

My english is not good:
If you change the font size in Whatsapp settings only a litte larger, in the chat will be smaller and the line spacing will be less.

Thanks for the tip. Works.

Thanks man, it works. Your english is good enough, you made a difference here.

It's safe for Joe Belfiore to return to Twitter. LOL.

Daniel can turn all his Twitter filters off again and relax.

Daniel one more thing. Older messages can be seen without the app crashing! So happy :)

Oh Dan ... Now Take a Deep Sleep !!!! :D

Works on HTC 8X WP8. Different notificationsounds and backgrounds. LOVE IT .... Thanks MS and WA. You just make my day.

At last it was back in the store, after using for 15 mins everything is fine, but still no audio sending option which are already saved in phone, I didn't find where the downloaded videos are saving in the phone

Using Files, Home/Phone/Pictures/Whatsapp that's where you'll find downloaded videos, among all other photos downloaded by whatsapp.

First bug I've found. Pressing remove background causes the select from album option to cease working unless I exit that menu and come back out again.

Few days later, app is gone again. Team WhatsApp messed up something new (said by future guy, back from the future)

Did they finally release BBM?
Btw dig the J Cole reference.

Future guys says, its still going to take a while before BBM shows up for u guys on WP. Cause blackberry made a new line of mobile berry's.

I can't keep custom Chat backgrounds for individual contacts.. Is that a missing feature?

Only feature which is available in beta but not included in public version is that..

Still a sound out of the speaker on chat

Click record button to temporarily remove that problem.

Like the idea of custom tones but how does that affect the notification centre? Or is that where it is not compatible? There are only a few times you can choose from too. I cannot choose my own custom tones

I choose all custom tones thru the notification center...

Not happy, still export / email full conversation and searching text in conversation is not available :(
Missing android

You can simply press the search button and type the text which you want to search thought
Through your conversation.

In conversation there is no visual Search button, and hardware key will pop up Cortana ! and if you are talking about Searching in 'Conversation / chat lists' so It does not show complete message. Please correct me if I am wrong.

If you press the search button(not the hardware search button) when you enter WhatsApp and you type a line of text from the conversation you're searching for, the conversation comes up. Just tried it. It works

Thanks dear, but there is something wrong with me. When I try to search this way, it works but when I click on search result it does not show that MESSAGE, it just open Conversation and shows last message. not the Searched Message :( :( and I am not happy with other application Viber / skype too :'( due to notificaton problem

I'm glad I won't be forced to go back to Android...

Windows Phone is saved :P

The world did not end....

...but it came perilously close

"Data in the background restricted" and not start. L920 wp8

...same here... :/ (lumia 920 WP8.1)

I've got a nice bug in which the app asks you to turn of data sense but it never goes away even if you do turn it off. You cannot get past this screen and so the app is now fully broke. Anyone else got this problem?

Did you restarted the phone?

I have the same problem. Disable everything in Data Sense and set the limit to something like 10 gigs or so and it will work

You need at least 100mb fre in data sense so you have to add some mb and it works fine.

Yes. That is a work around. Its not fine though. It is still a bug that needs to be fixed. I would like to use Data Sense and Whatsapp, not either or.

Works just like it was for me on WP 8.1 . No notification of features not working or so:)

Correction: I just got the notification muahaha!

Messegae window is verysmall compare to previous version, looks wierd at first, but actually reduces the space on screen giving room to more messages on dispaly.

still can't send mp3 files :/

Some said rename to .mp4 with file managers like Files and you will able to send.

but why wont they allow us to send mp3s? :0

Already loving, but still can't select multiple messages :) but already great!

Woww the new update is seriously amazing.. Lot more stable.. But sadly still they didn't add support to attach a music file.. Hope they add this feature soon

It doesn't work for me. I can't see any of these updates.

Found a bug with data sense. If you used more than your limit, it will say always: "please turn off restrict background data" on windows phone 8.1

While WhatsApp offers more features, the Telegram apps are so fast. WhatsApp still does the resuming... thing which I really don't want to see any more from any app.

Sorry WP 8.1 users hahaha you will wait for the next update WP 8 rock's hahaa

I expect 1000 comments here!

Its works fine in WP 8.1.. All the features are available.. Small bugs might be there but it doesn't affect the app performance

+1. Hopefully this week decrease using the new framework MS was pitching in the build. Still see it in many apps thought and I can't wait for this to go away for every.

I don't understand. Can someone tell me why people prefer Whatsapp than Viber, Line, Kakaotalk, Wechat, and Skype.

Most of the contacts are in WhatsApp.. Second best app will not even have 50% of contacts available in WhatsApp

But app will not get downloaded in sd card...

Because doesn't support 8.1 properly.

One of the missing features from the beta version is the ability to change background for individual contacts and groups.. Which is available in the beta for quiet sometime.. So this version is the not just the beta version released to public

Yeap. Noticed that. Just for stop all the crying haha

I don't want to sound like 'that guy' but I just checked the Store for an update but nothing new available. Went to the 'Details' pane and saw that my installed version (the one I've had in there for ages) is the same version 2.11.490.0 that Mark mentions above, which I think is weird considering the recent omission of the app from the Store for 'fixes'. Looks like I've had this version all along!

for some reason , it didnt forced update for me, so i uninstalled and re-installed to get few features. Restore your backup when you register again. May be take fresh backup before un-installing

Background data restricted.... Why am i getting this message and cant open the app?

Turn off datasense completely

Turns out its a bug,,. Put insane data limit (+2gb or so) and you wont get any such message..

Thank the sweet, dear baby Jesus!

Smooth as butter, fast as Flash. They've did a nice job on this update. I like the option to change chat text size.

When I set bigger font, chat font also become bigger. But my setting is smallest and chat font not tally.

I hate those huge fonts! It becomes bold... I want smaller like before... Arghhh

I have smaller fonts and i really like it.

True. The smallest font is actually a tad bigger than the next smallest option.

I feel dumb I just tipped about this came back and saw it here ....DUH!

I love this return and update, works and looks amazing. Thanks!!!!

PRAISE THE MAKER!!! FINALLY!!

i just wish my friends used it now. theyre still blinded by imessage and SMS

I don't understand why anyone would use iMessage... why would you use a platform specific messaging service? Stupid.

Its working for me i have windows phone 8.1.... Perfectttttt

Thanks!! Now i really have the best phone ever!

I can set privacy + chat background also wohooooo

Anything wrong with it on 8.1? Mine works excellent and don't want to mess up with it but want to check what's new

Scroll old message faster. Seems faster.

I can't see any issues in 8.1. Didn't have any before either though. This whole hullaballoo has been a mystery to me.

Perfect. Now MS i going forward in every sense.

Good. Wake up 7am. Update Whatsapp. Happy day.

Finally... No more cry!!!

Is it tons of faster or it is just me?

It's a lot faster alright

BOOM! Take that, all you doom and gloomers. I knew they couldn't/wouldn't keep it off the market for good. Still can't believe how many people were practically predicting the end of Windows Phone over a temporary absence, even when Microsoft themselves kept telling us it was coming back.

You winers happy now? Posted via Windows Phone Central App

God i hate those huge text! I dunno what happened but it seems the texts has become larger than before and kinda 'bold'... I want smaller text please....

To all of you that laughed at me, and called me stupid, I say to you,, never laugh at me again... But, carry on calling me stupid.

And so... Half of WPCentral's bandwidth will be idle, due to users not asking for Whatsapp anymore.

Does the background chat works in WP 8.1?

It does, but I find it a little laggy, you open up a chat and it'll load the background first and then a second later the chat. No big deal but not as fluid as it should be. What's still frustrating is that you can set separate tones for groups and individual chats, but you can't select No ringtone for either. Sucks because all I've needed from Whatsapp was to be able to silence my constantly active group chats but leave my individual chat notifications on.

Yes. All features works just fine.

It does.
The app seems much better now

Thank God! Now life as we knew it can return. As if global warming alone wasn't enough to worry about we had to have this catastrophic problem too! The First Wold can be such a bitch!!!

Nice changes. It was worth the wait. Liking the picture name and time stamp. Keep improving now WhatsApp. Thanks wpc team for putting up with us. You guys are awesome

Am I the only one with it crashing as soon s you tap it? Boom, back to start screen... L1520, WP8.1 Dev Preview. Multiple soft resets done already. Also it's a fresh install.

I thought everyone dropped WhatsApp and went to Telegram?

It also doesn't let you install whatsapp on sd card.

It doesn't support 8.1 yet.

It does just send the app to phone memory and then try,,.it ll work flawlessly

Descriptions of What's App on Windows Phone store also was changed.

too bad it still lacks the ability to use images from onedrive folders

Glad to see the whining and complaining and moaning will now be over.

+925!... And not only in WP central. Maybe less whining as files is out too. What a blessing.

Not getting update on my wp8.1 Lumia 625.

Download WhatsApp on your phone memory,it'll work just fine

Where is last seen hide option???

Let's cry for Instagram update now!

Works fine to me! But i've to say, it always worked great for me WP8.1 N920

Excellent job Microsoft and Whatsapp. Would be nice to have a translucent conversation box and the ability to change its colors. WP8.1 is just awesome!!!

The color of the chat box matches that of your accent color. If you change the accent color, it changes as well

Nothing new..Could be done before also

#BringWhatsAppBack work, Daniel.

Everything working properly fpr whatsapp on windows phone 8.1... Those who having issues please check ur phones or ur internet connections please... I have worst internet but still no loads up no laggy its working perfectly fine...

True, everything it's fine in my 920 with 8.1 update.

Still no notifications unless in app...ugh!

Errors out everytime I try to install

Try restarting ur fone and do it again

I got an error while I try to update it. Error 8103012e. I restart the phone and the error still show.

which phn do u have? And which region did u set?

Pheww!!!God Exists!!! :D :D

It's not getting installed...
Showing error code 8103012e
What's the solution friends...

Status shortcut is missing... Gotta go to settings n profile n update... It would've been nice if background displayed in main screen rather only in chatscreen

It has improved a lot and happy about that....but what about the vibration problem...have they sorted it out? I didn't see any option to turn that off. And still crashes when I tried to load some people's profile picture.

Mine is telling to switch off the "restrict background apps" in data sense which has been already switched off.. It's also not going any further and staying on the screen... Can u please help

Well switch off the data sense and make the data limit as off. Should work then :)

change your data sense to a higher GB... I changed mine from 2GB to 5GB... it should work

They changed the conversations so now the messages use one line instead of two as they did before => more messages in the screen :D

Finally all d cry babies can relax now... :)

Wow!!! Works smooth and perfectly in my lumia 1320

Seem to be much better, more like the android version I was used to. Wallpapers etc, lots of great stuff, but, it's 17mb, which is big I think.

Nope, I'm not voiding my warranty or pretending to be an app designer. I can wait. This fix isn't for 8.1 I think.

Well, it works perfectly on my Lumia 920

Lolz what a dick u r . Warranty . Lolz

Yeah warranty cause I buy my phones, not like you who steals them, cause your a cunt & so is your mummy, got that?

Your words speak for you!!!

Trying to setup an account. Neither the SMS or the voice call verification are working. I don't get any txt or voice call back like it says its going to do. I have a L1520 with 8.1. I also have datasense turned off.

Update: rebooted my phone and I immediately rwceived a phone call with my code in a VM.

Congrats. I thought some of you guys was going to commit suicide!!!

It's better now.. Seems faster.. But when I opened it for first time it said that app does not support my phone feature so some features might not work.. What's that for? Isn't it optimised for 8.1?? Or will the experience be better with cyan update?

Are u getting notifications....

The functionality to not show messages in the banners is gone. Now all my messages showing up in the banners and notification center. Really annoying

I even can't use it. It keeps telling me to turn off my restrict background data, although it's already off. Frustating.

Same bug, just turn off everything, even the data control, they have to fix it

The problem is solved. I set my datasense to 'unlimited' the apps starts working.

Thats not problem solved. Turning off Data Sense or setting the limit to unlimited is not problem solved. Its just a work around :-). I want to be able to use whatsapp as well as Data Sense with my limit set (as it did before).

its because of ur limit on data sense turn your limt on data sense to none it will work

its because of ur limit on data sense turn your limt on data sense to none it will work

I can't set a chat background!!!

I had expected it to show the ticks on the homepage of WhatsApp. But a good update nevertheless! Expecting more! :) *greedy*

Rudy hyn should be hired for next update

Wohoo! lets celebrate great start for the weekend Daniel :) cheers

Can't update....error while downloading.

Restart your phone people and be patient if you get any error messages. It will get better with updates as they are finally on the right track. Good work team WhatsApp and team MS. Keep it up

Hello. I have a L520 with WP 8.1 and I can't download When it starts to install a message appear! The error code is : 8103012e I have try a lot of time. Could anyone help me?

If you have the app installed, uninstall it first. It's risky, but it did work for me after the same error.

New message from them as I didn't have WhatsApp before, they won't allow the app to downloaded to the SD card.

Thank God. As useless as this app is to me I'm glad its back to shut people up finally.

The option to record audio apart from the usual Push to Talk has gone missing. That was something I used to use regularly!

All hail!!!! The most waited app is back!!! Thanks Microsoft!!

Scrolling up and loading older post is more faster

You made my day beautiful my man..

I'm sorry guys . My 920 broke 2days ago and the only decent phone I could get to replace it was an HTC one m8 Posted via Windows Phone Central App

You don't have to apologies. It's a good phone.

It is good this versión, keep going team.

Wow!! Amazing!! It's not crashing anymore on my Lumia 720... And it's blazing fast... Between pages!! I'm proud to use it and show it to people. And it also has background wallpaper and privacy settings with more options!! Just great!!

fial to update it so i uninstall and install it :) Great update

Why cant I set individual backgrounds for different chats?

WhatsApp becomes 17mb application while earlier it was just 8mb app....

Wow, just realized that there's an option to hide your 'last seen' status.

Still can't select more messages n forward to others . Still tha feature missing . Can't even select bunch of videos n send . That's bad .

Make new version for windows 8.1

It's very irritating that the app won't open if i have background data restriction!!!!

Where is the option to enable chat background for a particular contacts

Finally, 1520 here we go.

Now thats what I call perfomance. I know lot of people suffered a lot in past few days. WhatsApp was hiding itself but Taking Back Steps Doesnt Mean That Someone Lost..it is proved by WhatsApp by giving it's BOMBASTIC come back. This is a straight answer to Windows Phone critcisers. I know android is way ahead of Windows but dont froget Android also took time to get set up and seeing that speed,Speed of popularity of windows is more than that of android. Nokia Rocks!!! Opps....Microsoft Rcks!! :)

Regardless, it is crazy to caused such distruption to the users - new and existing ones. Why can't Whatsapp continue to work with the patches, while keeping the older version on the store? Android and iOS don't have such hiccups. Unless Whatsapp need to tailor made a version just for Windows Phone due to its OS limitations?

I have to agree with ur point....they must not stopped it just like that. But it's ok as I said tey are in starting point moreover it's damn easy to create Android app comparing to Window app whih mainly use Softs like visual stdio etc so we should give sometime and support windows instead criticising it :)

I don't c multiple video to forward ? If pics y not videos . I get loads of porn on weakend but its irritating to frwd 1 at at tym to my frndz

WhatsApp made Data Sense unusable....

What wonderful news to wake up to !! Thank u whatsapp & MS !!

Clearing the notification msgs from the action centre won't clear the live tile msgs..may be that's what they mean by no support for WP 8.1..anyways good work from WhatsApp and MS..

I wish they could do the same with Twitter

I take my words back. WhatsApp rock

Still not optimized for my 6 inch 720p screen...

They make the contact name smaller.. :(

Anyone noticed that chat backup is now saved in SD card. Before it was just an empty folder. Great now people can stop whining.

Great for those people using low end Lumia's with SD cards. The rest of us are stuck with on device backups that cannot be sent to Onedrive etc. Annoying

Can I finally send mp3's?

Yes u can.....if u have dwnloaded the file manager.......go to the song which u want to share.....change its extension to mp4 and move it to camera roll.....then u can share it

I never thought of that.. Thanx man..

Sending a download link will be much easier..

Yes. one drive integration made things very easy

What file manager app are you referring to ?

Files......official file manager from windows

That's the one I used.. Worked..

Finally its here. Thank god.

The app is pretty fast as compared to the previous version. Really loving it after the update :)
The only thing I am missing is the feature to set custom chat backgrounds, please add it WhatsApp and team Microsoft :)

Backgrounds are available in this version.

Go to settings--> chat settings.. You'll find option for chat background

Can you tell me how to get the notifications in the action center? I only get notifications when in WhatsApp itself.

Go to settings--> Notifications + Actions--> then swipe down there would be app names... There would be WhatsApp also... Then tap on WhatsApp ----> enable the option "show in action centre" then all WhatsApp notifications will show in action centre... Hope it'll help you.... Thanks

Hey guys can any1 tell me......where can u find the audio files which we receive on whatsapp......

Way Wah Wah I can't believe people are still complaining....Guess there will always be people who find something to complain about.

Now we all should thank Microsoft. Because they helped to make it possible else it was never gonna happen.

Hey now my flow keyword is not working on my wp8.1 how to activate it and is not ahowing me suggestion word on top of keyword...how to fix it

Hey.. You can fix it.. Go to settings--> Keyboard--> there would be your keyboard language with option "tap to change" --> tap on it and you'll get various options for your keyboard... ---> check all the boxes and your keyboard will start working correctly.. Hope it'll help..

Yeah tnx...i frgt this step...now got it...ya I have installed four keyboard that's why its happen one of English keyis not downloaded... n m using this one which was not downloaded....now working fine

Still don't have the option to upload audio file, oh well..

Works fine on my HTC Radar. Yeah that's right.. 7.8 here <--- #YOLO :P
Love the update

Wow, cool haha. How's it holding up man?

It works bloody fantastic.. I think it works the best on my Radar now. Beautiful update. Can't really set those custom tones but who cares eh? :)

I m not able to see my status while tapping on d grp to see it ny1 having d same issue???

Whats the Point and Fascination with WhatsApp? And Other Chat Apps like it? Why not Text? Why not FB Chat? Why Not Twitter DM? There are so many other ways to chat why do we need yet another a text app that really isnt texting?

Working fine, down under! MS please work with VideoLAN to bring VLC to Windows Phone Store; yesterday.

Kudos to the devs and MS!Awsomely made and seems damn faster now!Just make the UI a bit better like metro and this will be perfect whatsapp!

I can't use data sense. It still asks me to turn data sense off :/

Can't be installed in SD card wp8.1.....only installable in phone memory

Yeah.. Same problem here.. But i have no problem in moving it to phone storage.. I am happy now WhatsApp is at least became powerful.. for windows phone. No silly lags or problems .. "Der aye durust aye"

Hooray! No more moaning. Now you can all cheat on your partners without leaving evidence on your phone bill.

Worked fine even the dialog boxes are smaller in size. Love the background pics. They should keep updating.
WP8.1 Lumia 520

good job for the developers!!

But still no option to send send mp3 songs!!! But great update!!

You can. Its a long process but it works. Need file manager though. Check comments above.

I just updated and now it's saying "Background data restricted. Please turn off Retrict background data in Data senes settings". This is inspite of Restrict backround data being off. I uninstalled and reinstalled the app. It started working, but now it couldn't recognise any of my contacts. After a few minutes of it working like this, it's showing the background data thing again. Has this happened to anyone else?

Well this background wallpaper is super cool... Can any one share it?

The restrictedbackground issue is haunting me too. I cannot use whatsapp after updating. It wants me to allow background data in data sense, but it is already allowed. Re-installed whatsapp and also restarted my phone. Did not help. Not sure what to do now...

for temporary solution, try to set the limit setting on data sense itu unlimited or none specified. It happened to me and this fix this issue (for now). Let's try to contact the developer about this

It keeps telling me my data must be unrestricted otherwise I can't use it! And my data is never restricted.
Help!
Windows Phone 8 Nokia Lumia 920

if you set a limitation for your data usage on data sense, try to set the limit into unlimited or none specified. Fix this issue for temporary

Yeah! I've been waiting for this for a long time.... BBM next.

I don't understand the need of all those apps. There's too much of them, they do the same things...I mean, this isn't useless but come on.

Can't seem to find it in the store

I had to install on my phone, got an error message that the developer doesn't allow the app to be on sd

It's so beautiful. It feels like I want to cry.

WhatsApp now supports transparent tiles

It had always had a transparent tile.

Nice one! Thanks so much!

Fast, smooth. Just needs notification fixed in action center. Awesome update though. Keep it coming

rest in piece telegram,viber,all othere whatsapp is back

Awesome update. Like the way they rearranged everything to kind of match the android app. Working Awesomely well on my #L920 Lumia Black Update.

The moment I pressed the key for update, it says it doesn't support winphone devices. Sone feature may not work, still went on with the update n liked it. But still I feel to ask, is it official now??

still can't share audio :(

-First, create a WhatsApp Audio folder under Pictures folder using your favourite file manager. -Next, find the music file you want to send under yourMusic folder, and copy it to the WhatsApp Audio folder. -Then using your file manager, rename the extension of your file from MP3 to MP4. -Then simply go to your WhatsApp conversation, click on the Attachment paperclip, select Album, find your file in the WhatsApp Audio folder, attach and send it. -The files will be received as MP3's even after being renamed as MP4s

Wow! That actually works!! Thanks! :)

My device is lumia630 and its working perfectly without showing the warning ⚠ messages..cause this device running the official wp8.1 ....the app is completely support wp8.1

WhatsApp keeps telling me, DataSense is set to limit background data usage. However this setting is turned off. When I disable my mobile connection and force the phone to use wireless lan, WhatsApp is not bugging me.

Never mind, just saw the other comments about this bug.

Nice update had been waiting for background images in chats since 2 years hope next update allowed to share mp3 files. Egarly waiting for next update!!

Something that is going unnoticed by alll of u is that unlike previously when u had to record a news video to share, you can now even upload one from your gallery. P.s I wish the implementation of background was throughout the app and not just in chats . Also the new chat bubbles seem crammed and odd but love the performance tweeks though

You have been able to add previously recorded videos for a long time now. It did have a 16 mb limitation though.
I've been sending videos in such a way for months now

Great update! Still two things left:
- The message shouldn't be in the title of a notification (which is extremely annoying in the action center)
- Still no individual colors for everyone in group chats :(

You can disable the first option

Sorry for being unclear. I meant that the message should be in the description instead of the title.

Best Update ever Working very smoothaly in Windows 8.1 I m so happy With Windows OS

Still no backup to OneDrive?? Oh, how I wish we could get that feature!

That would be awesome. The only reason why I'm not doing hard reset even though I have problems with WP8.1 is that I can't get my chat logs back.

Yes, I saw the backup feature on my sisters iPhone. That is literally the only feature I long to have from the iOS experience.
I'm lucky in so far as my 1020 is glitch free on 8.1. So I can afford to wait longer.
It surely can't be that hard to implement though? They already offer on device backups....
Hmm, Whatsapp! A love/hate relationship for sure!

WhatsApp is now exporting backup to sd card..that empty folder on sd card actually has a exported file now...maybe some manual workaround can help u temporarily solve one drive upload problem...

Cheers for the tip - however, the 1020 doesn't have an SD card slot...so I don't think this workaround will work.

Where is custom sounds???? i cant assign my custom notification sound for whatsapp from Action center setting... Is it only me or all have this problem???? please reply.

Open WhatsApp---tap three dots---settings---scroll down---notification sound ..hope this helps

Ya I get that but where are the tones that I was able to assign from action center which I downloaded to phone in ringtones folder.????
In the WhatsApp setting u can find only default tones that are preloaded with phone.... U getting my point??

I also tried but no custom sound for notification

Ya i get that..will be great to have that option too..the new update has made it ALMOST parallel with versions on other os which wasn't the case 24hours back.so hopefully they will keep pushing updates and adding those remaining features at a better pace

Still take much time to open the app. Make it FAster...

Never expected this.. Reading the user comments here, I thought I would have to wait a long time.. Happy to see Whatsapp updated. Now the app feels smooth..

I wish it would show the online status of a person in the contact list.

I installed WeChat when I lost What's app, been on Windows Phone 8.1.. After reinstalling Whatsapp today I realise how much better Wechat is. Shame most of my contacts are using What'sapp

Now i can load older msges and WhatsApp is not getting crashed. Great ;-)

Why I cant get the notifications as I have reinstalled the app...then also no notifications coming plzz help....if someone facing this problem.too..

If you are on 8.1...try visiting action centre ---whatsapp and see if notification banners are active... Also try WhatsApp ---chat settings and enable show message in notification Hopefully WhatsApp is enabled to run in background ---see from battery saver Try to restart your phone snd reinstall the app..it will work as it should work

Notifications still don't work for me... Wp8.1

Finally.
Just take a look at the reviews of other messengers with people cursing Microsoft for removing WhatsApp.
Make some noise Microsoft, two weeks...!

I feel like going to MS headquarters and kiss everyone for this work :p

I updated but I'm still on wp8. And it's screwed my start screen and lock screen. Its black and white now. Any ideas?

I don't think WhatsApp can do this Go to settings---ease of access and ensure if you have Disabled high contrast

Ok wow I can't believe I was this dumb. Thanks!

Glad it solved your problem..actually its one of those hardest option to detect for most new users.. Its not very easy to access Ease of Access!

A bit if a joke really, how hard can it be really to make an app compatible with Wp8.1 with the resources Microsoft and Whatsapp (Facebook have). Working on a fix, get real than release a version that has issues

I personally didn't like to changes in it
1.removing status update button from bottom log now if we wanna update the stat we hav to get in through settings-profile-edit-then u cn update.
2. The have removed the slot where we can see whether we are connected (online) or not in the account section
What u say guys on dis?????

I love it!! :) No crashing, lagging plus refreshed UI.

Why I cant receive any notifications....i have reinstalled the app then also no notifications plzzz help

HELP! When I try to open the app it says that the data is restricted in data sense. But that's not true! I can't open the app!!

Open data sense---settings..set limit---chose NONE Restart..that will do it

Notifications are still not working for me. WP 8.1

Thanks for coming back to the store.... Wt updated & fixes....

Audio option has been removed.
Still cherished by the performance !! ;)

Has any one noticed that the expiration date has been moved by 1 year? Mine has been extended by a year!

This was because your(and only your) one year subscription was about to end..WhatsApp isn't charging people from countries where credit cards are still not very popular..so they renew it for free However in words of WhatsApp officials this is temporary ..a temporary situation that has lasted almost since WhatsApp was first launched In world of whatsapp..Being from South East Asia is a privilege...a one dollar yearly privilege

Haha! Proud to be a south-asian then!

Its showing background data restricted..bt it isnt.. I ve cheled the setting, restarted my phone.. Nothings working

Don't review bad for the app.. It will be remove again from the store.

How to backup WhatsApp messages in (Lumia 1020) internal storage phones?

Cannot install whatsapp in SD card, why?

Finally came video attachment. Getting warning megs, Woking fine

Is it WA that's killing my battery now?

That buzzing sound is still coming from the external speakers when I open a chat. Goes away once the app is closed. Lumia 920 8.1

A problem comes back. When tap the Whatsapp icon, it returns to conversation list even my last scene is in a conversation..

Works like charm..... Much happy now....WP rocks

I still dnt receive notification (8.1) what's da reason guys???

Loving it. Its the most complete app. credit goes solely to Microsoft and not to Whatsapp team.

I need your help. I am currently running WP 8.1 Preview, and while half-way through the installation process I get "Error 8103012e". What does it mean and what can I do? Thank you in advance

Bleh, compared to Viber this app still sucks, I dont understand what all the fuss is about.

So far I didn't notice any lag or crash while loading old chats, exchanging voice notes frequently and exchanging loads of of pictures. They've done a pretty good job. :D I'm happy with all, yes, all tiny fixes like the progress bar while downloading and all major fixes like the stability, privacy, etc.. :D Hope the next update brings the ability to send and save pre-recorded audio. :D You guys rock! \m/ Thanks a lot! :D

Do the custom notifications work with Windows 8.1?

I did noticed another new feature, you can share photos directly from the photos hub. Just select share option for any photo and you should see "WhatsApp" sitting in there

Happy for the update, sad for the fact that it crashes when I click on a friend's name to see her/his profile. But I'm on 8.1, hopefully that's the problem!

Noticed another new feature, now you can share a photo directly from the photos hub. Just select share option for any photo and you should see "WhatsApp" option sitting peacefully in there.

Noticed another new feature, now you can share a photo directly from the photos hub. Just select share option for any photo and you should see "WhatsApp" option sitting peacefully in there.

WhatsApp become completely useless after the new update

Yay! Awesome. Waiting to check my battery performance.

Much awaited update. The progress bar was desparatly needed. But multiple messsage selection as in android(for deletion or forwarding) still not possible

Thanx for bringing watsapp back with good features

the folder in albums is still same, "Other Pictures". is it same for all others, or just me.

Error 8013012e! Please help asap :/

Still lack feaute to share mp3 and save mp3 to music hub..

It doesn't show notifications in WP 8.1

Seeing the what's app and file manager... It seems microsoft is adopting shut up and ship seriously

Help not receiving notification

First of all thanks it's back. But app it's still buggy.
Whenever i tried to upload recorded video app crashed.

Seems faster
Took very long although

Working perfectly on my Lumia 720

WOW, Working great after update. Faster, smoother (no crashing) and with lots of new features. Using on my Lumia 720 with WP 8.0 GDR update 3.

Seems to be working perfectly fine and quite fast and fluid. -Lumia 928 with WP8.1 Developer Preview

Can anyone tell me why group conversation don't have colors to distinguish members??

does it support pre recorded audio and video sharing ?

Works like a charm....can even send videos and audio stored in ua phone n SD card...

It has actually started working faster than ever and has not crashed once since morning, I have been using it all day long ave ave I had also forwarded really long messages. SO HAPPY.!!!!!;;;;)))))

Showing error 8103012e..can anyonone help me out?

Try this-- 1.Ensure app installed on phone memory and not on sd card
2.Restart your phone
3.Manually Sync Your live id
3.Delete already installed WhatsApp and then install (do this only when no step works)

I have the same problem with new update of whatsapp,shows messages background data restricted turn off it,but it already turn off,is any body tell me the solution

Stil we cant send mp3 files.

someone said he expected an uodate! :D
(the guy got ridiculed for it.. but he was right! )

-Fɪʀsᴛ, ᴄʀᴇᴀᴛᴇ ᴀ WʜᴀᴛsAᴘᴘ Aᴜᴅɪᴏ ғᴏʟᴅᴇʀ ᴜɴᴅᴇʀ Pɪᴄᴛᴜʀᴇs ғᴏʟᴅᴇʀ ᴜsɪɴɢ ʏᴏᴜʀ ғᴀᴠᴏᴜʀɪᴛᴇ ғɪʟᴇ ᴍᴀɴᴀɢᴇʀ. -Nᴇxᴛ, ғɪɴᴅ ᴛʜᴇ ᴍᴜsɪᴄ ғɪʟᴇ ʏᴏᴜ ᴡᴀɴᴛ ᴛᴏ sᴇɴᴅ ᴜɴᴅᴇʀ ʏᴏᴜʀMᴜsɪᴄ ғᴏʟᴅᴇʀ, ᴀɴᴅ ᴄᴏᴘʏ ɪᴛ ᴛᴏ ᴛʜᴇ WʜᴀᴛsAᴘᴘ Aᴜᴅɪᴏ ғᴏʟᴅᴇʀ. -Tʜᴇɴ ᴜsɪɴɢ ʏᴏᴜʀ ғɪʟᴇ ᴍᴀɴᴀɢᴇʀ, ʀᴇɴᴀᴍᴇ ᴛʜᴇ ᴇxᴛᴇɴsɪᴏɴ ᴏғ ʏᴏᴜʀ ғɪʟᴇ ғʀᴏᴍ MP3 ᴛᴏ MP4. -Tʜᴇɴ sɪᴍᴘʟʏ ɢᴏ ᴛᴏ ʏᴏᴜʀ WʜᴀᴛsAᴘᴘ ᴄᴏɴᴠᴇʀsᴀᴛɪᴏɴ, ᴄʟɪᴄᴋ ᴏɴ ᴛʜᴇ Aᴛᴛᴀᴄʜᴍᴇɴᴛ ᴘᴀᴘᴇʀᴄʟɪᴘ, sᴇʟᴇᴄᴛ Aʟʙᴜᴍ, ғɪɴᴅ ʏᴏᴜʀ ғɪʟᴇ ɪɴ ᴛʜᴇ WʜᴀᴛsAᴘᴘ Aᴜᴅɪᴏ ғᴏʟᴅᴇʀ, ᴀᴛᴛᴀᴄʜ ᴀɴᴅ sᴇɴᴅ ɪᴛ. -Tʜᴇ ғɪʟᴇs ᴡɪʟʟ ʙᴇ ʀᴇᴄᴇɪᴠᴇᴅ ᴀs MP3's ᴇᴠᴇɴ ᴀғᴛᴇʀ ʙᴇɪɴɢ ʀᴇɴᴀᴍᴇᴅ ᴀs MP4s

Notifications sounds not working for me on WP 8.1. Uninstalled and reinstalled didn't help.

Superultraarchirequetereketecontra fast!!

When i turn high contrast on in WhatsApp's setting...it gets applied to the os as well....funny...

Actually its an OS setting shortcut that takes you to Ease of Access Settings..you can access the same in settings list They put that there so u can use same text size for WhatsApp and os--some like it and some just hate it

The problem is that when you increase the text size to 3 blocks, it has a bug that reduces you the letters :(

Its good to see it back!!! But why they didn't add the SD card support..unable to install it on SD card..Have to move it to phone memory

Atlast the Whatsapp cometh to WP.

Feel like WP was born again hehehehe. Good job MS. Keep it up. Push all other developers to respect your platform and improve their apps to match the quality of their existing apps on OS and Android. Thanks.

Pls can someone tell me how to send audio files with the new whatsapp?

-First, create a WhatsApp Audio folder under Pictures folder using your favourite file manager. -Next, find the music file you want to send under yourMusic folder, and copy it to the WhatsApp Audio folder. -Then using your file manager, rename the extension of your file from MP3 to MP4. -Then simply go to your WhatsApp conversation, click on the Attachment paperclip, select Album, find your file in the WhatsApp Audio folder, attach and send it. -The files will be received as MP3's even after being renamed as MP4s

I tried that but with this new update, I can't find my rename mp3 from the whatsapp audio folder I created

Actually u do all the steps like before and in chat window tap ATTACH----VIDEOS (instead of pictures) and it will work

My WhatsApp is showing "restrict background data warning".. Bt its off in data sense.. Still it is showing

Thanks wpcentral for the notification

If Microsoft can improve WhatsApp that much un just two days...i am happy to give them a week to make it perfect!!

Still very slow on Lumia 620

Really, we need a world wide alternative to Whatsapp.. I'm keeping my fingers crossed for BBM or perhaps Microsoft doing something with skype...

The app is pretty good now n I love the new custom backgrounds... But I think it still lacks the ability to send music..... An addition to the official app for this feature would be great

Says to turn off data sense even while it is already off. Worked fine before the update. Thanks MS to work closely with the WA devs to break a working app :/

Can you protect with a PIN prior to launching the app yet?

Please, give us the background that was using on the article of WhatsApp Beta :D

Funny I had no error message when I first opened whatsapp, I am on 8.1.

It's just me, or this new version is kind of battery drainer? :/

Just a thought I've noticed every since gdr3 and in windows phone 8.1 there bout a problem with apps notifications it's just the os won't give you notifications if you don't have s carrier signal even whilst connected to WiFi all apps do this not just whatsapp Facebook and Facebook messenger are the worst and Microsoft make them go figure

Only me have problems with notifications? The first day was fantastic, but today it doesn't working at all. I tried it on Ativ S Gdr3 and on another one with 8.1. Anyone have the same issue?

Hi. My dad has wp8 lumia 520. After the update of whatsapp, i deleted a contact in his phone along wid his whatsapp chat nd changed his privacy settings of profile pic nd status to 'My contacts' , bt dat person is still able to view his profile pic nd status. Wat m i doing wrng? Posted via the WPC App for Android!

Hi. My dad has wp8 lumia 520. After the update of whatsapp, i deleted a contact in his phone along wid his whatsapp chat nd changed his privacy settings of profile pic nd status to 'My contacts' , bt dat person is still able to view his profile pic nd status. Wat m i doing wrng? Posted via the WPC App for Android!

Hi. My dad has wp8 lumia 520. After the update of whatsapp, i deleted a contact in his phone along wid his whatsapp chat nd changed his privacy settings of profile pic nd status to 'My contacts' , bt dat person is still able to view his profile pic nd status. Wat m i doing wrng?

Awesome awesome awesome..now feels like we are equally treated as android user are treated love all the feature

Where's hide option??? plz some one tell me....

Is hide option available??

I am using L720 and running on 8.1 preview. After installing WhatsApp I was unable to see my contacts under favourites, moreover none of my contacts were shown there. I can only view my past chats that too showing only the phone numbers. Can someone please help...!! Worst experience using WhatsApp..!!

They should update the inside app vibration with options to turn it off and on

Is it just me? Or does the app seem to get worse with every update. First, they take away the option to share pictures from our onedrive photos, now, you can't seem to preview an audio recording before sending.

The privacy settings for windows phone WhatsApp is different Dan IOs n Android. When u hide the last seen from everyone even cannot view others last seen.

This happens in android too..

Whatsapp crashes back to start screen when opening info page of some contacts after the update. But overall the new update is pretty good visually. Makes it look more like the android app and adds new privacy features.

My WhatsApp also gives restricted data..programmers,plz...fix it,or delete the datasense....or revert back the update.

Any other resolution other than reinstalling? On the 920, i am admin for a few whatsapp chatgroups and it's really a hassle to reclaim all over again. I might also lose some message trails unless i start saving them all..

Updates are good, Looks like its not crashing much
But still if the unread messages are more than 100 it points to the end of the conversation instead of the starting point from where we missed it

Late but good update! Enjoying the new features. Setting background for chat screen is my favorite! <3


It's working fine except sometimes it's laggs and quit from the app .. but rarely,, thank you for this update Microsoft.

it says it is free for 7 months and then 0.89 per year??

why they canged the size of the messages

Does any body having battery issue after update... My battery is draining too quickly... :'(

Does anyone having battery issue after update???

It's back without the MOST IMPORTANT setting.
Disable saving media to the picture and video libraries.
I receive a lot of garbage on whatsapp and I can't disable this. A lot of them are funny but I don't want them hanging on my pictures tile. I've had to take the tile of my homescreen. =/
This setting have been gone for a while and I was really hoping that It would come back with this version.


Unistalled and installed Telegram, this app deserves this!

Where does the audio save to on your phone?? Ive got Lumia 620

still no notifications on 8.1

guys please help me out....i'm gettingthe notifications for whatsapp but cant open the application. App is getting stuck on splash screen and im not getting any error.

Even the 7.8 version got updated. Pretty impressive.

i keep getting "adding favourites" screen only on 720, not getting past that screen after installation

WPC team, please highlight this WhatsApp bug in your article, so WhatsApp team provide fix asap- http://forums.wpcentral.com/wpcentral-windows-phone-app-support/287403-w...

one feature i found missing from the older version of WhatsApp is. In the older version, if you go to setting and swipe left, it showed you if you are online or not connected. There is no such option / place to check in this new updated WhastsApp. Or am I wrong? Did anyone amongst got the option to view this info?

CAMCODER new feature LOVE IT !!!!!!

So, still no option to turn off auto save media?

I have a problem with whatsapp, on HTC 8X: i make good photo, but when i send it to someone, the person receive bad quality photo. Where should I find the solution? i have last version Whatsapp

its working well with my nokia lumia 1320 wp 8.1

Now how can i send songs through whatsapp?

Dear Team, Hi !
I have Nokia L920, till last week i was able to forward my message to broadcast list vis whats app. Suddenly i am not able to forward message to broadcast list in whats app. Please suggest.
1. I reinstalled the whats app, 2. cleared all the old sharing in the BC list.
Still not able to forward