Microsoft leadership: Here's who is accountable for what in Redmond
By Jason Ward last updated
Whether it's Windows, AI, or mixed reality, Microsoft is a big company with lots of irons in the fire.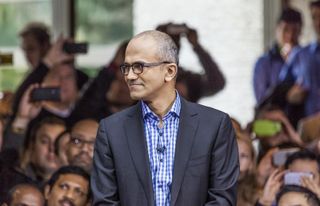 Achieving and maintaining a leading position in the ever-shifting world of personal computing is no trivial task. Sometimes a company enters a space, becomes an industry leader, and competitive shifts or internal errors causes that company to plummet to survival mode, as Microsoft did with smartphones. Other times a company struggles from ground level and attains a respectable position in a particular industry as Microsoft did with Xbox.
Some people may attribute a company's failures to external forces while others would credit leaders for success. Success or failure is a mix of a company's leadership and industry conditions, however. Sometimes, companies succeed due to favorable industry conditions, (the failure of a competitor) despite questionable leadership. Other times, good leadership isn't enough to overcome industry forces that work in favor of rivals.
With this context in mind, let's take a look at a few leaders who are setting the strategic direction of some of the most prominent businesses at Microsoft.
Chief Executive Officer (CEO), Satya Nadella
Satya Nadella (opens in new tab) succeeded Steve Ballmer as Microsoft's CEO in 2014.
"Mobile first, cloud first," where he explained "mobile" as the mobility of experiences, is Nadella's mantra. He announced at Build 2017 that, like Google, Microsoft has moved toward an AI- and cloud-focused vision, or an intelligent cloud and an intelligent edge.
Nadella's cloud-focused strategy isn't only attributable to the obvious industry move toward a device-less intelligent cloud computing platform. His experience as former vice president of Microsoft's cloud and enterprise group, a position currently held by Scott Guthrie, certainly plays a role in his affinity for the cloud.
The company's latest reorg around a cloud-focused sales and marketing core is further testimony to Nadella's vision of cloud computing, where Microsoft is second only to Amazon. Some fear this reorg expands the gap between Microsoft and the admittedly less lucrative consumer demographic. Time will tell.
Ideally, Nadella's concern for emerging markets, like his home Hyderabad, India, will continue to impact his leadership. In the past, he referenced the importance of Continuum's ability to turn a phone into a desktop for consumers for whom a smartphone is their only computer.
Nadella's reference to an ultimate mobile device and a recent statement of Microsoft's commitment to phones gives hope to Windows phone loyalists that Microsoft's cloud-focused actions are not indicative of an abandonment of mobile.
Nadella has a bachelor's degree in electrical engineering from Mangalore University, a master's in computer science from the University of Wisconsin and a master's in business administration from the University of Chicago.
He has three children, a son Zain and two daughters Tara and Divya, and lives in Bellevue, Washington with his wife, Anupama. Nadella's easy-going demeanor is likely influenced by the strength of character and compassion many parents with children with special needs exhibit. His son Zain has quadriplegia, and one of his daughters also has special needs.
Chief Marketing Officer (CMO), Chris Capossela
Chris Capossela is Microsoft's CMO, and he has over 25 years with the company. Capossela is passionate about fulfilling the company's mission to empower every person and organization to achieve more.
He has worked toward that goal in various capacities at Microsoft. He was a leader in the Microsoft Office division, marketing the company's productivity tools. He was also responsible for marketing and sales with OEMs, retail and operator partners with the consumer channels group.
Capossela explained (opens in new tab) Microsoft's marketing strategy of engineering one product into another. Skype as part of Office is an example. This strategy has been successful for Microsoft rivals Apple and Google, which Capossela acknowledged have better integration of products promoting other products than Microsoft.
Relative to Apple and Samsung, Microsoft strategically doesn't spend a lot on aggressive television ads. Whether that's good or bad in a consumer-driven market is up for debate.
Capossela earned a bachelor's in computer science and economics from Harvard. He's originally from Boston where as a boy he wrote a reservation program for his family's Italian restaurant. He currently lives with his wife and two daughters in Seattle.
In a previous position, Capossela helped "partners deliver new consumer experiences through Windows, Windows Phone, Office and Xbox." Microsoft's current position in mobile and the threat Apple's ARKit poses to Microsoft's AR and HoloLens investments from developer-support, mindshare, and consumer perspectives has prompted loyalists to desire more aggressive consumer-focused marketing.
Executive Vice President of the Windows and Devices Group (WDG), Terry Myerson
Windows is core to Microsoft's personal computing strategy. Terry Myerson oversees the Windows ecosystem which includes the platform, games, apps, the Store, and Minecraft, as well as the Windows 10 family of devices, including Surface, Xbox, and HoloLens.
Myerson has the difficult challenge of ensuring the synergy of the Universal Windows Platform (UWP) with a complete portfolio of Windows 10 devices that is currently missing the phone. Myerson has reiterated Microsoft's commitment to mobile but divulged little else. One can only hope that he and Microsoft are exercising "HoloLens-like" silence in relation to Nadella's ultimate mobile device, where the device remains a secret until it's time to be revealed.
Myerson earned a bachelor's in mechanical engineering from Duke University. His wife, three children, and golden retriever live with him in Washington state.
Executive Vice President of the Artificial Intelligence (AI) and Research Group, Harry Shum
As Executive Vice President of Microsoft's AI and Research Group, Harry Shum directs the company's AI strategy and oversees all AI-focused groups. This includes providing the company's vision for research and development, infrastructure, agents, apps and services, and providing leadership for the information, Bing and Cortana groups.
Microsoft's AI and cloud focus makes Shum's role vital in a highly competitive space where Google, Facebook, IBM, Apple and Samsung have made huge investments in AI.
Shum, who is a recognized leader in his field, joined Microsoft Research in 1996 and just this year received the honor of being elected to the National Academy of Engineering of the United States.
HoloLens creator and Technical Fellow of the OS Group, Alex Kipman
Alex Kipman is the creator of Microsoft's groundbreaking untethered, wearable holographic computer, HoloLens.
Kipman believes that the AR technology demonstrated by HoloLens will eventually replace smartphones. In fact, he has already declared the smartphone as "dead."
The Brazil-born Kipman joined Microsoft in 2001 after graduating from Rochester Institute of Technology. He has worked on Visual Studio, Windows and Xbox. Kipman is also the man behind the once very popular Kinect motion controller.
Kipman told Time magazine, "Software is the only art form in existence that is not bound by the confines of physics. You are only ever bound and constrained by lack of imagination."
Kipman's technical skills and creativity have helped the company pioneer groundbreaking AR and VR solutions via Windows Mixed Reality. Unfortunately, those lightly publicized AR efforts face a serious threat from Apple's consumer-focused AR strategy, which will be broadly known in the consumer and enterprise spaces.
Devices Chief, Panos Panay
Panos Panay is responsible for delivering the company's vision for its premium Surface hardware brand. Panay pushed a failing Surface through two iterations to the forefront as a premium industry-respected brand.
Panay is passionate when he presents the products he has labored over designing. He shared during Build 2017 that as a boy his dad taught him to be meticulous while they worked together repairing televisions. Because of what he has achieved with Surface many fans eagerly anticipate what a possible Surface phone might be.
Xbox Head, Phil Spencer
Phil Spencer joined Microsoft in 1988 after earning a bachelor's degree from the University of Washington. Spencer became head of the Xbox, Xbox Live, Xbox Music and Xbox Video teams in 2014.
He refocused Xbox on its gaming, rather than general media device roots. Xbox as Microsoft's most successful consumer product has the elusive cool factor its other products need.
Spencer recently made headlines when he stated affordable consumer AR headsets are five to 10 years away.
Wrapping up
Microsoft has had many failures and successes over the years. Some are attributable to leadership while others were the result of outside forces. Leadership is key, however, in planning the future and navigating sudden shifts to either course correct or minimize damage.
The above leaders represent a portion of the teams that have helped bring Microsoft where it is today. If you could say something to these leaders or ask them any question what would it be?
Jason L Ward is a columnist at Windows Central. He provides unique big picture analysis of the complex world of Microsoft. Jason takes the small clues and gives you an insightful big picture perspective through storytelling that you won't find *anywhere* else. Seriously, this dude thinks outside the box. Follow him on Twitter at @JLTechWord. He's doing the "write" thing!
Thanks for reading folks!!! Naturally I couldn't include all of the leaders at Microsoft. I did include those that I felt represented the areas that we normally cover here and discuss within this community. CEO, Marketing, Windows and Devices, AI, Mixed Reality, Surface, and Xbox. I covered cloud under Nadella since that is his focus with a mention of Scott Guthrie. So what would you like to say to these leaders or what would you ask them? LET'S TALK!!!

I think this article was very informative of who does what, when it comes to products that consumers care most about. IF MS can combine the products of all these departments into a consumer desirable product that works across all devices, especially that ultra-mobile PC, Satya and the others will succeed. However, once they develop a compelling device that can take full advantage of AI, AR, Cloud, Xbox and other services, they will have to push hard in the consumer market. I do agree with Bill that the Cloud is the future of software and Satya is definitely keen on it. I just hope it results in a product that we all consumers and enterprise will enjoy using for personal or business purposes. I will admit, as a consumer and fan of Windows Phone/Windows 10 Mobile, I've not been appreciative of some of the decisions made in that area. However, I also understand that decisions aren't always going to make sense to consumers. Anyway, great article! Let's see what the future will bring.

I have a feeling consumers won't be the focus again for some time, which means less focus on phones and wearables and windows functions that matter to the average person. We're just not what the company is finding profit in right now. Business is booming in the cloud and intelligent computing segments while personal computing consumers have largely picked up their bags and moved elsewhere. Even the Xbox one is struggling this gen as gamers move to PC based gaming and the PS4 (which actually has more than three exclusives worth buying). It doesn't help that they're still paying for the anti-consumer practices that tripped up their launch. For the time being this is fine. Microsoft doesn't seem to have the resources or patience right now to chase every segment of the market. They need to please shareholders and that means profits first. Besides, it's not as if Microsoft has historically chased average consumers. We'll always be in the peripheral. The focus? Not typically.

Consumer evangelism has a lot to do with success too. Seems a lot go of people go out of their way against Microsoft then rave about half-ass features from competitors.

Or, are they sick of the half-ass features that microsoft has been giving them and decided to go elsewhere...

Remember these faces, people!

Terrym Myerson has become skinny. I remember when that dude was a fatso

Also so good to see Joe Belfiore's face gone. He didn't help us with Windows Mobile or Windows phone and we MSFT fans don't need his inabilities to market new devices.
.
Panos please come out with a mobile device you help design possibly to replace all the iPhones and Android / Blackberry phones out there!

Belfiore is not gone from Microsoft. He's now part of their Windows 10 and Microsoft Edge team rather than their hardware team.

He works at Microsoft kitchen, cooking hamburgers

I confused him with that HoloLens creator guy. Same hairdresser maybe.

Nice article, Jason.. :)
Now regarding the new Windows Central website. Is the hamburger menu supposed to work? It's simply there but doesn't do anything. How do you login?

So these are the guys failing to adapt to modern times.

They're out of touch. No wonder tablet mode is bad.

I wish Spencer and I could be friends haha He's such a cool guy Not to mention he has made so many fantastic decisions for Xbox

I would never have believed that Microsoft had a Chief Marketing Officer until I saw his picture.

That's funny in a sad way! Cheers mate :|

I think I do much more marketing for microsoft products than Microsoft itself. I have shown the videos of Surface Studio, Fluent Design, Hololens, Surface Book, Surface laptop and surface hub to a lot of people and they get surprised to know that Microsoft is doing so much and they don't even know. Even Apple introduces "our" live image capabilities in their iPhones and whole world loses minds.

The CMO? He is the worst among all the tech companies in these Galaxy, he and his teams should be remove and replace.

I agree. He's the most hopeless mongrel. Oh maybe 2nd most hopeless following the CEO.

Jason, nice article. I would ask Chris (CMO) why they have seemingly abandoned consumer marketing. Products like XBox, Surface, Skype, and Mixed Reality get minimal and in some cases zero consumer facing marketing. I to this day believe that if they had a cohesive and sustained consumer marketing program (that included more than a few TV spots) Windows Phone would have been a success. I know many blame it on lack of apps, but if they had marketed it right and gotten handsets sold, devs would have produced apps.

Doesn't really matter WHO they are, the poor treatment of their mobile users (not having the courtesy to inform users the platform is being shelved) dictates that you don't trust them regardless.

I think Microsoft needs more than a re-org to develop the ability to market to consumers. They need to bring in some new blood that has talent in that area. Maybe some of the 3000 laid off can be replaced by people who have a clue about marketing to consumers. Microsoft needs a division of Sales and Marketing that is accountable for Microsoft's success on the consumer front.

Only two of these guys are with a crap.

Who in this leadership claims responsibility for mobile or is it a *******?

Myerson / Nadella. Not hard to figure out.

No, Nadella alone is to blame for mobile's failure.

Uh, no. If anything, Nadella and Bill Gates are to "blame" for stopping Microsoft from wasting money on a failed project. But Microsoft's inability to do anything on the mobile space is Myerson and Belfiore's fault. They were the ones in charge to Windows and Windows Phone and they were the ones who failed to build a decent OS that attracted customers and developers to it.

A decent OS? Please. I switched to Android and heard all about how stable it is now. BULLSHIT. The Windows Phone OS is ten times better. The marketing and advertising of the OS and it's devices has always been garbage. Your are way off base.

Totally agree. We switched to droid 1yr ago. Our LG's does some wonky stuff and it seems there is always an extra step in Android vs Win10M.

Yes. They both don't give a flying **** to the marketing.

Mrwright53, thanks for jumping in. If you jump back into the piece, to Myerson's section you'll see where I referenced his responsibility for phone. I also make references to Nadella's vision for phone under his section and others. Panos, under the leadership of Nadella and Myerson is the man who will be bring the device to fruition.😎

Capossela's face is as exciting as the company's marketing attempts... It says it all.

As in burn them? Oh no I'm going to be censored again and deleted because of ironic comments!!!

Bill Gates? come on!, if someone has made Microsoft a great company is Bill, Satya is just there to increase profits, and make the stock go up so investors are happy, but you know what? For first time in 10 years being a Microsoft fan I'm going to have a break, and try other companies, Sony is one of them and I'll probably get Hi-Res audio phone and headphones since that is what I am interested as a consumer in this phase of my life. I'm a father of 37 years old, I'm done with game consoles and my laptop is just fine, no plan to replace it in the next 2 years.

*specially that marketing *****

Phil Spencer - Most passionate of all followed by Panas!

Yes agree👍, Spencer for CEO👍

I can see a lot of these guys are absolutely passionate about Microsoft and delivering products that their proud to create. Especially Panos and Terry. What I don't get is who decides on bone headed moves like dropping Media Centre? That's just an example but having a Media Centre product like what was in Windows 7, Microsoft could've baked that into Xbox, etc and owned the living room. Yeah, yeah, I know they had Media Centre available for OEMs for years but what came out of those factories was garbage. They were just desktop PCs. Microsoft should've built a bespoke Media Centre box with TV tuners, ability to take in pay TV as well as Free TV, Netflix, Stan, etc. with remote control as the primary interface and they could've used Windows 8 and subsequently UWP to realise that. Something that you could also game on our bride the web. I don't own an Xbox and never really used one but I don't know how well the remote works and I don't know how well it can record TV; happy to be enlightened. I've built a small Windows 10 compute stick type TV and none of the apps lend themselves to being controlled by a remote control. That's just one example. The other is Windows Phone. Here in Australia, it was never marketed. Nokia ran a couple of ads here and there and that's it. Microsoft don't know how to market stuff, at least here in Australia. That failure lands at Capposella's feet.

Jason, Scot Guthrie is also a key player in the Cloud division. You missed to mention him.

Hi Irfaan, thanks so much for jumping in and you're rightvScott is very important for the cloud initiatives. I intended to say more about him and had his content in my notes, but had limited space. So because I addressed cloud under Nadella I simply gave Scott Guthrie a mention under Nadella's heading: "Nadella's cloud-focused strategy isn't only attributable to the obvious industry move toward a device-less intelligent cloud computing platform. His experience as former vice president of Microsoft's cloud and enterprise group, a position currently held by Scott Guthrie, certainly plays a role in his affinity for the cloud."

Chris Capossela is Microsoft's CMO, and he has over 25 years with the company. Capossela is passionate about fulfilling the company's mission to empower every person and organization to achieve more...FAILURE!

No one responsible for mobiles 😂😂

Hi nikhilsatpute, Terry Myerson is responsible for mobile(phone), I mention that under his section: "Myerson has the difficult challenge of ensuring the synergy of the Universal Windows Platform (UWP) with a complete portfolio of Windows 10 devices that is currently missing the phone. Myerson has reiterated Microsoft's commitment to mobile but divulged little else. One can only hope that he and Microsoft are exercising "HoloLens-like" silence in relation to Nadella's ultimate mobile device, where the device remains a secret until it's time to be revealed." Thanks for joining the discussion!!!😎

One other thing which I'd like to note are that the first four leaders mentioned in this piece are part of the Senior Leadership Team, which you will hear referred to as the SLT, Nadella, Capossela, Shum and Myerson. There are many more members if the SLT and other leaders in the organiation but as I mentioned in the piece, I selected just some leaders to talk about here.

You can have a follow-up article to this one adding all other missing leaders...and then maybe follow-up with individual articles on each of them as well...citing key decisions made by them and how it propelled MS into current position.

@Jason Ward: Might wanna check out Satya Nadella's wiki page for more info. Lot of typos. For example: He did his Bachelors at Manipal Institute of Technology. His wife's name is Anupama.

Thanks v535 I transposed the letters in his wife's name😲I'll fix that. The other information regarding his education I'll stick with😉 : https://news.microsoft.com/exec/satya-nadella/#r0F1AHVfqKesL6UH.97

You can keep your stinkin' cloud, I don't want it.

Hope ICE or Homeland come knocking on Nuttela's door, the guy is an economic terrorist. And Hyderabad? Who gives a crap?

It's the leader of Microsoft I have serious doubts about. If he was to step down it wouldn't bother me at all.

They've all got $$$M in the bank and more in options. Not hungry enough to want to succeed.

Get your head in the game and realize the consumer market IS the enterprise market and vice a versa, This isn't 1997 anymore. And get a cooler marketing firm then start marketing the hell out of your brands.................or become IBM.

For a long while Microsoft didn't have a clear strategy under Balmer...thanks to Satya atleast there is one even if it doesn't have consumer as a priority. This will help MS stay relevant. It is deeply entrenched in enterprise and they are taking that to build up again. Windows 10 looks like it is coming up well. We shouldn't have to wait more for UWP apps as with Win 10 S version MS has forced the hands of software developers to convert their legacy applications into apps. Just one more year and we will have a competitive app store.

I for one feel that MS under Satya has really come out of its shell and started to think from a consumer perspective. Specially Cloud services. There is so much difference in content and packaging of it now compare store before...also the pricing which drove people away to AWS has now become attractive, even for small scale consumers. Kudos to that.

While I am certainly not happy about mobile.. It's one aspect. PC, which is also something I use everyday, has become so much better over time :)
I'm still optimistic for mobile, just not holding my breathe until something is announced or if leaks start coming. Sometimes it feels like the Windows Central staff know more than they are letting on, waiting for the right moment :P
These guys are doing good stuff, they may be slow, but deliver fine things.

I HOPE THAT MICROSOFT GETS BACK INTO MAKNG A COUPLE OF SMART PHONES SO THEY AT LEAST HAVE SOME PRESENSE IN THAT MOBILE FIELD. MAYBE MICROSOFT WILL BE SUCCESSFUL IN MAKING A SMART PHONE TABLET HYBRID DEVICE. I WILL BUY ONE IF THEY PUT IT ON THE MARKET

The CMO has 25 years at the Massively Screwed-up dis-Functional Team?!?! That explains everything. I'm guessing he's still sending checks for advertising in the now defunct print edition of "Information Week" just has he has for the previous 25 years. The guy grew up in the "enterprise will drive everything" era. I would love to see the slides that detail how he plans to "acquire, engage, enlist" on the presentation in the background. His monetization strategy consists of "let's take away advanced search from LinkedIn and charge user's $60/month to get it back"! Have there been any initiatives to "acquire, engage, enlist"?!?!

I totally agree that the CMO is a big problem. Try asking someone if they heard about the surface dial or what might do. If you try to talk to people on the street about merits of universal windows platform or continuum, they may thing you are a wonker and liable to call the police. Admit it Ward, somebody must have called 911 on you by now. :) The average person knows little about the innovations from the Microsoft smartphone and how much they were copied. There are still numerous features that iOS and Android still don't have like being able to activate Cortana from your car's older entertainment system by simply dialing her contact over Bluetooth. There is also a problem with synergy with other major brands. There is not a single automotive infotainment system that touts screen casting / app sharing capabilities for Windows devices. SD memory cards had Android certifications instead of windows years ago. There is no synergy between Microsoft and Steam to help each other grow. If a company is developing a new app, it starts on iOS and likely Android next. There is usually isn't enough resources for windows. Disney's Star wars Commander one of many unfortunate examples where they pulled the windows version and are moved on with the popular 2. If Disney can't generate enough interest for a Windows app then which company will?

Besides Spencer and Panos, rest of them all a bunch of guys doing nothing but lying to the press...not impressed at all. MS has no more trust...who exactly is Microsoft today?... I don't know really and I care about them as much as I care about IBM, meaning NONE. As a consumer and a business user I won't invest in MS again until these liars are out of the company...

What I would say?
That's a very good question.
It depends on who I am talking to.
But to sum it up: "Are you focusing on all markets globally, and are you aware of your reputation in all markets as well as how people react to, and voice their opinions based on the actions you take?" I think that would be a good start =) Obviously I would want to have a lot confirmed, but I also know that unless you do not ask the right questions, you will not get a useful answer from Microsoft.

@Jason, I am curious. What was your reason for writing this? Was it planned for more than a month or did something happen, which drove you to this decision? Third option :)? Thank you for writing it.
Windows Central Newsletter
Get the best of Windows Central in in your inbox, every day!
Thank you for signing up to Windows Central. You will receive a verification email shortly.
There was a problem. Please refresh the page and try again.