Microsoft leadership: Here's who is accountable for what in Redmond
Whether it's Windows, AI, or mixed reality, Microsoft is a big company with lots of irons in the fire.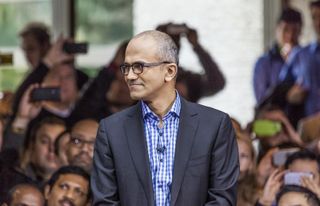 Achieving and maintaining a leading position in the ever-shifting world of personal computing is no trivial task. Sometimes a company enters a space, becomes an industry leader, and competitive shifts or internal errors causes that company to plummet to survival mode, as Microsoft did with smartphones. Other times a company struggles from ground level and attains a respectable position in a particular industry as Microsoft did with Xbox.
Some people may attribute a company's failures to external forces while others would credit leaders for success. Success or failure is a mix of a company's leadership and industry conditions, however. Sometimes, companies succeed due to favorable industry conditions, (the failure of a competitor) despite questionable leadership. Other times, good leadership isn't enough to overcome industry forces that work in favor of rivals.
With this context in mind, let's take a look at a few leaders who are setting the strategic direction of some of the most prominent businesses at Microsoft.
Chief Executive Officer (CEO), Satya Nadella
Satya Nadella succeeded Steve Ballmer as Microsoft's CEO in 2014.
"Mobile first, cloud first," where he explained "mobile" as the mobility of experiences, is Nadella's mantra. He announced at Build 2017 that, like Google, Microsoft has moved toward an AI- and cloud-focused vision, or an intelligent cloud and an intelligent edge.
Nadella's cloud-focused strategy isn't only attributable to the obvious industry move toward a device-less intelligent cloud computing platform. His experience as former vice president of Microsoft's cloud and enterprise group, a position currently held by Scott Guthrie, certainly plays a role in his affinity for the cloud.
The company's latest reorg around a cloud-focused sales and marketing core is further testimony to Nadella's vision of cloud computing, where Microsoft is second only to Amazon. Some fear this reorg expands the gap between Microsoft and the admittedly less lucrative consumer demographic. Time will tell.
Ideally, Nadella's concern for emerging markets, like his home Hyderabad, India, will continue to impact his leadership. In the past, he referenced the importance of Continuum's ability to turn a phone into a desktop for consumers for whom a smartphone is their only computer.
Nadella's reference to an ultimate mobile device and a recent statement of Microsoft's commitment to phones gives hope to Windows phone loyalists that Microsoft's cloud-focused actions are not indicative of an abandonment of mobile.
Nadella has a bachelor's degree in electrical engineering from Mangalore University, a master's in computer science from the University of Wisconsin and a master's in business administration from the University of Chicago.
He has three children, a son Zain and two daughters Tara and Divya, and lives in Bellevue, Washington with his wife, Anupama. Nadella's easy-going demeanor is likely influenced by the strength of character and compassion many parents with children with special needs exhibit. His son Zain has quadriplegia, and one of his daughters also has special needs.
Chief Marketing Officer (CMO), Chris Capossela
Chris Capossela is Microsoft's CMO, and he has over 25 years with the company. Capossela is passionate about fulfilling the company's mission to empower every person and organization to achieve more.
He has worked toward that goal in various capacities at Microsoft. He was a leader in the Microsoft Office division, marketing the company's productivity tools. He was also responsible for marketing and sales with OEMs, retail and operator partners with the consumer channels group.
Capossela explained Microsoft's marketing strategy of engineering one product into another. Skype as part of Office is an example. This strategy has been successful for Microsoft rivals Apple and Google, which Capossela acknowledged have better integration of products promoting other products than Microsoft.
Relative to Apple and Samsung, Microsoft strategically doesn't spend a lot on aggressive television ads. Whether that's good or bad in a consumer-driven market is up for debate.
Capossela earned a bachelor's in computer science and economics from Harvard. He's originally from Boston where as a boy he wrote a reservation program for his family's Italian restaurant. He currently lives with his wife and two daughters in Seattle.
In a previous position, Capossela helped "partners deliver new consumer experiences through Windows, Windows Phone, Office and Xbox." Microsoft's current position in mobile and the threat Apple's ARKit poses to Microsoft's AR and HoloLens investments from developer-support, mindshare, and consumer perspectives has prompted loyalists to desire more aggressive consumer-focused marketing.
Executive Vice President of the Windows and Devices Group (WDG), Terry Myerson
Windows is core to Microsoft's personal computing strategy. Terry Myerson oversees the Windows ecosystem which includes the platform, games, apps, the Store, and Minecraft, as well as the Windows 10 family of devices, including Surface, Xbox, and HoloLens.
Myerson has the difficult challenge of ensuring the synergy of the Universal Windows Platform (UWP) with a complete portfolio of Windows 10 devices that is currently missing the phone. Myerson has reiterated Microsoft's commitment to mobile but divulged little else. One can only hope that he and Microsoft are exercising "HoloLens-like" silence in relation to Nadella's ultimate mobile device, where the device remains a secret until it's time to be revealed.
Myerson earned a bachelor's in mechanical engineering from Duke University. His wife, three children, and golden retriever live with him in Washington state.
Executive Vice President of the Artificial Intelligence (AI) and Research Group, Harry Shum
As Executive Vice President of Microsoft's AI and Research Group, Harry Shum directs the company's AI strategy and oversees all AI-focused groups. This includes providing the company's vision for research and development, infrastructure, agents, apps and services, and providing leadership for the information, Bing and Cortana groups.
Microsoft's AI and cloud focus makes Shum's role vital in a highly competitive space where Google, Facebook, IBM, Apple and Samsung have made huge investments in AI.
Shum, who is a recognized leader in his field, joined Microsoft Research in 1996 and just this year received the honor of being elected to the National Academy of Engineering of the United States.
HoloLens creator and Technical Fellow of the OS Group, Alex Kipman
Alex Kipman is the creator of Microsoft's groundbreaking untethered, wearable holographic computer, HoloLens.
Kipman believes that the AR technology demonstrated by HoloLens will eventually replace smartphones. In fact, he has already declared the smartphone as "dead."
The Brazil-born Kipman joined Microsoft in 2001 after graduating from Rochester Institute of Technology. He has worked on Visual Studio, Windows and Xbox. Kipman is also the man behind the once very popular Kinect motion controller.
Kipman told Time magazine, "Software is the only art form in existence that is not bound by the confines of physics. You are only ever bound and constrained by lack of imagination."
Kipman's technical skills and creativity have helped the company pioneer groundbreaking AR and VR solutions via Windows Mixed Reality. Unfortunately, those lightly publicized AR efforts face a serious threat from Apple's consumer-focused AR strategy, which will be broadly known in the consumer and enterprise spaces.
Devices Chief, Panos Panay
Panos Panay is responsible for delivering the company's vision for its premium Surface hardware brand. Panay pushed a failing Surface through two iterations to the forefront as a premium industry-respected brand.
Panay is passionate when he presents the products he has labored over designing. He shared during Build 2017 that as a boy his dad taught him to be meticulous while they worked together repairing televisions. Because of what he has achieved with Surface many fans eagerly anticipate what a possible Surface phone might be.
Xbox Head, Phil Spencer
Phil Spencer joined Microsoft in 1988 after earning a bachelor's degree from the University of Washington. Spencer became head of the Xbox, Xbox Live, Xbox Music and Xbox Video teams in 2014.
He refocused Xbox on its gaming, rather than general media device roots. Xbox as Microsoft's most successful consumer product has the elusive cool factor its other products need.
Spencer recently made headlines when he stated affordable consumer AR headsets are five to 10 years away.
Wrapping up
Microsoft has had many failures and successes over the years. Some are attributable to leadership while others were the result of outside forces. Leadership is key, however, in planning the future and navigating sudden shifts to either course correct or minimize damage.
The above leaders represent a portion of the teams that have helped bring Microsoft where it is today. If you could say something to these leaders or ask them any question what would it be?
Get the Windows Central Newsletter
All the latest news, reviews, and guides for Windows and Xbox diehards.
Jason L Ward is a columnist at Windows Central. He provides unique big picture analysis of the complex world of Microsoft. Jason takes the small clues and gives you an insightful big picture perspective through storytelling that you won't find *anywhere* else. Seriously, this dude thinks outside the box. Follow him on Twitter at @JLTechWord. He's doing the "write" thing!