Here are some of the problems, inconsistencies, and missing features in Windows 10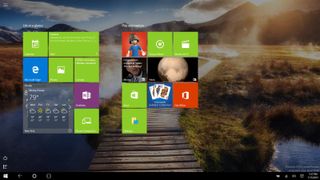 We're just days away from Microsoft pushing the button to release Windows 10 to the masses. On July 29, 2015, the software maker will begin to roll out its new operating system gradually to Windows Insiders, followed by those who reserved a free copy, and those customers who will be purchasing a new Windows PC.
Windows 10 is the next version of Microsoft's operating system that brings back some familiar features to help users get productive quickly. In this new version, the software maker is also updating many aspects of the user interface, introducing Cortana, adding a new Action Center, making Windows 10 adaptable to different screen sizes with Tablet mode. The company is also bringing universal Windows apps, Task View, and many other great features.
We have been spending a lot of time on the great things that are coming to Windows 10, but we haven't spent enough time on the features that are missing or need improvement.
It's worth pointing out that with Windows 10, Microsoft is also introducing a new way of servicing the operating system called "Windows as a Service". Instead of Microsoft releasing a new version every three years, the company will continue to release new updates and features as they become ready. Windows 10 will never be completed or finalized -- It's an ongoing project --. Therefore, even though many areas of the operating system might look odd or unfinished today, improvements will come in due time.
Having said that, today I want to point out some of the areas where users may find problems and inconsistencies, and we would like Microsoft to improve in Windows 10.
Settings
In Windows 10, Microsoft is introducing the Settings app, which is a new unified experience that allows users to change many aspects of the operating system. Also, like with universal Windows apps, users can use the same Settings experience across PC, tablet, and phone.
The Settings app is also what Microsoft is building to replace Control Panel, and when Windows 10 releases on July 29th, users will still find both experiences. The software maker has yet to migrate all of the Control Panel elements to the Settings app.
Many users may find it confusing to where they need to go to change configurations. I've been asked several times already if Microsoft will retire the Control Panel in Windows 10, and while we don't have a specific date, the company has said in the past that the Settings app will eventually replace the Control Panel.
Here is a little tip, which may be obvious for a lot of users. If you need to change a setting, always go to the Settings app and use the search box in the top-right. Doing a search will list all the available options whether they are in the Settings app or Control Panel.
Pinning specific settings to Start is another feature hard to find. Previously, there was a pin icon next to the search box in Settings. Now, you have to right-click a setting in the left pane to see the "Pin to Start" option.
Users will also find that some features aren't yet available even though we're very close to the launch. These features include the ability to move apps to an SD card and configure an external storage to install new apps. Also, there are no options to adjust Themes through the new Settings app.
Context menus
In my opinion, the context menus in Windows 10 can be considered one of the areas of Windows 10 with major inconsistencies. Today, if you right-click on the desktop, you get a standard context menu with a white background. However, if you open the context menu for a Live Tile, you get a different style. The same will happen when you use the context menu with Microsoft Edge, or when you access the menu in different parts of the operating system. Even the Mail app and Jump Lists have different menu styles.
Here is an image demonstrating exactly what I'm trying to say. Microsoft should decide and consolidate to one menu style that dynamically adapts to the theme and device.
We have fragmentation on the settings menus. I can spot at least three layouts in which Microsoft is presenting app settings to users.
The Maps app offers settings with a flyout that appears on the left side of the screen.
Microsoft Edge also provides a flyout, but it appears on the right side of the screen.
Other apps such as Weather and Groove (Xbox Music) have an entire page for settings. It looks similar to what we see when we access the Settings app, which I believe is the best option.
Also, we have the left rail styles on a per app basis. You'll notice that when clicking the hamburger button on apps to access different options in various apps. Sometimes, you see menus that overlap on top of the app UI and others simply force the UI to the right side of the screen. The back buttons also appear in different locations.
This could all be part of a Microsoft A/B test, but right now this fragmentation doesn't live up to a unified experience.
The title bar
If I have to point out one of the elements of Windows 10 that I hear many users complaining about, it is the title bar. In Windows 10, Microsoft seems to be trying to update the title bar to match the same element found on Windows apps, but up until today we haven't seen much improvement.
When you open File Explorer on the desktop environment, you'll notice a white title bar with the traditional minimize, maximize, and close buttons. They're slowly beginning to match the rest of the operating system's modern style, but there are still a lot of work left.
Below, you'll see a screenshot displaying how the buttons have different shapes (rectangle and not square) when the window is maximized.
We don't exactly know what the company is planning to do with the title bar. It's not crazy to expect that the software maker could make the title bar so that it takes the current accent color set in the personalization settings.
Personally, I would like Microsoft to use the Zune and Office user interfaces as a reference design to complete the title bar in Windows 10.
Tablet mode
Back in Windows 8, Microsoft has tried to make a touch-first operating system that also worked well with the keyboard and mouse, but this move backfired. Many users felt lost moving between the Metro and desktop environments.
In Windows 10, the company is trying to make an operating system that is optimized for the keyboard and mouse, but it's also a version of Windows that adapts to any screen size. As such, Windows 10 introduces a new feature called "Tablet mode," also known as Continuum. This feature allows users on 2-in-1 devices to move from a keyboard and mouse, to a touch experience.
Tablet mode in Windows 10 still needs work. For example, you can't access files, folders, and shortcuts on the desktop while in Tablet mode. You need to create a tile on the Start screen to access the Desktop through File Explorer.
Additionally, when using the desktop with Device Manager, File Explorer, etc., you will notice that the experience isn't smooth. I've even noticed that some elements won't open in full screen. For example, trying to open About Windows, you'll still get a windowed element inside of Tablet mode.
If you're a fan of the Start screen on Windows 8.1, but you also like the new Virtual Desktops feature, you'll see that that accessing Task View will only list all the running apps from all the desktops instead of having them grouped by individual desktops. Therefore, on Tablet mode, you can't create new Virtual Desktops.
If you like to work with virtual desktops and you like the Start screen, you may want to stay away from Tablet mode and use the Start menu in full screen instead.
In the Start screen, we now also have three buttons that can be confusing to some users. Microsoft added a hamburger style menu button to access the left size of the Start menu features, such as "most used" apps, and buttons to different locations. At the bottom left corner, we have the new "Power" and "All apps" buttons. While they're a good addition in combination with the Start button, they also add extra elements that could confuse some users.
I don't think is a bad user experience, it's just that if things stay this way, it might take additional time for users to get used the new Windows 10 user interface.
Microsoft Edge
While Microsoft Edge is aiming to be a great web browser that will compete head-to-head with Chrome and Firefox, there are a few things to consider before making Edge your default web browser.
First, customization at this time is somewhat limited. Sometimes, it feels that performing tasks inside the browser is a slow experience. This doesn't mean that pages load slowly. Microsoft Edge renders web pages fairly quickly even more with the release of Windows 10 build 101240 where the company has improved performance and JavaScript rendering. Whatever else you do still feels a little slow.
You can now drag a tab out to create a new window, but trying to drag a tab back in will leave behind an empty tab, which is not the behavior we're expecting.
Sometimes, things just don't work as you would expect. For example, in my current installation, the taskbar preview only shows the preview for the website you're currently on. If you have more than one tab open, you won't see them, like when you have multiple tabs open with Internet Explorer. I also get some unexpected crashes, but not very often.
Cosmetically it also needs a few refinements. Right now it looks somewhat plain to me, but nothing that future updates may be able to fix.
In addition, there are features that aren't yet implemented. This is the case of tab previews that we have seen on previous demos and videos. Just like in Chrome and Firefox, the company also promised extensions for Microsoft Edge, but we know that this functionality will not arrive until sometime after the launch of Windows 10.
What remains unchanged in Windows 10
There is no doubt that there are a lot of features and changes coming to Windows 10, but there are parts of the operating system that Microsoft isn't updating.
If you open the Event Viewer, Device Manager, and Disk Management, all these and other features on Windows that depend on the Microsoft Management Console, Computer Management, Services have not changed since Windows XP. Other tools such as Performance Monitor and Windows Firewall also remain the same since Windows Vista and Windows 7.
While these tools are designed for knowledgeable users, they still perform the work they are supposed to be doing. However, after seeing all the changes in Windows 10, it's time for Microsoft to revamp the tools and the user interface.
Wrapping thing up
Yes, there are few areas that need to be improved and some missing features, but overall Windows 10 is already looking great. Besides, as I mentioned before, Microsoft is now moving towards offering Windows as a Service. As such, Windows 10 will always be a work in progress, and new improvements and features will roll out regularly.
In the last few preview builds, such as build 10158 and 10166, it's noticeable how much polished, smoother, and quicker the operating system has become. Of course, there are still a few problems with installation and compatibility, but things like these are expected on pre-release versions. These bugs and inconveniences will eventually be worked out.
Windows 10, without a doubt, is aligning to be the next best release of Windows. Microsoft has put countless of hours of work and now we have a new operating system that brings tons of improvements and new technologies. A lot of things have changed under the hood. The operating system is now a single core that runs across PCs, tablets, phones, and even on Xbox. It's a big deal especially for developers as they can now build universal Windows apps and target them to millions of devices running Windows 10.
The security and data protection in Windows 10 are best we have seen in the operating system, and we're going to see even more improvements in the coming months. Microsoft is already getting ready for the next wave of updates, which we currently know as project "Redstone", and it's rumored to arrive sometime in 2016.
It's worth pointing out that Microsoft didn't do this alone. Over the lifetime of the Windows Insider Program, over 5 million testers have signed up to try the new operating system. This translates to hundreds of thousands of feedback that the company was able to gather to help shape Windows 10.
I'm personally a big fan of Windows 10, and I'm planning to upgrade all my devices to the final release on July 29th. Currently, I'm running the Windows 10 Insider Preview on my lab PC and virtual machines just to compare different builds when new features arrive.
Now, are you ready to upgrade? What areas of Windows 10 do you think need improvement? Let us know your opinion in the comments below and remember to keep using the feedback app and the official Microsoft forums to tell the company what you want to see improved in Windows 10.
Mauro Huculak is technical writer for WindowsCentral.com. His primary focus is to write comprehensive how-tos to help users get the most out of Windows 10 and its many related technologies. He has an IT background with professional certifications from Microsoft, Cisco, and CompTIA, and he's a recognized member of the Microsoft MVP community.
I hope Edge browser Will get a update soon. It's very buggy

It always takes me to Skype essentials web page when I open. Don't want that, I want a blank page but ut always takes me to that website.

Set the home page in the Advanced settings.

Donny, done all that but still it takes me the webpage.

I don't recall, but is there an option to set what shows up when you open a new tab? If not then I guess they still have to add that feature.

Yeah in advanced settings under "Open With" you can select a specific web page. Change that and your good to go. Edge version 20.10240.16384.0.

For me it's really slow and some sites doesn't work yet. But the worst bugg it's that It crashes way to often

No crashes for me, I'm on build 10240. You probably need to do a fresh installation.

I am on my second fresh installation :/

Me too! For example It crash often here in Windows Central. Today its crashes at least 10 times already. :(

its strange, never crashed once on my Sell XPS 15 touch 4K. everything is working great so far. however Edge still needs some work to do, as it acts strange in some sites, and does not have all the features i like to use.

Well lucky for you! :o I'm guessing its somewhat related to GPU drivers or something. But yeah they need to fix these massive bugs. It won't be really good for needed adoption of Microsoft Edge. :(

Dont be a blind sheep.... why use a browser that crushes like that while there are several stable browsers....? THINK Posted via the Windows Central App

Dont be such a tool.... why Call people sheep for chosing sometihng different than you...? THINK

Sheep? I'm actually more of a Firefox user than Edge. I'm just using Edge mainly in Windows 10 Preview since I have to give feedback and I'm just pointing out the issue that needs fixing. I want Edge to be a sucessful too! Now THINK!

dont be a sheep .. why kick a perfectly good browser just becuase others do.. you have zero credibilty

Runs fine and never crashed for me but I miss not having a favorites bar (unless there is some setting Ive missed).

You have missed, cause there is a favorite bar.

dxf dfgdfgdfgdfgdfgdfgdfgdfgdfg

I haven't noticed too many crashes. Of course, I've defaulted my computer and upated to the new AMD video drivers. The main thing about Edge is how slow it gets when loading ads. With an ad blocker, it is fine.

That's weird, 'cause it has been very stable on my old Dell Inspiron from 2008 (1.6 Ghz Core Duo/2GB RAM)... Posted via the Windows Central App for Android

I suspect crashes may be graphics driver issues. I had a lot fo crashes in early builds, but the last few have been rock solid for me.

I hope they make the right on the start button (Start+X) to shortcut to settings instead of the control panel

I think they should the "Programs and Features" shortcut under Win+X go to the settings app instead of the Control Panel, as the former also lists universal apps and the latter doesn't.

Exactly, when they first showed the new settings app, they its the default settings, so that there would be no need for another one, as in the control panel. I think they should just do away with it. As for all of the other programs such as media player and services, they all need a UI redesign.

Does egde now has an inspect element comparable to firebug or chrome ?

I agree they need to remove control panel, but this is going to take time, and may never be 100% gone. Things such as Java add items to the Control Panel, and there would need to be a way for these to automatically move into the Settings app without the original publisher moving them, which could be difficult. Eventually all 1st party settings will probably be moved out of there. I'd imagine they won't be switching Services.msc and other snap-in's anytime soon. I think they should and spruce up the UI a bit with new icons and make it a bit more consistent, but it would be a long time before this moves to a modern UI app I'd imagine...just can't see it being a priority. I thought I'd read that Media Player won't be getting a major overhaul - They want people to use the TV and Movies app (Stupid name IMO), as well as the Groove Music app for media files. I'd guess media player will stay for compatibility with DRM protected files that might not work in the modern UI apps yet.

It's very buggy. I have an 8 inch tablet and the default text size is unreadable in Edge when it tablet mode. I have to switch that mode off in order for the text to be readable. Definately a scaling error in Edge.

and lack features left and right. it's funny that Chrome now supports a swipe gesture to go back a page while neither IE or Edge have it anymore.

Wait wait wait....they got rid of swipe to go back? Man....in many ways I think win10 is a great idea but I really do like 8.1 on my surface.....not so sure how I feel about win10 tablet mode from what I've read:/

the swipe gesture to go back a page was only available in the modern IE which is now nonexistent. Edge doesn't have this, and I also miss a lot of gestures from W8.1, even in tablet mode. exemples include: the swipe from the left to switch apps now has the exact same effect that Alt+tab, even in tablet mode. snap apps is now more akward, when you snap one app it doesnt split the screen with the one you had on screen, you have to re-select it from the Alt-Tab windows manager. and you can't snap more than 2 apps without manually resizing the windows, which is no longer snapping in my book. the only way to hide the taskbar in tablet mode is to hide it in desktop mode also, which is absurdly stupid. Edge doesn't offer a completly fullscreen browsing, it keeps the tabs and the address bar at all times. other minor annoyances when you don't have a keyboard and mouse.

The need to move to new apps and frameworks was significant, it takes time to rebuild all the old functionality. These things aren't done, and really won't ever be. What we have right now is mostly good. Sure it'll need further refinement, but nothing is that hard to work around in the interim. You should add feedback to the appropriate uservoice pages, or upvote existing suggestions

Well im making a signigicant move as well, to OS X. Prople have been complaining about inconsistencies since Vista. The clashing design languages. The inability to implement features to make better use of screen real-estate (like why do we need an extra space for a searc box, when they should be able to go in the menu bar). They are way too slow in rectifying that. Right now Windows 10 looks like a skinned version of Android, or a bad job of Linux Desktop Theming. 3+ clashing design languages just forced together. This doesnt look like the work of an industry leading corporation. It comes across as rushed and unprofessional, and just cause it's "Windows as a Service" doesn't mean users should be subjected to this bullshit just because "it's free and we'll eventually fix it." Menus popping out at different parts of hte screen. Different placement for common elements on similar dialogs, etc. Seriously, a nightmare for usability.

It's just aggrevating that like Xbox Music this is the fourth time they've rebuilt everything. "Hey we built this new framework that will mean we won't have to redo very much work!" They then proceed to start over from scratch 3-4 times. "Just kidding, that old mail app just was crap, we're starting over again." "Modern IE was crap, we're starting over again." I do believe this is the "Last time". But it's depressing all the same to see the same Zune -> Xbox Music -> Slightly less sucky Xbox Music -> Brand new app Groove story repeated over and over.

Yeah, until they improve tablet mode I will not "upgrade" my surface pro 3

8.1 on my SP3 is the best tablet OS ever, imo. I want W10 but will not be updating for now due to the loss of simplicity and mouse/keyboard centric from W10. There is the 1 year window to upgrade for free so I'm waiting to see what they do over that period.

It's sad. I really wanted Cortana and Notification center on my tablet, but tablet mode on Windows 10 is pure garbage. Gestures are all but gone. The start screen is very limited with only 3 medium tiles allowed in a row and it's very difficult to customize tile layout. The start screen in portrait is hysterically bad. There is so much empty and wasted space and so few tiles that they allow. It looks like you're running a WP7 480x800 emulator on a Windows 7 tablet PC. On my Atom tablet the Edge browser jumps around and stutters has lots of tiny buttons which are hard to press and no more full screen mode or gestures for navigation. It's really depressing using Windows 10 on a tablet.

This is exactly how I feel!

yup, i´m on build 10240 qnd the tablet mode is still deeply lacking. for example swipping from the left of the screen on desktop mode (or clicking task view) has a smooth animation, on tablet, such animation is still missing...

The lack of a swipe gesture in Edge is a particular bug bear of mine, as I can't see it being difficult to implement at all. You're right that Chrome has it and has done for quite some time, a big omission from Edge for something so simple to implement.

fully agreed. this was one of the things that made 8.1 amazing on tablets. browsing was just perfect, now is just...meh. (mind you, i´m on insider 10240 and i´ve written these complaints on the feedback app.)

thats typical of micr5osoft

I have lots of issues because of edge on my surface 3. Display driver error/crash everyday

The last build is IMO the worse one. Got the first blue screen, buggy and laggy, multiple restarts needed... Don't know what's going on there...

"The Settings app is also what Microsoft is building to replace Control Panel" Who said that? Looks like Settings app is intended for normal users settings, and Control Panel for advanced settings.

https://twitter.com/gabeaul/status/578018436552372224

"In time yes" So nobody said by RTM. People need to get used to the new Settings app before that.

Right and no one said in the article or else where it was supposed to replace the control panel by RTM.

And it's not "missing" or neither a "problem" because it's not supposed to be there yet.

It's still an inconsistency, it's just one that's gradually being addressed.

Its a problem because its an inconsistency. Doesn't matter if it was not supposed to complete replace it on RTM or not.

Nobody said "by RTM" in the article either... What's your point?

Exactly. They are taking the more basic, consumer settings into the new one first, but leaving the old Control Panel there for a fallback and lesser used advanced settings while people learn. If they had redone the whole thing everyone would be complaining that they cant find anything now.

Even if there's still a lot of work to complete W10; It's still a great OS so far.

This article should get to Microsoft really

i was actually thinking of tweeting the article to gabe. hehe, maybe i will.

Behind the scenes, it's a fantastic OS. If we could take W10 and give it the touch UI from W8 together with a desktop start menu in the W10 style but only when running the desktop, all would be great. Just wish they hadn't chucked out the decent touch UI for no discernible reason. Now we have to wait patiently for W10 to reinvent the W8 touch interface and hope it happens before the year long sign up period is out.
Odd, because the removal of the tablet features, such as proper swipes, hasn't helped the desktop interface one iota. I have no clue what MS are playing at.

Do you know if the universal search in 8.1 still exists in W10? In 8.1 I can search settings, docs, videos etc and they appear I'm not on TP so can't test this awesome function.

Do you ever heard about Cortana?

I have a Nokia 930 and had Cortana from day one. Yes I've heard of Cortana but you have not answered my question.

Cortana in Windows 10 will search documents, apps, settings, and web like the old universal search in Win8.1

I understand, another option to the mentioned search in the taskbar. Thank you.

yeah tomtom, the search box in the taskbar is the universal search function you speak of. Either Cortana does it for you or in regions without Cortana its just a regular universal search field.

Brilliant, thanks for the info. Universal Search has to be one of the best functions ever in an OS. Glad it's staying :)

Well, my opinion is that it has the potential to be a great OS. But, like all the inconsistencies mentioned in the article, buggy Edge browser, settings all over the place etc. etc., I think the OS shouldn't be RTM at all. MSFT should've taken more time to really polish the OS further. I think the general public will receive Windows 10 just as they received Windows 8 back then; not finished. On my own main Pc, I have lot's of things that can be improved with future updates: File Explorer launches very slowly (2 SSD's in RAID 0, Intel Core i7 CPU, 12GB RAM). Default apps are not remembered after a reboot, launching several desktop apps takes forever, some Universal Apps scale badly etc. etc. I'm a Windows insider and I think Microsoft should take a look at some of the feedback more before releasing the OS. It really feels as an unifinished project and although I'm a huge Microsoft fan, I don't approve this at all.

From a marketing to the masses perspective, you might be right. As a user, I'd rather just have it now and let them iron everything out as we go. The have to get past the public release to get developers making apps. It needs to be out now.

It's a risky thing to do. If consumer perception takes hold that Windows 10 is a dog of an OS then it won't matter when/if they do get the apps. They are rushing to market with a very unpolished half baked OS. Like you said that's good for developers to have something concrete to work with, but could be deadly if word gets out about how poor Windows 10 is right now. And I hate being in this default mode where we just assume Microsoft will eventually fix our problems. Look how long, (years) it took for Microsoft to fix Xbox Music app on WP8 to a point where it was even useable only to start all over from scratch with Groove Music. If it takes them years to fix Windows 10 then consumer frustration will grow to a point where developers will not be excited about Windows at all. Eventually we'll be at a point where we're saying just wait til Win10.1 or Win11.

I can't open the store, outlook, music, photo, movies, video, none of the core apps in the latest build. Has anyone come across this?

Yes, this seems to be account dependent. My account is fine but my wife's has this issue. I have been contacting Gabe Aul as well as the tech forums without any solutions. There are others reporting this so hopefully a fix will come soon!

I could not open the store app in the last 3-4 builds.
But with the latest build, the problem was suddenly gone...

Wow, I experienced the same feature with a previous Windows 10 preview, I hope this gets fixed for released date.

I think the mistake was set a date of release. It would be better to mature things a bit more. Hope at the end things won't feel rushed and unpolished.

I agree. I made a similar comment a while ago on here, essentially saying that when they released W8 and WP8 they felt incomplete and that I hope they don't repeat the same mistake. People replied that there was time for things to be polished and that the preview was in early stages. Well, we are 8 days away from the release, so I think I might be right.

I actually disagree with this. What Microsoft needs is a good foundation to build off of. They were losing share in too many areas to wait too long. That is where they ran into a problem with Windows Mobile back in the day. They were too slow to react to the iPhone and people moved on. Once the have a solid foundation of Windows 10 out they can continue fleshing out their bigger vision while polishing Win 10 at the same time.

The problem, of course, is that W10 is far from solid on any modern touch device. Legacy wimp boxes it's pretty good with, but W10 is quite backwards looking re. consumer hardware. Rather retro really. Not so much a platform for the future, more of an attempt to bring legacy users into the present.

And...... recent articles say touch/tablets/hybrids are the future........ so tablet mode needs to be awesome...... i.e. 8.1

I disagree, windows 10 IS a solid foundation. The reality is that Microsoft focused on desktop users more than modern touch users because its what had to be done, period. People were not buying into windows 8 this is clear. So what did they have to do? build a product that is attractive to the users that didn't adopt windows 8. And I think windows 10 is a solid foundation for those users. Of course tablet mode needs more polish, but the foundation is there. "more of an attempt to bring legacy users into the present." you said it yourself, Microsoft had no choice sadly. From a business perspective its the right choice to bring their legacy users into the present.

I guess that begs the question: What do you consider a good foundation. Some would say Windows 8 was a good foundation, and many would disagree. Windows 8, apart from the Start Screen/Metro (which could be completely ignored by the user) was fairly consistent from a desktop point of view - basically Windows 7.2 from that standpoint. Windows 10, is not. There is just a feeling of disorganization, cobbling together things that class, design inconsistencies EVERYWHERE, clashing design languages. Additionally, am I the only one completely frustrated with hte way Microsoft changes basic tents of design every single Windows version since XP? For Example, they went from the Office 2000-style toolbars in Windows XP, to the Office 2003-style Toolbars in Windows Vista, to the Ribbon in Windows 7 with complex Title Bars in some apps, to... Toolbars, Ribbons, Hamburgers, etc. in Windows 10? It's almost as if they revamp elements of the OS "cause they can" even when there really is no benefit to doing so. No wonder so many people refused to buy Windows upgrades and just stuck to their old versions. It's confusing to have an OS, upgrade it, and then half the apps on it are changed for no apparent reason, leaving the user lost. Windows 7 was their good Foundation. They completely wrecked it with Windows 8 and they're scrambling with Windows 10. It looks like a hot mess once you get past the few "headliner features" they added and start doing real stuff on your machine with it installed. And it's still trash as a Tablet OS. They didn't really improve anything there. In fact, it's regressed quite a bit even from Windows 8.

What I personally would consider a good foundation is Windows 10 on everything (Desktops, Phones, XBox, IoT, etc.). Once you have the same code underneith then you can complete the surface level UI polish and have consistency across all devices. When you have 6 different OSs (one for each device type) then it gets really slow to update each individually. You also run the risk of inconsistencies because they are probably completely different teams within Microsoft. This is just the beginning of a new agile Microsoft. People have to put up with it being a little rough around the edges to start but is should be fixed MUCH faster than in the past.

The teams are separate currently as far as I am aware...

I think Microsoft put in more than "hundreds of hours of work".

Yeah, hundreds of hours makes it sound like one guy spent two months working on it.

It was just one guy. He is Tony Stark! :)

Call jarvis instead of Cortana!

Yeah, more like millions of manhours.

And gutted millions more. The 8.1 to tablet mode regression is about as good as Zune to Xbox music.

I agree with you it"s great article also alot of windows icons still not changed yet like (task manager icon and some of themes and control panel icon) , I hope that the 29 july release fix edge bugs and unfie all the icons at least but anyway it"s look great os

I don't know why they still have not implemented the change of default download folder location to Microsoft Edge, it is just weird.

I moved my downloads folder to the SD card in the file explorer, and Edge downloads correctly to that folder, but if I clik the 'open' button in the finished notification at the bottom or in downloads list it is unable to open the file with a message seying it was moved or deleted... and it is there if I go in the explorer.

There is a tablet mode setting to enable desktop access.

Really? Great. Care to point out where it is so the less observant amongst us can try? Please?

Thank you! Just.. THANK YOU..!! I just hope they'll listen...

Personally I think it is foolish to download and install the first release build of any new software. If I'm feeling adventurous, I wait 90 days for functionality impairing bugs to be resolved. Otherwise I wait a full calendar year for the software, software accessories, hardware, and hardware accessories to fully mature.
I was paid to be a software tester. Since I have moved on to a different occupation, I have more productive use of my time than unpaid software testing.
I have reserved Windows 10 for over a dozen devices (mobile and desktop) but will not install until second quarter next year at the earliest.

Windows is far from 'new software'. It's been around for a while now and W10 is far from its 'first release build'.

Cool story bro. Looking forward to the novelization.

The issue isn't functionality impairing bugs. The issue is it's a hot mess from a design and organization standpoint. That requires basically another release of the OS to fix (something similar to OS X Yosemite which introduced somewhat of a UI/UX Revamp). I'll likely be staying on Windows 8 for months. If it isn't fixed near the dealine to upgrade for free, then I won't. The OS needs consistency. It looks like 5 different teams were working on different apps/components and there were no company-wide design guidelines to follow.

What I really don't get about the context menus is why it's white on the taskbar, explorer and desktop but still grey on all other Win32 apps. Why not both grey or both white? "Additionally, when using the desktop with Device Manager, File Explorer, etc., you will notice that the experience isn't smooth. I've even noticed that some elements won't open in full screen. For example, trying to open About Windows, you'll still get a windowed element inside of Tablet mode." Actually, I think this is right. I mean what is the "About Windows" window supposed to do covering the entire screen?

Couple others to add on: the volume overlay that appears in the top left corner is still present and with Windows 8's design, if you click the network icon while on the lock screen you get a fly out on the right side that still has Windows 8's toggle switches, and the playback controls on the preview windows for apps like Groove Music are still in Windows 7/8's style. I would've thought they'd have fixed these kinds of things by now.

THIS! These are one of the quite obvious areas that they left unchanged. I'm bit disappointed that they didn't changed those areas. Also I want to add that t​hat tooltips are still came from Vista and XP-era and very inconsistent to new Tooltips on Modern Apps. Also the shadows on menus and on mouse still use same old shadows that is now obviously inconsistent with the rest of the OS. It boggles me that these areas are too obvious, you will see them everywhere. Also Windows Media Player and other desktop apps still didn't have visual refresh to match Windows 10 new UI. They're still Windows 7-looking, especially WMP which still sports glossiness all-over.

Ugh, that context menu issue is my biggest pet peeve. I was really hoping they had this shit fixed before the 29th. But as long as they are working in it, I can live with it for a little longer :)

Thing is, this was sorted out with W8 then broken again with W8.1. W10 has just made things worse.

Ikr Posted via the Windows Central App for Android

I dont know for sure. But i think they hace listened me and other users when adding "gif animations" support on the "photo" app. I still hace to test it with other images. XD

Nice article. I like the observations about context menus and control panel issues etc.. It will be interesting to see what polish can be done in the next few weeks as Win10 is released! I wonder how frequent fast ring updates will be pushed after the 29th. Settings flyouts and menus that are positioned at different sides of the app are by design. Quote from Jerry Nixon's menu article, "The SplitView [the thing that shows settings or hamburger menus] is not a design guideline. It is not part of the default template; neither is it part of a design prescription for Windows apps. The SplitView is a first-party control intended to make implementation easier for developers and designers who choose to include top-level navigation in their Windows app." See http://blog.jerrynixon.com/2015/04/implementing-hamburger-button-with.html. if you want the technical details on Win10 menus.

Also. I would like some support on importing browser data from Opera to Edge. :c
It only recognizes Chrome. Not even Mozilla.

One big issue especially for those who own multiple devices is the lack of start screen & tile layout sync. It just feels wonky to see a different start screen for each device. Also when you install an app in a particular device it should ask if you want it to install on the other computers. By the way I have the same MSA linked to all three devices.

Its really frustrating on Windows 10 now that it doesn't sync Start screen/menu layout. During the course of Preview, everytime I do a clean installation, I have to relayout every single Tile again. Also apps don't auto-install and pinned just like from Windows 8.1. That's a massive overlooked things.

One of the tenants of Windows 10 is a consistent experience across all your devices when using a Microsoft account. So yeah, the start screens are supposed to sync. There is a setting on 8.1 to sync the start screen or not. Perhaps it's there for 10 and either you haven't found it or its not implemented in your current build

of course its there on windows 10. maybe these people complaining haven't thought about using an unreleased product and expecting to sync with a released product. things such as sync are done server side, as a matter of fact cortana isn't even syncing properly yet from my windows 10 laptop to my lumia 925. But im going to wait until after the release date and then ill complain. jeez.

Disappointed to see it so inconsistent this late in the game.

Ik Posted via the Windows Central App for Android

I'm still not a fan of the new OneDrive experience on Windows 10. It's really the only thing preventing me from upgrading my laptop. I'm not sure I'll ever upgrade my tablet.

I absolutely agree. The new OneDrive experience is what is stopping me from putting Windows 10 on my surface pro and other devices. Microsoft said they would provide some sort fix for this of us dependent on the placeholders from 8.1, but haven't. Placeholders are essential for my business, and I basically can't upgrade my devices until MS does something about this.

Well you can upgrade your laptop but I won't even recommend upgrading a tablet for the meantime until they bring back great features they forgot from Windows 8.1. OneDrive experience is one of them. The big mistake they did is the removal of Placeholders. I mean seriously, it was a very great feature that makes people stick to OneDrive. Even some users may became confuse about the concept of Placeholders, it doesn't make sense and its very illogical to remove it completely. Just at least give us an option for Placeholders and keep it turned off by default for the sake of confused users. Enable by default only when the new solution (hopefully its worthy) is ready.

Same here... I miss placeholders in OneDrive and find it illogial being forced to keep everything saved on my device to be able to access it from File Explorer, especially considering that this is supposted to be "Cloud storage". Only known workaround at the moment is to get CudaDrive Beta, which is essentially the same as old OneDrive on Win8.1 with placeholders but with a different host.

In File Explorer, I prefer the Details view, but it sucks that I have customize every folder to also see availability. Microsoft should 1) give us placeholders again 2) make availability column (or an icon badge) the default for all OneDrive files Until I upgraded to Win10 on my ASUS X205TA (very portable eeebook that I bought at the Microsoft store), it was a great alternative to lugging my 10 lb vintage Dell. But with only 20GB on the SSD, being able to sync OneDrive with my SDXD card was essential for taking work files with me. Microsoft didn't just kill placeholders, they killed the ability to sync OneDrive with removable storage. There will be a march on Redmond if they don't fix this SOON.

What do you want Mauro a operating system that works or one that look pretty and dont work. use your time wisely for something that can benifit the users instead of trying to bad mouth a great effort to produce a one in a life time gret product. I do not think in our life time we will ever see any other operating system software company produce a product that is a good as windows 10. yes we all know its not as polish as we would all like it to be. over time it will get polished. but I think its a good start. I have been around operating system from IMB DOS 1.00 and I have see inconsistency in software so far I think I can live with this one. Not a deal breaker for me. Hope its not for you.

Really? Well, I can give you an example. W8. That was one great product that W10 still does not compete well against except for on legacy wimp boxes. Show it running on a modern touch compatible device and the massive flaws are impossible to ignore.

I've wondered if they've partly left stuff like this so they have some obvious things to fix in a couple months that they can point at and say, "See? Continual improvement!" :p Of course, it's far more likely they just ran out of time, and it would impress much more for the initial release to feel finished and for subsequent updates to include completely new features.

"Stuff like this" are all items that are locked in due to build schedule. The most important consideration applying to the release schedule is functionality of the features that were set in stone prior to actual software development Optimization is secondary and for down-the-road release that does not include the inevitable security/critical patches.

Doesn't explain the wrecking ball taken to the core touch functionality though, does it?

If your in preview it only to help Windows 10 get better , not complain about this or that, your defeating the purpose, Give your feedback directly to the company through the app, for all who like to complain about what's missing Windows Insiders program is not for you.

Of course, because staying quiet and avoiding constructive discussion is a great driver for change...

"... But nothing that future updates may be able to fix." Hate to be the grammar police, and this one is minor, compared to some articles that become almost unreadable with missing articles or prepositions, but a little more editorial review is in order. Do you really mean it is unlikely this feature can be fixed in a future update? I think not. "... But nothing that future updates won't be able to fix." Otherwise, this is an important and timely article. Visiting my mother in the States, she has asked about Windows 10 and noted she has the update icon. She should update, especially as this is free. But these inconsistencies will leave her scratching her head. She says she wants me to do the update for her, but I also had to let her know the update will not be available to her while I am here. She is exactly the kind of user who should wait a few weeks or months until these missing features or inconsistencies are addressed.

The face of agile project management.

Thread about these issues over at Microsoft Community: http://answers.microsoft.com/en-us/insider/forum/insider_wintp-insider_i...

Main problem IMHO - Live tiles are no longer live, they ate hidden under the start menu. Better solution in my view would have been leaving 8.1 start screen and overlay it with the desktop. Files, desktop program etc. would simply be pinned as tiles. At the minimum, they should allow users to pin their favorite tiles to the desktop, e.g. as a strip of tiles on the right part of the screen (somewhat like current desktop widgets).

"Main problem IMHO - Live tiles are no longer live, they ate hidden under the start menu." I don't get this, how's it any different now to Windows 8.1 besides the size of the start menu?

Tablet mode selected on a keyboard attached or not basis seems to be the only answer here? Otherwise Live Tiles are lost and useless do nothing icons return. Actually, its looking more like an Apple iOS every day!!!!

Windows 8.1 Start screen keeps open on other monitor making it essentially a dashboard. In Windows 10, Start screen is nothing more than just a full-screen version of Start menu.
I wished they just improved the dashboard-like behavior of Start screen from Windows 8.1.

Agree! I would like that option too. Though they have to redesign desktop since it would be utterly cluttered with desktop icons and Live Tiles on the mix.
I was thinking if Start screen auto-opens also when close, minimize all windows/apps or no visible windows on view. Essentially making it like a pseduo-desktop. At least as an option. Start screen can be essentially like desktop, but you got pin more things than the classic desktop. So we can reserve the desktop to be clean and minimalist. This is why new Start screen in Windows 10 is quite disappointing. It doesn't stays open on multi-monitor setup and now it closes when you interact to another monitor, it never stays just like from Windows 8.1 where its essentially a dashboard. They really undervalues the Start screen in Windows 10 and behaves just like a menu. They should also need to bring an option for this too.

I hope Microsoft does not touch snap ins. They can add features, but as a systems administrator I don't want to see changes to the mmc. That means computer management, disk management, services, regedit etc. Changing these would make little sense.

Well I think they can just tweak its looks to make it cohesive to new Modern Design Language. Not necessary mean to rewrite it. At least just modernize every areas in Windows 10 as possible.

Has anyone gotten any two Windows 10 PCs to sync the Start Screen layout? Unless I'm missing something, this feature seems to be non-existent.

i'm curious - it may have been mentioned in one of the numerous previous write ups, but will there be a feature to have the start menu portion where the live tiles are mirror your phone? I always thought that would be an amazing feature but never saw it anywhere.

This is absolutely the kind of article Microsoft needs to have a wake-up call with the so-called "ready" state of Windows 10 and I'm glad someone is calling them out for it.

No kidding... And yet there are still people so steeped in their fanboyism that they feel the need to jump to the defense of MS over a very mildly critical article. W10 is not ready for the wild. This sort of "release now, make it good later" attitude is precisely why MS isn't even batting .500 on OS success.

Too late though, these can't all fixed by the official release date, meaning journalists will have zero trouble deciding on an angle for their reviews. Ooh boy..

I'm also worried about the upcoming reviews about Windows 10 especially from other journalist who tends to have personal inclination to Apple or Google. This could result to harsh to pretty average reviews, which is not good for the perception about Windows 10. They will judge it based on launch and not by its potentials.

Agree! We need this kind of article sometime. Microsoft tends to overlooked some things that may cause bad results in the end for them. We all don't want that. Since even we Insiders alone isn't enough to be heard, we need sites dedicated to write about Microsoft to point-it-out those issues for them. I'm glad and thankful that Windows Central brave enough to write this. There are alot of things make Windows 10 not "ready" for launch, even though we know about Windows as a Service. First impression do matters alot.

I reserved my copy. But I want to install Windows 10 fresh, not as an upgrade from my current Windows 7. Is there any way to do a fresh installation?

This is my concern also. I think you will need to upgrade anyway, then create bootable DVD/USB. Someone correct me if i'm mistaken. Also someone who knows, answer us for this topic.

You can upgrade your Windows 7 installation and do a full reset afterwards.

After you upgrade to Windows 10 you will have ther ability to perform a "refresh" where the operating system is reinstalled blowing away all of your personal files and applications. This feature is built into Windows 10.

Yesterday, when I was in airplane mode, I couldn't even use my calendar, or solitaire or music. That was ridiculous. Hope that's fixed. Haven't had share work with Edge yet. I hope that works soon too.

I enjoy the enthusiasm and thoroughness of some the comments. It is my hope that the commenters and the author of this article have submitted their concerns to Microsoft in the form of constructive feedback using the app or an appropriate forum post. Otherwise, this article and comments are "trees falling in the forest."

Have you SEEN the number of posts about this stuff in the feedback threads in the MS system? I think they know. For some weird reason, however, they aren't listening.

Not that I want to criticize this kind of article, but this is the exact reason why Apple users idolize OS X: their press never, or at least very rarely, does this kind of criticizing article. This is of course because Apple itself retaliates by revoking access to publications that paint Apple in a bad light. Now, I think this kind or article is good because it allows us to talk about the weak points in Windows and the things that need to improve. However, I also think that sometimes it might be good if Windows-related publications were a bit MS-idolizing like their Apple counterparts... while unhealthy, it would probably do wonders to the public perception of Windows.

Exactly what I talked about in the "Plan B for Death of Windows Phone". We all have a critical stance to some degree, we're not morons. We know Windows is not perfect, of course, as IOS or Android are not either. But as you said, there's different ways to write about a topic, when you can say something positive or neutral, or present it as a bad thing.
As in the article I mentioned about Plan B, here this blog seems to take an increasingly critical view on MS, in an unfair way. Mostly in that it tends to echo every nitpick and shadow maybe looming in the future by those who want MS to fail.
I don't like that. I enjoy reading fair editorials, far from fanboyism but concentrating on positive aspects, not doom and gloom. And that's exactly why I stopped reading The Verge and became a fan of Windows Central. Again, though I don't ask for a "everything is pretty and rosy all the time" editorial line, I do not like reading pessimistic or nitpicking posts here. That's not why I came to WC at all. But increasingly this kind of articles keep underlining the little negative things. With this one, or with others, it might be the result of a need to fill space in the blog. But it doesn't achieve anything else than dirtying the image of Windows 10.They are really minor details on an ongoing OS, which might be solved at launch for all,we know. So yeah, at this point I'm beginning to ask myself whether the WC editorial line is not shifting towards wanting MS to fail. I can even understand that, though I will not support it.

I think writing off this article as "They are really minor details on an ongoing OS, which might be solved at launch for all,we know" is anywhere near realistic. I wanted W10 on my SP3 but after reading articles, watching videos on YouTube of each release and reading comments here, I believe the article to be honest and helpfully inform us of where W10 potentially falls down, so we can make an educated decision to update to W10 or maybe wait. I love 8.1 and am not prepared to update to W10 for now. I am all Microsoft and will remain so, but don't see this as an article wishing Microsoft to fail.

I have to say battery life is poor in Windows 10 for Surface Pro 3 and Dell Venue 8 as well as for mobile in Lumia ICON. Looking for improvements in the near future.

Try disabling "Hey Cortana", that may improve your battery life.

I've turned it off on my Dell Venue 8 pro and we'll see what happens. I did previously turn off WI-FI ON DURING SLEEP bit it made no difference...

Latest build on my Lumia 920 made it a monster, huge improvement in battery life. Posted via the Windows Central App.

Same for my 1020, not sure about the current version on a x86 Windows tablet.

Very,very informative. Honest and true. I will pass this on along to others.

I'm waiting until end of October to update Windows 8.1 to Windows 10 mainly because I don't hate Windows 8.1; you guys can work out the bugs.

Very comprehensive analysis.

pinning apps to start still doesn't work properly for me on my Windows tablet running build 10240.
even the context menu on long-press opens after releasing touch. as if my finger was a mouse. very uncomfortable.
overall performance is much slower than Windows 8.1.
i was really looking forward to Windows 10. while it is still very feature-rich and promising, in it's current state it still feels like something unfinished. wish they'd taken another month off and delivered a more polished product.

Never tested it on a tablet, i only own the Surface 2. But Windows 10 build 10240 feels like an RTM version, i don't know if it is the RTM, probably not but it runs just like Windows 8.1 did on my 7 year old laptop. Really fast :) Posted via the Windows Central App.

I advise you reset your PC. if you have been updating build on top of build in beta testing, things like this get 'stuck' and some bugs get stuck with it. after I fresh installed from build 10141 to 10158 it was almost an entire different OS. Things that I thought were supposed to be there disappeared, app behaviors changed, and animations changed too.

Thank You! For writing article about the remaining issues in Windows 10 at launch. We really need Microsoft to see things that they overlooked and point it out to them. There is indeed a promise of Windows as a Service which is a very great thing, especially that with these issues lingering around. There are alot of things that still needs work, especially the Peope app and also all the bundled apps, but there too many of them even for article. Still its a good thing th​ing that these apps and the OS are updatable when the feature and fixes are ready. Too bad though that Windows 10 will be launched as unpolished and inconsistent. Well I think it will be a success for Windows 10 and adoption rate would be high, thanks for the free upgrade offer. Let's just hope it won't be too rough ride during the first year of Windows 10 and let's hope it won't get a bad impression after a while with these issues.

Not being able to open multiple tabs at the same time from favorites in Edge is very bad.

Good job Mauro. The more we are complaing about these inconsistencies, the better the chances Microsoft moves its a.s.s and does something about it. It hate the official line of "the most important release to us" when at the same time there are obvious part of this OS that had not a single pixel changed. Several tools / utilities / dialogs haven't changed since the pre-XP era.

Thanks, Microsoft is making a great product with Windows 10, but there are still a few things that need to be improved, I'm that with time the company will improve all the areas that need attention. Remember that we are in the era of Windows as a Service, so updates will keep on coming...

Thank you for writing this article! We really need this and let Microsoft know that we are really concerned about this. Even small things do matter and can be a big issue in a matter of time. In the end, we all want Windows 10 to be great and to be successful. Everyone will benefit from this.

Mauro its all marketing speak. Haven't you heard wave 2 of threshold is just optimizations, not new features...

I just worte a bunch of stuff on Windows 10. Then Edge Hung Up and Refreshed, resting all my Info. Opinion Change..... In Short, 10 is not ready.

Microsoft Edge freezes and crashes several times with this site. I don't know how many sites causing issues with Microsoft Edge. This is bad for much needed adaption. :(

I have reported this to Microsoft feedback for over 20+ sites I have found. It usually happens with sites calling certain Emacscript commands. Haven't nailed down the which they are but, I am sure Microsoft knows. For example this is apparent in sites that use the disquss commenting system. It seems to render slowly and coughs up a lot (renders sporatically with input issues)

About the title bar, devs can currently customize it via new API's, changing the color, and having some controls overlap (like the tabs in edge).

Yes but unfortunately that does not work for Win32 apps which all have a white titlebar.

It's not a problem for Universal Apps, its a problem for desktop apps. Which only Microsoft can fix it. :(

let's hope there will be a day one update and it fixes most of problems!

Nice article, funny though when I brought all this stuff up in one of my comments about Windows 10 RTM people downvoted. I get that Microsoft is approaching Windows as a service now and that they can make improvments down the road similar to how OS X 10.0 had a lot of issues as well. However many of these inconsitencies have been around since the 9x days like device manager. Maybe its just a pet peeve, its 2015 now they have the capabilities to update this stuff and its not like they havent had the time to update some of these between 9x and now. The OS just doesn't feel complete with some of these things lingering around

They should have just admit, that Win 8 just wasn't a desktop-OS and bury it. But instead they blend it with 7...

Saddest part is that 8 days seems too little to fix and change all of that. And, although we're hyped for the launch, theese little inconsistencies weights down windows 10. It could release a bad overall impression for the average consumers and tech enthusiasts who're not from the fanbase.

I'm really concerned about this too. Especially when the other tech sites reviews Windows 10. Let's just hope they won't be too harsh (which probably they will since this is well hyped product). If the reviews are bad or avarage (not in a good way), avarage consumers might depend on their opinions too and will affect the impression about Windows 10. We don't want that. Let's just hope for the best.

Im sure it pros/power users would still like classic cpl to still be an option on pro/enterprise

Do you need to be in Settings to search for settings in W10? I find in 8.1 that either just typing (keyboard attached) or click on search icon (no keyboard attached) brings up what you need i.e. type task and task manager appears. Is this universal search now lost? I search songs, videos, documents etc in 8.1 and they always appear. This is simplicity itself and i hope it remains. I'm not on TP so can't test. Any comments would be appreciated.

No, you can simply use the taskbar search to look for settings.

Thank you for the reply Mauro. So, in touch/tablet mode I can use the search as a universal search, that's good news. Do you know if the keyboard is attached and you just start to type (as in 8.1) the search commences without having to use the search?

I'm on 8.1 right now (I've got a seperate Windows 10 installation) but I'm pretty sure search is still universal and will search across programs, settings and files.

Thank you for the response Gatanui. I love this feature and use it often. Maybe I just want to listen to an artist and by just typing the artist name I can select and play. No need to go into Xbox music and search. It's just as useful for anything else that's not a Live Tile, so hopes this remains!

I think the most exciting part of this article was the reference to Zune.

Zune had such a great design. It was a big letdown when it was clear that Windows Phone doesn't work with it.

Zune was the pinnacle of Metro Design Language. Too bad its considered a failure even though its actually a very great product and its ahead from its time. Its got services and features that only these days became popular. They really need the spirit of Zune to comeback on Groove Music. Both design and features, all of it!!! Especially its Now Playing is still the most beautiful Now Playing I've ever seen. Groove Music is unfortunately bland and stale to look and use. Especially its Artist page where it only features big freaking circle instead of wide layout for artist image.

I'm still shocked that circles are being used for artists images. Its just common sense that a large part of the image will be lost. Also, the cover and artist artwork were never designed for circles.... doh!!!!!!

I'm not actually surprise they did this since they're literally implementing circle images everywhere without a thought, really bad. I don't think they take consideration on some aspects at all. D: Though I don't have a problem for using Circle images on some areas like when you browse people/artist but I totally dislike making it huge on artist page and losing all the art, on Incoming Call screen in Windows 10 Mobile too. They should make those images immersive and not restricted inside the circle. They should fill the area as possible and showcase it, since that person/art in the image is the center of exeperience, not the UI. I wish that they eventually make Groove Music into something like this. I hope... http://i.imgur.com/4RmhZY0.jpg

All in all its 95% ready then

For desktop? Sure, excluding the OneDrive placeholder debacle and lingering Edge instability.
For tablet? More like 60%. It's like using a windows 7 "slate" with a couple extra features, leaving you wondering what the hell happened to windows 8 optimization.

For the future I will keep 8.1 on my SP3. Seems from the comments there are gains with W10 but too many losses to make a move to W10.

All I want is Online Only for OneDrive, and to add a DOT or something on the tiles when app is updated.. Now you can't tell what's being updated.

I'm just wondering how fast are they going to release a fix for bugs that are discovered after July 29.

As far as I know there is a new update coming in October known as Threshold wave 2 to bring optimization and stability to Windows 10, but it's nothing official yet. And then in 2016, Redstone supposed to release bringing new improvements and possible new features.

My biggest right now: 1. There is no touch browser. Edge is a mouse browser and nothing changes in tablet mode 2. Groove music can't cast, which is really dissapointing given the charms bar is now gone and sharing with it.

This is the downside of software that continually updates automatically: Software companies feel like they can ship software that is far from complete and finish it gradually over the months thereafter. You just have to hope the did a good job prioritizing what could wait and have good feedback mechanisms so that users can tell them which missing features are true roadblocks.

Yeah this is pretty bad when MS thinks it can do this as well. Releasing it for free is a good move to compensate but that can only go so far.

I think we're all living in the age of mobile apps. They all constanly get updated and no one complains. Microsoft goes to the trend and i think Ios, android would follow them as well later.

Has anyone else found the search annoying and sometimes slow/inconsistent?

any possibility of features being added that we don't know yet?

The right click menu bugs me. Get it?

People might say "Why bother updating those old pro tools, they work just fine!" I would respond that if Microsoft really believes that Universal apps are its future, then it should be ditching those really old, never updated Win32 apps and updating them with Universal apps. The biggest problem with those apps is that they don't scale very well compared to Universal apps on high DPI displays and end up looking terrible. Plus the visualizations are stuck in the 1990s compared to expected design patterns in 2015. Best example of this is the Performance tab of Task Manager in Windows 7 vs Windows 8. New version is infinitely better. Too bad some of the other tabs are also in the old style, could they not think to update those too? Windows 10 will be a great OS but adding more fit and finish is what will really make it last in a positive light.

I definitely agree on this. The deeper issue, which worries me, is that the WinRT framework is just not robust enough to rebuild PerfMon or Explorer or RegEdit. This needs to be a top priority, since making the WinRT more powerful and robust is the only way that they'll be a serious contender in app development. WinRT needs to evolve and grow more quickly than it has been. Office is a good start (I'd wager those are the most complicated apps WinRT has seen), but there needs to be more progress. We'll only see those apps remade when WinRT is robust enough to do things like manipulate the registry (AFAIK impossible) and monitor system status (also impossible).

The challenge is the definition of "powerful". Powerful means they have access to things an App shouldn't necessarily know about. For instance any application which has anti-virus capabilities also is capable of being a virus since they both have access to the same system functionality. You want most apps to some degree to be weak and sandboxed, but you want to provide just enough capability to work well. Microsoft has been very very slow though on getting WinRT sufficiently powerful for developers and a lot of stuff that is perfectly safe is just missing because they haven't implemented it. However when you get to something like RegEdit, that's not something you want an application to be able to access, they shoudln't be able to manipulate systemwide settings.

Tablet mode blows. It takes at least double clicks/touches to everything.

Agreed, they made this experience so bad when the purpose of the New Windows was to enable new and different touch oriented form factors

But "mobile first, cloud first" guys! You know... first things out the window. No touch optimization, no placeholders, no problem, because enterprise.

I hope not. At the very least, I'm hoping it's better than Win8. I have a Surface 3, and have a few Modern apps that I enjoy... but one of the things I'm looking forward to are improved Universal apps for Win10. Right now on Win8, I use the desktop w/o the keyboard pretty minimally... so I find it hard to imagine that the tablet experience will be worse in Win10, but I guess I'll see next week.

They can improve the decade old look that it has, atleast.

Excellent. I would add: -all apps view is a mess on tablet mode. too small too restricted. -notification center should be full screen on tablet mode as should cortana -hitting return on this comment window on edge causes the caret cursor to move to the top. maddness.

I said this before and ill say it again: "If it's not better than Windows 7, you did it wrong." And so far, the only need to switch is to join the club.

Yes!! Glad I'm not the only one who feels like this! Around here, it seems if you're all-in on whatever the newest OS is, you're clearly just old or didn't take the time to learn. Well, I'm not old, I took the time, and I still find W7 way more efficient to use daily than W8.1 ever can hope to be.

Better search, more memory efficient, cross platform application platform, mobile settings to let you move your account easily from one computer to another, improved wifi management, metered connections, virtual desktops, touch screen friendliness, high resolution display support, improved drive isolation, VASTLY improved snap (that should be worth it right there just like 7's snap made it better than vista), new calculator haha, access to the entire WinRT (store) application portfolio, store application management makes restoring your applications easier than hunting down 100 different little apps you rely on.... etc.

Windows 10 is a mess. Since attention to detail is important to me I will keep my MacBook air and mess around with 10 through parallels. IPhone 6s likely replacing my 1020.

This. W10 looks like a pile of dog vomit, W10M is even worse, I can't wait to switch back to iPhone. I'm a gamer so I will always own a gaming computer, but for my work, I'm buying a Mac. OSX is not perfect, but at least it's not trying to murder my eyes. I love pretty things, colorful things. W10 has a disguting color pallette and you can only use ONE. Belfiore needs to be fired before he completely destroys the consumerpart of Microsoft.

One issue that i've noticed is that the copy dialogue is much simpler than in Windows 8 and lacks the advanced features, it seems to have gone back to the version from Windows 7.

Really? That is one of the great things in introduced in Windows 8 and they are taking it back?

It didn't change at all, still same thing from Windows 8. I think because by default its on collapsed state where it only shows traditional progressbar instead of graph.

Seems to have been fixed by one of the patches since 10162

Hi friends, when will windows 10 releases for phones?

Please, give a Gold Medal to Mauro Huculak. This is the most real article I've read for the last 7 months here. He said exactly what I tried to say, specifically about the contexts menus, title bars and control panel. These inconsistencies could be the new "Start Screen" of Windows 10, aka, the "road to fail" like Windows 8.

Please some one sent this to Joe Belifore, I also wonder if Microsoft actually has anyone that looks over the fit and finish of the OS before shipping

Belfiore doesn't know what he's doing. He should be fired long time ago.

Tablet mode is really a POS in Windows 10. Reduced ability to snap apps side by side. Win32 Apps sometimes fail to render full screen. Lack of direct access to Virtual Desktops. Start Menu hamburger for app list. OS scaling still extremely small for HiDPI devices.

Massive dump. I've just adapted to using my DV8P in desktop mode, which is less than optimal. Considering a reversion to 8.1 till they clean their mess up and wipe themselves.

Thank you for this article. Win 10 looks right know if Dr. Frankenstein himself had built it. It is one of the most irritating Operating Systems. There are so many cosmetical changes but only half the way. There really should be an option how you want your Windows design: Desktop or Metro/Touch. But not both in this mashup.

My least favorite at the moment... Right click the task bar, choose show windows side by side, see what happens.

oh my. are they even actually using it? Do they have a clue of how messy it still is, a week before launch? :(

This is seeming to be a going to be a very bad experience. Windows 10, till now, has been a horriby mismanaged product. It's like no team that makes apps or part of the OS at Microsoft talk to each other about the design at all for a unified user interface. How can there be so much inconsistency!

Ugh... Could you like, post about what works really well in Windows 10? This makes it sound like everything they set out to improve still sucks. Edge renders web pages "fairly quickly"? Shouldnt it be "very quickly"? Why switch to edg when Chrome doesnt really have any major flaws?

If it seems that way, there might be something to it...
There are certainly improvements, but most are hastily (and sloppily) implemented, and along with them came an horrible amount of regression.
They found just the right median where both W7 and W8 users can find some major flaws to be pissed about.

Finally someone mentioned the unfriendly touch experience

We'll need a Windows 10.1 (yes, yes, it's a service so it won't be a unique version, call it whatever you want) within six months that focuses on UI polish. These issues need to be ironed out because giving attention to them will smooth out the WinRT development kit and make it more attractive to developers as it matures and grows in functionality. Like I said above, WinRT actually can't handle these legacy tools, so it's much more than just giving them a new coat of paint. If Microsoft is serious about the UAP, they'll need to devote serious resources to polishing and improving WinRT so that these sorts of specialty apps are practical at all. Even so, Win10's UI is in a pretty good place, and it can get a lot better from here if Microsoft gives serious attention to the problems. Here's hoping.

WinRT development kit also needs a big focus push, I'm not so thrilled with the "New features" list so far on Universal Windows Platform apps. For instance good standbyes like .NET's HTTPListener are missing.

Very good article! Agreed 100%

Like regular Windows tock in the tick-tock cycle, this isn't going to be a viable OS until Service Pack 2... Sigh... Thanks Dell... Rushing this release is not the way to go IMHO...

Another vote to bring back placeholds for OneDrive. I for one do not want to sync 1:1 on all my devices, especially low storage tablets.

My list of major issues: General: 1. RDP fails if you get disconnected from a session to a Windows 10 computer. It takes heroics to get it back.
2. No system-wide dark theme. Some apps have option, some don't. Should be set in settings and all apps should know about it an adapt accordingly.
3. Nvidia graphics cards have a major issue with resetting themselves when screens come out of power saving (either from sleep or from blanking) which cause the monitors to reset and apps be moved all over the place across multiple screens. (reported to the card manufacturers, and Microsoft)
4. Having 1 high dpi monitor and 3 standard dpi monitors works well for the most part except for Office 2013 and 2016 which look like a blurry cam on the non high dpi displays and the title bar for an app that moves from the high dpi to a low one is enormous for no reason.
5. Endless notifications on login. It doesn't aggregate them or just tell you to look at the multiple notifications in the notification bar, it just keeps binging you forever until you open notifications. Yuk.
6. Universal apps from the store don't remember their position and size on screens meaning I have to reset them after every login. Yuk.
7. There are major issues with C5 and C6 sleep states with X99 motherboards. Specifically Asus x99-Deluxe will never resume from C5 or C6 sleep properly and requires a complete power disconnect and them bios reset to get it to come back alive again otherwise it won't post. This also manifests itself in restarts getting hung with a partially visible bios post screen. Who's to blame, I don't know, but Microsoft should have recognized this and put in hard rules to prevent this from happening like they have with other boards. (reported to both Microsoft and Asus.)
8. Surface pro 1 is offering a firmware update from 5/13/2015 which it fails to install every time. Networking: 1. You cannot get into the TCP/IP settings for a VPN. This prevents you from manually setting IP addressing and disabling the auto-gateway feature so you have no way of disabling all of your internet traffic going through the VPN. These issues make the VPN functionality basically useless at this point.
2. Surface Pro 1 still loses Wifi on resume from sleep requiring the card be reset or the OS restarted to fix it. Mail: 1. No Dark theme.
2. Contrast is horrible. Either they need to put the subject where it belongs first or it needs to be bolded or both. The way it is right now it's really obvious who sent me an email but not what the subject of said email is, which defeats the purpose. I have dozens of emails from the same person in a folder. I don't care really who sent it (it's a secondary concern) I care about the subject because that's how identify the thing I'm looking for. Outlook 2016 also has this issue and it kills productivity.
3. No S/MIME which was there in windows 8.1 desktop and mobile. Bring it back! (and copy the way it works with specific accounts and automatically figuring things out and just warning you if emails can't be sent securely like windows phone 8.1 or ios does because the way Outlook Desktop does it is horrible and Outlook 2016 is even worse.)
4. Options for specific accounts require you to select from a drop down (not obvious) and then choose your options. These need to be moved into options under the account settings screen when you select an account to set. (what they should do is use the gear context sensitively and move everything into the panel but specific to the account and if you go back to global, list the accounts and allow the user to select and bring up everything for that account like Windows 8.1 did)
5. Buttons are all over the place with no consistency. Adding a new email is on the left, sending an email you've composed is on the right. Make up your mind.
6. No unified inbox. Duh. (and it should know exactly what account to reply to and what signature to use.
7. No rich text signatures with images. Required.
8. Switching between accounts is 2 clicks instead of one. Horrible interface. Copy Windows 8.1 and Outlook with them listed at the bottom if possible and only go to the menu if not enough space.
9. You can pin an account to the start menu but you can't run multiple versions of the application thus defeating the purpose and it selects the account in general and not the inbox as it should. (this sort of works properly on mobile but not on full Windows 10)
10. Clicking on the already selected email unselects it and shows the lame background. The background should only be seen in an empty folder. Clicking a selected email should do nothing.
11. Mark as read is copying outlook which is broken. I need an option where as soon as it is viewed at all it immediately is marked as read.
12. Emails deleted aren't marked as read automatically. (just like Outlook Desktop which is stupid)
13. Deletions and flags are not synced automatically just like Windows 8.1 and Outlook Desktop. Every other email client gets this right so Microsoft get this right!
14. When you delete it should remove flags. (or at least have the option to set this) In short the mail app is a disaster and a major step back from even the Windows 8.1 mail app. This needs the most work of anything in the OS because it's basically unusable for anyone serious about email (and the Outlook desktop email client is horrible at this point and a dinosaur so there is bad and worse options for email in Windows 10 right now) Skype: Instead of adding the ability for Universal apps to do screen sharing and simply enabling that and fixing the UI for the universal app, we now have to use the desktop app and there is no indication that the universal messaging app is going to be able to do anything other than text and almost certainly won't be able to do screen sharing. This is a horrible solution. 1. Bring back the universal app.
2. Enable screen sharing capabilities (the only thing missing)
3. Fix the UI and make it touchable. (unlike the desktop app)
4. Allow it to snap (unlike the desktop app) By enabling screen sharing capabilities apps like goto meeting will work way better and we won't have to have their stupid desktop equivalents around. This is the missing piece of the equation with Universal apps and will eliminate the need for the vast majority of desktop applications which would be wonderful. There's more but that's the list of stuff that needs to be fixed with RTM right away. Special Note Multimedia: It's great that Windows 10 supports MKV, H265, Vorbis etc. natively. But it doesn't allow bitstream audio which would cost them nothing. Until that's implemented universal apps cannot replace desktop ones for multi-media properly because they have to pay royalties to decode to PCM instead of passing through the bitstreams to the receiver over HDMI/DP and allowing the receiver to decode. This is a no-brainer and needs to be implemented (and needs to be implemented for the Xbox One too!)

The current modern Skype app has issues when group chatting with more than 3 people. That would also need to be fixed. That being said, I completely agree. How can they take their flagship application that must exist in both phone and desktop and not make it universal? Posted via the Windows Central App for Android

I forgot one: Grove needs to allow rating songs. It should also do this from the volume card so that you can easily rate yours songs. Then the phone companion app should allow you to sync all of your songs with > X stars automatically. And another one: The phone companion app needs to allow wifi sync with Windows Phones again like Zune did in the past. And when it syncs music per above it needs to be able to remove tracks that no longer fit the criteria from the phone too, not just add stuff. I don't want to have to manually delete.

Wow, thanks for this info. I was planning to remain with 8.1 until W10 improves, but now I'm definitely staying 8.1 for now. Lots of goodness in W10 but work in progress!

yes, skype. another train wreck. clearly, they did not have time to rebuild it as universal app (like the new mail, the xbox, maps, groove etc) so they just removed the the old universal/tablet/metro app, and forced us to use the 'desktop' app. try using in on a surface pro 3, with its hdpi screen, in tablet mode and try not to vomit.

Wow, I tought Windows 10 was supposed to fix everything!

Windows Media Player is unchanged as well!

It really boggles me that they kept it unchanged since Windows 7. I mean really! The guys from DeviantArt manage to make custom shells which are made usually by one person. Microsoft though unfortunately can allocate a small team or a single person just to update its looks. WMP really looks out-of-place now in Windows 10.

Another baffling thing, like others have said, do they not have project managers over there, do they not have one point person that looks over all of these things.

Seems like wasted resources to go about updating Media Player at this point - Even a single developer working on it is costing something. There are better alternatives out there from other companies / developers that are WAY better than Media player anyway....Why invest resources in a legacy app when there are others doing a better job. It leave somebody within Microsoft free to work on improving other things that more users are going to get some use out of.

Microsoft is promoting half baked OS as its biggest release in history... and yet windows 7 was loads better !!

Looks like Windows 7 will hold the title of most polished and ready OS at launch. Vista will looks hold the title of successfully modernize the UI of virtually every areas in Windows Vista, even now we still see the changes made by Vista.

Well, Windows 7 was mostly a fixup of Vista, as Vista was the Windows that took the plunge with alot of new stuff.

It should be noted that the taskbar icon context menu and the inside a website context menu in Edge are in fact the same context menu style; you have dark theme on for the OS shell but light theme on for Edge. The other differences between the two have to do with what needs to be present on those menus and not the visual design. Context menus should respect per app theme settings so that's working as intended. I think it's also intended that apps can custom skin their context menus, so I'm not sure the mail app should count. As to the title bar, app developers do have control over that, so it's something that will take a little while to catch up as apps get updated.

I don't see the control panel going away anytime soon. Modern settings is missing more than 95% of cp functionality. Just look at the print settings. It would be interesting to see how they could fit all those settings in a modern environment. Posted via the Windows Central App for Android

They should have never tried to get rid of the controll panel. You just can't replace it with touch friendly modern app and preserve all the settings in a usable fashion.

My live tiles aren't working in Windows 10.

It's pretty decent as it stands. Release it and fix it as we go works for me. Probably won't work for a lot of people who are not power users.

SEVEN context menu styles is fucking ridiculous to the point of absurd. What a mess. Overall I really like what they've done so far, but I think not enough was done to the little things. All of the new modern stuff just makes the old crud stick out like a sore thumb all the more.

is it mandatory to reserve windows 10 to be able to download it on my laptop for free after 29th july?

You have one year from July 29 to get Windows 10 for free. If you want to get in the queue to get it soon, you want reserve it as soon as possible. Thanks,

If they roll it out to insiders first, do i have to have the Preview installed or is it enough to be insider ? :)

Some other things worth mentioning: The top-left corner of the action center has a few white pixels you can't get rid of Taskbars on secondary monitors don't have a system try, nor can you pin items on them Quick access in Explorer seems to add items you haven't pinned and there is no way of removing all non-pinned items (it doesn't work) Email doesn't have a unified inbox Once you open a folder in mail that isn't the inbox, it will be showing new messages on the live tile. Even if its a spam folder Office apps and other desktop-apps from Microsoft don't have live-tiles. Even Outlook 2016. And you can't set them as wide-tiles Store doesn't have notifications for updates anymore, nor a history of recently updated apps Store doesn't show recommendations by friends or something. I'd like to share what i've installed (or a list of favorite apps) so i can easily point my mother to a list of "apps for Mom" or whatever And many more. And i still would like an option to have apps open where my mouse is (and set exceptions). Its one of the reasons i still use Actual Multiple Monitors

This article confirms my suspicion that Windows 10 is only half baked. I won't be upgrading anytime soon.

It definitely needs a lot more time to be polished, I am surprised they are releasing it as 'final' this soon.

Regarding Edge: "For example, in my current installation, the taskbar preview only shows the preview for the website you're currently on." I sincerely hope that it stays this way. I frequently have a dozen+ tabs open and multiple instances of IE (or whatever) open. I only want to see a preview of each instance of the browser, not of every single page. Obviously, the best route is to make it all optional.

An WIndows Media Center option is also missing from Windows 10... The classic config windows are used in the background, only used when trying to setup or configure something. The old layouts work very well, not sure there is a good reason to change this to a new design. And the Control Pannel, yea, the old one should be a available, as some power users will find things much easier and do things quicker. If it Aint broken, dont fix it... And Edge so far is junk, It crashes too much, browsing does not always work and generally buggy. In using WIndows 10 I always give it a shot but, always find myself going back to IE after about 10 min of browsing. This app is NOT EVEN CLOSE to be ready for release...like other parts of WIndows 10... Sigh, rushed release date, hope it does not kill Windows 10 before it's even released (all it takes is 2-3 big reviewers to give it a poor review and it will be just like Vista was)

My complains are 1. Context menu inconsistencies 2. Unable to swipe from left edge once to switch to another app 3. Edge is not as good as Modern IE in 8.1 in terms of UI 4. File Explorer is not a universal app 5. This is not a complain, but shouldn't they retire maximize button on title bar? Who still use it? Just drag it to the top

Does anyone else have serious video playback issues in Windows 10? And Edge in particular?

I think one of the biggest issues with Windows 10 is the complete mess Microsoft has done with trying to change the useful Control Panel into a mediocre at best settings app. Now you need to jump between the two and hunt for everything, and the search is of no use if you don't know exactly what you are looking for bis called. Not to mention the stupid removal of WMC, but thats a whole other issue.

I have a problem where my two left side usb ports suddenly doesnt work. I then have to use the mutt usb tool and restart and then they work. It happens when I connect my printer. The one on the right side works fine.

i am right now on 10240 preview but its directly installed via iso file ..and if I select settings / backup and update /software update /advance options/Get Insider build/...then what happen?..and i choose or not ?..plz help me..

Please, no desktop access in tablet mode! Proposing such a "feature" only shows, that the desktop thinking has ruined the OS. If they had concentrated on interactive or widget tiles, developed a file list widget and additionally had made tiles pin to the wallpaper formerly known as desktop, they would not only have a better OS, but also nailed the tablet experience.

You and all the Zune adherents need to move on. The team has been scattered to the wind. Frankly, the Zune pining is obnoxious as there is no constructive feedback to improve Groove other than "Xbox Music/Groove sucks! Zune is better! Whyyyy?" If it was better it would have had more sales to keep it alive just like any successful product. If you really want Groove to improve, provide solid well grounded feedback on the UI and functionality and not complain about bringing back a failure.

No mention of the lack of SmartFiles in Windows 10, back to syncing per folder, as things were in Windows 7. A step backwards, most disappointing.

A very smaller size music player, which I could use from task bar

Great article and observations. Thanks

Really concerned about the removal of swipe gestures and other tablet features. I use my sp3 almost exclusivity as a tablet with a keyboard

1. Settings. You can always find settings from the Charms on Windows 8. There was virtually no effort there, and the Settings option was contextual, based on which app was active. In Windows 10 it is stupid in every way that matters. You literally have to search every single app or program or whatever to figure out where settings are. Not so in Windows 8. 2. Context Menus. This is simply one of many examples of how Windows 10 is nothing but a Frankenstein's monster of an OS. In Windows 8 the Metro environment and the legacy environment share a few things that I believe were necessary (a few are needed more synergy), but it was clear when you were dealing with one or the other. I LOVED this. 3. Title Bar. I hate title bars. I especially hate them in Metro apps. All I need is to consistently be able to grab the top of the screen of an app and drag it away to close it. Half the time this does NOT work in Windows 10. And the ANNOYING and ugly and poorly implemented title bar that was introduced (stupidly) in Windows 8.1 is worse in Windows 10. 4. Tablet Mode. This is nothing but a cruel joke in Windows 10. I have nothing but pity for those who couldn't comprehend the Metro vs Desktop environments. I found it exceptionally easy, and it wasn't long at all before I found that I hate being forced to use a keyboard for anything other than ACTUALLY TYPING. I despise keyboard shortcuts, and that is exactly what Windows 10 thrusts upon you. Almost none of the mouse gestures that worked so amazingly well in Windows 8 are in Windows 10. I have to figure out a stupid keyboard method to do things I can do with a mouse easily in Windows 10. What they should have done is designed Tablet Mode to be able to bring back ALL of the mouse gestures but also allow the keyboard shortcuts to work for those who prefer that. It is so painful to do anything in Windows 10 compared to Windows 8 that I try to drive as many people to stay with Windows 7 if they are bound to the old desktop way of doing things or stay with Windows 8.1 if they embraced the Metro environment. 5. Edge. This thing is HORRIBLE. It is extremely slow and laggy on my test machine. It randomly locks up and crashes. It is painful to watch it attempt to render websites (such as Windows Central). Oh, and typing in a comment box? I'll be typing along and suddenly it stops responding to the keyboard. It's not just "catching up to the keyboard buffer"...it forgets there IS a keyboard buffer. I end up having to wait until Edge "wakes up" again and lets me type before I can continue. Pin to Start doesn't work, period. This is something I relied upon a LOT in Windows 8. I have a specific section of my Start Screen grouped for websites. It's much faster and easier to pull those up than to use the ancient "Favorites" in the desktop IE or the even-worse Edge. I just hate everything about Windows 10. It pukes all over the things I liked about Windows 8 AND Windows 7. This has been the painful and disgusting testing of an operating system that I've ever experienced. And, clearly, the hundreds of comments I've sent in their feedback tool are wasted.

So, in short: this thing will be a mess that is meant to always look like a work-in-progress? I had high hopes for W10, but it sounds very unfinished and unrefined.

When Windows 8 came out it was not that much buggy or inconsistent the way Windows 10 is now. I still prefer 8.1 because of it's design language over Window 10(Which even Microsoft is not even in stage to finalize it).

On desktop, Win10 is great. I'm not appreciating it on my Surface Pro 3. I've maintained that Win8 was a fine interface for touch screens (it was MS forcing it on desktop users that irritated everyone). Win10 removes a lot of interface elements that worked in favour of... well, Win10. But with that many basic, touch friendly UX elements disapeared. Edge is not touch friendly, even with its larger icons (no swipe to go back!?!). The inconsistency in the UX overall makes for a confusing experience, but its work on the tablet because much of the UX is still not touch ready. And my homegroup keeps disapearing. I create, it works at that moment, and then hours later the homegroup is gone and must be recreated. This is on doing so between Win10 devices. I'm hoping after a clean install on both units on July 29 all will be well(er).

This whole release and refine method is a joke. They need to get their crap together and make a finely tuned product on their own before its released to the masses instead of the masses being your new set of guinea pigs. Seems they can't do anything right these days. I'm terrified for July 29th.

Very good work on this article, Mauro.

I'm a little sad that they couldn't get the consistency issue sorted out before launch, as that is something reviewers, bloggers an' such will jump on, when they start their anti Microsoft rants.. I hope MS will rectify this quickly (maybe they already have with a day 1 patch, but it seems unlikely). Anyhoo, I'm installing Win10 as soon as I can possibly get the final version (I don't want to have to reinstall, if I use the Insider version).

How about the OneDrive implementation which is a step backwards from Windows 8.1?

I would prefer to select tablet mode whether a keyboard is attached or not. I want my Live Tiles to be just that, visible and showing me information. I can live without virtual desktops but really, they should be available in tablet mode! I like all the new designs and the sooner they make everything match the new designs the better. By all means get rid of control panel and replace it with the new design settings. When I do need desktop I need direct access from tablet mode, as it is in 8.1. The charms bar was perfect for checking the time, date and battery life, as well as sharing. If I'm say watching Netflix, then how do I quickly check the above? I don't want an always showing taskbar! There is lots of awesomeness in W10 but it seems like a step backwards in some ways, like removing swipe from Edge. I find 8.1 is perfect for my needs and as I am not an Insider will not be moving to W10 until I feel it's doing what I want. As there is a year to update for free I will remain on 8.1 until W10 can properly replace 8.1.

I just tried to do the "Consumer Experience" upgrading from 8.1 to Windows 10 the last couple days. First attempt. Failed on "FIRST_BOOT". Error like 0x91001010. Spent two hours googling and trying things like purging the temp directory and arcane powershell commands to do God only knows what.
Second Attempt: Failed on "FIRST_BOOT". Pulled my secondary hard drive D:\. Pulled my wifi card. Disabled all built in ethernet ports on the motherboard. At this point it deactivated my Windows 8.1 activation and I had to call Microsoft (no ethernet) to re-activate my windows license to upgrade. "First box, Second Box, Third Box, Fourth Box, Fifth Box, Sixth box..." took about 10 minutes.
Third Attempt. Failed on "SECOND_BOOT" rolled back to Windows 8.1 again. Different error message. Switched from "Retain settings and apps" to just retain files. Success! Except it then bluescreened and rebooted. After that reboot everything seemed to go fine until I turned on my motherboard's ethernet ports in the bios. They showed up in the device manager but had an exclamation and said they couldn't start the device. I tried updating drivers using a USB gigabit port that did work. No luck. I tried specifying a slightly different driver, no luck. I then uninstalled the drivers and it re-searched found the exact same drivers and they worked. Ditto with my wifi card. After installing a bunch of apps, isntalled the critical security update and I rebooted my computer and then when typing in my password it froze. I rebooted the computer again typed in my password and it froze while logging in. I rebooted my computer again into safe mode. Did nothing except uninstall the wifi card. Shut down the computer unplugged the wifi card and rebooted. It logged in and and I'm never turning my computer off again. If this is what an "Average" user can expect from the Windows 8.1 -> 10 upgrade process they are not going to get 1 Billinon users for some time.

They other thinng really terrible about tablet mode is that on the SP3 when you have the taskbar icons set to the smallest size in desktop mode, they don't go up to regular size in tablet mode for your fingers. As mentioned, there is no way to get to the desktop from the tablet mode start menu. It's like they expect the tablet mode start menu to swap in an out as a replacement for your taskbar/desktop shortcuts.

It looks like I'll be updating (if ever) July 28, 2016. :)

I'm a little sad that they couldn't get the consistency issue sorted out before launch, as that is something reviewers, bloggers an' such will jump on, when they start their anti Microsoft rants.. I hope MS will rectify this quickly (maybe they already have with a day 1 patch, but it seems unlikely). Anyhoo, I'm installing Win10 as soon as I can possibly get the final version (I don't want to have to reinstall, if I use the Insider version).

I think the biggest missing feature is Easy Transfer. Windows 10 now includes NO way to transfer your stuff to it! The only thing I've found for transferring programs and files to a new Windows 10 PC is this tutorial: http://www.zinstall.com/how-to/how-to-upgrade-to-windows-10-without-losing-your-programs-and-files

Can anybody tell me how to merge (or link) multiple email accounts into a single place on Windows Phone? I've added both accounts on the Mail app, however i need to manually toggle between the two.

You can't. They said you would be able to. Like just about everything on the Win10 Preview they ran out of time and haven't done it yet.

Thank you. It was driving me crazy looking. I wish they wouldve left the old mail app alone for now.

"Microsoft have put in hundreds of hours of work"
Try hundreds of thousands ;)

As expected, Ms layer off majority of their debugging decision, and now they are releasing unrefined OS. Thanks Nutella

I hope you sent this to Gabe & the MS dev team.

It's funny how everyone overlooks the desktop apps like wmp, etc

Different settings sections, different context menus, inconsistency with titlebar / search / back button, vertical-scrolling (this one is a mess for laptops, i miss how horizontal-scrolling made everything alligned)... And even minor things, like the difference between lockscreen wifi menu and desktop wifi menu. These are all bad things, but i'm happy there are more people noticing them and seeing how they're important for a full Windows experience. Talking about some apps inconsistency, I made a concept of how to make general standart apps more consistent, like Groove and Store, i'll let it here if you guys want to check. ;) http://forums.windowscentral.com/windows-10-pc-laptop/367541-consistent-...

The only thing that is keeping me on windows 7 is Dark theme like this one http://aaron-a-arts.deviantart.com/art/ADOBULATED-317882595

I'll be upgrading ALL SYSTEMS BUT those running Media Center and live TV/PVR ... as Microsoft seems to have killed off and not replaced this functionality. Still looking for a suitable replacement (without highly unreliable live TV and guide options as per the options available for XBMC/similar). Grrr! Great work, but pieved about media center!!!!

Im worry that I will switch anytime soon.

Excelent job reporting all of the UI inconsistancies. Microsoft needs to fix these as it really makes them look amature.

Two nights ago i rwcieved a download of the full retail version of windows 10 pro. Has anybody else got it???

I agree with author. Good job.

right click on taskbar is different for tablet or mouse. pisses me off when i want task manager. clicking apps from the start menu doesnt always start them, especially when computer is busy ( surface 3) pen input is screwed up. i was just trying to pen using onenote app and desktop and it kept getting stuck in right click mode and not letting me interact with the window. it was also not rejecting my palm. surface 3 loves to crash because of the display driver. i have not had an update for a new driver yet. i still have no brightness control. sometimes networking doesn't connect and needs manual connecting. tablet mode would be ok if it they brought back swiping and multi app left flick display and charms. apps are a nightmare, the mail client still can't pin a folder to the start menu it keeps telling me it already is but it isn't. music may or may not decide to play a song. onenote well pen input is messed up. news and weather are probably my only favorite apps that work. this is really not what microsoft needs to release to the general public... i'm afraid its going to backfire.

Tablet mode and Edge experience on my tablet are very bad. Perhaps the lag has something to do with poor driver support for this model Atom? Never the less the user experience on tablet and lack of gesture controls leaves me wanting for Windows 8. Windows 10 tablet mode could do a lot more to cater to a touch-first experience. The layout of buttons are tiny and confusing. It's ironic that they are running an ad campaign with toddlers talking about how this generation will experience Windows 10 in a natural human way when I don't think the new OS is kid friendly at all. All these little indecipherable icons spread across the UI are a far cry from the simplicity of use of something like an iPad. Not that I'm an iPad fan, but their marketing is very misleading to pretend that they have an OS that is at all toddler friendly.

Functionality aside, as far as design and UI, Windows 10 looks like a hodgepodge hot mess of different design cues and ideas that Microsoft designers threw against the wall, like wet spaghetti. The only form of consistency in design.....is it's inconsistency.

I think I'll wait a long time for Windows 10 because I'm OCD and this gives me panic. Posted via the Windows Central App for Android

Please include What's App in Windows 10

Does it automatically detect SSDs and enable/disable things? Still they let Windows defrag SSDs and various other things that reduce their life.

I've had numerous machines with SSDs in since Windows 8, but it's always auto detected they were SSD drives for me and specifically explains not to defrag an SSD if you try to.

One thing I've been wanting for years is tabs in Explorer, just like we have in all modern browsers.

Seriously much needed! I have been using add-os and alternative file managers for years. One might think Microsoft doesn't actually use its own products.

Although all the things listed in the article ARE inconsistencies / problems and fair, I'm really surprised by the general mood in the comments. It seems as though the article in a way has damaged the perception of Windows 10 for a lot of Windows Central readers, with a lot more than I expected just swearing off moving to the OS. The reason it's surprising is that in general, other articles about Windows 10 and it's core apps in general have garnered positive responses from people here. Personally, I'm now on Windows 10 on my Surface Pro 3 (Had TP/WI builds for a long time on there) and since 10166 I've also had it on my desktop PC, which has been a really smooth experience, apart from a piss-poor graphics driver Nvidia somewhow managed to release (and then later pull from Windows Update). If I was going to choose any other Windows OS to use, it would be Windows 8.1 - I still think that OS was great after a few updates if you could see past the big change in UI and just get on with your work instead of worrying about it (Search was very quick, and during work related tasks such as coding, I rarely need to come out of my IDE)

If/When they get bad press over these inconsistencies and what appear to be unfinished aspects, they're going to wish they held it back. Bad press could drag this through the mud just like Windows 8, no matter how much 10 is 'improved'. It really doesn't seem ready.

>less than 8 days from release >inconsistencies everywhere, flat icons, semi flat icons, Vista icons, tiles, no tiles, minimalistic icons, some things "modernized", some things still look out of Windows XP >duplicated apps everywhere (such as Windows Media Player and Music, Control Panel and Settings, Photos and Picture Viewer, IE and Edge) >new apps are barebones as fuck, music doesn't even have an equalizer, photos can't even zoom pictures with the mouse wheel >old apps still look like they did on fucking VISTA and function the same way >Cortana and Bing and Onedrive botnet shit everywhere >Can't pin things to the left on the start menu >can't pin folders that open as jumplist on start like you could do in 7 >start menu is a clusterfuck of old, new, tiles and minimal icons >removed pretty much all customization options >some things from control panel randomly moved to settings, some still there >settings literally unusable and looks like shit >store still only carries only phone reject apps >still no tabbed explorer >still can't customize the explorer ribbon thingy >still no dynamic preview for files like OSX >multi desktop a useless gimmick >crude animations everywhere (such as minimizing-maximixing a window) >stock apps have ads in them >everything is fucking white >no real performance improvements over 7 or 8 on good PCs, only memes like DX12 >LESS THAN 8 DAYS BEFORE RELEASE

Overall, pretty good article. A lot of the items are so minor that I truly won't care about them... but as many of them as Microsoft can address, it will make the OS feel all that more polished. I'm most interested in them polishing Edge... I've been a Chrome user for the last 6-7 yrs, and love it. But I'm definitely looking forward to some of the features in Edge and will consider making it my new default if it's good enough to give Chrome a run for its money.

So disc manager is still in the 90's... Hopefully it will be updated in the future without sacrifying any features.

With all critics that Windows 8 received, Microsoft unfortunately has fallen in a trap! Now are not only Microsoft haters that attack Windows 10, but also MS followers (me included) that are disappointed with the regression we feel at Tablet Mode. For the first time in my life I will not be an early adopter of a MS software! I hope I am wrong, but for the next months things will not be easy for Microsoft. For now I will keep at my Surface and Windows Phone the Windows 8.1. I will miss Charms Bar that Desktop guys criticized so much!

Context menus in windows 10 really sucks. Hope they do not release the OS without updating them.

I agree with your article Mauro.

"Also, like with universal Windows apps, users can use the same Settings experience across PC, tablet, and phone." Please tell me that when I upgrade to 10, and am forced to sign in with a microsoft account, it won't try to automatically change my PC settings to match that of my laptop etc. Windows 8 did this I think with onedrive and it drove me nuts.

They really need to fix up the UI before releasing. The settings app looks so unfinished. Grey on grey over white...

This is even worse than Windows 8..... 8.1 was already okay and now they're changing things up and releasing when they're not even finished yet....

Brilliant summary, Mauro! Articles like these actually mean something; they stand for something. Sometimes I wonder how other authors get away with one-sentence articles that are accompanied by giant block quotes. But here, you've compiled a wealth of data that even Microsoft should find useful. I'm glad you took the time to wrap it all up very neatly and presentable.

Outstanding article!!!
.
.
Well done!!!

Now this is a well written article! You have pointed out the things that always get my goat. I hate the inconsistency in Microsoft products. What is the point of a design language if every app window has a different style!

Exactly. In Windows 8 you have two distinct UIs (Windows 8-style and Windows 7-style). In Windows 10, you have THREE overlapping interfaces (Windows 7-style, Windows 8-style and Windows 10-style). Hope MS will fix it.

As long as they don't make anything to compete with Handoff on Mac and redesign this hideous file explore, i'm not gonna switch to Windows 10.

1.If I was Microsoft I would not launch Windows 10 yet as it getting worse every update. I use 6 monitors on one computer. Every-time they do some type of update, I lose more graphics adapters and now only can use three of monitors the works now as windows does not see the different graphics cards as I have three internal graphics cards and 2 external graphics cards.. Window 10 most current build does not see the graphics cards.. I would not install it on your machines until their get better graphics drivers. Their is add on software that allows you to split window monitor into panel, but I have found all the software that I have tested slows your computer and down and does not function properly... so far... 2. Microsoft has been working building a tool to spit every one of computer screen in 1/2 or 1/4 panels. This is nice feature.. But I think it kind-of piss-poor attempt to create a true window machine. In fact I think Microsoft is still dropping the ball to building what I think window is all about... be-able to spit computer screen or monitor into several panels. Microsoft should allow the user or administrator of the computer to spit the screen into several panel as TV are getting bigger and bigger and I want to different sizes and shapes of the panel in the monitor. Monitor being split up in such pattern such at 4 x 3 , 12 x2 1 x 6 or 1/2 x 7 ect. I would like design my own panel size and shapes. 3. Microsoft current configuration of Windows 10 allow the user customize each display to to change size of text , apps, and other items 100 % to 350% . I use 4k monitors and different apps running and this a wonderful feature and make window 10 so much better then window 7 because of this. Microsoft still not finish the job correctly and their is big problem.. Say on my 55 inch 4k resolution monitor and i split into 4 panels. Or like having 4 monitors. I would like to adjust each panel separately and change the text size on one panel 50%. The 2nd with text size 200%, the 3rd panel I want to run an app at 300% and the 4 Th panel 350%. Window to me, means several windows on one computer and to function properly. Microsoft should focus on this. I own 4 Apple machines they does windows and panels better than Microsoft does. But at least I see the Microsoft is starting think about functionality of each monitor on your computer. I just need more work. Microsoft please correct.... Thanks

The main thing I was hoping they would "fix" before the July 29 release is the way it handles OneDrive. I have had it dual booting on my desktop almost since they first started the Tech Preview process, but when I finally decided to try it on my Surface Pro (128GB) a couple months ago and saw how it wanted to download everything from my OneDrive, I gave up on it and rolled it back to 8.1. I guess it will stay that way until I hear they have that "fixed". If they don't, I guess I am fine with keeping 8.1 on there. But what I really don't understand is that I keep hearing about more Windows tablets coming out with smaller hard drives. How is Windows 10 supposed to work on those? Is a person not supposed to sync their OneDrive on them? I mean, I guess a person could just access it from the browser. But if you ask me, that kind of defeats the purpose.

A friend of mine who is testing Windows 10 and has been since the first release builds just like myself have noticed that when setting up a Child's account following the steps when adding a new user and making sure on the MS account website under Family, that the "Block Inappropriate Websites" setting is turned on and "Bing Safesearch" is also turned on, and even paid the 50 cents MS requires to verify, You can still put any keyword you can imagine porn related in the Edge or IE URL bar and have a list of porn sites come up. all of which can be accessed without any "Blocking" Even in Bing Images you can instantly turn off "safesearch" while in the child's account and get the full barrage of porn related images with no red flags thrown up or anything to stop a child from access to anywhere they want to go or see on the internet. I have gone through the steps myself to see if in fact this was true and found that i could go anywhere and see anything just as if i was on an admin account. Windows 10 Family Safety in all builds of 10 including 10240 from a fresh install will not keep any family safe on the internet on any level. We are both in the US with US accounts and what worked in 8.1 is now completely broken with launch just 7 days away!

I can actually comment on this, as I just published a new guide on setting app accounts, and during my test, having filtering on and blocking sites worked just fine. When you type an inappropriate on the search Bing will not let me search, and Google will showed filtered results. And trying to access a blocked website will result on a default page that lets the user know that they can't access the site, but they ask for permission from an adult. Perhaps, there is an issue with certain Microsoft Accounts, which if true, this is something Microsoft will have to address. Thanks,

Very good article. I hope Microsoft reads this.
Also does anyone notice the tiny broken pixels top left action center? It's best to see when it flies over a dark background. Annoys me lol

i totally disagree with most of what the author said. first, what is the big deal with unifying everything? having everything look exactly alike is boring. and i don't think users are as easily confused as you seem to think they are. i also think m$ learned their lesson with the terrible, horribly awful windows 8, and are smart not to kill the control panel before ga. let everyone get use to settings and control panel still being there, and after they are, then phase it out. that way they don't make the same mistake they did with the start menu. and it isn't confusing to have two sources to get information. we live in the information age where there are countless sources of information on the net, yet some how people seem to manage. having different context menus do different things in different situations seems sensible to me. the days of one thing fits all are GONE!!! get use to it. we are a diverse world, and need different things to act differently when in different situations. put your brain in gear, and stop looking for the kindergarten way of doing things. the one thing i do agree with you on is the title bars. the end users should have total control to customize EVERYTHING! included in this is the title bars, tiles shapes, unlimited sizes and colors. light, dark, colorful, monochromatic or other choices of themes as well. GIVE THE USERS CONTROL OF THEIR OWN SYSTEMS.

Windows 10 rc1 aka 'the rtm' build 10240: stabile fast lean in resource use and feature-rich. Love it. And yes a bit of further consistenxy would be appreciated, but I have been running this stuff and admin for systems and networks since 1965...big deal.