Windows Phone Summary of the Week: August 29-4, 2011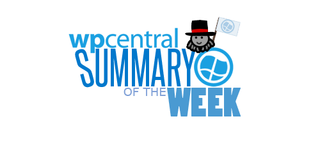 It's another weekend over so here's your Windows Phone summary. This week we've had the Mobile Nations Monday brief, Mobile Nations podcast, WPCentral Podcast episode 124 and a developer interview with Ronny Gydar of Trine's Hangman (opens in new tab). Our Dave Blake has also compiled the top discussions happening over at our forum.
We were at HTC event in London on Thursday, check out our summary (opens in new tab), our hands on videos (opens in new tab) of the Radar and Titan, special episode 124.5 (opens in new tab) of the WPCentral Podcast and the official product pages (opens in new tab). Check out the rest of the summary after the quick break.
Kik has published some interesting data that indicates releasing their Windows Phone app gave a boost to iOS and Android user growth. Microsoft has paired with PEGI for game ratings on the platform (opens in new tab), while Litigation claims Microsoft is tracking users via the camera. Mango has been rumoured to be set for September 15th, but was not spoken of at the HTC London Event.
We covered a case study last week that looked at the revenue potential between Android and Windows Phone. Part two of that study reveals a massive gap between advertisement earnings in Android and WP7. Transhub, a Sydney public transportation app, is now available on the Marketplace and received the 2011 Spotlight Award from Microsoft during the 2011 Tech.Ed Conference in Australia.
Moving swiftly onto gaming and our Paul Acevedo has got hold of the makers of Beards & Beaks for an interview (opens in new tab). We have the official Your Shape: Fitness Evolved companion app for Windows Phone working its way onto the Marketplace (opens in new tab). Fable Coin Golf is this week's Xbox Live Deal of the Week, while Fight Game Rivals finally arrives into the ring and is ready to throw some punches.
Gravity Guy, a platformer from Miniclip, is on its way and will arrive on September 7th and Bouncy Mouse... erm... bounces onto the stage. Mobilewares, Australia-based publisher, is looking for some (opens in new tab) beta testers for two of their upcoming games: Words! and Jumble!
Mango seems to be missing the "Find on Page" (opens in new tab) feature in IE9 and is said to be making a return someday. Microsoft has shown off (opens in new tab) a Metro style concept for windows 8, which still seems to be aiming for a simple yet elegant interface. An official SkyDrive app could well be on the way (opens in new tab) with more device integration, while the BBC still hold back (opens in new tab) from developing an iPlayer app for the platform.
Windows Phone Connector for Mac is upgraded to v2.0 (opens in new tab) in time for Mango's arrival, with Samsung closely behind updating their Now app, which receives live tile treatment. NAVIGON GPS is announced and later demoed at IFA 2011. It ain't gonna be cheap.
HTC have certainly been busy bees this week, but they've been making some changes here and there including moving attentive phone, sound enhancer and more to the Settings section (opens in new tab) of the OS in favour of separate apps. Tango is also seen on a HTC device at the London event, no not the OS code name, but a video calling app (opens in new tab). Can we get more interesting than that? Oh yes, HTC also have a DLNA app for Mango (opens in new tab).
We've had one crazy week for hardware on the platform, make no exception that the HTC Omega/Radar has appeared on the web for sale (opens in new tab). Not only are we continuing to see more Nokia handset model numbers, but Nokia were looking to the fan base for ideas as to how they should name their series. We've seen a rumoured capture of the Nokia 703, which looks to strongly resemble the N9.
Another interesting feature that the HTC Radar and Titan sport is to be turned into a temporary alarm clock (opens in new tab) or desk prop with an optional dock accessory - pretty cool. The HTC Titan and Radar are also set to be available on Amazon UK (opens in new tab) from October 15th, but if I'm honest I'm personally still brainwashed by Nokia's N9 design approach. The Acer W4 gets shown off (opens in new tab) in a number of photos for all Acer fans to see.
For fun we have some Metro-to-Android (opens in new tab) movement that's getting more accurate (opens in new tab) by each attempt, although one thing is almost always a certainty - it'll never be Windows Phone. The Windows Phone YouTube channel has received a Metro makeover (opens in new tab) and looks sweeeet!
For developers we have App.net looking to include Windows Phone soon and the Nokia Academy is preparing for training (opens in new tab) on Microsoft's platform. Finally, Bee Mobile is offering a powerful DevKit (opens in new tab).
Highlight
Gaming
Software
Hardware
Fun
Developers
Rich Edmonds is Senior Editor of PC hardware at Windows Central, covering everything related to PC components and NAS. He's been involved in technology for more than a decade and knows a thing or two about the magic inside a PC chassis. You can follow him over on Twitter at @RichEdmonds.
Windows Central Newsletter
Thank you for signing up to Windows Central. You will receive a verification email shortly.
There was a problem. Please refresh the page and try again.