Windows Phone Summary of the Week: January 2 - 8, 2012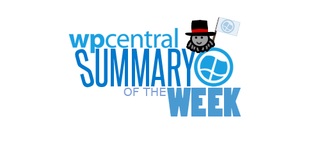 Welcome to your Windows Phone summary of the week, which is bang on the cliff edge with CES 2012 being just around the corner. This week, we've had episode 134 of the WPCentral podcast and some major visual improvements being applied to our forums. If our continued community development wasn't enough, the main website is receiving updates. You can now pin WPCentral to your Windows taskbar (using Internet Explorer), which will provide you with quick access to the main sections of the website.
As mentioned above, we're at CES 2012 this week (as is the rest of the Mobile Nations network!) to bring you the most relevant coverage. As well as being able to read the latest happenings from the event right here at WPCentral, you'll be able to take part in the discussions over at our forum too. Moving on, head on past the break to check out the full summary.
To open up the highlights of the past week, we had a fake Spotify app making its way onto the Marketplace last month, but was promptly removed just a few days ago. T-Mobile U.S. has kicked off the new year with a 2012 sale, which includes the HTC Radar 4G (note that this sale ends today). To help you get through the mountains of chocolate that may remain after festive celebrations, we've compiled a handful of apps to aid with your resolution(s).
Microsoft and OEMs are set to spend more than $100 million marketing Windows Phone in the states. After an impressive campaign Nokia started in Europe (focusing on the UK), the U.S. market is now the target for the software giant and partners. Let's not confuse this with any rumours of Nokia being bought by Microsoft, this has (again) been denied by the Finnish manufacturer. Should you be experiencing issues with your keyboard playing hide and seek multiple times while attempting to input data on your handset, you're not alone. Microsoft has looked into the problem and has now started rolling out a fix in the 8107 OS update.
As well as featuring Xbox LIVE titles on Windows Phone (and it playing a fairly large part in drawing adopters), Microsoft seems to be conjuring up some plans to expand the service across other mobile platforms - namely iOS and Android. While this could prove effective for the gaming service itself, it could have a negative effect on Windows Phone. Staying on games for a moment longer with our highlights, we have Taptitude hitting the 100,000 download marker - very nice!
People may state that the platform isn't selling enough, and they'd be correct (for now). But what most don't understand is how satisfied Windows Phone owners are with the handsets and OS, and Amazon Wireless is a prime example of this high rate of satisfaction. Windows Phone is still holding not only 1st place (HTC Titan) on "highest rated cell phones", but also 2nd (Samsung Focus S) and 3rd (HTC Trophy). Microsoft has decided to reform the way OS updates are communicated to consumers, which has angered some. We should at least see how the company will adapt to the platform growth. Should you reside in Australia, WPDownUnder are keeping track of updates the old-fashioned way.
Blasting our gaming section into oblivion is Sally's Salon becoming this week's Xbox LIVE Deal of the Week. Upcoming Xbox LIVE title, Chickens Can't Fly, will be sporting Avatar awards, just like Pro Evolution Soccer 2012. If that wasn't enough already, Duudle (the game that won the Hackathon contest at Nokia World last year) is now available to download from the Marketplace. If you're not into that sort of genre, then you may want to strap yourself in and start kicking some zombie butt with Z0MB1ES!!1 (on teh ph0ne).
Microsoft is set to publish Arkadium games to multiple (un-named) platforms. Arkadium specialise in socially casual games, that you'd find on Facebook for example. Windows Phone would likely be a candidate, which wouldn't be a bad thing. Gravity Guy has received an update, which not only brings fast-app switching, but two PDLCs (Paid Downloadable Content) to help expand gameplay longevity. Joining Gravity Gun is a list of games that have received updates, including Fable Coin Golf and Tetris going Mango. Sims 3 has received a much anticipated update, which goes beyond what was expected and makes the game almost enjoyable for most players.
We take a look at Ask Ziggy, a Windows Phone version of Apple's Siri, and how well developed the app is. A recent update has been pushed through that brings a slight UI refresh and some more functionality. From asking what the weather is, to creating entries for Facebook and Twitter accounts, Ask Ziggy is a useful hands-free speech recognition app. Best of all, it's free. The unofficial Klout app that we've been following is now available on the Marketplace for you to get your social on.
If you're into art, photography and general images, you'll be interested in Das Image and Designspire. Two great looking apps that bring visual beauty to your handset. Should you, instead, be one to find local POI and wish to save them to the People Hub, you'll be pleased to learn that BizSaver will enable this functionality (which will hopefully be added by Microsoft in time). Ffffound, the result from a WPCentral app request, has received an update that addresses a number of issues from Live Tile performance to saving images.
Pandora apps, fight! Radio Controlled & MetroRadio all get updated, and we catch word of an intern joining the Red Badger team (folk behind the development of Birdsong). The news is that this intern (who is a MacBook and iPhone wielder) will be taking the baton for improving the Windows Phone Twitter client. It shall be interesting to see how the future holds for the app.
The much rumoured Nokia Lumia 900, which is set to be unveiled at CES 2012 this week, has been in the spotlight the past couple of days with a mockup being created that shows off the handset in all its glory. We've taken a look at the Nokia Pulse webpage, which has a Windows Phone render that looks just like the Lumia 900 - strange, or is it simply an enlarged 800? As for the 900, we have more details on the device, and confirmation from the NY Times that the handset will be sold by AT&T.
The Lumia 800, on the other hand, is set to arrive in Belgium on January 20th and launch in Sweden on the 23rd, with pre-orders being taken now. The baby brother of the family, the 710, is now available in Italy, and we take a look at the device and provide our first impressions. In the U.S. T-Mobile stores are receiving stock of the Lumia 710, so we should be seeing some signs of availability sooner rather than later. Should you want to get your hands on pre-ordering it now, you can do so (on contract or OOC) over at Wirefly.
The HTC Radiant 4G LTE Windows Phone has been allegedly pictured, which looked fairly blurry so Brian (WPCentral reader) crafted up a superb mockup of the handset. The Radiant isn't the only handset getting mockups created, the LG Fantasy has also received some closer looks. But, to really fill your rumour boots, is HTC working on an HD8? The Samsung SGH-i667 has passed Bluetooth certification, which could well be the Mendel (one of three 4G Windows Phones heading to AT&T). Oh, and if your Canadian, here's some potential Windows Phone love. Yay.
An MTV video has been spotted to feature a Windows Phone, possibly the HTC Titan. The video is "We Are Young" being performed by the group fun. Yes, MTV does have music videos still. Episode 6 of Nokia's "Little Amazing Everyday" has gone live and is set in India. We also get to see some flash mob action from the marketing push in some selected malls. I figured this was the best section for this story - Microsoft has settled an advertising lawsuit with novelty company Cellrderm, following mediation, for the "Really?" adverts that were broadcasted. Indian Airline Jet Airways has plastered Nokia Lumia all over their fleet.
Developers! We previously covered 31 Days of Mango app development, which focused on the technical side of Mango app development. For 2012, we now have 31 Days of Windows Phone Metro Design to help developers hit all the right buttons when it comes to the UI as users tend to favour good looking Metro apps. Elbert Perez has shared his take on 2011 as a developer, and how successful his games have been, with what lessons can be learnt.
We take a look at how developers can build Windows Phone apps on a slate (Windows 8 in this case), with an awesome video walk through. Xeno bits, Windows Phone developer, has made a quick comparison of a chosen few advertising networks that are available on the platform. Should you reside in Australia and are interested in developing for the platform, then you might well be interested to learn of Nokia Lumia handsets (both 710 and 800) being given away to those who have submitted apps to the Marketplace. Finally, Todd Brix has announced over at the Windows Phone Developer Blog that the Marketplace is continuing to expand to new markets. The new countries included are: Argentina, China, Indonesia, Malaysia, Peru and the Philippines. Users can't yet download apps yet, but developers can submit apps.
Highlights
Gaming
Software
Hardware
Fun
Developers
Rich Edmonds is a word conjurer at Windows Central, covering everything related to Windows, gaming, and hardware. He's been involved in technology for more than a decade and knows a thing or two about the magic inside a device chassis. You can follow him over on Twitter at @RichEdmonds.
Windows Central Newsletter
Get the best of Windows Central in in your inbox, every day!
Thank you for signing up to Windows Central. You will receive a verification email shortly.
There was a problem. Please refresh the page and try again.