Windows Phone Weekly Digest: December 6, 2015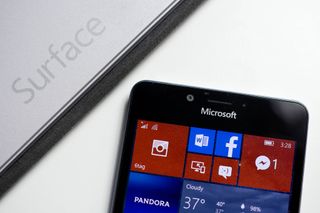 (Image credit: Windows Central)
There's a lot going on in the world of Windows Phone. So much, in fact, that it is sometimes tough to catch every important story.
Device rumors come and go. New apps join the Windows Phone Store, and your favorite app can get a big update with a new look or new features.
Therefore, every week we will compile a list of the Windows Phone news that you just shouldn't miss. Welcome to the "Windows Phone Weekly Digest."
Windows Phone
It's only been about a week since Windows Phone Internals, the suite of tools for cooking up custom Windows Phone ROMS, appeared on XDA. And in that little time, hacker Wack0Distractor has already allegedly used the tools to load Windows RT on a Lumia 520. Of course, that doesn't mean that we are all going to start using it on our phones, but it is a proof of concept and a demonstration of the power of Windows Phone Internals.
Speaking of ROMs, a Windows 10 Mobile ROM is now available for the Xiaomi Mi 4. The only catch is that the ROM will only work on LTE versions of the phone. In case you aren't familiar with the Mi 4, here's a quick introduction.
Pre-orders have begun for Japan's NuAns NEO. The mid-range Windows 10 Mobile phone, which has interchangeable upper and lower covers, will fetch 42,700 yen ($378).
New photos surfaced of Microsoft's McLaren, the Windows flagship phone with "3D Touch" that never was.
And while McLaren will never see the light of day, word came that Panos Panay and the Microsoft Surface team are working on he Surface Phone you've always wanted. The folks behind the Surface Book have gotten the green light to create their ideal smartphone. Though they are sure to hit it out of the park, we'll have to wait until the second half of 2016 to see what they come up with.
Other notable items:
Windows 10 Mobile Enterprise version 1511 now available for MSDN subscribers
Microsoft releases Windows 10 Mobile build 10586.29 to Fast ring Insiders
Former Microsoft CEO Steve Ballmer thinks universal app strategy 'won't work'
Apps
Local carriers in India have decided to start blocking the app Ringo, which buys minutes in bulk from service providers to offer cheap calling rates to app users. Ringo has halted domestic service until the conflict is resolved.
WhatsApp for Windows Phone picked up a significant update. It serves up a built-in camera interface for snapping pics in-app, plus the ability to star (favorite) messages, and a new upload interface for videos and images.
Microsoft's People app added GroupMe integration in latest Windows 10 Mobile update.
The linked inboxes feature, which was previously removed from the Mail and Calendar app due to stability issues, has been restored in the latest Windows 10 Mobile preview build.
Facebook also made its triumphant return to the Windows Store for Windows 10 Mobile. The app was released a few weeks ago but disappeared almost immediately after its debut.
And TuneIn Radio made good on their promise to deliver a universal Windows 10 app.
Other notable items:
Facebook Beta nabs a minor update
Santa Claus flies his sleigh into Windows 10 Maps for holiday hilarity
HERE Maps is working again for current Windows Phone and Windows 10 Mobile users
AppRaisin gains a Live Tile, shows you who posted the news and more
Microsoft Health updated with bug fixes and improvements
The Daily Mail has a Windows 10 Mobile app to keep you "informed" from anywhere
Games
iBasket, the hit free throw sensation from Android and iOS, was released on Windows 10 and Windows 10 Mobile this week. Check out our review.
Another popular cross-platform game, World of Tanks Blitz, also appeared in the Windows 10 Store. Unfortunately, despite being listed, the download link is not yet active.
The Tomb Raider-themed Lara Croft GO was updated with a new location called the Cave of Fire, along with 26 new puzzles.
And Gameloft announced their next epic game, Gods of Rome, which pits the ancient deities against each other. They haven't named a release date, but interested parties can pre-register at the official website to get some bonus goodies when the game launches.
Other notable items:
Be sure to weigh in on this week's news in the comments section. See you next week!
TuneIn is not a universal app. it will notbinstall on my Nokia 920.

I'm using it in my 950 and PC. It IS universal.

Wouldn't it be the same for xbox being universal?yes but it's not the same one on Xbox one, so it isn't universal. And i don't know where you got it from but I've got a 950 and it says is incompatible with my device

Do you have W10 on your phone?
If yes, update the app or reinstall
If no, your Lumia 920 ain't a universal compatible phone unfortunately

Let's see what running Android apps does for Blackberry. That's a very similar situation.

Well since they are making full fledged android phones now, I really wouldn't call it similar at all.

Local carriers in India are the worse. I hate them. I wish we had more pro people carriers here in India. The carriers in India want us to live in the dark ages. They are even trying to limit people from using Skype and Whatapp. And the government is not doing anything. I am really frustrated.

This is a little off context, but did you know that there is a shortcut button to go to the windows feedback app, cause i just found out!!!

When are the releasing W10? I have a Lumia 930.

The Facebook update was pulled again.

I think the intro for the weekly digest should change: Alot can happen in windows phone world. New apps leave the platform, the smartphone share gets smaller, Microsoft is ******** with their customers again... You know, something realistic.

What's the difference between maps and here maps on w10 mobile, I have both

I can't find The Daily Mail in the store.
Windows Central Newsletter
Thank you for signing up to Windows Central. You will receive a verification email shortly.
There was a problem. Please refresh the page and try again.