Windows Phone Weekly Digest: June 13, 2015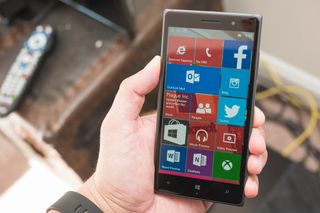 There's a lot going on in the world of Windows Phone. So much, in fact, that it is sometimes tough to catch every important story. Device rumors come and go. New apps join the Windows Phone Store, and your favorite app can get a big update with a new look or new features.
Therefore, every week we will compile a list of the Windows Phone news that you just shouldn't miss. Welcome to the "Windows Phone Weekly Digest."
Windows Phone
It's been about a month since the last preview build of Windows 10 Mobile was officially released for Insiders. But earlier this week, a video cropped up on the internet showing a leaked Windows 10 Mobile build 10134. Among the changes shown in the video was the search button turning into a search bar in the app list and a setting for phones with HD displays that offers up a split-screen view.
We also got a quick tease that Windows 10 Mobile Technical Preview build 10136 was close to being released. And though that may still be the case, unfortunately, it was still too far off to make it out this week. Hopefully, we'll see it early next week.
The actual release date for Windows 10 Mobile for manufacturers looks like it may not be until September or October. This is according to a private webinar that Microsoft hosted for OEMs, during which Microsoft stated that "Windows Mobile skus will be available late next quarter."
Windows Phone as a whole scored a small victory, as it overtook iOS in Pakistan. Microsoft's Patrick Mercanton said that after a strong Q1 2015, "Windows Phone is now officially the second smartphone ecosystem by volumes sales." The Lumia 535 was the best-selling device in the country that quarter.
Those hoping to get their hands on a Verizon Lumia 735 in the US are going to have to wait a little longer. Big Red pushed back the phone's release to June 18 for web and store orders.
T-Mobile US plans to launch the Microsoft Lumia 640 on June 17, while AT&T will reportedly begin selling the Lumia 640 and 640 XL later in June.
And Canadians can now expect to find the Lumia 640 XL for sale at Microsoft's retail stores now.
A bunch of Windows phones got a bunch of updates. AT&T's Lumia 635 started to receive Windows Phone 8.1 Update 2, as did the AT&T HTC One M8 for Windows.
Some Lumia 930s are getting a rare critical update to stop random reboots. Lumia 730s, 830s, and 1520s in India are getting a similar update.
We may not see the Lumia 640 in high availability yet, but the GDR2 changelog was leaked and it shows a laundry list of changes for the device.
Other notable items:
Tesco reportedly distributing Windows Phones to its store managers
Apps
Some of our favorite apps got significant updates. Facebook Messenger for Windows Phone updated with conversation improvements.
YouTube client Tubecast got fixes for broken video formats.
Our favorite Reddit client, Readit for Windows Phone, got patched to resolve a crashing issue, amongst other things.
And the beta version of WhatsApp got a new feature, the ability save songs to your phone. The process is far from perfect, but since the app is in beta, it isn't likely to work like this if it makes it into the final version.
One app that is no longer in beta is Opera Mini for Windows Phone. It has shed the beta label, and to celebrate, Opera put out a special video. In more Opera news, the browser will apparently be coming as a universal Windows 10 app later this year.
Other notable items:
Microsoft's MSN Money, News, Weather and Sports Windows Phone apps get minor updates
AIDA64 app for Windows Phone offers more details on your device's hardware
Capital One Investment Mobile lets you manage your investments from anywhere
6tag updated with new back-end and API, minor tweaks to the Polaroid theme
Microsoft Music Deals 1.3 now available with new features and fixes
Games
In gaming, Asphalt 8: Airborne got an update that brings with it with new cars, tracks and events.
Another racing game, Red Bull Racers, drove its way onto Windows Phone.
Game Troopers dropped their new trivia game What in the World? Into the Windows Phone Store, but it had some stability issues. However, the prolific development shop quickly remedied the situation.
Disney treated Windows Phone users with a gift, or more specifically, nine of them. Nine of Disney's paid Windows Phone games will be free until June 17.
Angry Birds flew over to make an appearance on Sonic Dash. Sega teamed up with Rovio to celebrate 100 million downloads of the endless runner. The crossover is temporary, so enjoy it while it lasts.
And finally, Candy Crush Saga put out an update, adding the Dozy Down episode to feed your sugary addiction.
Other notable items:
Threes! updated with battery optimizations and more
Be sure to weigh in on this week's news in the comments section. See you next week!
Get the Windows Central Newsletter
All the latest news, reviews, and guides for Windows and Xbox diehards.