Windows Phone Weekly Digest: November 15, 2015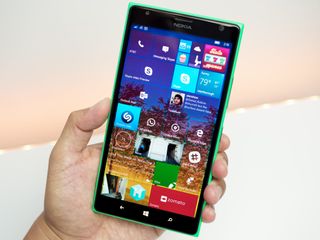 There's a lot going on in the world of Windows Phone. So much, in fact, that it is sometimes tough to catch every important story.
Device rumors come and go. New apps join the Windows Phone Store, and your favorite app can get a big update with a new look or new features.
Therefore, every week we will compile a list of the Windows Phone news that you just shouldn't miss. Welcome to the "Windows Phone Weekly Digest."
Windows Phone
Microsoft's Gabriel Aul confirmed that we won't be seeing a new Windows 10 Mobile 'a few more days'.
Sources have indicated that AT&T is set to release the Lumia 950 on Friday, November 20. The date falls conveniently right before Black Friday, the biggest shopping day of the year, but no official word has been given.
German phone maker Shift announced that it will be selling a Windows 10 Mobile phone with modular parts. The Shift5 +will have a swappable battery, display, internal memory, and "other important components."
Though specs will not be finalized until December, it's looking like the phone will sport a 5-inch IPS display on board, a 13MP rear camera, a 5MP front-facing camera. It will also pack either a Snapdragon quad or octo-core CPU, 2GB or more of RAM, and at least 32GB of on-board storage under the hood.
Pre-orders for the Shift5 + start in December for €399, but it's not expected to ship until Q3 2016.
Finally, it's looking like Microsoft's Project Astoria, the Android emulator that was supposed to help close the app gap on Windows phones, has been shelved. Reports are that "the Android app porting is not going as planned," leading Microsoft to put the project on hold, or possibly cancel it all together. This could potentially be a big blow to developers, hopeful Windows smartphone users, and Microsoft's smartphone plans alike.
Other notable items:
Windows 10 Mobile's features shown off in new Microsoft video
New images taken with Lumia 950 posted by Microsoft team member
Lumia 950 and 950 XL pre-orders in France include free wireless charger until Nov. 26
Apps
It was a pretty decent week for apps. DeviantArt, the social website artists can post their personal work, launched a universal app for Windows 10 PC and Mobile.
Cloud storage giant Box also put out a universal Windows 10 app. The company worked with Microsoft, leveraging their Universal Windows Platform to combine the code for the Windows 8.1 app with that of the Silverlight Windows Phone app.
Microsoft did some app work of its own. Their Windows 10 photo app can now show you where your pictures were snapped. It also lets you limit OneDrive folder indexing to the Pictures folder, rather than your entire drive.
Redmond also released a new version of GroupMe, designed specifically for Windows 10 smartphones.
The unofficial Google Maps app, gMaps scored a big update, adding driving mode and integration with Simple Latitude.
Facebook Beta picked up support for Continuum with its latest patch. Rumor has it that they are also working on a Snapchat-style messaging feature for Facebook Messenger.
And after a long stretch with any updates, Baconit for Reddit was overhauled as a universal Windows 10 app for PC and phone.
Other notable items:
Microsoft updates Mail & Calendar for Windows 10 and Mobile
Windows Insider app for Windows 10 Mobile gets another minor update
Diagnostic app AIDA64 is now universal for Windows 10
Store, Outlook Mail and Calendar snag minor updates on Windows 10, Windows 10 Mobile
Find My Band, Clear My Band, and Band Sensor Monitor updated for Microsoft Band 2
Outlook Mail and Calendar for Windows 10 Mobile adds linked inboxes
Slack (Beta) for Windows Phone update brings reactions, updated emoji set and more
Games
In games news, Disney released a new fantasy role-playing game for Windows 10 and Windows Phone called Descendants.
Game Troopers was at it again with their latest game, Momonga Pinball Adventures. It's pinball like you haven't played before.
Age of Empires: Castle Siege got a whole lot less buggy with its latest patch.
And the popular platformer Pixel Slime, made famous on Nintendo Wii, is now a Windows 10 universal app.
Other notable items:
Brick breaking game Briquid Mini is just $0.99 today
Windows 10 Store Collection – Tower Defense Games
Be sure to weigh in on this week's news in the comments section. See you next week!
Get the Windows Central Newsletter
All the latest news, reviews, and guides for Windows and Xbox diehards.
What about Snapchat? Is it coming soon to windows platform?

Haven't heard of snapchat making an app for Windows, heck I haven't even heard tinder making an app for Windows. I'm pretty sure they will though at some point, here's hoping next year.

U can use 6tin app for tinder.

I really hope snapchat makes it. I've successfully managed to get two of my frnds on WP and they enjoy it. But there are others who are ready to make the switch, but are reluctant cos they cant use snapchat on a wp :\ Heck,even tinder, or retrica and god knows what other apps.

Retrica is near to release an app for w10 (if i recall the exact news, a uwa, but i'm not sure)

6tin is great! Even better than official app.

Retrica coming soon .. Really soon.

The founder of Snapchat has a grudge against Microsoft. But I bet they have Windows desktop PC's in their office...

I thought that L950 has a 20mp rear camera....

Yep, the article was talking about the shift5+

Excited for the latest build for mobile. I hope we'll get it this november.

Gave said next week, I'd be surprised if we get it tomorrow on Monday or at least Tuesday.

We'll get it this week since Aul said a few more days. It is the build for the new phones so they probably want to test it properly

The best news of the week is the linked inboxes of all email accounts

There will be no good news in windows phone news. Always bad news@project Astoria shelved

that is arguably the best news.

I'm a little upset that Astoria isn't going to happen. This would've been a quick way to boost up the app count... Emulator or not. I know it sucks for the developers if Astoria happens but it sucks for the Windows Phone users if it doesn't.

Not really, they still have a way to port iPhone apps easily. That method should work just as well without any legal (or performance) issues since it ports code rather than emulating an os. Posted via the Windows Central App for Android

How is the 950 supposed to go on sale this Friday when both Microsoft and AT&T list it as "coming soon"?

What he means is that when it's less than a week away, companies will usually have already announced the official release. Posted via the Windows Central App for Android

They need to get the new build ready, since it will be powering the phones and has to work perfectly. After that they will start shipping them and the stores will know what numbers to rely on

When the latest build is coming for mobiles.why they are delaying

Maybe Microsoft is busy making sure AT&T's target date of Nov 20 goes as hitch-free as possible. That's a little more important than tossing out another build and using resources to support any resulting issues.

Let me call them for you and ask them.
Sure if you have bothered to read any article PROPERLY you would have known but I'll do the first thing now.

The only thing I am waiting for is to see if project islandwood will workout.

We had a rumour of facebook app for w10 which had ios code elements!

Anyone have the wallpaper which used in the background of this featured image of w10m ?

Please,what is the last bild availible?i have 10581,is the last?Please tell me.