Best Battle Games for Windows 10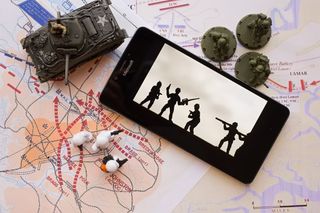 Battle games for Windows 10 can be entertaining and time-consuming adventures. These games challenge your skills at strategy, management and luck as you guide troops onto the battlefield to save the kingdom, universe or the world.
These games tend to be more complex than fighting games, that are more one-on-one slugfests or where you tackle the enemy with a single hero. Battle games, on the other hand, have you recruiting, training and leading armies into combat. A team effort, if you will.
Battle games are also more involved than fighting games and can be fun time-consumers. We've sifted through the offerings from the Windows Store and let's take a look at the best battle games for Windows 10!
Age of Sparta
Why you can trust Windows Central Our expert reviewers spend hours testing and comparing products and services so you can choose the best for you. Find out more about how we test.
Age of Sparta is an Xbox title for Windows 10 that has you building up your own Spartan city, recruiting and training an army, and unleashing its power on Xerxes' Persian army to stop their conquest of Sparta.
Call upon the gods to help your efforts to further purge your foes from the battlefield. Mythical monsters and beast are also available to add to the strength of your legions.
Age of Sparta is a feature-rich battle game that has plenty of tutorials to walk you through the basics of building your city, training troops and battling the enemy. Along with the campaign game mode, you can build alliances with other gamers and battle other gamers to loot resources.
Graphics are top notch, with plenty of detail. Combat is somewhat automated, but with enough interaction to pull you into the action. Gameplay does require planning and management to choose your battles wisely and ensure you have the proper resources to support your actions.
All in all, Age of Sparta is a fun battle game for Windows 10. It is a free game and available for Windows 10 PC and Mobile. Game progress can be synchronized between devices, so you never miss a beat.
Download Age of Sparta from the Windows Store
ARMED!
ARMED! takes you into the future for a sci-fi-based multiplayer strategy game. You command a fleet of futuristic tanks, turrets and robots to infiltrate enemy zones and destroy your enemy's forces and headquarters.
ARMED! includes online multiplayer games, as well as a single player game where you battle a computerized opponent. The game includes five battlefield maps, 12 offensive and defensive units and over 50 upgrades and special attacks.
Gameplay is somewhat involved with building, upgrading and moving your battle pieces. ARMED! does have a thorough tutorial to guide you through the basics of the turn-based action.
Graphics have that futuristic feel and once you get a few rounds under your belt, game mechanics become a lot smoother. All in all, ARMED! is an entertaining sci-fi battle game that is available for Windows 10 PC and Mobile. The game is currently priced at $2.49 with an ad-supported trial version available to let you try things out before buying.
Star Wars Commander
The Star Wars franchise has generated a host of compelling and entertaining games over the years and Star Wars Commander for Windows 10 is no exception. The game has you choosing to fight for the Rebel Alliance or the Empire. You build a base camp, recruit and train troops and wage battle against the enemy. Alliances can be formed with other gamers to create more powerful squads to defeat your foes.
On the field of battle, you are joined with iconic Star Wars characters, such as Luke Skywalker, Darth Vader and Han Solo. Take control of AT-ATs, speeder bikes, battalions of Wookies and platoons of Stormtroopers. Troops, gear and vehicles can be upgraded to improve their fighting abilities.
The Windows 10 game has also been updated to include content inspired by Rogue One. This includes new mercenaries such as Drabatan Saboteurs and Security Droids, along with new ships such as the TIE Striker and Fang Fighter. The update simply improves upon an already fantastic Windows 10 game.
Game progress can be synchronized between devices through your Facebook account. Star Wars Commander is a free game and available for Windows 10 PC and Mobile. If you are a Star Wars fan, this is a must have game for Windows 10.
Download Star Wars Commander from the Windows Store
Siegefall
Siegefall is an exciting blend of battle and kingdom management strategy games. You find yourself in a mythical land that has been torn apart by feuding kingdoms and an evil Queen. You build a kingdom to restore order and create an army using eight different troop types. Three elemental spirits and 34 battle cards are available to strengthen your forces.
The Windows 10 game has several game modes that include the standard storyline mode full of missions to complete and a live player vs. player mode where you can attack other players or defend against their attacks. You can be social and join Guilds to destroy opponents
Kingdom management includes building up defenses, training soldiers and generating resources (raw materials, magical items, etc.). Battles require a bit of strategy as you deploy troops to destroy strongholds. Along with the troops on the ground Siegefall has artillery that weakens your enemy from afar and even dragon attacks.
Graphics are full of detail and you can zoom into the action to pick up on the finer points of the battle. The number of features with Siegefall can be a little overwhelming, but the game's tutorial does a solid job of walking you through the fundamentals of gameplay. After which, success is up to your skills at strategy, management and luck.
Siegefall is a free game, available for Windows 10 PC and Mobile. You can synchronize gameplay between devices by logging into the game with your Facebook or Microsoft account.
Download Siegefall from the Windows Store
Royal Revolt 2
Royal Revolt 2 is a wonderfully animated Windows 10 battle game where you build up your kingdom and castle from attack while wreaking havoc on other gamers. You can build alliances with other players to enhance your abilities to attack other strongholds.
The element of strategy comes into play, not only with your attacks but how you defend your stronghold. Defensive towers, barricades and maze-like paths can be placed outside your castle walls to discourage attackers. On the offensive side of the coin you recruit, train and build an army to launch attacks, as well as develop magical abilities to enhance your assault.
There is a lot to Royal Revolt 2 and tutorials pop-up from time to time to cover the basics of gameplay. I think what helps the game stand out amongst other battle games is the simple controls.
You guide your hero into battle and his troops follow, attacking everything in sight. Additional troops become available as the battle rages on and magical spells can be cast to inflict wide spread damage to your enemy. Resources are earned in combat that can be used to build new structures or upgrade existing.
Graphics are colorful and hold plenty of detail. You can zoom into the action, as needed, and while Royal Revolt 2 plays out nicely from a Windows 10 Mobile phone, it shines a little brighter from a tablet. The larger screen seems to pull out a little more detail with the graphics and animations. Nonetheless, Royal Revolt 2 is a fun time waster. It is a free game and available for Windows 10 PC and Mobile.
Download Royal Revolt 2 from the Windows Store
If you've given any of these games a try, let us know what you think of things in the comments. There are other quality battle games in the Windows Store and if you have a favorite, feel free to toss out your recommendation as well.
Get the Windows Central Newsletter
All the latest news, reviews, and guides for Windows and Xbox diehards.
George is the Reviews Editor at Windows Central, concentrating on Windows 10 PC and Mobile apps. He's been a supporter of the platform since the days of Windows CE and uses his current Windows 10 Mobile phone daily to keep up with life and enjoy a game during down time.