Best Classic Board Games for Windows 10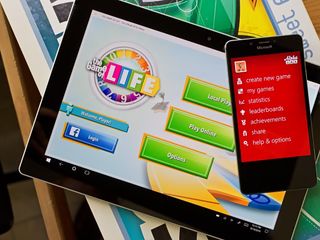 For decades, board games have been an entertaining way to pass the time. Many of these classic games have made the leap to the Windows 10 Store. While you these titles are now played out on a computer monitor instead of a physical board, they haven't skipped a beat as far as entertainment value is concerned.
We sifted through the Windows Store to find the best classic board games to help you spend a little down time with and range from word games to strategy oriented games. All are available for Windows 10 PC, with a few having Windows 10 Mobile versions making them a fun game to play while on the go.
Game of Life
Why you can trust Windows Central Our expert reviewers spend hours testing and comparing products and services so you can choose the best for you. Find out more about how we test.
The Game of Life has been a staple presence in the board game industry since the release of the modern version of the game in the 1960's. Available for Windows 10 PC, The Game of Life offers the full, traditional game where you move around the game board to attend college, get a job, get married, raise a family and other life adventures. You move your piece from Start to Retirement, earning as much money as possible as you travel through life. The player with the largest fortune wins the game.
The Game of Life also includes a Fast Mode that shortens the game time by randomly selecting a victory condition. For example, be the first to earn $750,000. This is a great option to play when you only have a short time to devote to gaming.
You can play against opponents online or locally in pass-n-play fashion, both supporting up to four players. There is a chat feature available where you can send your opponents emoticons during online matches and there are plenty of mini-games to keep the game from growing stale.
Graphics are full of color and detail, and while the game is mostly one of chance, there is a slight element of strategy at play. Overall, The Game of Life is a wonderful version of the classic board game and a fun way to spend a little down time. The Game of Life is currently priced at $4.99 and is available for Windows 10 PC but not Mobile.
Download The Game of Life from the Windows Store
AlphaJax
While there is not an official Scrabble game available in the Windows Store, AlphaJax is the best rendition of the classic game available. AlphaJax offers both online and pass-n-play modes where you compete against your opponent to build words from your pool of letter tiles. Scoring is based on the value of the letter used in creating your words and points multipliers are scattered around the game board to give your word score a slight boost.
Gameplay lasts as long as there are letter tiles available (the remaining count is at the top of the game board) and the player with the most points wins the match.
AlphaJax allows you to juggle up to 30 games at once with push notification support to alert you of your opponent's moves. The Xbox Live title includes a chat feature where you can talk it up with your opponent and games can be selected randomly or against opponents that closely matches your skill levels.
Please note that the link below is for the PC version. You can find the Mobile version here in the Windows Store. I did run into a few stability issues with the Mobile version, but the PC version ran like a charm.
AlphaJax is an entertaining online version of the classic spelling game and a great time waster. This free Windows 10 title also has some educational value to improve your spelling and vocabulary. AlphaJax is available for Windows 10 PC and Mobile. A data connection is required to play both the online and pass-n-play modes.
Download AlphaJax from the Windows Store
LUDO Blitz!
LUDO Blitz! is an entertaining, online, multiplayer board game from the creative souls at Game Troopers that takes the classic game of Ludo) and condenses it into a six-minute game. Think of Ludo as a very intense version of the board game Trouble).
This Windows 10 game has bright and colorful graphics to set the board game mood. The goal of LUDO Blitz! is to work your game pieces from a staging area, around the board and ultimately reach a safe harbor at the center of the game board. You earn points as you work your way around the board and at the end of the six-minute game, the player with the most points wins. While this all sound simple, the game has plenty of twists to make things challenging.
For example, if you move a game piece to a space already occupied by another player, their game piece gets bumped back to the staging area and must begin the journey to the center over again. Then you have power-ups or bonus items that include bombs to blast your opponent back to the staging area and shields to protect your game pieces.
While gameplay does rely on the luck of the dice, with all the twists at play you'll find that success requires a little strategy in choosing your moves wisely. LUDO Blitz! accommodates up to four players and is a free game available for Windows 10 PC and Mobile. Moves are time sensitive to avoid any lengthy delays between turns and overall, LUDO Blitz! is a fantastic rendition of the classic board game.
Download LUDO Blitz! from the Windows Store
Battleship War 3D
Battleship) is a popular board game that requires a mixture of luck and strategy to successfully sink your opponent's fleet of warships. Much like Scrabble, there is not an official Battleship game available in the Windows Store. However, there are a handful of Battleship-styled games available and Battleship War 3D ranks as one of the better options.
Battleship War 3D is similar to the original game in that you and your opponent strategically place a fleet of ships on a gridded gaming board. You then take turns calling out grid positions in an effort to strike and sink each other's ships. Where the original game used modern military ships, Battleship War 3D offers Ancient, Middle Ages and Modern era ships to use. These themes offer a nice variety to the game and I like how the ship's weaponry and the game's appearance changes with each era.
Battleship War 3D supports both pass-n-play games and games versus the computer. While I wouldn't mind seeing more animations, graphics are full of detail and look good. However, I did run across several layout errors that placed title bars over graphics or off-set the layout of a screen. Nothing detrimental but the game's appearance could use a little fine-tuning.
Gameplay is challenging and overall Battleship War 3D is a fun game to spend a little time with. The free version of Battleship War 3D is available for Windows 10 PC and Mobile. The game is ad-supported with the option to remove the ads through a $2.49 in-app purchase.
Download Battleship War 3D from the Windows Store
Classic board games can be a fantastic way to spend a little down time with and these Windows 10 versions offer solid versions of the original. Plus, you don't have to worry about losing dice, cards or letter tiles. If you have given any of these titles a try or have your own recommendation for a classic board game, share your thoughts in the comments below.
Get the Windows Central Newsletter
All the latest news, reviews, and guides for Windows and Xbox diehards.
George is the Reviews Editor at Windows Central, concentrating on Windows 10 PC and Mobile apps. He's been a supporter of the platform since the days of Windows CE and uses his current Windows 10 Mobile phone daily to keep up with life and enjoy a game during down time.