Best Disney Games for Windows 10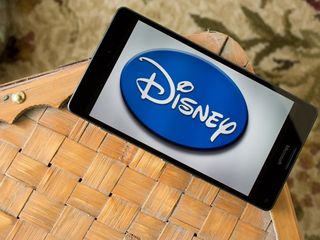 The Windows 10 Store has a fantastic collection of games from Disney that range from match-three puzzlers to arcade action games. Featuring some of Disney's most beloved characters, these games have colorful graphics, challenging gameplay and can appeal to gamers young and old.
The Windows 10 Disney games can easily help you pass short bits of time and many can be addictive time-consuming adventures. We scoured the shelves to find the best Disney has to offer in the Windows Store and these are the best Disney games for Windows 10.
Where's My Mickey?
Why you can trust Windows Central Our expert reviewers spend hours testing and comparing products and services so you can choose the best for you. Find out more about how we test.
Where's My Mickey? is a Windows 10 Mobile game that is a spin-off from the popular Wher's My Water? series of games. The game features Mickey Mouse and Goofy in a series of physics-based puzzlers.
The primary game features Mickey, who must gather water for a variety of tasks. To help Mickey, you have to dig paths for the water supply to reach a series of pipes that feeds the water fountain Mickey uses. The water in turn is used to supply a lemonade stand, put out fires, water crops and more.
Goofy on the other hand, is involved in a series of bonus games where you route a supply of paint to Goofy so he can fulfill his passion as a starving artist. Regardless of the game, you have to create routes for the supply (water, paint or other) through a maze of dirt, pipes, gates and other obstacles. You also have weather mechanics such as rain, wind and clouds to help guide your water.
Where's My Mickey? is a casual game for Windows 10 Mobile with colorful graphics and challenging gameplay. The animations between levels have that classic Disney feel and add a bit of humor to the game. Where's My Mickey? is currently priced at $1.99 and includes over 100 levels featuring Mickey and the first six Goofy levels. Additional levels are available through in-app purchase. It's a great game all the way around for gamers of all ages.
Download Wheres My Mickey? from the Windows Store
Maleficent Free Fall
Disney has a boatload of match-three styled games in the Windows Store that includes the likes of Frozen Free Fall and Cinderella Free Fall. We tapped Maleficent Free Fall for this collection because of the uniqueness of the game's style, plus Angelina Jolie makes for an interesting dark witch.
The game is inspired by the Disney hit movie Maleficent where you solve match-three puzzles to complete an epic journey. The goal is to complete the match-three puzzle in a set number of moves. The fewer moves used, the more bonus points earned.
Each stage of the game represents Maleficent at various ages and as you progress through the Windows 10 game, the puzzles become more challenging, but more powerful enchanted gemstones and power-ups become available.
Maleficent Free Fall is a wonderfully drawn up game with epic illustrations that shift in the background as you tilt your Windows 10 device. The game can also be played in landscape or horizontal orientation. Available for Windows 10 PC and Mobile, Maleficent Free Fall is as challenging as it is eye catching and a great time waster of a game.
Download Maleficent Free Fall from the Windows Store
Cars: Fast as Lightning
Cars: Fast as Lightning is a casual racer for Windows 10 that is inspired by the popular Disney movie Cars. It combines elements of a city builder with a racing game to offer an entertaining Windows 10 game to spend a little down time with.
You race and play as popular characters from the movie such as Lightning McQueen, Francesco Bernoulli, Mater and more. As you win races, track features and accessories become available to increase the challenge of the course. Features include loops and elevated roads, while accessories include blimps, tire shops and snack bars. Overall there are 30 interactive buildings to unlock.
Graphics and animations are full of detail and color. Game controls are simple utilizing an on-screen gas pedal to control acceleration and screen gestures to handle special moves. For the most part, steering is left to the characters to tackle. Races do not take long to complete, but will still challenge your timing, patience and concentration nicely.
Cars: Fast as Lightning is a free game, available for Windows 10 PC and Mobile. Overall, it is a fun game when you only have a few minutes to spare, but addictive enough to hold up to longer game sessions.
Download Cars: Fast as Lightning from the Windows Store
Temple Run: Brave
Temple Run is an entertaining Windows 10 game to pass the time with. Temple Run: Brave is one of the handful of variations on the original game and is influenced by the Disney movie Brave.
Available for Windows 10 PC and Mobile, Temple Run: Brave is an endless runner featuring Merida, a Scottish Heroine, who must out run the demon bear Mordu. Maneuver Merida through a forest maze ducking, dodging and jumping over dangers that can slow you down and allow Mordu to catch you.
Along the path you find coins to collect that can be used to unlock gear, power-ups and additional characters to race through the Scottish hollows. If you need a few extra coins, archery targets appear throughout the game to test your skills with the bow. As you strike each target, bonus coins are earned.
Graphics are full of details and the animations are spot on with Temple Run: Brave. Gameplay is challenging and requires your undivided attention, otherwise a turn, jump or slide is missed and the demon bear has Merida for lunch.
Temple Run: Brave is currently priced at $1.99 with a few in-app purchase opportunities. It's a fun game, full of challenges and a nice option when you need help passing the time.
Download Temple Run: Brave from the Windows Store
Disney Magic Kingdoms
Disney Magic Kingdoms is a city builder of sorts for Windows 10 where you must rebuild the Magic Kingdom after Maleficent has cast an evil spell on the park. While the lead role in this free game is handled by Mickey Mouse, he is joined by the likes of Goofy, Buzz Lightyear, Tinker Bell and other Disney characters as you progress through the game.
There are hundreds of quests to tackle as you restore the Magic Kingdom to its glory and break the evil curse of Maleficent. As you complete quests you'll earn potions, stars and diamonds. Stars go towards your experience level, while potions and diamonds can be used to build attractions and other structures within the park. Additionally, you earn resources as new attractions draw a crowd.
Disney Magic Kingdoms is not an overly difficult Windows 10 game to play, but your management skills are challenged to avoid running out of resources to rebuild the parks. Animations are lively and full of detail with dozens of attractions to build, parades to watch and fireworks to fill the sky.
Disney Magic Kingdoms may not be as appealing to the older gamers in the crowd, but it is a fun, time-consuming game that should appeal to our younger gamers. Perfect for long road trips or any other situation where you need help passing the time. Disney Magic Kingdom is a free game and available for Windows 10 PC and Mobile.
Download Disney Magic Kingdoms from the Windows Store
If you have given any of these games a try, let us know in the comments if you think Disney has hit the mark or not. There are other quality games in the Windows Store from Disney such as Star Wars Commander, Zootopia Crime Files, Disney Dream Treats and more. If you have a favorite that wasn't mentioned, feel free to share your recommendation in the comments for the best Disney game!
Get the Windows Central Newsletter
All the latest news, reviews, and guides for Windows and Xbox diehards.
George is the Reviews Editor at Windows Central, concentrating on Windows 10 PC and Mobile apps. He's been a supporter of the platform since the days of Windows CE and uses his current Windows 10 Mobile phone daily to keep up with life and enjoy a game during down time.