Best Game Troopers Games for Windows 10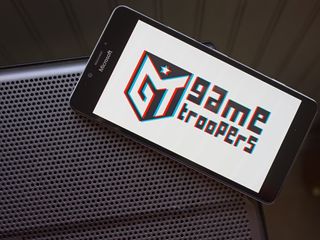 The Windows Store is packed full of entertaining games to lose track of time with. Game Troopers easily ranks as one of the more prominent development groups for Windows 10 gaming.
The company's offerings range from the simple time wasters to the more epic, time-consuming titles. While some of Game Troopers work may not appeal to everyone, there really isn't a bad game in the bunch. All of which makes it tough to pick out the best Windows 10 games from Game Troopers. Nonetheless, we've given it a try and here are our best of the best from Game Troopers.
Tiny Troopers 2: Special Ops
Why you can trust Windows Central Our expert reviewers spend hours testing and comparing products and services so you can choose the best for you. Find out more about how we test.
Tiny Troopers 2: Special Ops is a combat/strategy game for Windows 10 PC and Mobile where you command a squad of troopers as they battle their way through dozens of missions.
Missions offer three difficulty levels and include ground combat situations, along with the opportunity to blast your enemies from Humvee using a .50 caliber turret gun. Enemies range from foot soldiers to tanks to guard towers with plenty of power-ups, equipment and health kits lying around the battlefield to collect. Some missions even include Zombie battles.
As you complete missions, you earn game currency that can be used to recruit specialists ranging from medics to machine gunners and upgrade your gear to improve your chances of surviving missions.
Touch controls offer an easy approach to combat and the game's graphics and animations are top notch. Tiny Troopers 2: Special Ops is a free game and a fun way to pass the time.
Download Tiny Troopers 2: Special Ops from the Windows Store
Equalicious
Equalicious is a unique Windows 10 game that combines basic math skills with puzzle-solving skills. This Xbox gaming title delivers a jumbled equation that you must re-organize so it makes sense. There are move restrictions in place and the mathematics must balance.
Available for Windows 10 Mobile, Equalicious maps out hundreds of levels with the first few being tutorial in nature to give you a better feel for the puzzler. Each level presents you with a series of tiles that are either numbered or contain a mathematical symbol (+, -, =, etc.). Your job is to shift the tiles so the equation is correct within a specific number of moves.
For example, you may see 3+4=1 that can be correctly re-arranged to 3+1=4 in two moves. Just keep in mind that some equations have multiple digits that need to be combined to make a whole number (1+213=12 would be 12+11=23).
As you progress through Equalicious's levels, the equations become more challenging with multiple actions in play, along with intersecting vertical and horizontal equations. As things become more difficult, Equalicious does have a handful of hints available to get you pointed in the right direction.
Equalicious is an addictive, free Windows 10 Mobile game that not only can help you pass the time, but also exercise your brain along the way.
Download Equalicious from the Windows Store
Make it Rain: The Love of Money
Make it Rain: The Love of Money is one of the more unique games in the Windows Store. In many ways, it is mindless entertainment, but the addictive appeal keeps pulling you into this fun time waster of a game.
Available for Windows 10 PC and Mobile, Make it Rain has you feverishly swiping at the screen to collect as much money as possible. The money you earn can then be invested in political ventures, business investments, financial markets and more. The investment areas are displayed across the bottom of the screen and each offer performance bonuses.
While many of the investments are risk free, there are dangers to avoid such as audits and FBI investigations that can suck the profits out of your investments.
This Xbox game title for Windows 10 includes 20 in-game achievements and is a fun way to pass short bits of time. The free game may come across as a silly game to spend so much time with, but there is an odd sense of satisfaction when you swipe off a few hundred bucks in a matter of seconds.
Download Make it Rain: The Love of Money from the Windows Store
Monsters GO!
Monsters GO! is a challenging Windows 10 game that blends elements of a Role-Playing Game and a platform adventure. You build a team of monsters to battle a variety of enemies and navigate across a series of platform dangers.
As you complete missions, you earn currency and experience. Experience upgrades your monster's skills and currency unlocks/upgrades your gear. Along with evolving your monster's skills, experience also unlocks additional monsters to add to your team. As far as gear is concerned, there are over 150 items ranging from armor to swords to general accessories to equip your monsters with.
Controls are laid out with simplicity. Tap the left side of the screen to jump your monster and tap the right side to launch an attack. Some foes fall after one blow, while others require more effort to defeat. Then you have Boss battles that can be rather exhausting.
Graphics and animations with Monsters GO! are lively and full of detail. Gameplay isn't overly difficult to pick up on, but the RPG aspects of this Windows 10 game can be a little overwhelming at first. Overall, Monsters GO! is a fun mash-up that brings the enjoyment of a platformer and the management of an RPG under one roof.
Monsters GO! is a free, ad-supported Xbox game for Windows 10 and available for Windows 10 PC and Mobile.
Download Monsters GO! from the Windows Store
Twins Minigame
Twins Minigame is a simple time waster for Windows 10 Mobile where you bounce a ball up the screen, avoiding a host of dangerous spikes. The goal is to travel as far as possible and the twist is that the game screen is split in half, with your ball jumping from side to side to avoid the spikes.
Timing is key in that you tap the screen to bounce the ball over the dangers. If you need a little more distance in your jumps, just hold the screen to increase your distance. The further you travel, the quicker the pace of play becomes.
To add to the challenge of gameplay, Twins Minigame has a Twin Mode that is available periodically. The Twin Mode adds a second bouncy ball into play. You control each ball by tapping the respective side of the game screen.
Twins isn't an an overly complicated game, but it still holds up really well to repeat play to kill some down time. It's free to play with ad-support, but you can take kill the ads with a $1.99 in-app purchase.
Download Twins Minigame from the Windows Store
If you have tried any of these game titles from Game Troopers, let us know what you think in the comments! You can make an argument for any of Game Troopers games as being the best in the Store. Just in case we have missed your favorite Game Troopers game, be sure to share your recommendations!
Get the Windows Central Newsletter
All the latest news, reviews, and guides for Windows and Xbox diehards.
George is the Reviews Editor at Windows Central, concentrating on Windows 10 PC and Mobile apps. He's been a supporter of the platform since the days of Windows CE and uses his current Windows 10 Mobile phone daily to keep up with life and enjoy a game during down time.