Best laptop docking stations 2023
Set up your laptop like a desktop with one of these powerful docking stations.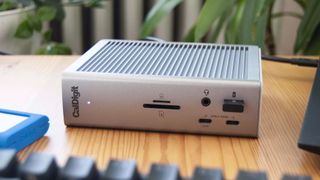 (Image credit: Windows Central)
Laptops are amazing tools for people on the go, and the best laptop docking stations can help remove some of their flaws when it comes time to act like a desktop PC. As the best Windows laptops get thinner, so does port selection. That's where the docks we're highlighting here come into play. Whether you're looking for a standard USB-C docking station, the best Thunderbolt 3 dock, or want to move up to Thunderbolt 4, we've put together a list of the best overall docking stations available today.
Best overall
Reasons to buy
+
The most ports available in a TB4 dock
+
Lock slot for extra security
+
DisplayPort 1.4 included
+
UHS-II SD and microSD card readers
+
Up to 98W charging power
Reasons to avoid
-
One fewer downstream TB4 port to make room for DP 1.4
-
Lesser warranty than some competition
-
Expensive and often sold out due to demand
In my CalDigit TS4 review I call it the pinnacle of Thunderbolt 4 docking stations. Like its TS3 Plus sibling, it's built incredibly well using a solid chunk of ribbed aluminum that withstands regular use and dispels internal heat. The TS4 has the most ports of any Thunderbolt 4 dock we've tested, it offers the most charging power at 98W, and it even has a built-in lock slot for added security.
The front of the dock has UHS-II SD and microSD card readers that can be used simultaneously, two 10Gbps USB-C ports (one with 20W of charging power), a 10Gbps USB-A port, and a 3.5mm audio jack for voice and audio. The back of the dock includes the host Thunderbolt 4 port, two more downstream Thunderbolt 4 ports, four 10Gbps USB-A ports, one 10Gbps USB-C port, DisplayPort 1.4, 2.5 Gigabit Ethernet for incredibly fast internet, and dual 3.5mm audio jacks for voice and audio.
The dock has a built-in anti-slip foot that keeps it standing vertically. If you'd rather set it up horizontally, also included are two removable rubber feet that attach to the side ribbing. If you're a fan of external displays, the TS4 can handle dual 4K displays at 60Hz or a single 8K display at 60Hz.
If you have a PC with Thunderbolt 4, the CalDigit TS4 is the best dock you're going to find. And even if you don't already have the latest standard, the dock will work with Thunderbolt 3 while you wait for an upgrade. You can check out the differences between ports in our Thunderbolt 4 vs. Thunderbolt 3 vs. USB4 vs. USB 3 comparison.
CalDigit TS3 Plus
Best for Thunderbolt 3
Reasons to buy
+
15 total ports
+
Up to 85W of power
+
Handles dual 4K displays at 60Hz
+
UHS-II SD card reader
+
Sturdy build and small footprint
Reasons to avoid
-
Hard to find
-
Still more expensive than other TB3 docks
-
Not as future-proof as the TS4
Thunderbolt 3 is slowly being taken over by Thunderbolt 4, but unless you have a laptop released in the last year or so, chances are you're still using the older technology. The CalDigit TS3 Plus has been available for a few years, and it's still our pick for the best Thunderbolt 3 dock available.
In my CalDigit TS3 Plus review I noted the exceptional build quality and satisfying performance. The dock is made from a solid piece of aluminum and it has 15 ports that you can use to connect your peripherals, including dual 4K displays, keyboard, mouse, SD card, Ethernet cable, and more. The dock itself has a small footprint — it can stand up vertically or sit horizontally — and it weighs in at just over one pound.
It can deliver up to 85 watts of power to your laptop, and the cable here is 0.7 meters in length for easier connectivity. If needed, you can get a dock with a 2-meter cable for more money. It's nice knowing that your laptop will always be charged when you have to unplug it and hit the road. As long as your laptop has a Thunderbolt 3 port, this dock will eliminate the need for most other adapters and hubs you have lying around. Set it up on a desk, plug in a single cable, and watch your laptop become a full-fledged workstation.
The popularity of this docking station has caused supply issues in the past, and now that the CalDigit TS4 is taking over the TS3 Plus might become even harder to find. Still, if you can get your hands on it you won't be disappointed. Be sure to check out our CalDigit TS4 vs. CalDigit TS3 Plus comparison to see exactly how these sibling docks differ.
Razer Thunderbolt 4 Dock Chroma
Tons of style
Reasons to buy
+
Fancy RGB underglow lighting
+
Three downstream Thunderbolt 4
+
Black finish might be better suited to some desks
+
Dual 4K @ 60Hz display support
+
Up to 90W charging power to host
Reasons to avoid
-
Not as many ports or as much charging as our top pick
-
Expensive
Our collection of the best Thunderbolt 4 docking station includes the Razer Thunderbolt 4 Dock Chroma. Just like most Razer products, it's a high-performance piece of hardware with baked-in RGB lighting. If you can't stand to have something on your desk without a customizable underglow, this is where you want to look.
Razer's Chroma RGB can sync with compatible accessories through the Synapse app, offering up 16.8 million colors for you to enjoy. The black aluminum chassis looks great just about anywhere, and it's not bulky at all.
You connect to the dock via the Thunderbolt 4 port on your laptop, which then opens up three downstream Thunderbolt 4 ports, a UHS-II SD card reader, three USB-A 3.2 (Gen 2) ports, and a 3.5mm audio jack. With the dock connected to your PC, you can get up to 90W of power delivery to keep the laptop charged. Dual 4K monitors at 60Hz are supported.
The Kensington SD5700T Thunderbolt 4 dock is another top option if you'd rather have no RGB lighting. And the sibling SD5750T is built specifically for the latest Surface products sporting a TB4 connection. The CalDigit Element Hub is perfect if you'd like something a lot smaller, though it only offers USB-A and Thunderbolt 4 connectivity.
Dell Dual Charge Dock (HD22Q)
Great for Dell laptops
Reasons to buy
+
Eight total ports, including HDMI 2.1 and DP 1.4
+
Up to 90W charging power to host
+
PXE support, MAC address passthrough
+
High-end design and quality build
+
Three-year warranty
Reasons to avoid
-
Permanently fixed host cable
-
No SD or microSD card readers
-
More than two monitors requires specialized hardware
Dell's Dual Charge Dock (HD22Q) is a unique docking station that combines an upright Qi wireless charging pad with a powerful USB-C hub. In my Dell Dual Charge Dock (HD22Q) review I note that it's best reserved for use with Dell laptops, as it supports extra features like Wake-on-LAN, MAC address passthrough, PXE, wireless vPro, and Kernel Direct Memory Access (DMA).
For those without IT admin ambitions in mind, the dock still delivers a fairly generous selection of ports. There's USB-C 3.2 (Gen 2), four USB-A 3.2 (Gen 1), RJ45 Ethernet, DisplayPort 1.4, and HDMI 2.1. The video ports can handle up to two 4K displays at 60Hz; anything more and you'll need to start daisy-chaining monitors capable of MST and DSC.
The dock connects to your laptop with USB-C 3.2 (Gen 2), with up to 90W of charging power available to the host. What I love most about the dock is the vertical stand on the front that holds your phone in place while it charges wirelessly. I can keep watch on my notifications as they roll in, and I don't have to worry about my phone dying during the workday.
This is a well-built accessory that I've continued using since the review, but it does come with some downsides. It doesn't support Thunderbolt performance (though it will work with a Thunderbolt port) and it is on the pricey side. Still, it's a great option if you love the combination of phone charger and docking station.
Plugable UD-3900
Best value
Reasons to buy
+
Ideal for laptops with USB 2.0 or 3.0
+
Affordable price
+
Plenty of ports
+
Supports two external FHD monitors
Reasons to avoid
-
No 4K support
-
No charging
Most of the best laptop docking stations come at a high price, though the performance upgrade is worth the money. But what if your laptop doesn't have a Thunderbolt port? Enter Plugable's UD-3900 USB docking station, a relatively affordable alternative that is ideal for older laptops with only USB 2.0 or 3.0 connectivity.
The host cable comes with USB-A and USB-C ends to better accommodate your device (it will work with USB4, Thunderbolt, USB-C at USB 3.0 speeds), and it has 12 total ports including the host USB-B hookup. There's DVI and HDMI to handle up to dual FHD displays at 60Hz, two USB-A 3.0, four USB-A 2.0, Ethernet, and 3.5mm jacks for microphone and headphones.
It's built well, it stands upright to take up less space on your desk, and it's one of the most affordable options in this roundup.
Best security
Reasons to buy
+
Durable construction
+
Lots of ports
+
Up to 85W charging
+
Easy, robust security
Reasons to avoid
-
No HDMI or SD card reader
Kensington's LD5400T brings Thunderbolt 3 connectivity and a level of security the other docks don't offer. Instead of the dock sitting apart on your desk, you place your laptop in its retractable arms to secure it in place. The dock itself can be fastened down with screws or with an included 6-foot tether. A fob to unlock the dock can be carried around on a key ring, and the entire thing is built from sturdy materials to resist tampering.
There's no HDMI or SD card reader included here, but you do get four USB-A 3.0 ports, two Thunderbolt 3 (one for the host cable), DisplayPort 1.2, RJ45 Ethernet, and 3.5mm audio. It can handle dual 4K displays at a 60Hz refresh rate or single 5K display at 60Hz, and when connected, it delivers up to 85W of charging power back to your laptop to keep it topped up.
This dock has seen a serious price cut in recent months, and it's now hundreds less than its original price. This is a great deal on a great dock, especially if you work in a busy office with through traffic.
Bottom line
Why you can trust Windows Central Our expert reviewers spend hours testing and comparing products and services so you can choose the best for you. Find out more about how we test.
The best laptop docking stations can effectively turn the best Windows laptops into full-fledged workstations. CalDigit claims the top spots for both Thunderbolt 3 and Thunderbolt 4 laptops with its TS4 and TS3 Plus docking stations.
The CalDigit TS4 is our top overall pick as more and more laptops move to Thunderbolt 4. The TS4 offers excellent performance across the board and a wide selection of ports that will turn your laptop into a future-proof workstation. It offers the most connectivity of any TS4 dock we've so far tested, and it has the best external display support with up to an 8K resolution.
Your laptop will remain charged when connected thanks to 98W of power back to the host, allowing you to unplug and walk away without your AC adapter. It's all wrapped up in a durable and compact aluminum chassis that can sit flat or stand vertically to save space.
Those who haven't yet upgraded to a Thunderbolt 4 laptop might still want to invest in the CalDigit TS4, as it should remain relevant for years to come. If you don't plan on upgrading anytime soon, there are plenty of other great docking stations built for Thunderbolt 3, USB-C, and even USB-A.
Get the Windows Central Newsletter
All the latest news, reviews, and guides for Windows and Xbox diehards.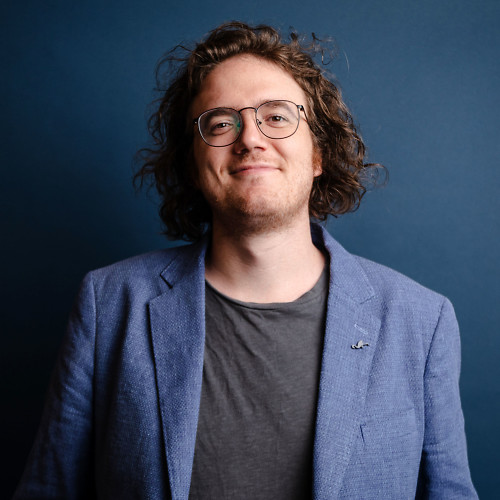 Senior Editor, Laptop Reviews
Cale Hunt is formerly a Senior Editor at Windows Central. He focuses mainly on laptop reviews, news, and accessory coverage. He's been reviewing laptops and accessories full-time since 2016, with hundreds of reviews published for Windows Central. He is an avid PC gamer and multi-platform user, and spends most of his time either tinkering with or writing about tech.