Best Windows 10 Word Games
If you need help passing the time, Windows 10 word games are a great option.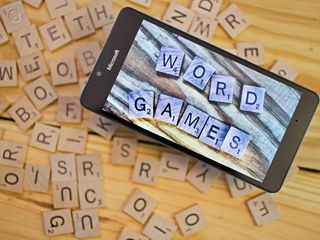 The Windows Store is packed full of challenging and fun word games that can be both addictive and educational at the same time. These offerings range from hidden word puzzles to work creation games.
Most are available for Windows 10 Mobile, for when you are on the go, and Windows 10 PC when you are stuck behind the desk. The options range from hidden word puzzles to word creation games, with a few Xbox Live titles where you can give your Xbox Achievements collection a boost.
There are several quality word games available for Windows 10. After searching the Store shelves high and low, here are our best word games for Windows 10.
Updated 27 January 2017 We have made a few changes to this article based on new releases, reader input and staff debate. There are some new titles in the mix, as well as those that we continue to view as the best from the Windows Store. Let's take a look at how things have changed!
Wordament
Why you can trust Windows Central Our expert reviewers spend hours testing and comparing products and services so you can choose the best for you. Find out more about how we test.
Wordament is a Boggle-style word game that is played online against other gamers in a real-time continuous word tournament. This Xbox game has been around for some time and remains an addictive time waster.
Available for both Windows 10 PC and Mobile, the game design is rather simple. You are provided a 4x4 grid of letters that are used to create as many words as possible before the two-minute game timer expires. You connect adjacent letters vertically, horizontally or diagonally to create words of three or more letters in length. Scoring is based on the point value assigned to each letter. Should you draw a blank and need a little help finding words, there is a refresh button that shuffles the letters around.
Once the game is over, your score is ranked up against hundreds (if not thousands) of other Wordament players. Scoring summaries highlight your chosen words, words not found and a summary of scoring stats from the field.
Wordament does have a few display options and 17 Xbox achievements to earn. It is a free game available for Windows 10 PC and Mobile, with progress synchronized between devices through your Microsoft Account. Games only last a few minutes but can be dangerously addictive — it's a great choice when you only have a few minutes to spare, but strong enough to hold up to longer gaming sessions.
Download Wordament from the Windows Store (opens in new tab)
AlphaJax
Readers suggested a number of Scrabble-style games, and while Words by Post and WordFeud were well represented, AlphaJax had the strongest showing. AlphaJax is available for Windows 10 PC and Mobile as a free, Xbox Live game, offering you an online Scrabble gaming experience.
AlphaJax offers online gaming against friends or random opponents, as well as a pass-and-play mode. Gameplay follows along the traditional Scrabble game with you starting out with seven lettered tiles that must be used to build words on the gaming board. Each letter is assigned a point value and strategic tiles offer scoring multipliers.
Gameplay is turn-based with a limited supply of letter tiles available to replenish those you put into play. Words can be built upon another, and in the end, once all the tiles are used or no more words are possible, the player with the most points wins the game.
Alphajax allows you to juggle up to 30 games at once and tracks all your gaming statistics. There is support for notifications to alert you when it is your turn to play, and a messaging feature is available to chat it up with your opponents. The pace of play is dependent on your opponent, with no game timer in place to regulate the pace.
The free game is available for Windows 10 PC and Mobile, unfortunately not as a universal app. It would be nice to see that change with the mobile version in need of a refresh to put it on the same level as the PC version. Still, all in all, Alphajax is a solid rendition of the classic board game and a challenging way to pass the time with.
Trine's Hangman
Trine's Hangman has been available in the Windows Store since the days of Windows Phone 7. This word game is one of the best renditions of the classic game of hangman available, offering an eye-catching design and challenging gameplay. Even the 2011 trailer is still one of the sharpest game promos out there. And this is for Hangman.
Trine's Hangman is an online version of the classic game where you compete against other gamers to see who can amass the highest cumulative score. There is also a local two-player mode (pass-and-play style) available to allow you to test your spelling skills between friends.
The online component does require free registration that allows your progress to follow you between devices. Trine's Hangman has crisp graphics, smooth animations, Wikipedia integration and bonus ringtones that can be downloaded to your Windows 10 Mobile phone. It is a well-rounded, sharp-looking word game.
Trine's Hangman is a free, ad-supported game for Windows 10 Mobile. You can opt out of the ads with Trine's Hangman Pro ($2.49) (opens in new tab) from the Windows Store.
Download Trine's Hangman from the Windows Store (opens in new tab)
Snap Attack
Snap Attack is another challenging word game from the developers behind Wordament. It too is an Xbox Live game that is available for Windows 10 PC and Mobile. The fast-paced game challenges you to create as many words as possible in two-and-a-half-minute rounds.
The playing field is preset with a series of letters and you build your words using a collection of seven letters. Words or Snaps can be built off one another as long as the string of words is anchored by one of the preset letters. Once you have exhausted all your letters, tap the refresh button and start building more words. Think of it as a speed round of Scrabble.
Scoring is based on the point values assigned to letters with scoring multipliers scattered around the game board. You compete against other players online to see who can amass the most points before the game timer strikes zero.
Like Wordament, Snap Attack tracks your gameplay statistics and ranks your performance against other players. Being an Xbox game, your progress is synchronized between Windows 10 devices.
Snap Attack is a free, ad-supported game that's great for when you only have a few minutes to spare or when you need a little help losing track of time.
Download Snap Attack from the Windows Store (opens in new tab)
Word Search
Everybody needs a good word-search game, and there are plenty of great options in the Windows Store. The best, however, is the aptly-titled Word Search from developer Steve Nessen.
Word Search stood out slightly from the pack with the two difficulty levels and the enormous customizable word collection. The game plays out like any other hidden word puzzle: you have a 10x12 grid of jumbled letters that has 15 words hidden in plain sight. A scrolling list of these hidden words runs across the top of the display and as you discover them, they are removed from the list. The goal is to identify all the words as quickly as possible.
Words are identified by tapping and dragging your finger along the letters to build the word. Words can be hidden vertically, diagonally or horizontally, and they can be spelled forwards or backwards.
Word Search's settings offer you the ability to choose the type of words, and that includes 15 categories and five languages. Categories includs topics such as movies, comic characters, sports, cities and more. Two levels of difficulty are also available to add to the puzzle's challenge.
The only nit I could find with Word Search is that the ad-support banner was easily tapped when identifying words at the bottom of the screen. This is not a deal breaker, but rather something to get used to. Alternatively, you can opt out of the ad support with a $0.99 in-app purchase. Word Search is available for Windows 10 PC and Mobile, and overall it's an entertaining word game to lose track of time with.
Download Word Search from the Windows Store (opens in new tab)
If you have tried any of these Windows 10 word games, let us know what you think of them in the comments. We have only scratched the surface of all the fantastic word games in the Windows Store. There are plenty more such as Spellspire (opens in new tab), Wordfix (opens in new tab) and 7 Little Words (opens in new tab). And if you have a favorite word game that wasn't mentioned, feel free to share your recommendation.
Get the Windows Central Newsletter
All the latest news, reviews, and guides for Windows and Xbox diehards.
George is the Reviews Editor at Windows Central, concentrating on Windows 10 PC and Mobile apps. He's been a supporter of the platform since the days of Windows CE and uses his current Windows 10 Mobile phone daily to keep up with life and enjoy a game during down time.
Wordament is one of my all time favorite since Windows phone 8. Thanks for the reminder, I'll head to the store, it's been so long since I last played this game. List looks good, never heard of these word games though.

There's also AlphaJax which is another Microsoft one. Scrabble like and pretty good online play. Works on desktop too from memory.

Love Wordament and Alphajax. Both probely my most played games.

I play "Aworded" cross platform with family and friends. Love the way it scores points. Sad to say, its one for the chop as support will be pulling it from the store soon. Give it a try before it goes forever.....

I still play Alphajax regularly

Wish Zynga would update their p1ss poor Words with Friends app!

SpeedWords Arena is one of my favorites. It's basically Bananagrams with the Scrabble Tournament Word List 2006 as the dictionary. The developer has updated a few times, but it would be nice to see the new TWL added sometime. I'd like to be able to play TE, GI, and PO.

Snap Attack is also fun. From the creators of Wordament

Has anyone else noticed that Wordament seems kind of laggy on WM10? When entering a round, it just hangs for a few seconds and something about the swiping action just doens't feel fluid like it did before. Both my 1020 and 830 were fine on WP8 but after "upgrading" them to WM10, they just don't play right anymore. Get the same kind of lag and odd swiping behavior on my 950xl as well. Conversely, on my iPad, it seems buttery smooth and plays just fine.

"Words By Post" is my personal favorite. Can play on the PC or mobile apps (Not universal but an app exists for each) and it works with my friends/family who don't use Windows Phone/Mobile.

Off topic - Any idea when we'll get Alto's Adventure on Mobile ?!!

I have been playing Wordfeud with my mother for years. Simple and cross platform.

Ha! Me too! Very convenient to play with her on her Samsung in Europe and me on my Lumia here in the States.

Yep wordfeud for me too, like the multi-platform, although our W10m version is lacking features as usual :(

Wordrix Free is still one of my favorites

Man, my all time fav is still This or That.

I've been playing Wordfeud foreverrrrrrr. It's my all time my fav game.

For wordament, that is not a refresh button but it is a rotate button and it does not shuffle the letters, it only rotates. Shuffle means new words can be formed. Rotate means, you can only form the same words but you look at them in different direction and you get a new idea of words.

Currently playing AlphaJax and Wordament. Might get back into Snap Attack.

Is there a Wordament/Ruzzle game with numbers instead of letters/words? Like Numbers A-tono on iOs...

Check out my app 'Crossword Hint' handy tool when playing these kinds of game

Been playing both Wordament and Alphajax foor years, and still do every day (especially Alphajax). Notifications are broken on mobile though (since going from wp7), I only know it's my turn if I start the app. Games do sync between mobile and PC though, so you can use your phone during the day and then when you get home in the evening, you can continue the sames games on the PC if you wish.

I miss the notifications from alphajax as well. Missing since moving to WP8.

The live tile still works though

Mine hasn't worked since I stopped using my 710. Great little phone.

I love AlphaJax. It was the first game I installed when I moved from WM6.5 to WP7, and I've made several real life friends playing it!

Surprised not to find a mention of Zynga's Words with friends!!!