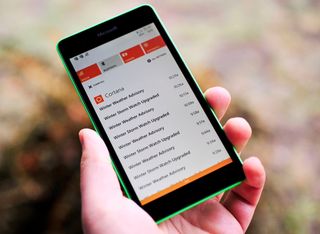 A lot can happen in a week. New apps join the Windows Phone Store or Windows Store. Your favorite apps can get a big update with a new look or new features. Device rumors come and go. Seven days might not seem like much, but it can be an eternity in the tech news cycle. Every week we're going to compile the biggest stories into one post, so you never fall behind – In Case You Missed It (ICYMI).
Windows Phone
Microsoft + Windows
Apps
Games
Xbox
Misc.
ICYMI Mailing list
Subscribe to my newsletter to get the above content and more delivered to your inbox. I'll share the above content with you, plus share a few extra links to cool stories and products from around the web. You can even submit links to your blog post or apps that you'd like to be shared with the community. Just send me a tweet (@samsabri) with the URL to your story or app and include the hashtag #ICYMI.
Share your thoughts on this past week of Windows Phone, Windows, Xbox and Microsoft news!
I Crave Your Momentous Information...

can ya all please see if Jay can update the Windows central app!! I and loads can't sign in, and I'm getting no attention on the forums before you say lol !!

Next week Clash of Clans and Miniclip's pool game join WP... Hopefully

Still no official Facebook app +no update for instagram no..no...no...
And windows phone is becoming very laggy i started to loose hope on Windows phone after 3 years of waiting

It is the first one that pops up when you search the WP store using the key word 'facebook'. It is written by MS for Facebook.

I mean a one from facebook that works like ios or android there are many features that are missing from Microsoft's facebook app

What is wrong with Facebook hiring MS to write their app? http://www.windowscentral.com/try-jdb-facebook-dont-like-facebook-official

Check out "Facebook" for Windows Phone http://www.windowsphone.com/s?appid=82a23635-5bd9-df11-a844-00237de2db9e

Thanks but i mean a one from facebook that works like ios or android there are many features that are missing from Microsoft's facebook app

Apart from a couple of missing features, the app and its UI are identical. Be glad that Microsoft is developing it; just look at Instagram for an example of what you might get if Facebook were in charge.
By the way, 'an almost identical official Facebook app by Microsoft' is hardly the same as 'still no official Facebook app'.

Thats what i started to hate about the platform we always have to be happy if "Microsoft is trying" well they're trying more in other platforms because they know windows phone users will be happy with closer apps to the originals and give the best of Microsoft to ios and Android users

I totally agree with you it is tiresome and ridiculously annoyingly frustrating seeing MS try "harder" or "more" on other platforms. I agree with most apps being terrible. But I disagree with you about the OS being buggy, the OS itself is very fast and fluid (look at me using their terminology :D ) app performance ruins the experience

Yeah. Windows phone has one of the best OS. And if it's lagging it's because of some other particular reason.

If you like Windows stay Android faced the same problems when they were young We are all aware of the problems yet we choose to stay.
Look at where android is today

Yeah but android and ios arw getting better unlike windows phone, Windows phone 8 is smother than 8.1 alot and if you noticed the lock screen in the system and the music player..... are like apps now and they are too slow , also sense apps even they are from Microsoft they are very slooow

Yes this is a big week.. Candy came for us,MX player is under process,vlc is under process, many updates and new apps and games this week... Am so happy... Mobile data on and off option came for us... That's superb... Need USB on the go and SD support for all future phones need old music and videos app too

WPC is lagging behind the news coverage..... They haven't said anything about newest budget additions like 435/330 which was posted by Nokia power user and also didn't said anything about new software update that will be issued to. Microsoft Lumia 535 users for touch responseless issue

I don't trust those "power user" sites, they're known for false news.

If I keep more live tiles in start screen, will it consume more battery?

Depends, please use the forums for off topic questions.

Sad that the wp phone not beikg Build. But hope to see a new design from nokia soOn. Boring with the same design for years now.

Microsoft in 2015 should focus on improving the quality of existing apps.

not a good time for windows phone until windows 10 arrives for all.

Why Java not available on WP
Windows Central Newsletter
Get the best of Windows Central in in your inbox, every day!
Thank you for signing up to Windows Central. You will receive a verification email shortly.
There was a problem. Please refresh the page and try again.