The book Hit Refresh: The Quest to Rediscover Microsoft's Soul and Imagine a Better Future for Everyone is coming out on paperback, and it's already on sale at Amazon for $12.77. Other retailers like Target also have the book available for pre-order on paperback but are selling it for around $18.
Amazon's price is not only a good deal for this new version, it's currently the least expensive option as even the Kindle version is $16. Plus, Amazon's Pre-Order Price Guarantee promises you only pay the lowest price if it decreases between and now and its eventual release on Nov. 5.
Microsoft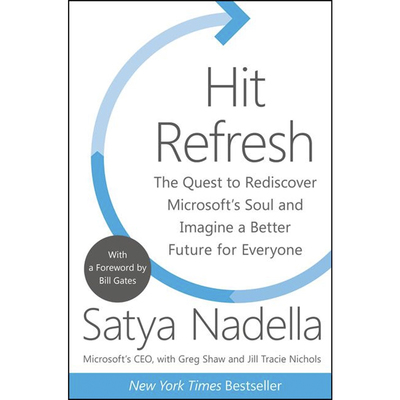 The New York Times Bestselling book follows the life of Microsoft CEO Satya Nadella. It shows how he used his experience growing up in India to help transform Microsoft since taking over in 2014. The paperback version comes out Nov. 5.
$12.77 $18.00 $5 off
This is a nonfiction book about Microsoft CEO Satya Nadella, who has been running the show since taking over for Steve Ballmer in 2014. It was originally published in 2017 and includes a forward from Bill Gates. It was also a New York Times bestseller and peaked at #4 on the Bestseller's List. Nadella has said all the profits from the book have been donated to nonprofit organizations through Microsoft Philanthropies.
The book covers Nadella's life growing up in India and rising through the ranks. It's also a recap of his attempts to transform Microsoft from a company that was getting too big to a company that is on the leading edge of A.I. development among other things. If you're interested in corporate America, how a huge business can change its trajectory, or just looking for some insight into the tech world you know and love you might enjoy this read. It's very much a "Microsoft really wants you to love it again" sort of book, but that's not necessarily a bad thing.
We have talked about Nadella a lot at Windows Central, and we've even seen evidence that many of his changes weren't as cutting edge as his book would have you believe. However, read Nadella's thoughts, and ours, and then decide for yourself. Do you think Microsoft is heading in the right direction as a company?
We may earn a commission for purchases using our links. Learn more.